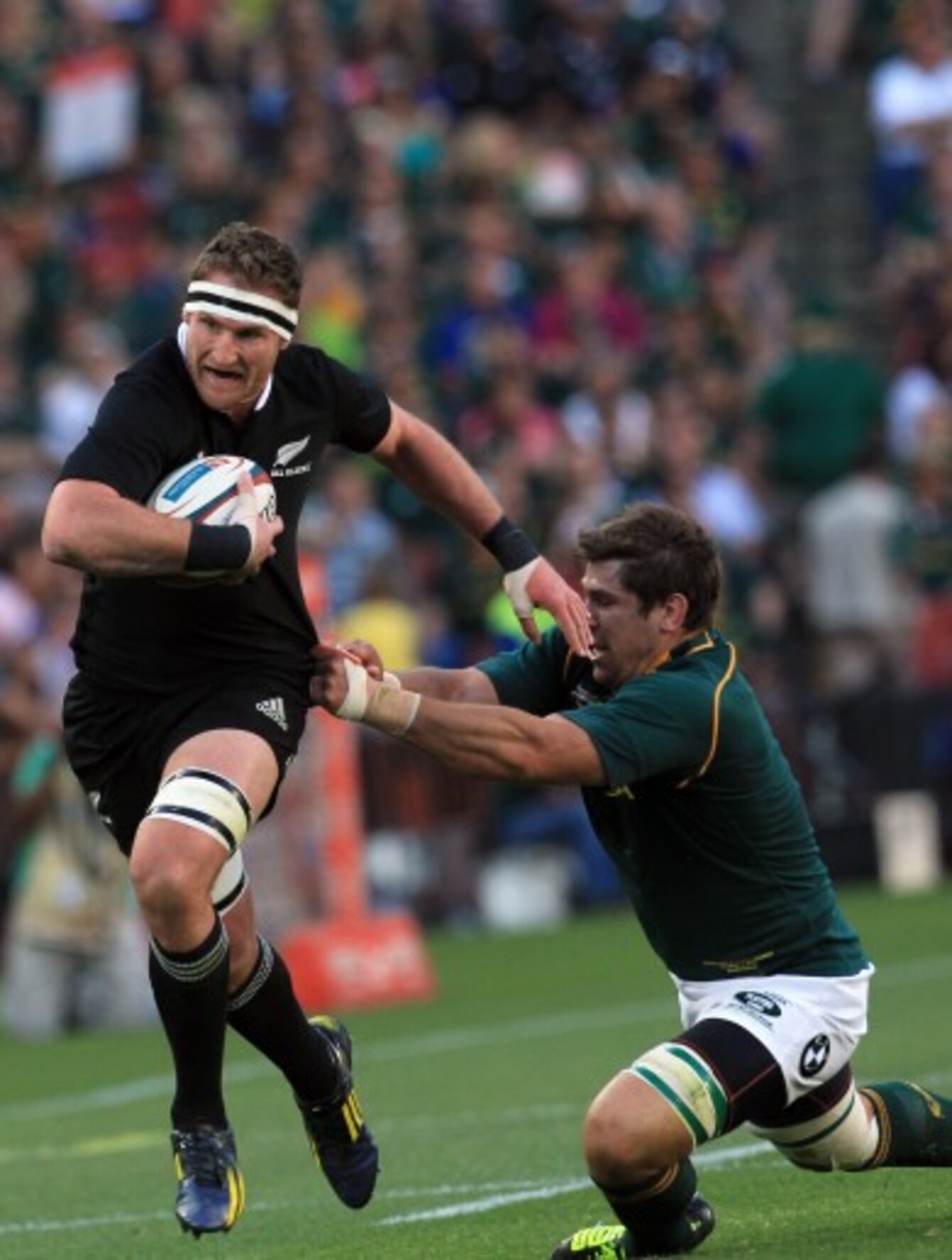 Image: Themba Hadebe/AP/Press Association Images
Image: Themba Hadebe/AP/Press Association Images
THE SPORTING GODS served up an interesting double on Saturday – the final match of the Rugby Championship between New Zealand and South Africa directly preceded RTE's coverage of the Leinster Munster game.
Comparing our provinces with the two best nations on the planet isn't strictly fair, but it was an instructive four hours of television.
There is clearly a gulf between provincial and international rugby, but there were 26 Irish internationals involved in Thomond Park and a Leinster Munster game is always close to or above Heineken Cup standard.
The styles of play and the weather and the athletes on display were varied and distinctive, but maybe the most noticeable difference was the beautiful art of catching a rugby ball.
The very first move in Limerick was a well judged high kick from Duncan Williams, taken expertly by Rob Kearney. This pattern was repeated throughout the game – Munster sending up bombs, chasing well, with either Rob or Dave Kearney catching brilliantly, before being swamped by red shirts. The match winning moment came from a lofted cross-field kick to Keith Earls, who had to wait an age before the ball dropped into his arms.
In Johannesburg, the first try came after ten minutes when the New Zealand hooker Andrew Hore caught the ball as he was being tackled, but still managed to get a perfect pass away to number eight Kieran Read, who then slipped a delicate little offload to Ben Smith.
The finish was impressive but the key skill came from a hooker catching a ball when in heavy traffic. They did this repeatedly throughout the game – taking difficult offloads with one hand, anticipating a bouncing ball, taking the ball while running near top speed (an under estimated skill) and holding onto the ball while shipping heavy tackles.
Guru
Other nations sometimes match New Zealand for power or in the set piece, but the All Blacks are always miles ahead of the rest when it comes to holding onto an oval ball. Trying to figure out why the best are the best can be a dull exercise at times. Ask a Kilkenny hurler or a German footballer  how they dominate year after year, and usually they won't provide much insight, besides suggesting it comes down to hard work.
I met Wayne Smith after a press conference during the 2011 World Cup. Smith is a decorated coach with a World Cup and now two Super 15 titles (Waikato Chiefs) under his belt. He is the skills guru over there, a genuinely perceptive man who currently coaches the most error-free club side in the world. When I asked him what the key to their success was, he said your basics come from childhood, not from what your coaches tell you to do.
There are a lot of factors that go into creating a skillful sports person, but in New Zealand's case Smith suggested a big part of it is the way their kids grow up. When you drive around the country you can see it is, essentially, a street game. Its played in the estates and in back gardens and on the way home from school and at birthday parties, not just in an organised way through clubs and schools. Other rugby playing countries have this street element, just not to the same extent.
©INPHO/Ryan Byrne
During periods of open play in the Leinster Munster game there were moments of skill, but often players knocked on, or were surprised by a pass or failed to catch a ball bobbling along the ground or struggled if the pass was slightly ahead of or behind them. In contrast, if there was a high kick to be caught the efforts to catch it were world class. Its not that Irish players are inherently less skillful, just that the emphasis is on different areas.
John Devine, John Giles and Eamon Dunphy are currently pushing the idea of street football as the way to develop the sport in this country, to get the kids as many touches as possible and to work on micro skills. Dennis Bergkamp has revamped the way Ajax coach their youth teams. Instead of doing drills that produce players with the perfect touch, he wants the boys to work it out for themselves, to figure out why things went wrong, and fix it.
By its very nature, rugby will never be a city centre sport, but maybe there is something in that ethos.The academies and the schools will continue to produce good players, but maybe we should loosen the grip a little.