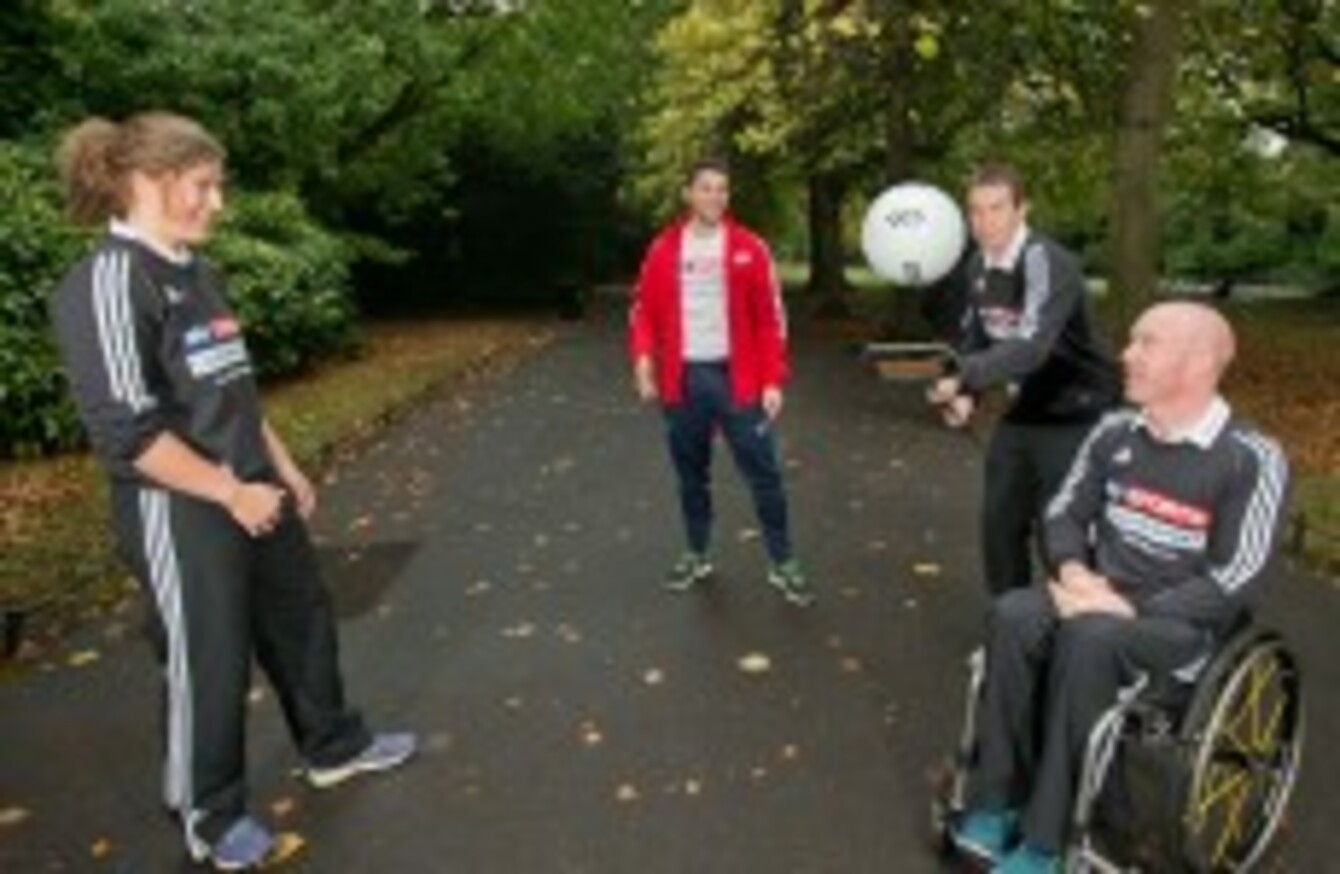 Rheinisch, second from right, with the other Sky Sports Living for Sport Athlete Mentors.
Image: Morgan Treacy/INPHO
Rheinisch, second from right, with the other Sky Sports Living for Sport Athlete Mentors.
Image: Morgan Treacy/INPHO
WITH FUNDING FOR athletes and sports organisations in short supply, there is a temptation to focus on the best kids, the fastest, the fittest, the strongest.
That sort of talent identification has a place after a certain age and when kids have decided they enjoy their chosen sport enough to really go for it says former Olympic slalom canoeist Eoin Rheinisch but sport can do much more than create elite athletes.
Rheinisch is a mentor on the Sky Sports Living for Sports scheme and he believes that such initiatives are vital in engaging with kids for whom sport doesn't play a large role.
"A lot of groups that are chosen for this project are not from a sporting background and we use sport as a tool to show them some life skills and to get them motivated towards whatever they want to achieve whether it's in the arts, in media or in academic areas," he told TheScore.ie.
"They'll have the tools to develop whatever path they take they can benefit from it. So sport is used as a tool but you don't necessarily have to stay in it to get the benefit of this programme.
"It isn't about going in and hand-picking the elite. It's not about going in and selecting the best five kids and saying you're going to play GAA or whatever sport.
"It also appeals to kids who have learning difficulties as they can learn pick up literacy skills and even for kids who aren't maybe motivated to come to school, it can help with that too."
Rheinisch was asked to become involved with the Living for Sport scheme earlier this year and took a role – alongside the likes of Bernard Brogan, Mark Rohan and Jenny Murphy – because he firmly believes that sport can impact all areas of a young person's life.
"You're taught so many things through sport, it's so powerful in that way and the longer you spend at it and the better level you achieve you start to realise that mental toughness and all of those kind of skills will get better as you go along, so it's not just about technical skills."
That mental toughness came in especially useful for Rheinisch when he finished in an agonising fourth place at the 2008 Olympic Games.
SEE SPORT
DIFFERENTLY
Get closer to the stories that matter with exclusive analysis, insight and debate in The42 Membership.
Become a Member
"Being involved with this programme has helped with accepting fourth spot. When you're going in to tell your sporting story, it might take 90 minutes from the time you first got involved in the sport, right through school, up until you retired.
"So when you actually sit down to piece that story together, it makes you realise that, yeah, fourth was a horrible place to finish and I was disappointed for a very long time but, without finishing fourth, I would never have got the funding to have another crack at it four years on.
"If I'd have finished seventh or eighth I would not have been supported as a medal hope going forward so it was important I got that result rather than something lower down."
When he's not involved with the Living for Sport scheme, Rheinisch is coaching the next batch of Olympic hopefuls, including Robert Hendrick who took silver at the recent Youth Olympics in Beijing.
"I think we can medal soon. I think we have some phenomenal talent coming up but any of the squad I'm currently coaching won't be getting to Rio because they're all 16, 17, 18 years old but they've a good shot at Tokyo 2020."
And the 34-year old doesn't believe the lack of world class training facilitates in Ireland should prevent any future success.
"Just because you don't have the facilities doesn't mean you can automatically label yourself as the underdog because you'll never achieve anything.
"You have to try find areas that other nations might be neglecting because they have the facilities and use that as leverage to catch up.
"It might be the area of tactics, it might be the area of sports science but something that other people aren't doing or that you can do better in order to bridge the gap."
Eoin Rheinisch is an Athlete Mentor on the Sky Sports Living for Sports scheme, which uses sport stars and the skills learned through sport to help young people build confidence and develop life skills. For more information on how to sign up a school for the free initiative visit www.skysports.com/livingforsport.