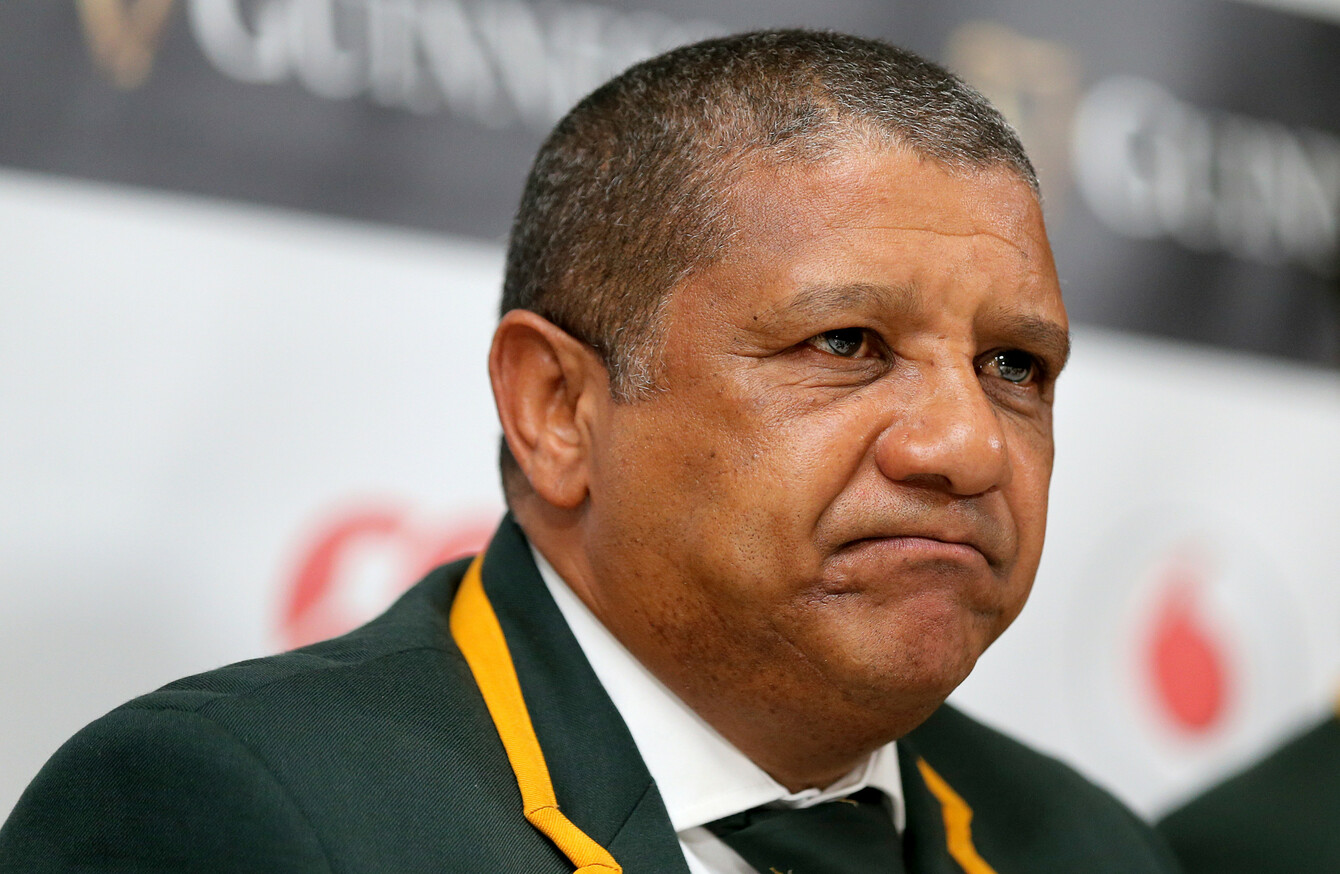 Image: Oisin Keniry/INPHO
Image: Oisin Keniry/INPHO
ALLISTER COETZEE TODAY officially vacated his role as South Africa head coach following a string of poor results and a leaked letter in which he alleged that SA Rugby officials were undermining him.
Saru said in a statement that "it had reached an agreement with Allister Coetzee to part ways with immediate effect." The statement added that the new Springbok coaching ticket would be confirmed by the end of this month, with director of rugby Rassie Erasmus widely expected to take a more hands-on role.
After only 11 victories in 25 Tests during two years guiding the Springboks, there had been increasing media speculation that the 54-year-old faced the sack.
"First and foremost we had to assess what is in the best interests of the Springboks," said Saru boss Jurie Roux.
"We'd like to thank Allister for his passion and dedication to the Springbok cause and wish him every success in his next role."
Coetzee said in the statement: "I have always held Springbok rugby dear to my heart and will continue to do so and for that reason I think now is the time the team and me strike out in new directions.
I wish Springbok rugby every success in the future — as I have always done."
In a recent leaked letter, the former inter-provincial scrum-half said his efforts to build a team capable of winning the 2019 Rugby World Cup in Japan were being severely hampered by officials.
In the letter to SA Rugby, Coetzee angrily alleged that officials "embarked on a deliberate attempt to undermine me from the word go.
"(This) creates a public impression of incompetence on my part while wilfully obstructing my efforts to be successful," he wrote.
"I will fight to protect my hard-earned reputation."
South Africa lost a calendar-year record eight Tests, including at home to Ireland, away to Argentina and to Italy for the first time.
The Springboks were also humiliated 57-15 by bitter rivals New Zealand in Durban, a record home loss.
Prior to Coetzee's departure, Erasmus spoke at an SA Rugby academy event in Stellenbosch, telling SA Rugby Mag that efforts to shore up certainty on the coaching setup was not distracting from his role as director.
"I think all of us want things (regarding the Springbok coaching ticket) to be in place as soon as possible, but I don't see it as a massive problem," explained Erasmus.
"I can take you back to 2012 when Heyneke (Meyer) was appointed, we did all the planning, but a lot of the support staff were only confirmed shortly before the start of that first Test series, and we beat England in that series. It was the same with Allister two years ago, and we beat Ireland 2-1.
So there has been planning going on behind the scenes, and of course we want to get that clarity, but there is a process that has to run its course.
"However, it's not hindering us in the background and it isn't affecting my role as director of rugby, which is to ensure that we are as well prepared as possible to be able to beat England in that first Test series."