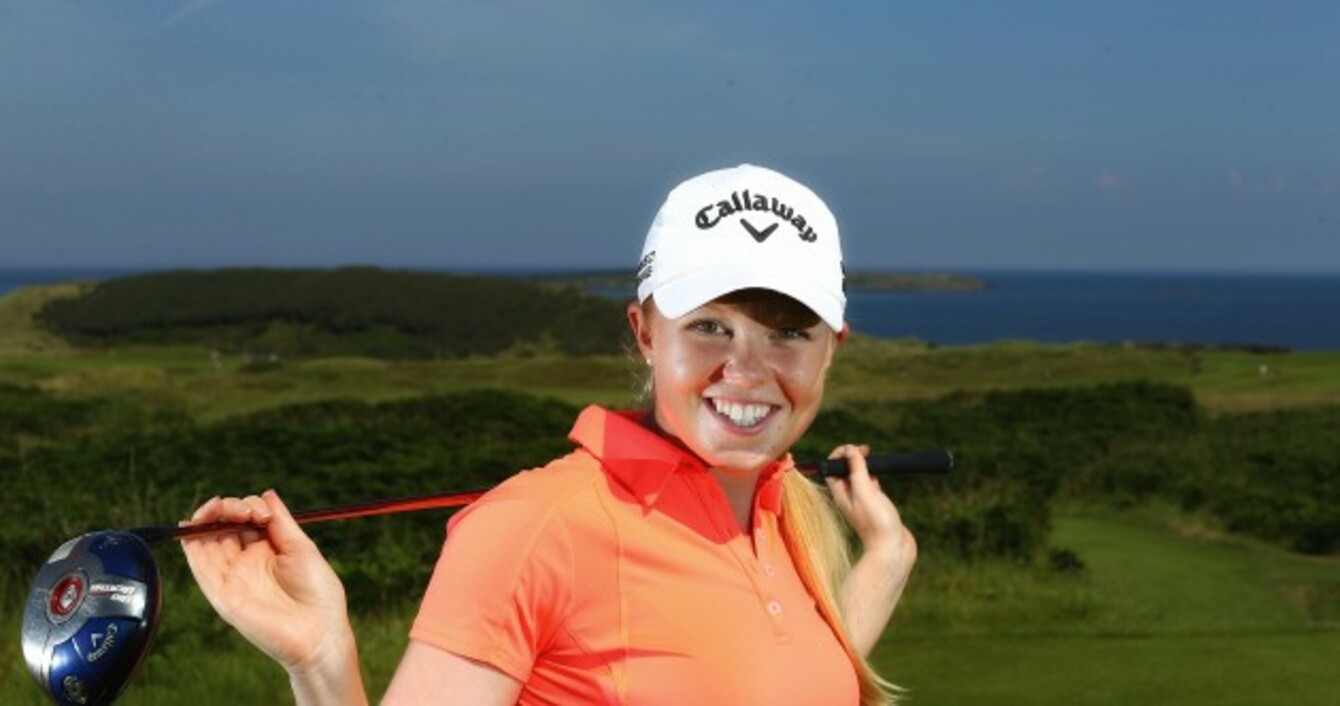 Stephenie Meadow is set to represent Team Ireland in Rio.
Image: Presseye/William Cherry/INPHO
Stephenie Meadow is set to represent Team Ireland in Rio.
Image: Presseye/William Cherry/INPHO
STEPHANIE MEADOW LOVES a challenge.
Whereas most 14-year-olds mainly worry about standard issues like homework and romance, by that age, Meadow already had legitimate ambitions of taking the golf world by storm.
Having played the sport since the age of seven and already represented Team Ireland, the Jordanstown native made the big sacrifice of moving to the States, along with her parents, during her early teens, in order to continue her golfing development.
Was she not a little daunted by the prospect of leaving behind friends and family to move to America in order to pursue her dream?
"It was my idea," she tells The42. "I was lucky that I had parents that wanted to go along with it and supported me in that way and had the availability to do it. At the time, because I was so young, I was probably a little naive about how daunting the move would be.
"I was just so excited. I thought I'd have great coaching and get to play in different tournaments, meet new competition and see what the rest of the golf world is doing.
It was kind of a shock, because at the beginning, you think 'I'm the best in Ireland'. You come over here and realise there's about a hundred other girls that are at the same level as you are. But it's very motivating and it helps when you're exposed to that."
A genuine child prodigy, Meadow credits her father with getting her into the sport in the first place.
"It was all just my dad," she explains. "He played and I would come along to his lessons. It started with me taking five minutes of the lesson and then eventually, it became my lesson.
I got involved with the ILGU (Irish Ladies Golf Union) really early. I did all their training and played everything for Team Ireland. (Aged) 10 or 11 was my first home international. I've been through it all with them — every stage. That's been great — they helped me out a lot to get here."
Yet there are, of course, aspects of her old life in Ireland that she misses. A cousin recently had a baby, but Meadow's endless commitments means she gets limited time to visit her family back home.
"I'm constantly getting baby pictures. I've only ever seen (the baby) twice. She's one and a half now. That's really hard. I have to miss her growing up.
"But it's part of the job. It wouldn't be feasible for me to move back to Ireland. It would be too much travel.
I want to be in the LPGA rather than Europe, because obviously the LPGA is the better tour with more money. It's what I have to accept. But hopefully, I can win some money and come back (to Ireland) whenever I want."
The gamble to move Stateside, however, seems to be paying off. She immediately joined a junior golf academy established by Hank Haney, the then-coach of Tiger Woods.
A few years later, while studying accounting, Meadow played for the University of Alabama and quickly thrived, winning nine tournaments during her time there and breaking several records in the process.
In the early days, commenting on Meadow's progress, Haney remarked: "If you put a bet on her to reach the top, it'll be a pretty safe one."
Yet it was not until the 2014 US Women's Open at Pinehurst that she truly announced herself to the golfing world at large, playing phenomenally and finishing third amid a remarkable professional debut, which she described at the time as "a dream come true".
Her success continued that same year the following month, where she came third at the Ladies European Masters to complete a fairytale few weeks.
However, since then, Meadow's form has been less consistent. The 24-year-old suffered what she refers to as a "slump".
A run of six out of seven missed cuts last year was tough to take, particularly following the highs of 2014. She also went five weeks without playing after her father Robert — who had been so influential in encouraging her to develop a passion for golf — sadly passed away from pancreatic cancer in May 2015. Speaking to The42 last year, she described experiencing a "bit of a struggle" and a "difficult" few months, but 2016 has been more positive thus far.
Earlier this month, it was confirmed that she would represent Ireland at the Rio Olympics — something she had been asked about for quite some time. Indeed, the topic came up literally minutes after her incredible US Open performance two years ago.
Meadow ultimately earned a spare spot at the Games, after Dutch duo Christel Boeljon and Anne van Dam failed to reach the Dutch Olympic Committee's requirement of a top 60 Olympic ranking and a position in the top 100 golfers in the world.
I don't think I ever dreamed it would happen. Obviously everybody watches (the Olympics) as a kid. I was in one of those sports where I thought I would never be in that position (to compete)."
Her form also has been showing signs of improvement, ahead of the summer's biggest sporting event.
"The last month or two has been a lot better. I'm starting to make (improvements) on the LPGA again and am consistently shooting under par, so it's been up and up for a good while now.
I had a bit of a slump or whatever you want to call it, and I think I'm definitely out of that now. I'm happy with (my game) coming along and I just want to keep moving in the right direction."
And while not many golf experts would fancy Meadow's chances of winning a medal over the next few weeks, she certainly has the potential to surprise people — as she showed at the 2014 US Open.
"Golf is one of those sports when you never know quite when it's going to click," she says.
You can have a great week or an average week, so winning a medal is definitely still on the cards and one of my goals, and I know every girl who's going down there has the same (mentality).
"You're playing against the top and to medal would be unbelievable, but the whole experience is something golfers don't get to be a part of very often. I'll just take it all in and do my best, and hopefully I can do it."
Despite it being winter over in Rio, temperatures of between 20°C to 30°C are expected, though these conditions will pose no problem to Meadow, who has been practicing in similarly hot weather in her adopted home of North Carolina in the States.
She will represent Team Ireland in women's golf along with Cavan native Leona Maguire — a long-time friend and fellow golfing prodigy.
"I've known her since she was a tiny, tiny kid playing golf… I pretty much know her too well. We know everything about each other," Meadow laughs.
"It'll be fun to have someone that I actually know on the team."
She is excited, too, about the exposure that the Olympics will bring to women's golf.
It's always hard when you're competing against the PGA and men's sports — they're normally going to get priority over women's (events). But I think more men are starting to be able to relate to LPGA events and women playing.
"I play a lot of pro-ams — I play at least one every week. I hear a lot of people say 'when I go to watch a PGA event, the (men) hit it 300 and whatever yards. I can't imagine doing that — it's a totally different game.'
"'But when I watch the women, the average male golfer hits it probably just as hard as we do.' So they can kind of relate a little more. The more that people start realising that, the better it's going to be.
It's definitely hard to get people to come in the first place, but it's getting better and we have a great tour commissioner (Michael Whan) over here who's done a lot. Our presence has gone up 10-15 million in the last five years.
"At the Olympics, people who don't normally watch golf will watch golf, and that's going to help a lot, especially on the women's side. I don't know how much it will help the men, but it'll be more exposed for us, so it's a great opportunity."
And speaking of the men, the decision of several high-profile golfers, including Rory McIlroy, Graeme McDowell and Shane Lowry, to opt out has prompted some to question whether the sport deserves its place at the Games. Did Meadow understand the decision of McIlroy and his colleagues to withdraw?
Yes and no. I get it. But the men are in a different position than we are. We probably see that we can get a lot more of it than they can
"It's their decision and we've got to respect that, as their peers. It's everyone's choice. It's a tough call, from everything to Zika, to social security, to sponsors, everything."
Meadow, herself, upon learning of her Olympics opportunity immediately sought doctor's advice before agreeing to participate in Rio.
I called the Irish Olympic Committee's head doctor and talked to him about Zika, just because I had a few questions that I wanted factual answers to," she recalls.
"Sometimes things are blown out of proportion. And I got the (answers to my questions), so once I talked to him, it was pretty clear that I was okay with going. I was able to check the risks — you have to think about it and process it properly. But I definitely was decided after the call."
The42 is on Snapchat! Tap the button below on your phone to add!