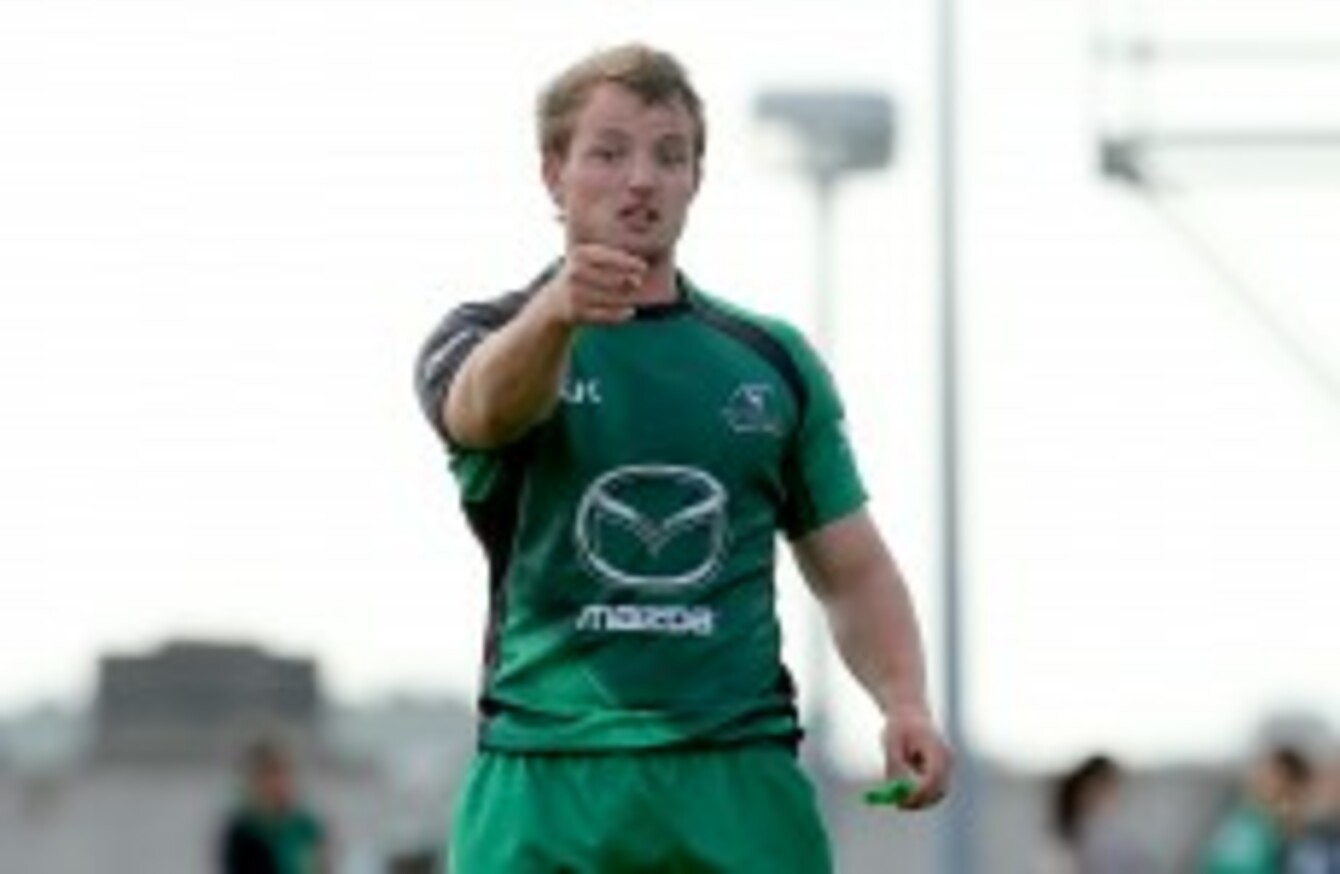 Macauley in Connacht colours last season.
Macauley in Connacht colours last season.
WHEN ACADEMY PAIR Peter Reilly and Stephen Macauley learned late last season that their time at Connacht was coming to an end, they had immediate doubts as to what would come next.
Seek a professional contract elsewhere? Instantly enrol themselves in an educational course of some kind? Pack in rugby for good?
Several months later and the Irishmen are preparing themselves for Waimate RFC's away clash with Pleasant Point tomorrow, the final day of the South Canterbury Senior League in New Zealand.
Over nine weeks have passed since Connacht team manager – and Waimate native – Tim Allnutt set prop Reilly and fullback Macauley up with his home town club, situated just 20 minutes drive from where Richie McCaw was born and bred.
Working visas were arranged, Waimate president 'Red' Cunningham kindly agreed to host the Irish duo in his family home, and Reilly and Macauley jetted out to New Zealand.
Their performances have aided the club's progress into the semi-finals of the regional league with a game to spare, as well as catching the eye of the South Canterbury selectors ahead of the Heartland Championship, which kicks off next month.
"The level of rugby would be quite similar to club rugby in Ireland," says Reilly. "We were playing with Buccaneers before we came over. Maybe a bit more physical as you get a few Pacific Islander boys around, big lads; some teams would be covered in Tongan guys!"
Macauley is loving the style of rugby in New Zealand: "It probably suits me better, the type of rugby they play over here. There wouldn't be as much structure, so I really enjoy it that way.
"There's a really coach here, he was an assistant coach for the Highlanders in Super Rugby before – Barry Matthews. He does great work with the backs," says Macauley.
115kg Dublin native Reilly shot to rugby prominence with the Ireland U20s in 2012, appearing in the Six Nations and at the Junior World Championship. His powerful form, and an ability to play loosehead and tighthead, caught the attention of the western province.
I was finished with the Leinster sub-academy before the World Cup and I only ended up going to Connacht after the World Cup," explains former Castleknock student Reilly. "I was pretty much just going to be playing club rugby until I got the chance to go to Connacht and I went for it."
Macauley was a Leinster Schools Senior Cup star for Clongowes in their victorious 2010 campaign and was capped for Ireland Schools, earning himself an academy contract with Leicester in England thanks to his attacking flair and intelligence.
He scored many tries for the Tigers' academy and 'A' teams, as well as making a senior team appearance in the Anglo-Welsh Cup.
However, two seasons later, Leicester "said I was too small to progress any further" and the 22-year-old signed up with Connacht after impressing in trial matches in the British and Irish Cup.
Both players worked hard for two seasons in the Connacht academy, but their contracts expired at the end of last season. Having had time to reflect while on this New Zealand adventure of theirs, Reilly and Macauley have differing views on the topic of pursuing professional rugby as a career.
"I was looking into trying to get into the Championship, but I'm not 100% set on it at the moment. I'm enjoying it over here and I was also thinking of heading to see my friends to Australia for a while," says 23-year-old Reilly.
"I could just end up playing club rugby in Dublin, so all the doors are pretty much open. I haven't really set my mind to one at the moment; I'll wait until the season ends here."
In contrast, Macauley is certain that he has no interest in looking for professional opportunities elsewhere.
No, definitely not," says Macauley. "A good bit before the end of last season I decided I didn't want to carry on with it. I'm looking to go to an agricultural college when I get home and just play AIL, or whatever happens with rugby.
"Obviously I want to play good rugby, but I'm not really too pushed on what standard it is. It's mainly going to be for fun."
Macauley's interest in all matters farming – his family farm has cattle, sheep and horses – is one of the reasons he is in Waimate. South Canterbury is a deeply agricultural area, something that proved a "big attraction" for Macauley.
"I love it, because I'd be an outdoors-type of person. I grew up on a farm at home, so I'm doing a lot of farming over here, working for different farmers. It's pretty good for me to get to see different types of farm and different scales and everything."
Meanwhile, Reilly has been kept busy "picking up bits and pieces here and there. We've got working visas, so I've been doing little bits of work helping out plumbers, builders, labourers."
Those life experiences have been important to the Irishmen, who underline their deep appreciation for the hospitality of all in Waimate, especially host family the Cunninghams, whose two children are sports-mad.
Being in New Zealand has been eye-opening from a rugby point of view too, with Reilly outlining that "the pressure that seems to be on the All Blacks is amazing," while Macauley explains that Waimate's training is heavily focused on handling and unstructured games – perhaps hinting as to why Kiwis are so highly skilled.
Their lives have moved swiftly on from the day-to-day grind of life in the academy of one of Ireland's provinces, but the pair's rugby excellence is evident in the fact that the South Canterbury management have shown their interest.
Reilly and Macauley are out of the Irish system now, but neither have regrets.
At Leicester I loved it. When I went to Connacht it was very different, but I still loved it. Leicester was all about rugby and I really bought into it when I was there, the whole atmosphere," says Macauley.
Reilly shares similar sentiments: "I suppose you're always frustrated if you don't get too many chances to play, but that's always down to yourself and how hard you work. Opportunities come and if you're ready to take them, they're there for players.
"A good few young guys came through last season at Connacht and I think the Eagles is a great stepping stone for players. I was obviously frustrated naturally, but I gave it a good whack."