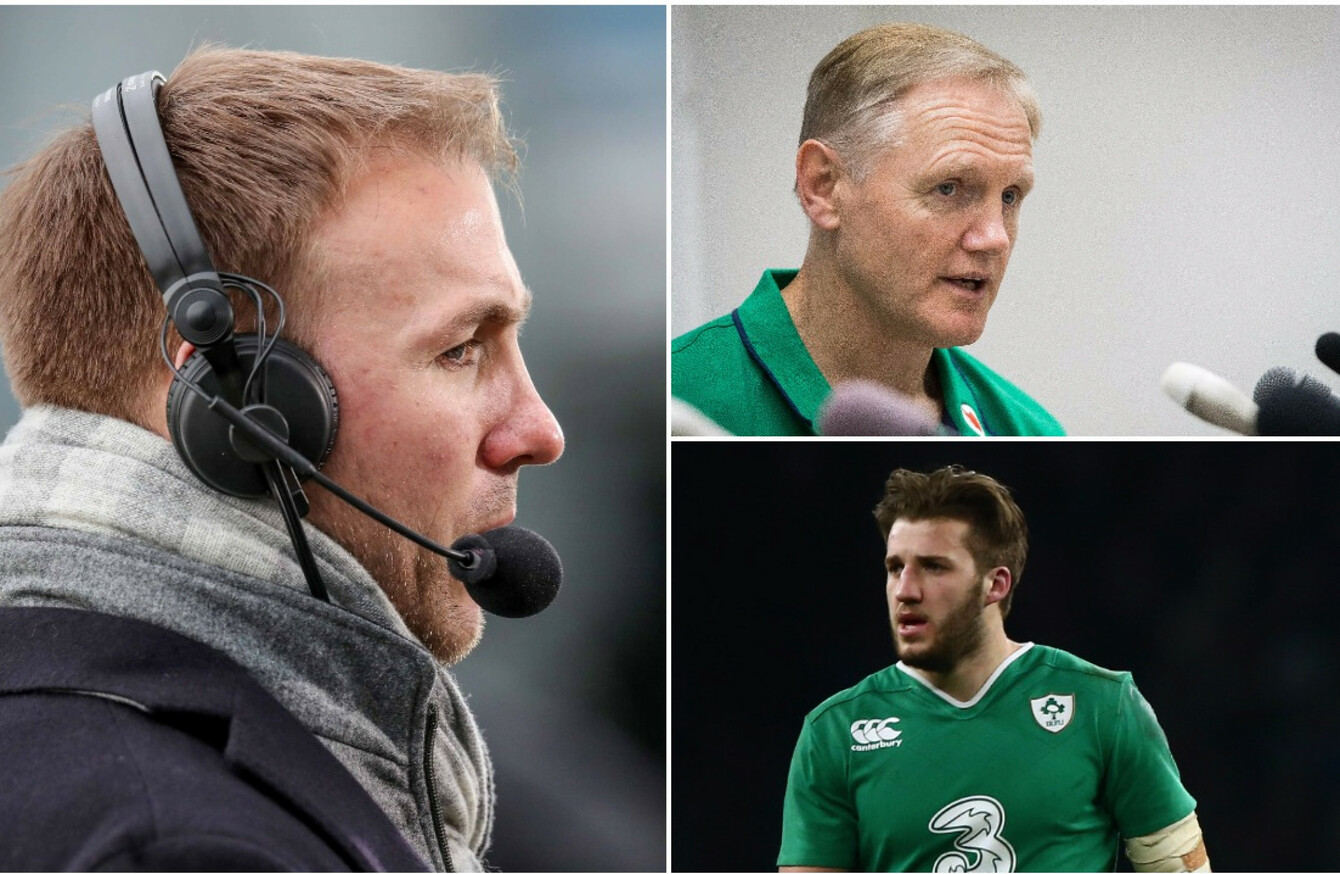 STEPHEN FERRIS MAINTAINS Ulster's Pro14 fixture with Connacht will play a 'huge' role in determining the trajectory of their season, and has pointedly backed in-form Stuart McCloskey for inclusion in Joe Schmidt's Ireland squad for the November internationals.
Ferris was on punditry duty during his former side's humiliating defeat to Zebre at the Stadio Sergio Lanfranchi, but for timing reasons was denied the opportunity to flesh out a post-match assessment – perhaps fortuitously, given the conspicuous anger on his face.
The former Ireland back row remains optimistic ahead of Ulster's Champions Cup campaign, however, with last year's French high-fliers La Rochelle as well as Premierships stalwarts Harlequins and Wasps standing between Ulster and a place in the knockout stages.
"Wasps got beaten there by Bath yesterday", Ferris tells The42, "and didn't perform well. [Danny] Cipriani is still injured. They're coming to Kingspan for the first game – a Friday night game at a sold-out Kingspan. You really need to get off to a good start and build momentum.
"I thought that was happening at the start of the league, and then Ulster hit a massive speed-bump getting beaten by Zebre away from home, but I think they've got the players. They're bleeding a lot of young guys into the squad, and I think this weekend against Connacht will show what team is going to play against Wasps the following week.
"Watching La Rochelle, then, to me they're just huge men. They're a huge, huge pack, and for me the one thing about this Ulster team that makes me doubt them slightly is their size up front. When they struggle against teams up front, it doesn't matter what backline you have – great wingers and Stuart McCloskey playing some great rugby. If you're getting beaten up up front and you can't get the ball to them, it just doesn't matter.
"Harlequins, then, are a bit of a mixed bag, playing some good stuff and some average stuff. The new fly-half [Marcus Smith] is in the England set-up as well. There's still a bit of rugby to be played before they meet Ulster, but what better way to get the tournament started than Wasps coming to Kingspan? They like to play rugby, Ulster like to play rugby. Hopefully we get a dry evening and there's plenty of entertainment."
The former Ulsterman went on to make a bullish prediction ahead of Wasp's visit in less than a fortnight's time:
To be honest, I would love to see the statistics on it, when Ulster open their European account at home on a Friday night, what the win ratio is. I don't think I ever lost on an opening weekend when we played at home, and if you're a betting man you'd be a foolish man to bet against Ulster when Wasps come to town.
"With the home stadium and the crowd, with the rugby that the boys have played at home – it's been particularly fantastic this season – so I'm giving the boys every chance to get a good… Not just a win, actually, but a very good win to get the momentum going."
Ferris' optimism is scarcely blind, however. He references the Ulster side with which he feels he 'underachieved', and provides a stark warning to his successors that if they are to avoid becoming nearly men, performances of Saturday's 'unacceptable' ilk must be stamped out at all costs.
"No silverware, like, is driving everyone up the walls," he says. "Playing such good rugby throughout the season so far, and then that one loss where the boys just didn't turn up. For me, if you can't make the top three of your conference in the Pro14, there's something seriously wrong.
Like, the calibre of teams… It'll be talked about in the dressing room after that defeat to Zebre. That's history-making for Zebre. They are on top of the world this week in training, they were on top of the world last week when they beat the Kings. The Ulster boys will have gone into training this week with their heads down, knowing that it was an unacceptable performance. And they'll not be going into the changing room going, 'right, lads, we didn't turn up, on to next week.'
"It's got to be addressed," he continues. "It's unacceptable to go away to a mediocre team and not perform.
"The second-half display was so, so bad – so bad! Really, really bad. Fair play to Zebre, they played some good rugby. But I just couldn't get my head around it, the system Ulster were using of just not attacking the breakdown and fanning out. Like, if you fan out, you've got to get line-speed! Bot only did they not do that, but they didn't actually do anything. They just fanned out and goes, 'there you go, Zebre, play with the ball, and then hopefully you'll turn it over and give it back to us.'
"Like, the week before – the Dragons – Ulster absolutely destroyed the breakdown. They were fantastic. I just don't know what went on in Italy. Complacency, definitely, and the word that every Ulster fan has talked about for the past five seasons: inconsistency. And it's crept back in once again, it crept back in when we nearly lost to Benetton a couple of weeks ago.
If I was a player, I'd be like, 'right, lads, that's our wake-up call, that's the kick-up the backside that we needed. We just were arrogant going over there thinking we were going to get the victory, that didn't happen, and we got beaten by the better team on the day. Let's make sure that doesn't happen again over the next few weeks.' And I think the coaches need to think that way also.
Connacht's visit to Belfast, then, amounts to more than a mere league game, particularly with Champions Cup to follow a week later. Rory Best's role as returning captain, Ferris muses, will be of particular importance this week.
"If there's not a reaction against Connacht, then for me there would be something wrong. Rory Best – I call him 'Lazarus', because I saw him there during the week, he's back running and training, having suffered a Grade 2 hamstring tear a couple of weeks ago.
"I think he might actually be involved this weekend. And if he's not, you can be sure he'll be involved against Wasps. But just having a guy like that train with the boys this week, and the constant reminders that last week's performance was unacceptable, is huge.
This Connacht game is huge, but I think they're actually on the right path. One defeat doesn't make you a bad team. But what it does is makes the doubters from the last two or three seasons resurface. That talk of inconsistency creeps back in again, and you want to try and get rid of that stigma that you're a team of underachievers.
"It's time to send the point out to the rest of Europe that this Ulster team is capable of mixing it with the best."
Of their several standout performances this term, Stuart McCloskey is most lauded by Ferris.
The 25-year-old centre has dotted down twice in Ulster's four league games this season, but more pertinently, seems to have rediscovered some of that swashbuckling verve which led to an oddly ill-fated Ireland debut – his sole cap – during last year's Six Nations.
Ferris remains incredulous at Joe Schmidt's swift dismissal of the banger from Bangor after that curtailed international bow in Twickenham, believing the affair to have detrimentally impacted the inside back's confidence in the 18 months since. But he still believes McCloskey has a future in green, and backed him for inclusion in November.
Stuart McCloskey started against England, got dragged off, and Joe Schmidt in his post-match interview said: 'Och, yeah, he went okay, made a few mistakes' – or something like that. I was like, 'hold on a second, give this guy confidence!' Say, 'yeah, he did a fantastic job, it's his first international start so we brought on some fresh legs.' He was completely dropped two weeks later. I think mentally, that hit him.
"Giving someone a first international cap away to England, and then dropping him for the next game two weeks later, Stuart is obviously going to be like, 'shit, what have I done? I thought I was going well.' Then he goes back and plays for Ulster, and he probably didn't recapture the form that he'd enjoyed weeks previous to that.
Speaking to people and coaches close to him, he thrives off confidence. He needs it. When he's in a good frame of mind and mentally strong, he goes for those offloads, he gives the ball out the back door, he runs harder. He's not thinking about the the decision he's going to have to make before it actually happens, and you can just see in his game now, he's absolutely flying.
Ferris continued: "Scarlets are no pushovers, and you see two or three lads trying and failing to get him to ground. When he gets that ball away… I know someone in the media in the south said he's like Sonny Bill Williams – I'm not sure he's that good! I don't think he's at that standard yet, but he's a good distributor, his offloading game is good, he runs hard.
"Defensively, I'd just like to see him get up and make bigger hits. He's a big man – six-foot-four, 110kg. Make bigger hits, make a bigger impact on the game, and if he can do that Joe cannot look past him.
"He's playing super rugby at the minute. I think he deserves an opportunity in the upcoming internationals, be that against Fiji or one of the bigger nations in Argentina or South Africa. Stuart's a young fella. I think he'd learn so much from being involved in Joe's training sessions whether he plays or not."
Fancy heading to the Champions Cup with your mates and Stephen Ferris? In association with Heineken Rugby Club we're hosting a Facebook Live Quiz tonight (Monday) at 7.45pm where you could win a trip to Bilbao for the final.
Take the quiz here.
Subscribe to The42 podcasts here: