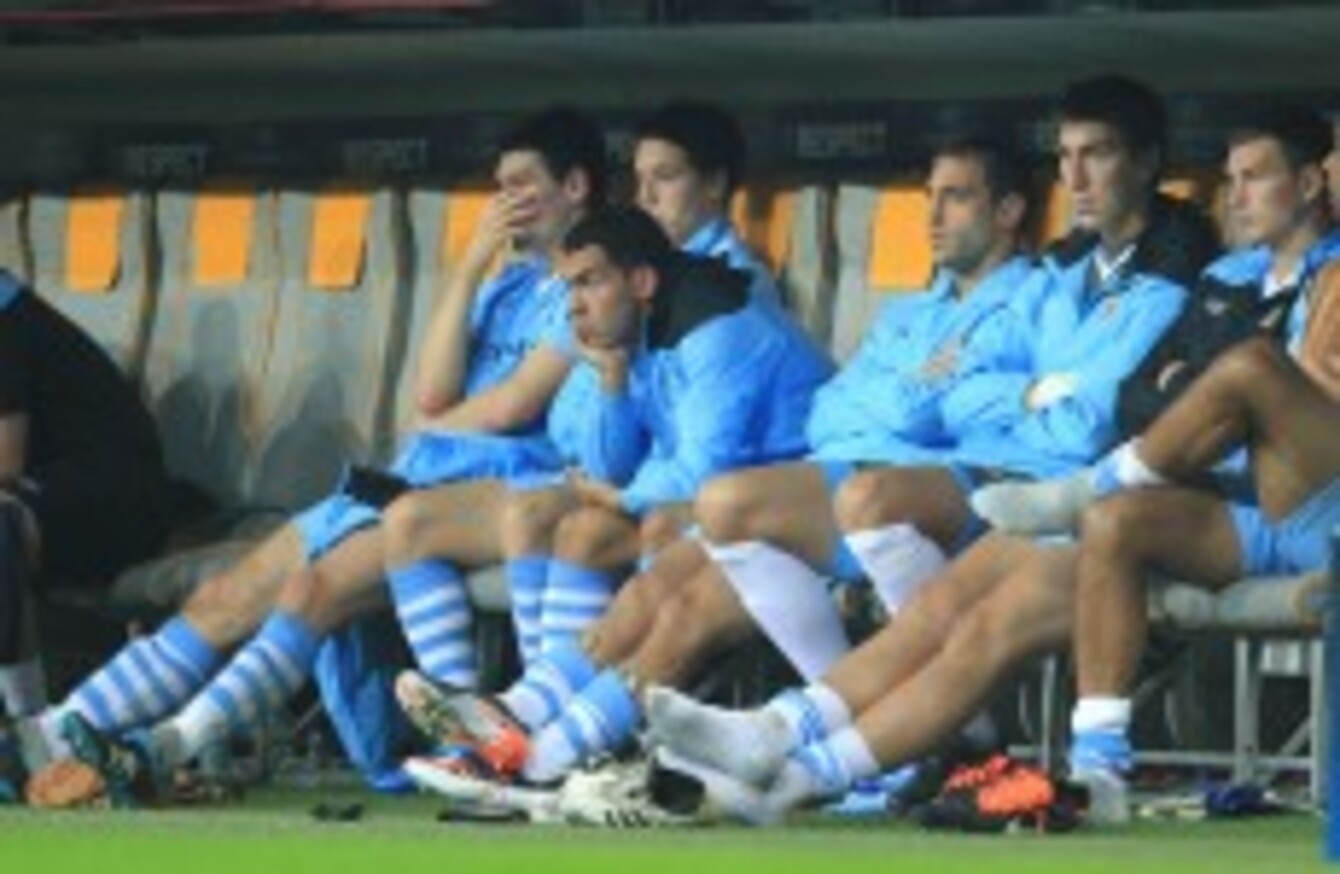 Image: Mike Egerton/EMPICS Sport
Image: Mike Egerton/EMPICS Sport
HAVING STRUGGLED FOR weeks with the unenviable task of defending the actions of Argentine striker Carlos Tevez, the Professional Footballers' Association had, it was suspected, grown tired of revisting the events of the September 28.
It was for this reason that Manchester City felt their punishment of the striker– four weeks' wages (approximately €1,000,000)– could be imposed with a degree of freedom: if it didn't quite come with the PFA's blessing, it came their tacit agreement.
Imagine Roberto Mancini's surprise, then, to learn that the club's attempt to impose an appropriately severe penalty would be hamstrung by a last-minute legal challenge from the union.
The PFA questioned the ability of the Premier League club to impose a fine greater than the equivalent of two weeks' wages and, less significantly, the validity of the club's determination that the striker, by refusing to take to the field during City's Champions League clash with Bayern Munich, was guilty of five separate breaches of contract.
A statement from the union, reprinted in the Telegraph, read:
"Our ­opinion, based on all the evidence presented, is that Carlos Tévez never refused to play for the club. This is accepted by the club in that the charge against Carlos made at the hearing was not one of refusing to play.

"As such, the PFA considers there is no justification for a fine other than up to the prescribed ­sanction of two weeks' wages agreed by the FA, the Premier League and PFA. The PFA has informed Manchester City Football Club accordingly and Carlos will continue to be supported by the PFA in this regard."
Resting on a slightly pedantic distinction between Tevez's alleged refusal to play and his refusal to prepare to play, the PFA's argument has succeeded in forcing City to scale back their fine.
The Premier League leaders made no secret of their frustration.
"Manchester City is disappointed by the apparent PFA conflict of interest evident in this process. Carlos Tevez has been personally represented throughout by the PFA chief executive [Gordon Taylor], on whose considerations the club has been informed that the PFA has made its decision."
Tevez, who has threatened to sue Roberto Mancini over his alleged misrepresentation of defamation of the Argentine, has until November 8 to appeal what remains of his original punishment.