Image: ©INPHO/Presseye/Darren Kidd
Image: ©INPHO/Presseye/Darren Kidd
LAST NIGHT IRELAND played out a wonderfully-entertaining five-goal shoot-out with Uruguay at Lansdowne Road. But there wasn't many there to see it.
Some 20,200 were present at the Aviva according to the FAI – but today, the Association announced they will take steps to ensure there's a lot more next time out.
Following a review, the FAI say they will sell all of its upcoming home matches (Northern Ireland, Scotland, Slovakia and Armenia) on a single basis.
And ticket prices have been reduced by up to 25% for friendly matches and 14% for competitive matches. But will it make any difference?
As Mrs Merton used to say: let's have a heated debate!
Yes
Let's start by stating the obvious – from a financial perspective, we live in incredibly difficult times. As the country continues to slowly work its way through a period of economic difficulty, disposable income is at an all-time low. People have less cash in general and those who do have a few euro to spend are becoming increasingly discerning about where their money goes.
I know absolutely zilch about economics but I know that much.
Over the past two years, crowds at sporting events have become smaller as people either choose to spend their money elsewhere or simply do without.
These lower attendance figures are solely "down to the working man in Ireland having to keep the money in his pocket to pay for the heating bill," argued Liam Brady in the post-match analysis of Ireland's victory over Macedonia on Saturday. Is he right?
He is, of course – and I agree not just because I'm afraid that he will come and hunt me down if I question his opinion.
At the root of all of this, it must be remembered that there are a lot of people who would like to go to sporting events if it was financially viable. Not only are these games brilliant social occasions which are increasingly designed to cater for an audience of all ages, but they also provide a welcome break from the worries and anxieties which much of the population have to deal with on a regular basis.
What exorbitant ticket prices do, in essence, is squeeze the market so that only the diehards can justify the expenditure. Even at that, they can only afford a single ticket rather than bringing the family for a day or an evening's entertainment.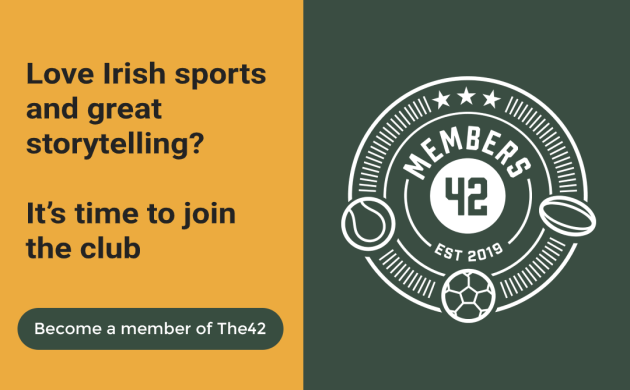 Before you raise your eyebrows and shrug your shoulders, think of the example which has been set by the GAA's attractively-priced "Spring Series" at Croke Park. A combined attendance figure of almost 78,000 over the course of three games – three league games at that - is perfect proof that a huge slice of non-fanatics are more than willing to part with their cash to go to live sport.
But only if the price is right.
– Niall Kelly
No
If the cost of following  Ireland was a major factor in this country's football fans clicking through the turnstiles, many of us would never have seen Genoa, Pasadena or Suwon. What gets people off the couch is a winning team.
Liam Brady was right to hit the Aviva Stadium studio roof on Saturday night. Well.. he was right to make the point that an 'entertaining team' is not what's required.
And he is quite correct in claiming that the man on the street needs to prioritise his household bills in these grim economic times. But we've had dark days in this country before and the Lansdwone Roar has not dimmed.
Nell McCafferty once wrote about the catacombs of Rome filling with Irish men who bedded down for the night during Italia '90. The Boys in Green have always prompted its supporters to go the extra mile, sacrifice something else and fill the terraces for some much-needed escapism.
But while, later on, during the Celtic Tiger years most could afford the luxury of watching an unreliable team draw or lose at home, today we need more bang for our buck: victory.
Giovanni Trapattoni and Robbie Keane are the men to get bums on seats – not accountants or marketing executives in Abbosttown. Get what they call, in American politics, Big 'Mo – momentum – and they will come.
If Ireland hit the back straight in the mix for a Euro 2012 spot, watch the tickets sell. And if we qualify, this winning team will have the backing of the entire football community again.
- Barry O'Leary