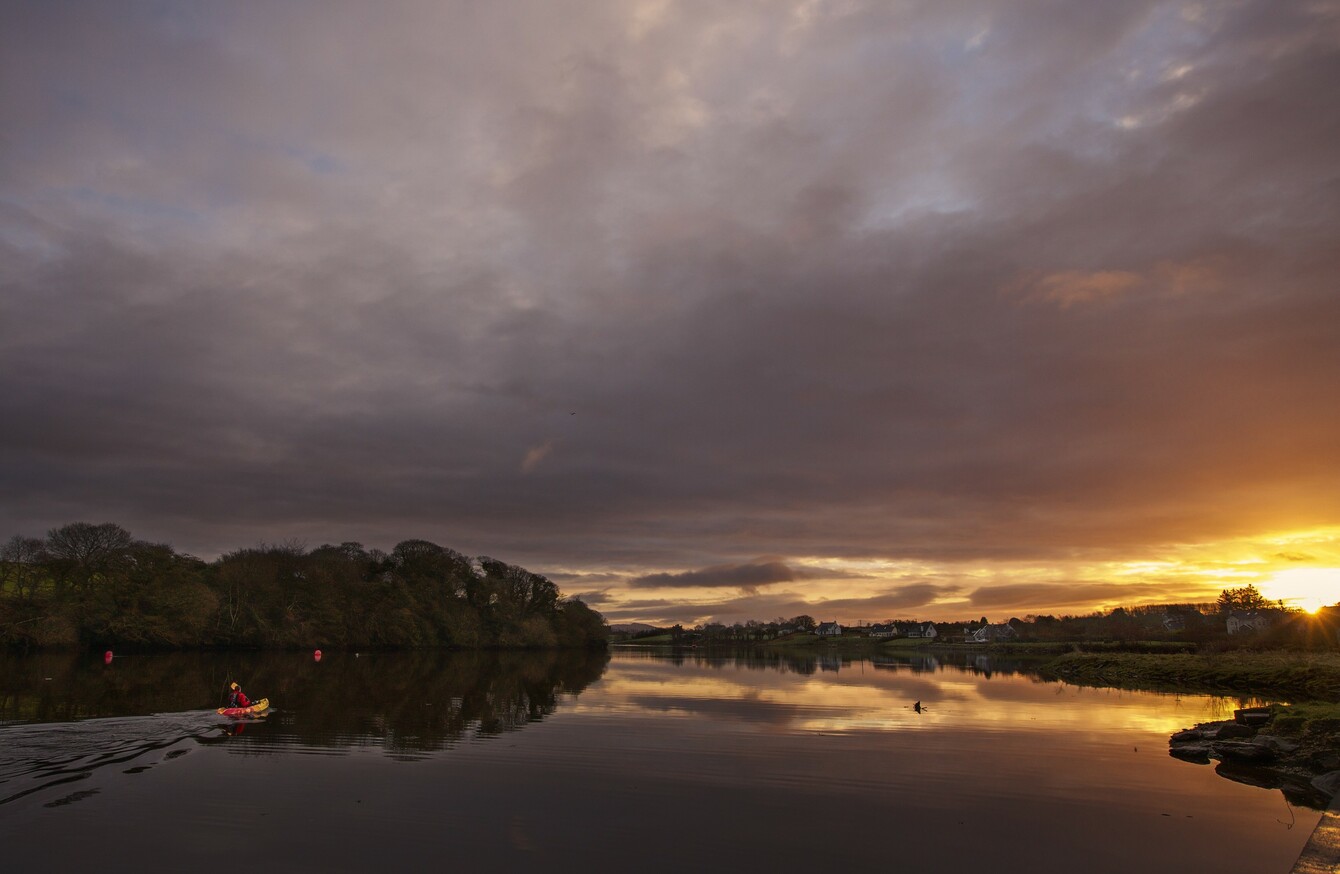 The Race takes place from 10-12 March.
The Race takes place from 10-12 March.
Updated at 19.06
FOR SEBASTIEN GIRAUD, it began with a simple dare.
And before he knew it, he was competing in what is often referred to as 'Ireland's toughest endurance race' — The Race.
The North West Donegal-based event, which returns this weekend, has seen its competitors test the limits of the human body since the inaugural competition in 2014.
It is a 250km unsupported endurance event, which competitors must complete within the allotted 24-hour time limit, with 15km of kayaking, 166km of cycling, 5km of mountain running and 64km of road and trail running all part and parcel of an intense weekend.
When I originally signed up, I had not even run a marathon," France-born Giraud tells The42. "So back in 2014 the first challenge was to run a marathon and a friend challenged me saying that one of his mates was doing this big crazy race in Donegal. He said 'you won't be able to do stuff like that' and I said: 'You know what, I will do it'.
"Registering myself late one evening, I said: 'I don't know if the guys will get back to me because I have no experience at all.'
My level of fitness was good to run a 10k or half marathon at the time. The following morning (The Race co-creator) David Burns called me asking if I knew what I was doing. Honestly, at that time, I didn't know.
"Maybe that was the best thing because doing The Race in 2015 was biggest achievement of my sporting life."
32-year-old Giraud, who in his day job works for the John West seafood marketing company, secured a time of 23 hours and 30 minutes in 2015 and improved his previous result by four hours when he tried again in 2016. This year, he is hoping for similar progress.
Training for me is almost finished and I'm quite happy with that as I'm quite sick of it honestly," he says.
"As soon as I finished The Race 2016, I took a week off, because the body needed some recovery and after the race, it was quite depressing, because you know you are (working towards something) for months and months
So when they re-opened the registration for 2017, which was two or three weeks after (the 2016 event), I thought 'I want to do it again'. One more time and I might stop after that.
"So since let's say April last year, I've been focused towards The Race. So for the third time, year on year, I'm improving myself in terms of training, racing, food and nutrition, as well as looking after the body more efficiently."
Before The Race, Giraud played regular five-a-side football and did the odd 10k, "but nothing really serious".
Yet after moving to Ireland, he became more determined to test himself and his body to greater limits.
I turned 30 and said to myself, 'let's do something serious for that age'. The main thing was running a marathon… So I totally changed my way and my lifestyle over the last three years."
Adapting to the demands of adventure running has been far from easy, however.
When you go from one hour a week to nearly 10 hours, your body will hold up for one week or two, but in the long term, if you are not (following the advice of) your physio or not doing the right things with food or nutrition, you will get some injuries.
"So the first year was just learning from my mistakes. In this type of sport, mistakes will cost you one week or one month of training, so it's quite key to understand all these different steps."
The event itself can be a daunting and disconcerting experience at times, though support from friends on the sideline serves as motivation to keep going in difficult circumstances.
I think the toughest (part) is definitely the last stage with the marathon… You are quite tired. Last year, I was top 10. A few other athletes passed me on the marathon.
"Mentally, it became even more difficult, because I wasn't top 10 anymore. At this time of the day, anything will put you up or down.
I had a really bad moment on the bike around lunchtime, five or six hours from the start. I don't know the reason, but I hadn't seen my team since the starting line. They got lost in Donegal. They probably found a good pub where they could drink some lovely Guinness.
"Seeing them on the side of the road just helped me a lot. They couldn't do anything technically for me. They couldn't ride the bike. But seeing them really helped me. So when you have bad moments like that, little things can really help you.
Seeing another competitor is helpful. Mainly when it's dark. In the first year, a lady called Cathy approached me close to the garden lake — I hadn't seen anybody for at least two hours."
Scottish-born Christina Mackenzie is another experienced competitor who is set to take part in this weekend's event. In 2014, she was the first-placed female and sixth overall finisher. Last year, she was the top female finisher again and came 20th overall, with a time of 20 hours, two minutes and 55 seconds.
But despite these impressive feats, like Giraud, she initially got involved rather innocuously, on the back of what was essentially a dare from a friend.
Because it had the kayaking section, I thought there's no way I could do it, so I kind of dismissed it," she recalls. "But the two of us kind of egged each other on. We said, 'you do it, I'll do it'. So that was the starting point from that. I thought, we'll register and see if we get selected and take it from there. So we registered and obviously got our entry from there. It was probably six months of solid training for it.
"It was the best decision to do it. We both did it and completed it as well, and obviously met so many people along the way as well, people who we're still in touch with and who have gone back year after year to do it."
An experienced triathlon runner who moved back to Scotland last year after living in Dublin since 2002 and competing with the Portmarnock Triathlon club, Mackenzie developed a passion for cross-country running while growing up, but stopped competing seriously around the time she turned 18.
However, she caught the triathlon bug "six or seven years ago," and has barely looked back since.
When I was 18, I left home to go to college," she adds. "Then, ironically, it was sports coaching that I went to study.
"So I was active that way, but not participating. Since I was involved in it, I probably didn't have the same time or same enthusiasm to be competing as well. And I suppose college life and things like that take over really."
Now 39, she works as a swimming development officer and is looking forward to this weekend's event, even if her preparation has been less than ideal.
I broke my shoulder in October and (haven't done as much) kayaking or upper-body-strength training as I would have liked to.
"I'm back swimming, and I'm strengthening up gradually, so hopefully I'll be able to get through the kayaking section okay.
(I got the injury when) I fell off my bike when I was doing duathlon mid race. It was just a slippery section. I came off the bike and then went down on my shoulder.
"I wasn't diagnosed until about six weeks ago, when I was told it was actually broken. It was quite painful."
Yet irrespective of her shoulder issues, there is one particular section likely to prove painful regardless.
I don't think I'll ever be comfortable in a kayak," she laughs. "I think I might even prefer to swim the 15k than to kayak.
"Last year I started the kayak leading the women's section and then I was the last woman coming out of it."
The weather, too, is bound to play a crucial part in The Race's outcome.
Even the difference with the kayaking section in the two years that I did it, I think I was about 40 minutes more in the water last year just because of the conditions.
"The harder conditions take it out of you more. You can get tired quickly and that's only in stage two.
So that can set you back from then on. Even the extra time that you take, that can (have a knock-on effect for) the bike and the mountain run as well."
But while it may not always be a barrel of laughs, both Mackenzie and Giraud agree that factors such as the beautiful Donegal scenery and the spirit in which it is undertaken make The Race a thoroughly worthwhile and unique endeavour.
It's not like the other races where people fight against each other," Giraud explains. "For The Race, you see other competitors on the Mountain Stage, taking 30 seconds to have a quick chat with the guys, asking if they are alright, if they are happy to be there.
"It's a great event. You are racing against the 250km and the weather. It might be a different story if you have been targeting the top three for the last year, but (even though) it's challenging enough, the people are nice."
The Race is a not-for-profit event with all proceeds going towards the work of Gorta – Self Help Africa. For more info on how to donate, click here.
The42 is on Instagram! Tap the button below on your phone to follow us!