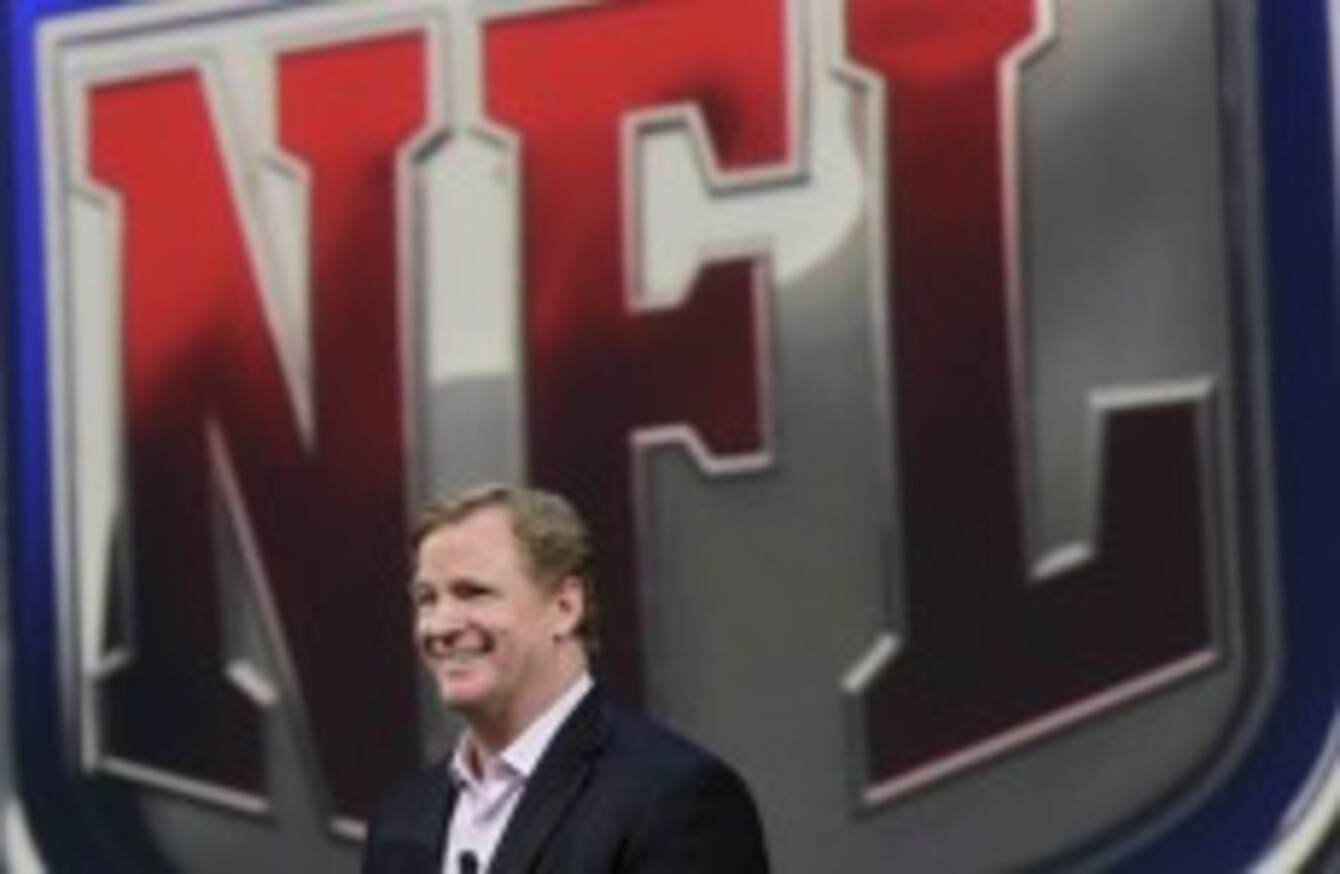 NFL Commissioner Roger Goodell will oversee the 2012 NFL Draft.
Image: Seth Wenig/AP/Press Association Images
NFL Commissioner Roger Goodell will oversee the 2012 NFL Draft.
Image: Seth Wenig/AP/Press Association Images
THE 2012 NFL draft will take place this Thursday, April 26, in Radio City Music Hall, New York. Steven O'Rourke explains what it's all about.
Officially known as the NFL Player Selection Meeting, the 2012 Draft will be the 77th time NFL teams have come together to select the best college football players around whom they hope to build their franchises.
If the idea of a group of rich old men sitting in a room picking players who won't be able to play for them for at least four months doesn't sound like your idea of fun, you've no idea how much you're missing out.
The Draft is actually incredibly exciting, so much so that it's become the second most watched event on the American football calendar after the Super Bowl.
You see the draft combines everything that makes American football great. It's packed full of mystery, drama and breathless statistic after breathless statistic.
Fortunes are made and lost depending on how where a player lands in the draft and a height difference of an inch can influence whether you get picked first round (earnings of several million each year) or fourth (earnings of above $500,000 per year).
By the end of the weekend you've become so familiar with the emotional back stories that come with each player that you feel like packing your bags and moving in with them.
So how does it work?
Draft position is decided, essentially, by how rubbish you were the previous year.
In 2011, the worst team in the NFL were the Indianapolis Colts. Their reward for being so inept is first pick in this year's draft where they will almost certainly take Stanford's Andrew Luck.
The last pick in the first round will go to the Super Bowl winning New York Giants.
Theoretically at least, each team has one pick per round during the seven rounds that make up the draft.
However, teams can trade their draft picks for players and so the Oakland Raiders, for example, can't actually draft a player until the end of the third round having blown their earlier picks on, well, very little really over the past few years.
This is in direct contrast to the New England Patriots who will have a whopping four picks in the first two rounds thanks to trades with the New Orleans Saints and the aforementioned Raiders.
Who is eligible?
Any player who has been out of high school for at least three years is eligible to be drafted. The rules do not specifically state that the player must have played football in college but (with the notable exceptions of Antonio Gates and Eric Swann) they almost certainly do.
This year a record 65 underclassmen (players opting out of finishing college) will enter the draft.
What can we expect?
The Redzone will be running a series of posts on TheScore this coming week, highlighting the best players entering the draft at each position.
Overall though, the draft won't really start until the fourth pick as the top three – Andrew Luck, Robert Griffin III and Matt Kalil – are as predictable as a Tim Tebow mention in one of my columns.
After that though, there's bound to be drama aplenty. Who knows, we could even see a repeat of Aaron Rodgers' infamous draft fall in 2005. I'm looking at you Trent Richardson.

YouTube Credit:
theoriginalbeatsmith