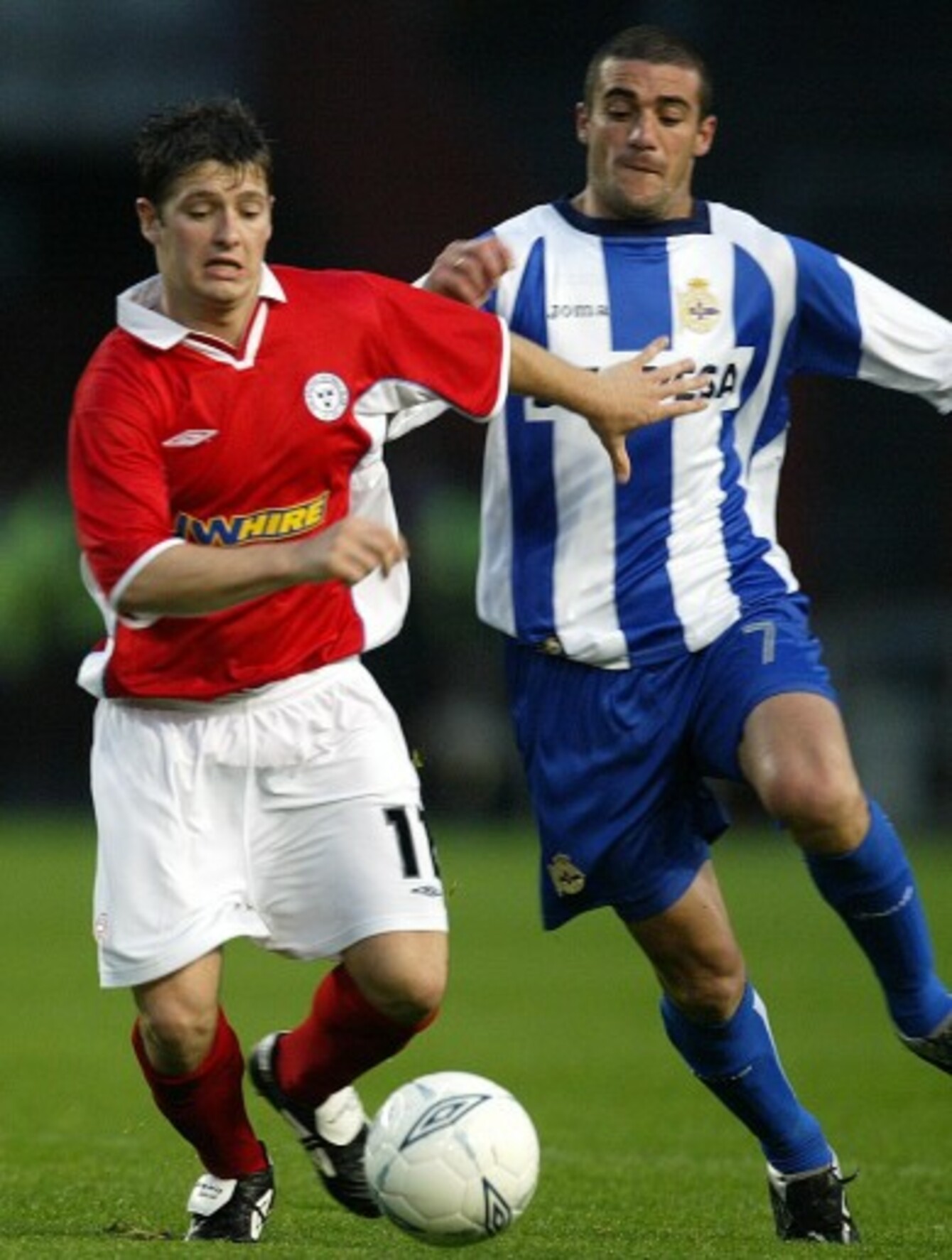 Wes Hoolahan of Shels and Walter Pandiani of Deportivo pictured competing in the Champions League in 2004.
Wes Hoolahan of Shels and Walter Pandiani of Deportivo pictured competing in the Champions League in 2004.
FOOTBALL IS FULL of successful families.
Cesare Maldini won four Serie A titles and a European Cup during his AC Milan days, before his son Paulo incredibly eclipsed these feats, winning seven Serie As and five European Cup/Champions League trophies among other accolades.
The Charlton brothers, whose mother's cousin was Newcastle United legend Jackie Milburn, were both part of the English side that famously won the World Cup in 1966 in addition to their respective hugely successful club careers with Leeds and Man United, while the latter team also accommodated Gary and Phil Neville a couple of decades on, both of whom were part of the 1999 treble-winning squad as well as earning numerous other honours with the Red Devils.
More recently, Kasper Schmeichel — son of Man United legend Peter — emulated his father's feat of winning the Premier League, while playing for Leicester.
Ireland, of course, is no exception to this rule. Alan Kelly Senior won 47 caps for the Boys in Green between 1956 and 1973, while his son Alan Kelly Junior appeared 34 times for the country in the 1990s and early 2000s, and another son Gary Kelly completed the trio of family goalkeepers, representing the Irish team at B level to boot.
Similarly, Ireland's highest all-time goalscorer at international level, Robbie Keane, is the cousin to Jason Byrne, who currently plays for Cabinteely FC in the First Division and is the second-highest League of Ireland goalscorer ever on 221 goals — 14 off Brendan Bradley's record.
Furthermore, this week is momentous for different reasons for two Irish footballing cousins. On Sunday, Wes Hoolahan is expected to at least play some part in Ireland's crucial World Cup qualifier against Austria.
Meanwhile, yesterday, his cousin Thomas Morgan was celebrating a very special anniversary with some familiar faces in Dublin's Gresham Hotel.
It is coming up to 20 years since one of Irish football's proudest moments — when Brian Kerr took a young Boys in Green side to Malaysia for the U20 World Youth Championships and remarkably returned home a month later with a bronze medal.
Shortly before the tournament, Morgan had been released by Blackburn — a team that were on the brink of winning the Premier League when he joined. Some coaches doubted the young Dubliner, just as they would later with Hoolahan. Brian Kerr, however, kept faith in the midfielder's abilities. Not only was Morgan picked as part of that famous squad, he was selected to captain the side who were set to achieve unprecedented levels of success for an Irish team.
That unlikely triumph was the boost Morgan badly needed at the time. He went on to carve out a successful career in the League of Ireland, winning four league titles in total — two with St Pat's and two with Shelbourne.
Hoolahan — whose mother is Morgan's mother's sister — is no stranger to recovering from debilitating setbacks either. Despite frequently starring for Shelbourne including in the famous Champions League games against Deportivo in 2004, he was — according to John Giles — dismissed as too small by one Premier League club after the Irish legend recommended him, while Millwall also had similar reservations.
However, recently, the Dubliner completed his 12th season in British football, winning Norwich's Player of the Season in the process and silencing countless critics along the way.
Likewise, for Ireland, the former Blackpool and Livingston player was effectively ostracised from the team during the Giovanni Trapattoni era, before proving his worth and seeing regular game time once Martin O'Neill took charge, to the point where he is now a hugely important and influential member of the side even at 35 years of age.
Morgan, who retired after just over a decade in the League of Ireland following a spell with Kildare County between 2006 and 2008, remains close with Hoolahan.
The former Blackpool youth player, like many Irish fans, hopes to see Hoolahan's name in the starting XI ahead of tomorrow's World Cup qualifier at the Aviva.
The Norwich star, he adds, "wants to play as long as he can — club and international football".
And in addition to being related, the pair are also ex-team-mates, as their time at Shels coincided, despite a five-year age gap between the two.
"When I went to Shels, myself and Wessi would have played together," he tells The42.
His da was a big League of Ireland fan and went to all the games when I was playing when Wes was a little bit younger."
In many ways though, their career paths appeared to take the opposite trajectory. Hoolahan started off in the League of Ireland and slowly progressed to the point where he was ultimately playing Premier League football with Norwich even at a time when most footballers are considered to be past their best, while Morgan joined Blackburn at 16 but never quite made the grade at the highest level in England before returning to the League of Ireland and retiring at the relatively young age of 31.
It was at Shels where they really bonded, and since then, Morgan has watched Hoolahan thrive at pretty much every challenge that has come his way, despite continually being asked to move up in level.
From that day about 10 years ago (when Hoolahan went to England), we've been on the phone (to each other) every two or three days, and I go over for him and stuff like that.
"I was with him there, last weekend, before the Ireland game. He comes round the house and we'd meet up and catch up any time we can.
If we can go away together, we go away together and I (offer) advice or help or anything, but I don't think he needs advice at the moment, he's doing alright for himself. I think I need advice, not him (laughs).
"We're first cousins and we sort of divvy around together as much as we can."
And while the pair were at Shels, did Morgan always suspect Hoolahan was too good for the level they were playing at?
"If you look at Wesley's career, it's about people giving him a chance.
People have to believe in the Wes Hoolahans and not think of the negative side, think of the positive side.
"He was a little magician at Shels but he worked very hard, including at (his team at youth level) Belvedere, which was a football club that encouraged you to get the ball and play.
His route (to England) and my route would have been a little bit different. He went a little bit later.
"He obviously would have been a bit more mature and had league football experience (in Ireland).
People sometimes think 'he's a small player,' but look how well he's done. He's had a fantastic career. It's his testimonial coming up next year at Norwich, which is unbelievable.
"I remember his first day going to Livingston out in the airport wishing him luck and going over seeing him at Livingston and Blackpool.
Obviously now, he's gone on and played so well. But he's worked very hard, which you have to do. Every player has to do that to get to where he's got to. And I think he's getting his just rewards now."
Keep an eye on the site in the coming days for a more extensive interview with Thomas Morgan in which he discusses his memories of captaining Ireland to third place in the 1997 World Youth Championships.
The42 is on Instagram! Tap the button below on your phone to follow us!