Liveblog
Result: Tipperary 2-25 Laois 1-18
Afternoon all and welcome along to our coverage of the second All-Ireland hurling quarter-final of the day. It's a novel pairing as Tipperary take on Laois in Croke Park. Throw-in is 4pm. Cork's Colm Lyons is the referee for this one.
Here's the starting teams:
Tipperary
1. Brian Hogan (Lorrha-Dorrha)
2. Cathal Barrett (Holycross-Ballycahill)
3. James Barry (Upperchurch-Drombane)
4. Alan Flynn (Kiladangan)
5. Brendan Maher (Borris-Ileigh)
6. Padraic Maher (Thurles Sarsfields)
7. Ronan Maher (Thurles Sarsfields)
8. Noel McGrath (Loughmore-Castleiney)
9. Ger Browne (Knockavilla-Donaskeigh Kickhams)
10. Dan McCormack (Borris-Ileigh)
11. John O'Dwyer (Killenaule)
12. Niall O'Meara (Kilruane MacDonaghs)
13. Jason Forde (Silvermines)
14. Séamus Callanan (Drom-Inch)
15. John McGrath (Loughmore-Castleiney)
Laois
1. Enda Rowland (St Lazerian's Abbeyleix)
2. Lee Cleere (Clough-Ballacolla)
3. Matthew Phelan (Borris-in-Ossory-Kilcotton)
4. Joe Phelan (Camross)
5. Jack Kelly (Rathdowney Errill)
6. Ryan Mullaney (Castletown)
7. Pádraig Delaney (The Harps)
8. John Lennon (Rosenallis)
9. Paddy Purcell (Rathdowney-Errill)
10. Aaron Dunphy ((Borris-in-Ossory-Kilcotton)
11. Mark Kavanagh (Rathdowney-Errill)
12. Éanna Lyons (Ballyfin)
13. Willie Dunphy (Clough-Ballacolla)
14. Charles Dwyer (Ballinakill)
15. Ross King (Rathdowney-Errill)
All set for throw-in here. Massive day for the Laois hurlers and can Tipperary bounce back from their Munster final setback? Wexford await at the semi-final stage on 28 July.
Laois 0-2 Tipperary 0-1
Great start by the underdogs. Mark Kavanagh points a free, Jason Forde replies for Tipperary before Aaron Dunphy slots over a fine score.
Laois 0-2 Tipperary 0-2
Ger Browne, a new face in the Tipperary team, cuts through for a lovely point from midfield.
Laois 0-3 Tipperary 0-2
Super point by Willie Dunphy for Laois. Their supporters in full voice already here in Croke Park.
Laois 0-4 Tipperary 0-2
Kavanagh nails a great free from under the Hogan Stand for Laois.
Laois 0-4 Tipperary 0-3
First of the day for Tipperary captain Seamus Callanan.
Goal for Tipperary from Jason Forde!
Tipperary 1-3 Laois 0-4
Forde is the main fouled and he makes no mistake from the resultant shot in blasting past Laois goalkeeper Enda Rowland.
Tipperary 1-3 Laois 0-5
Laois have certainly settled well. Kavanagh on target with another free and the gap is cut to one.
Yellow cards for Tipperary's Niall O'Meara and Laois defender Padraig Delaney.
Tipperary 1-4 Laois 0-5
Alan Flynn bangs over a point for Tipperary from distance.
Goal for Tipperary from Seamus Callanan!
Tipperary 2-4 Laois 0-5
Another green flag raised by Tipperary's goal machine Callanan. He drilled home his shot, beautiful floated delivery in by Noel McGrath initially to find him. Laois have spurned a few point chances from distance.
Tipperary 2-5 Laois 0-6
John Lennon steps forward to land a super point from distance for Laois. Then Tipperary counter with Dan McCormack fouled and Forde slots over the free.
Tipperary 2-6 Laois 0-7
Another impressive point by Ger Browne for Tipperary but Jack Kelly then responds with a rousing effort for Laois.
Tipperary 2-7 Laois 0-7
It looks like Laois are able to clear but Tipperary turn them over with Callanan pointing.
Great stuff by Enda Rowland to deny a third Tipperary goal as Jason Forde unleashed his drive.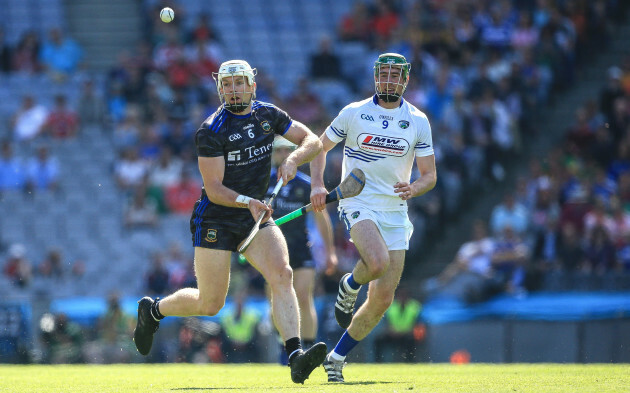 Tipperary's Padraic Maher with Laois captain Paddy Purcell. Source: Gary Carr/INPHO
Tipperary 2-8 Laois 0-7
Always looks like Tipperary can threaten here. Callanan almost gets in for a goal but Laois manage to clear and concede a '65 which Forde pops over.
Tipperary 2-9 Laois 0-7
Lovely striking by Forde as he clips over another free for Tipperary.
Tipperary 2-9 Laois 0-8
Laois respond with another Kavanagh free.
Tipperary 2-9 Laois 0-9
Excellent stuff from Laois. A sideline cut falls perfectly for Aaron Dunphy who turns, races clear and fires over his point.
Goal for Laois from Ross King!
Tipperary 2-10 Laois 1-9
What a boost for Laois! Forde had just pointed another Tipperary free when Laois managed to work play downfield. Aaron Dunphy's delivery evaded a few players and it rolled kindly into the path of King who gathered and finished clinically.
Tipperary 2-10 Laois 1-10
And the gap is down to three now, Kavanagh firing over a free after Paddy Purcell was fouled close to goal.
Tipperary 2-11 Laois 1-10
Noel McGrath splits the posts for Tipperary.
Half-Time: Tipperary 2-11 Laois 1-10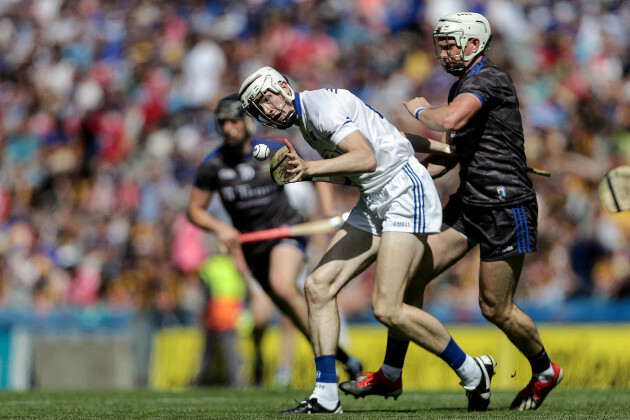 Eanna Lyons in action against Brendan Maher. Source: Laszlo Geczo/INPHO
Laois back out on the field as we await the return of Tipperary. Four in it at the break, the underdogs will be happy so far.
Tipperary 2-12 Laois 1-10
Forde smashes over an early second-half point for Tipperary.
Half-time sub for Laois as Eric Killeen comes in for Joe Phelan.
44,135 is the attendance here in Croke Park.
Laois down to 14 men after Aaron Dunphy is sent-off.
A disastrous setback for Laois, red card for Dunphy. Didn't see what it was for but referee Colm Lyons in no doubt.
Tipperary 2-14 Laois 1-10
John McGrath nearly gets in for a Tipperary goal but he's fouled and Forde pops over the free. Then Padraic Maher hits over another for Tipperary.
Sub: Stephen Maher comes on for Laois for Charles Dwyer.
Yellow card for Tipperary defender Cathal Barrett.
Tipperary 2-14 Laois 1-12
Mark Kavanagh fires over a point from a free for Laois and then Joe Kelly hits a super score from play.
Correction it was Jack Kelly, the Laois wing-back who got that score.
Tipperary 2-15 Laois 1-12
Six in it again. Tipperary do excellently to turn over Laois and John O'Dwyer lays off for Forde to point.
Tipperary 2-15 Laois 1-13
Great stuff by Kavanagh to land a tricky free from distance for Laois.
Laois are battling really well but tough going with 14 men.
Tipperary 2-16 Laois 1-13
Tipperary always look capable of pushing on. Forde smacks over another free to restore their six-point advantage.
Tipperary 2-17 Laois 1-13
A passage of scrappy play around the middle culminates in Noel McGrath flighting one over for Tipperary.
Michael Breen came on for Tipperary a few minutes back for Alan Flynn. Now they've brought on Mark Kehoe for John O'Dwyer.
Tipperary 2-19 Laois 1-13
Classy stuff from Tipperary as Brendan Maher and Callanan combine for John McGrath to float over a point. Then Noel McGrath gets another for Tipperary.
Subs: Jerome Cahill in for Tipperary for Ger Browne.
Tipperary 2-19 Laois 1-14
Kavanagh flights over another pointed free for Laois who introduce Conor Phelan for Eanna Lyons.
Sub: Stephen Bergin in for Laois for Willie Dunphy.
Tipperary 2-21 Laois 1-15
Tipperary run it out from the back and Ronan Maher bangs over confidently from distance. Laois respond with their first score from play in this half through Paddy Purcell and then Maher scores again for Tipperary.
Tipperary 2-21 Laois 1-16
Another pointed free pout on the board by Mark Kavanagh for Laois.
Tipperary 2-22 Laois 1-16
Forde slots over a free, then yellow card for Tipp sub Michael Breen.
Sub: Eoin Gaughan in for Laois for John Lennon.
Sub: Jake Morris in for Tipperary for Niall O'Meara.
Tipperary reduced to 14 men as Michael Breen is sent-off.
Second yellow for Breen after coming on, a high challenge on Laois midfielder Paddy Purcell.
Tipperary 2-23 Laois 1-17
Kavanagh popped over the free for Laois after Barry Heffernan had previously scored for Tipperary.
Four minutes of injury time to be played here.
Tipperary 2-24 Laois 1-18
Tipperary break the 30-point barrier through a Forde free before Kavanagh responds with the latest free for Laois.
Full-Time: Tipperary 2-25 Laois 1-18
So all over then and Tipperary run out victors by ten points to advance to All-Ireland semi-final clash with Wexford. Credit to Laois though, they battled brilliantly throughout. The concession of a couple of goals hurt them and the sending-off of Aaron Dunphy.
That's all from us today, thanks for joining in.
The42 is on Instagram! Tap the button below on your phone to follow us!
Contribute to this story: