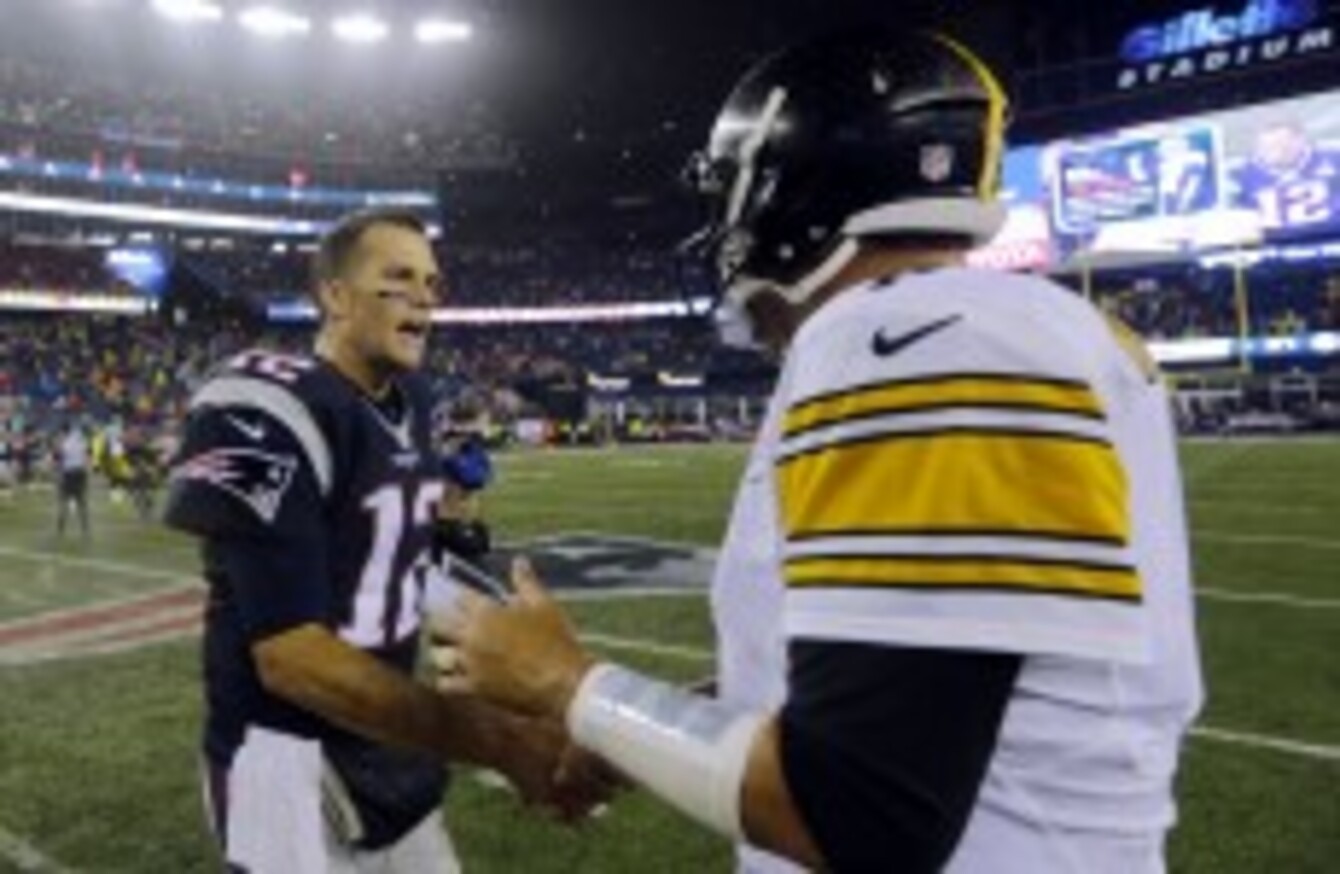 New England Patriots quarterback Tom Brady with Pittsburgh Steelers quarterback Ben Roethlisberger.
Image: Charles Krupa
New England Patriots quarterback Tom Brady with Pittsburgh Steelers quarterback Ben Roethlisberger.
Image: Charles Krupa
TOM BRADY PUT the "Deflategate" saga behind him, throwing four touchdowns as the New England Patriots began the defence of their championship with a 28-21 win over the Pittsburgh Steelers.
The Super Bowl champions opened the new NFL season in style on Thursday, and superstar quarterback Brady — who spent the offseason battling to overturn a four-game suspension — had all his weapons working in his first game since his ban was struck down.
The 38-year-old shredded the Steelers' defence, completing a franchise-record 19 consecutive passes.
He went 25-of-32 for 288 yards and threw four touchdowns, including three to tight end Rob Gronkowski, who finished with five catches for 94 yards.
"It was a pretty special night, so I was excited," Brady said. "Our whole team was excited. We haven't had one of these games for a long time."
Patriots also unveiled their championship banner during a glitzy pre-game ceremony in front of a crowd of 68,800 at Gillette Stadium.
Not even a light rain could spoil the party as New England owner Robert Kraft brought out the Vince Lombardi Trophy to the hip hop anthem "All I Do Is Win."
Brady led the players onto the field to a huge ovation from the Patriot fans. He then walked over to the sidelines, where he handed a new game ball to centre David Andrews.
Brady's four-game suspension was quashed last Thursday by a US judge, who ruled that commissioner Roger Goodell had delivered his own brand of "industrial justice" in finding that Brady played a role in the deflating of footballs below the legal limit for last season's AFC championship contest.
Brady, who is coming off winning his third Super Bowl MVP, denied any involvement in a conspiracy to tamper with the balls and the judge ruled that Goodell went beyond the probe conclusions of lawyer Ted Wells.
Goodell normally attends the NFL season opener but decided against travelling to New England. It was probably a wise move, as the crowd mocked Goodell in the fourth quarter by chanting "Where is Roger?"
Brady set a record with his 161st win with the same team, surpassing Brett Favre, who has 160 with the Green Bay Packers.
"He was unbelievable," Gronkowski said of Brady. "He is our leader. He is a great player and it is fun to play with him."
Steeler quarterback Ben Roethlisberger went 26-of-38 for 351 yards, and had a last-second touchdown and one interception.
Wide receiver Antonio Brown caught nine passes for 133 yards and the late score, and tight end Heath Miller snagged eight passes for 84 yards.
Pittsburgh kicker Josh Scobee missed field goals of 44 and 46 yards in the first half.