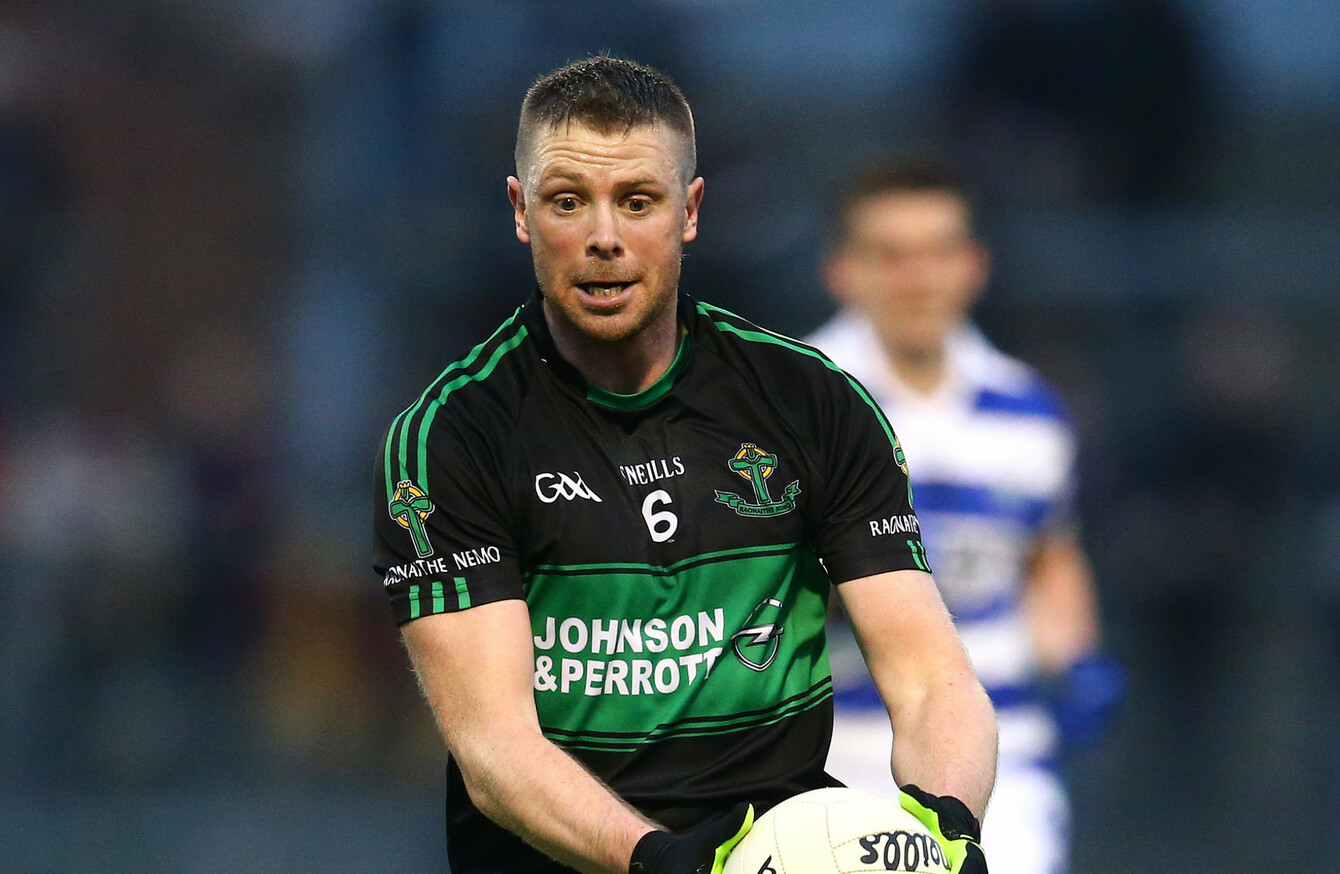 Image: Cathal Noonan/INPHO
Image: Cathal Noonan/INPHO
THE WEEK OF their All-Ireland semi-final against Slaughtneil, Paddy Gumley felt a pop in his calf during a training session.
The injury couldn't have come at a worse time for the 35-year-old Nemo Rangers forward, arriving just days before the biggest game of his career.
Early the following morning, his phone buzzed with a message from fellow veteran Tomás Ó Sé.
The pair wouldn't be overly close, both having transferred to Nemo from Cavan and Kerry respectively in recent years, but Ó Sé was on hand to offered his support.
"He was on to me the next morning," Gumley recalls. "Now, I'd only know him from training. But he texted me the next morning at half seven to see how I was. Stuff like that.
"He was asking was there anything he could do or anyone he could to talk to on my behalf who might be able to help.
"He just does the right things, that kind of way. Not do a whole pile, but does what he has to do."
Gumley was 33 when he joined Nemo from his native Red Hills and he once remarked he came through the club's over-age system, having quickly progressed from the junior Cs to the senior set-up.
Ó Sé was three years older than Gumley when he sealed his transfer to the Trabeg club ahead of the 2015 season. He's since won two Cork SFC titles and a Munster crown, with the holy grail of club football on offer tomorrow in Croke Park.
Ó Sé played a major role in Nemo's semi-final win over Slaughtneil, kicking two points as part of a driving performance from centre-back.
"You're talking about a different animal there," says Gumley. "His durability is unreal. You'd wonder how he keeps going. His semi-final performance, when the chips were down he got a point, drove forward and won frees.
"His timing in the game was crucial. At the perfect time he done what he done and got us back into the game and then we kicked on."
A teacher in Fermoy, Ó Sé won five All-Irelands with Kerry but suffered a defeat on his only trip to the All-Ireland club final back in 2004 with An Ghaeltacht.
12 months ago it was Colm Cooper who delivered the only significant trophy that had eluded him throughout his career, when Dr Cokes saw off Slaughtneil in the decider.
Like his old county team-mate, Ó Sé is hoping to enjoy an Indian summer in Croke Park with his adopted club. Even as the defender approaches 40, Gumley says he's an integral part of the team.
"Even to just know he's there. The lads always know he's there and he's a serious asset. You know he has your back, and he will have your back. He backs it up, like.
"It's more reassurance, and then when he does what he does, the timing of it is crucial for us.
"He's very quiet. But when he speaks he speaks very well. Very, very considerate. He always puts you before anyone, if that makes sense."
Galway kingpins Corofin stand between Ó Sé and the All-Ireland. If he lines up at centre-forward like he did in the semi-final, Gary Sice will find himself marking the Kerry legend on Saturday.
They've a fair bit of experience between the two of them. Sice isn't long out of the inter-county game himself, having only hung up his boots over the winter.
Their county careers overlapped for a good few years, and Sice remembers a chastening experience when he was marked by Ó Sé back in 2010.
"It's a while back now. We had lost to St. Galls on a Saturday night and the following Sunday (week) we were playing Kerry in Tralee. It was an experience in itself. Some footballer.
"You're talking about one of the best number fives that has played – a fantastic footballer. His influence, just being there along, whether he kicks a ball or not. He'll be hugely influential, I'm sure, on the day. We're aware of him and hopefully, I'll get close to him every now and then if I can."
Sice managed to set-up a goal for Michael Meehan on that afternoon eight years ago, but it was an otherwise forgettable experience for the Tribesmen, who were at the beginning of their sole season under Joe Kernan.
"It was a long 70 minutes," says Sice. "An experience, no doubt about it. Some footballer. Someone I've admired for a long time from a distance. I think everyone in the country has to admire him, he's such a footballer."
At 33, Sice can take inspiration from Ó Sé tomorrow to realise how long he can prolong his club career if he takes care of his body.
"He is the flagship of how to mind yourself and how to be prepared. He's fantastic a that and he's a huge example to our club as a whole and has been for a number of years and hopefully will be again for a while.
"I'm kind of working week-to-week at the moment. That's my intention. Finishing my inter-county career would be done on the basis that I'd like to knock more out of my club career.
"I'd like to knock more longevity out of it and hopefully play on til I'm older. I don't have that in my hands at the moment. So, as long as I can physically mind myself and I'm enjoying it, I will continue to play. I think it'll be a bit easier without having to train as often, we'll say, as an inter-county squad would. That was my thinking behind it.
"It's down to the individual. Someone like Tomás Ó Sé, even Fitzy (Kieran Fitzgerald) with us. Their self-discipline is phenomenal. To mind themselves and motivate themselves and keep playing.
"There's a serious desire there and it's extremely admirable, I think, in both their cases. They're a serious flag for anybody who thinks that 33, 34 or 35 is the end of a career. It's far from it, I think.
"They're more dangerous on the field as far as I'm concerned because their experience is phenomenal and they know what to do, when to do it and how to do it. If they can still get around and do it, that makes them extremely influential in any game, especially when you get to Croke Park and big spaces. That's going to make them vital to any team.
"There will no more admiration come Paddy's Day! Hopefully, we can quieten him a small bit."
Source: The42 Podcasts/SoundCloud