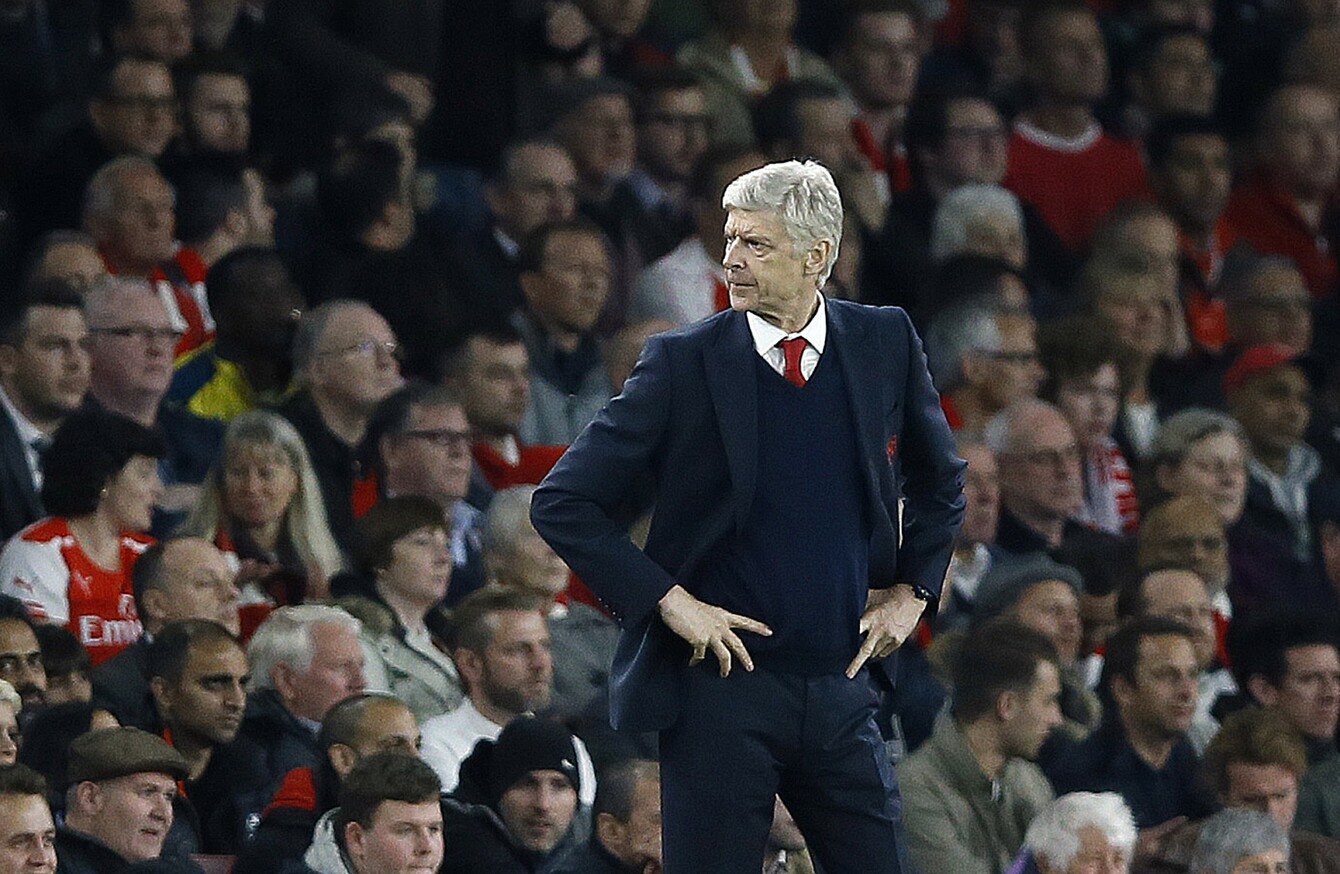 Image: Kirsty Wigglesworth
Image: Kirsty Wigglesworth
WE'RE HERE TO talk about Arsenal, and Arsene Wenger, and the latest crossroads at which they find themselves, one where a Champions League group stage exit would represent a serious wrong turn.
But first a detour via Donegal.
A few weeks ago Jim McGuinness endured a level of discomfort rarely seen in his four glorious years as Donegal manager.
He was plugging his memoir 'Until Victory Always' on the Second Captains TV show when he found himself wriggling away from the suggestion, expertly put by interviewer Eoin McDevitt, that the book rendered his decision to cut Kevin Cassidy from the panel in 2011 inconsistent, if not hypocritical.
Cassidy, you may remember, had been adjudged to have breached team confidentiality by contributing to a book in which a number of Donegal training methods had been revealed, a crime which cost him an All-Ireland medal in 2012.
Was McGuinness not guilty of a similar crime now, particularly by detailing a 2013 conversation with current manager, Rory Gallagher, in which McGuinness's then assistant expressed doubts about the future of some senior players?
In response McGuinness made reference to serial memoirist Alex Ferguson, with the justification that the code of silence no longer applies when you leave the stage, or is at least trumped by the size of the publisher's advance cheque.
While it was right to pick up McGuinness on this point, and indeed Fergie on his shifting views on concepts like loyalty and control, there are flaws in our desire to wrong-foot these men for their inconsistencies.
Firstly, over to Walt Whitman: "Do I contradict myself? Very well then I contradict myself, (I am large, I contain multitudes.)"
To paraphrase: Yes, I'm a hypocrite. So what? Aren't we all?
Secondly, the idea that great managers conduct their business by the same moral compass as those who question them is mistaken. Journalists are (or should be) driven by the pursuit of truth; managers are guided only by the quest for silverware.
In this ethical universe, anything and everything can be justified.
But then there is Wenger. His recent interview with L'Equipe Sport & Style (helpfully translated on the Arseblog website) is remarkable, and not just for the dandy duds worn in the accompanying photoshoot.
In it, he details the philosophical grounding of his singular stewardship of Arsenal.
"Religiously, it is said that God created man. I am only a guide. I enable others to express what they have within them. I didn't create anything. I am a facilitator of what is beautiful in man."
Be part
of the team
Access exclusive podcasts, interviews and analysis with a monthly or annual membership.
Become a Member
As football creeds go, 'put 'em under pressure' it ain't.
Not that he is the only manager to have demonstrated a devotion to a cause higher than merely winning. But the creed of people like Kevin Keegan and Ossie Ardiles was as primitive as pagan sun-worshipping when compared to the complex theology of Wenger.
"We have reached an era in which we glorify the winner, without looking at the means or the method," says Wenger, responding to the suggestion that Arsenal "must" start winning titles.
"And ten years later we realise the guy was a cheat. And during that time, the one that came second suffered. He didn't get recognition. And with all that's been said about them…they can be very unhappy."
Interviewer Erik Bielderman puts the opposing view: "And when, during a game, you're confronted by an opposing manager for whom only the result matters, and not the means?"
"I've been called naive on that level," Wenger replies. "In any case, there's only one way to live your life. You have to conform to the values you believe to be important. If I don't respect them, I would be unhappy."
And there you have it: the core of everything that's right, and wrong, with Arsenal.
Reading this interview, the clubs' supporters may have, on one hand, been beguiled by such an articulate expression of what is so special about their manager and the remarkable work he has done, while on the other remaining utterly exasperated.
Wenger's belief – that winning at all costs can be ultimately corrosive – informs every decision he makes for Arsenal: from the bricks and mortar of their new stadium to transfers and even their style of play.
Is it wise, however, that one man's morality should be allowed to guide the fortunes of the club in such a complete way?
As journalists often find the pursuit of absolute truth to be a complex and not entirely straightforward matter, so many Arsenal fans might view the guiding principles of their manager's work to be frustratingly pig-headed.
Would they sacrifice a little bit of 'facilitating what is beautiful in man' for some the self-serving contradictions of McGuinness and Ferguson, those winning zealots?
"There is only one way to live with the idea of death," Wenger told L'Equipe, "it is to try and transform the present into art."
Maybe, but three points against Dinamo Zagreb would be nice too.