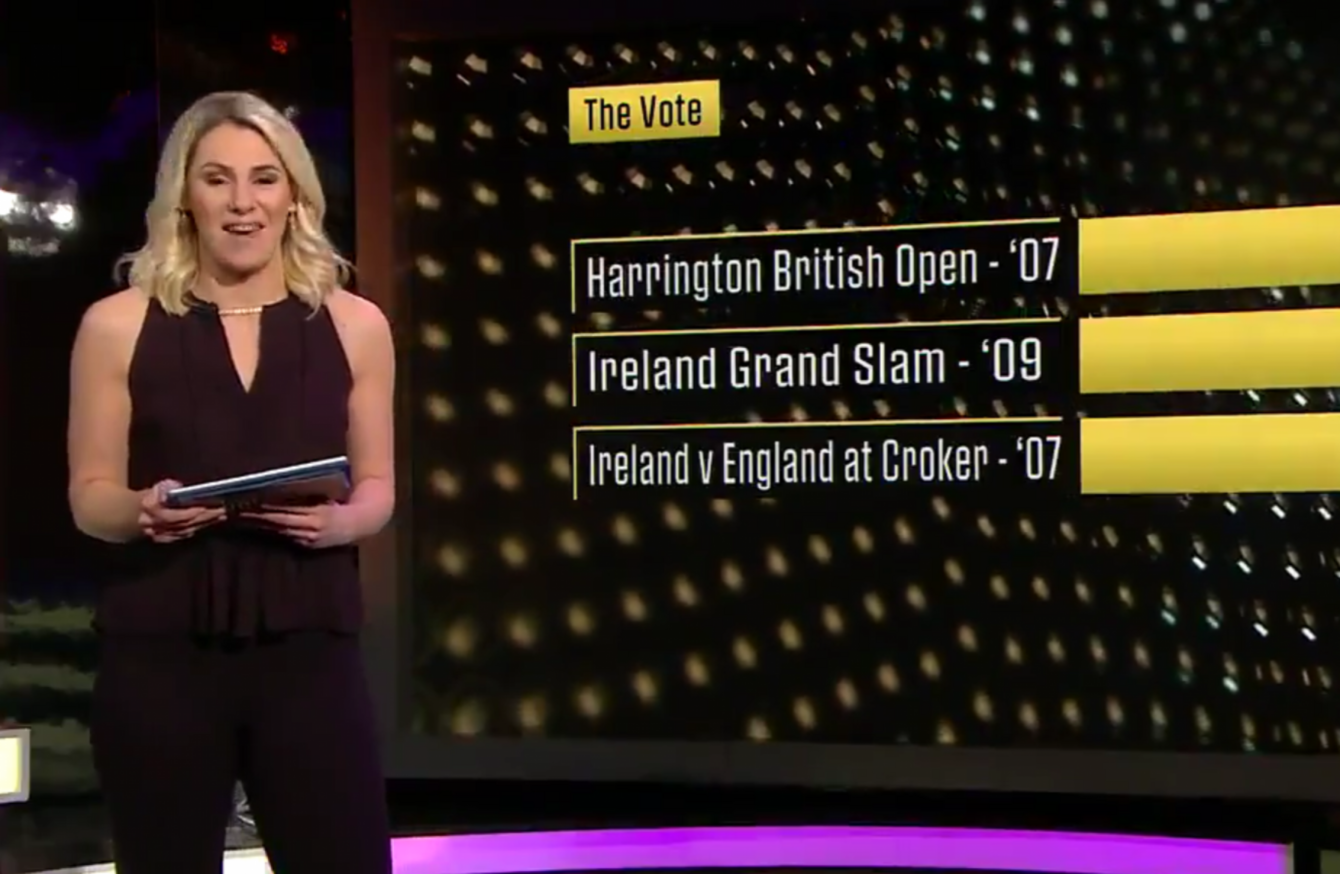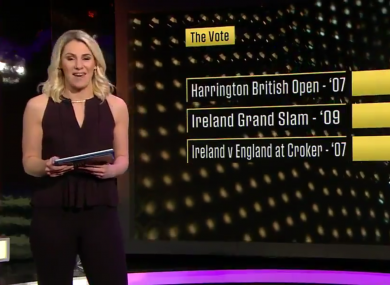 RTÉ HAS BEEN  warming our cockles these bleak November Thursdays with their Ireland's Greatest Sporting Moments series, which aims to serve a dollop of nostalgia with a side of heated debate.
Naturally there have been partisan arguments about whether that goal was better than this woman winning that race, or that guy knocking out the other dude, or another fellow doing something on a horse.
But an interesting side discussion has been whether our great moments are that great at all, and, furthermore, if they are, why there aren't more of them.
Writing in last weekend's Sunday Independent, Tommy Conlon described the show as "Teletubbies for sports fans," claiming that it "celebrate[s] Ireland's thin gruel like it is a royal banquet of greatness."
A little harsh on the show itself, which is agreeable midwinter brain balm. But the point about Ireland's history of sporting achievement being not quite what it's cracked up to be was well made, certainly when compared to countries of similar population size. We don't so much punch above our weight as tickle playfully on the tummy every now and then.
When it comes to nostalgia for our great achievements, the maxim of 'what's rare is wonderful' very much applies. Perhaps we wouldn't celebrate the Italia '90s, the Carruths and the Sonias with such gusto if they weren't surrounded by a vast sludge of failed qualification campaigns, last place finishes in heats and sundry tawdry controversies.
Which explains why agonising about our failures is as much a part of our sporting discourse as glorifying in our successes. Every major flop is followed by a furious bout of introspection before we shrug our shoulders and move on. For example, currently it's Irish soccer in the dock, charged with failing to produce players who can pass the ball 10 yards to each other without coming over all jelly-legged.
But in all that bipolarity it's easy to forget the things we do very well indeed. Things that are systematic and consistent and that everyone else can learn from. Dublin GAA, Billy Walsh-era boxing, Ballydoyle. And right now nothing fits that bill better than Leinster rugby.
Our traditional approach to excellence in sport is to hope for a saviour – a Roy, an O'Driscoll or a Katie – to come from nowhere and lift us out of the mire. But Leinster is methodically, efficiently churning out quality international sportspeople at a rate Irish sport has never seen before – a relentless blue wave of Jacks, Joshes, Jordans and Joeys.
Last Friday night, in one of those league matches that tend to get ignored on international weekends, and with no fewer than 15 players away with the Irish squad, Leinster scored eight tries and beat the Dragons 54-10. These are precisely the kind of games that the province's army of academy ingénues consistently mop up while the big boys are away, explaining why Leinster have finished in the top two of the league in all but one of the last eight seasons.
It seems that not one of these chilly Friday nights passes without a new Leinster star announcing themselves. It can be hard to keep up: one minute you're impressing your friends about how Jack Conan and Dan Leavy are the next big things, then suddenly everyone's Jordan Larmour this and Josh Murphy that.
Sometimes the province can barely keep up itself. James Ryan was judged so good that he got capped for Ireland before playing for Leinster, while Joey Carbery had pulled on a blue jersey barely a handful of times when he was thrust in front of the Haka in Chicago.
And while the very term 'Leinster rugby' is still almost a pejorative one for some people, bringing up images of middle aged Schools Cup bores and moneyed privilege, the province is slowly democratising too: Adam Byrne's cap last Saturday meant that of the 11 Leinster players in the Ireland matchday squad, three came through the regional club system.
There are lots of lessons from Leinster. First, that success costs money, with the ability of the schools to fund facilities and high-class coaching making them virtual mini-academies, exposing young players to the sort of elite standards underfunded athletes in most other sports can only envy.
The hot-house competitiveness of the Schools Cup has downsides, particularly in the use of supplements despite being strongly discouraged by the IRFU, but it certainly appears to sharpen the players' ring-craft and breed a culture of volunteerism that is key to all Irish sporting successes.
But it's what Leinster do with their natural advantages in population and resources that makes the most difference. The province's network of coaches identifies the best young players and keeps tabs on others who might progress later. Then the saplings are carefully tended in the system, with a focus on their educational and personal development as well.
In comparison young Irish footballers face a Tolkienesque quest to make it through the hazardous terrain of English soccer. This is something the FAI's new underage national leagues will hope to address by providing high standards of coaching with the consolation of Mammy's dinners to come home to each day.
It's only natural to look to Denmark or New Zealand with their Olympic medal hauls and world champions galore, especially when it comes to how these countries properly fund sport and get the results to match. But that doesn't mean there aren't ideas closer to home for making future great Irish sporting moments a little less thin on the ground.
The42 has just published its first book, Behind The Lines, a collection of some of the year's best sports stories. Pick up your copy in Eason's, or order it here today (€10):