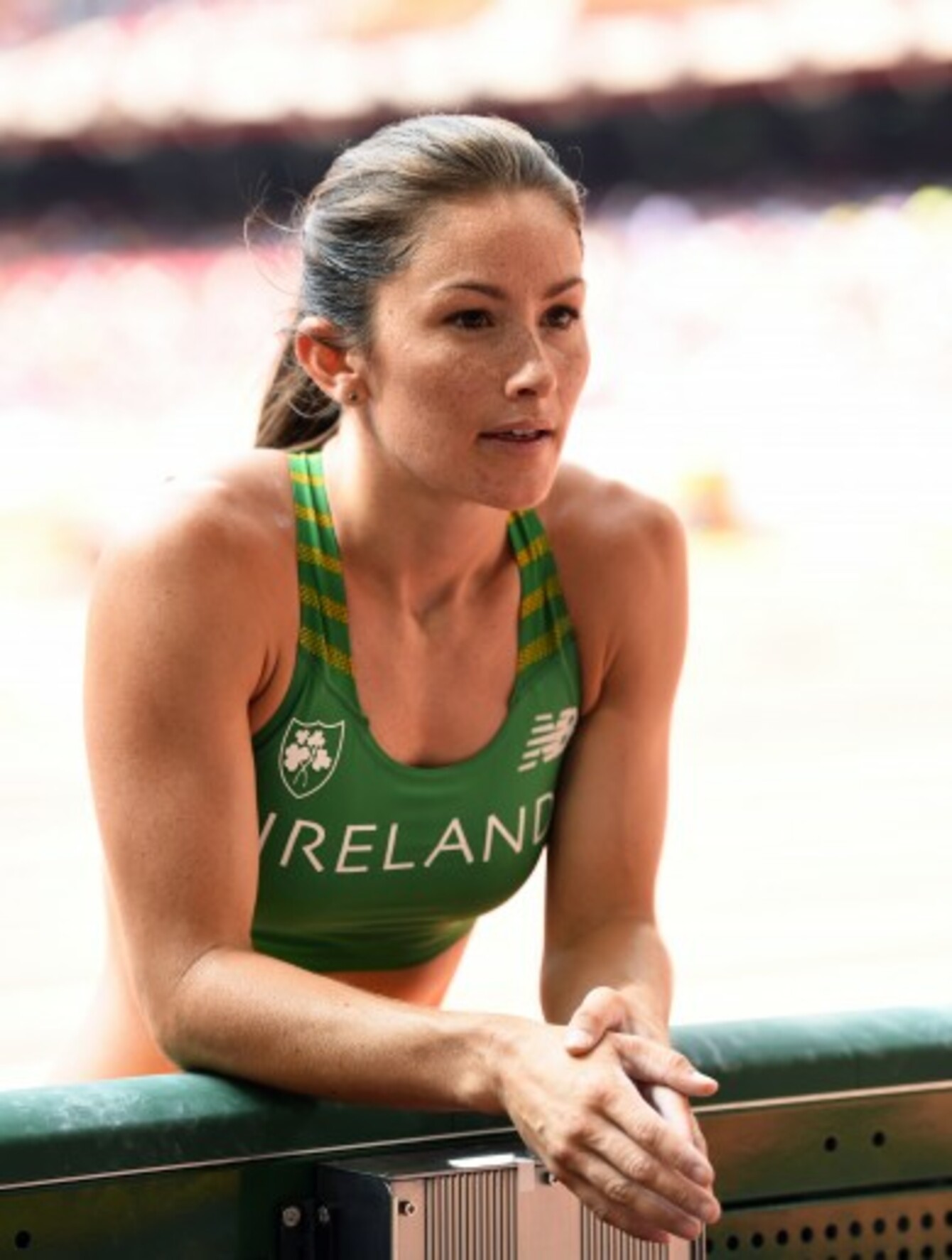 Tori Pena has achieved the Olympic qualifying standard for Rio 2016.
Image: Ian MacNicol/INPHO
Tori Pena has achieved the Olympic qualifying standard for Rio 2016.
Image: Ian MacNicol/INPHO
EVEN FOR TOP-level athletes, the ability to master emotions and control nerves is something that seldom comes easy.
The importance of this discipline is particularly vital in sports such as pole vaulting.
Whereas in many sports, you have plenty of opportunities to rectify errors and make up for bad performances, in pole vaulting, a few moments of uncertainty — in the worst-case scenario — can lead to a lifetime of regret.
While California-born Irish athlete Tori Pena can now reflect that the Olympics in London 2012 was a "learning experience," she admits that it was "devastating" at the time.
Having decided to represent Ireland in 2010 and subsequently achieving the qualification standard at the Beach Track and Field Classic at Cerritos College, San Diego in April 2012, the-then 24-year-old had high hopes ahead of the summer's big event.
Yet representing Ireland in London was ultimately a bittersweet experience. Pena failed to clear her first height of 4.1 metres after three attempts and exited the event in the qualifying round — a performance that was well below the stanards she aspired to.
I had a really terrible London 2012," she tells The42. "That was a really a big learning experience — learning why I cracked under pressure — but there were a lot of positives at the same time. Just to be able to compete on that stage with those people was something I was really proud of.
"I think experience in the sport is really important. I feel like each year, I've improved based on the experience I've been able to have. It's a process.
"I wouldn't take (what happened at London 2012) back for anything. It was part of my journey and my past to get where I am today. So I think the more opportunities I do have to compete at Championships, the better."
Pena, who is aiming to compete in next month's IAAF World Indoor Championships in Portland, Oregon, says she has been paying particular attention to the mental side of the sport since the London 2012 debacle.
"It's something I've working a lot on," she explains. "My brain tends to work a million miles a minute when I compete. Everything I'm working on now is about trying to slow that down. I just basically have to relax and be in the moment."
A native of Huntington Beach, a seaside city in Orange County that's roughly an hour's drive from Los Angeles, Pena has achieved the qualifying standard for Rio 2016, but the 28-year-old athlete insists she is not looking too far ahead.
"I've achieved the standard and I'm actively working to continue to jump that again. So I need to improve my performance and have a good year.
At this stage, I just really want to get out there and compete to my ability. I never really felt like I've jumped what I'm capable of in a Championship setting. I think that could hopefully land me in a final.
"But more than that, if I jump what I know I'm capable of, I would be happy with that (in Rio)."
Qualifying to represent Ireland through her Derry-born grandmother, Pena — who has been competing in pole vault since her teens in high school — says the decision to apply for dual citizenship in 2010 and consequently compete for Ireland was a straightforward one.
I saw an opportunity in front of me to be able to continue competing, to travel, to meet new people and make new friends, so it was kind of a no-brainer for me and I've never regretted my decision, I've enjoyed it every step of the way."
In the US, Pena divides her time between training in Arizona and her home in California. Her visits to Ireland have become increasingly frequent since her first time there, in 2003, where she competed in the World Irish Dancing Championships in Killarney (Pena insists pole vault's gain was most definitely not dancing's loss).
She is currently undertaking a rigorous training regime, though practicing actual pole vaulting is generally restricted to two days a week, given the demands that the activity puts on athletes' bodies. Short sprint training, weight-lifting and plyometrics are also part of Pena's weekly routine.
Yet for all the intensity of her practice, there is one obstacle Pena admits she is glad she does not have to deal with on a regular basis — the erratic Irish weather.
I never expect the weather to be great when I come to Ireland. So then when it is, it feels like an extra treat. I feel like I've been lucky and I've had some good summers there recently. But I've experienced the full range of Irish weather and it is a bit of a shock to the system, but when I go over there, I'm expecting it and I'm never there too long, so I don't have room to complain.
"I have a lot of respect and admiration for Irish athletes who do train there year round — they really tough it out and I don't know if I'd have what it takes. I'm too spoiled with this Phoenix and California weather," she laughs.
Talk of scandals and doping, particularly in relation to Russian athletes, has dominated athletics coverage in recent months. Pena has been as dismayed as the average onlooker by recent events. So has she ever suspected or worried about her opponents doping?
I don't know if you should ignore it, but in the moment of a competition, there's nothing you can do about it. You just have to focus on yourself and what you're doing as a clean athlete. It's unfortunate and it exists. I can't claim to know to what extent it exists, but as a sport, I hope we become cleaner. But all I can really do is look after myself."
With her life centred around pole vaulting currently, Pena says she will have to wait until retirement from the sport to "get back into the real world" and make use of her degree in International Development Studies from the University of California, Los Angeles.
Away from the sport, Pena spends much of her off time relaxing by going on walks, hikes and bike rides along the beach, as well as doing volunteer work and helping out at local schools.
She vividly remembers watching Katie Taylor win her Olympic gold at the Irish house in London four years ago, and remains on friendly terms with a number of her fellow Team Ireland athletes.
"It's kind of the perks of being on a smaller team — you really get the chance to get to know people well," she says.
More recently, Pena was part of the Irish team that had a training base in Hong Kong before competing at the IAAF World Track and Field Championships in Beijing, where she unfortunately failed to get past the qualifying round, finishing 10th in Group A with a best score of 4.30m.
This past summer was a really fun trip. We had a strong group of females on the team and we had training camp in Hong Kong leading up to that. It's really fun to get to know all the others.
"Right now, I get to train with (Irish sprinter) Kelly Proper, which is really fun. She's up here in Phoenix. We just went to lunch yesterday, which was great. It's really nice to have her as a tie and a connection back to Ireland."