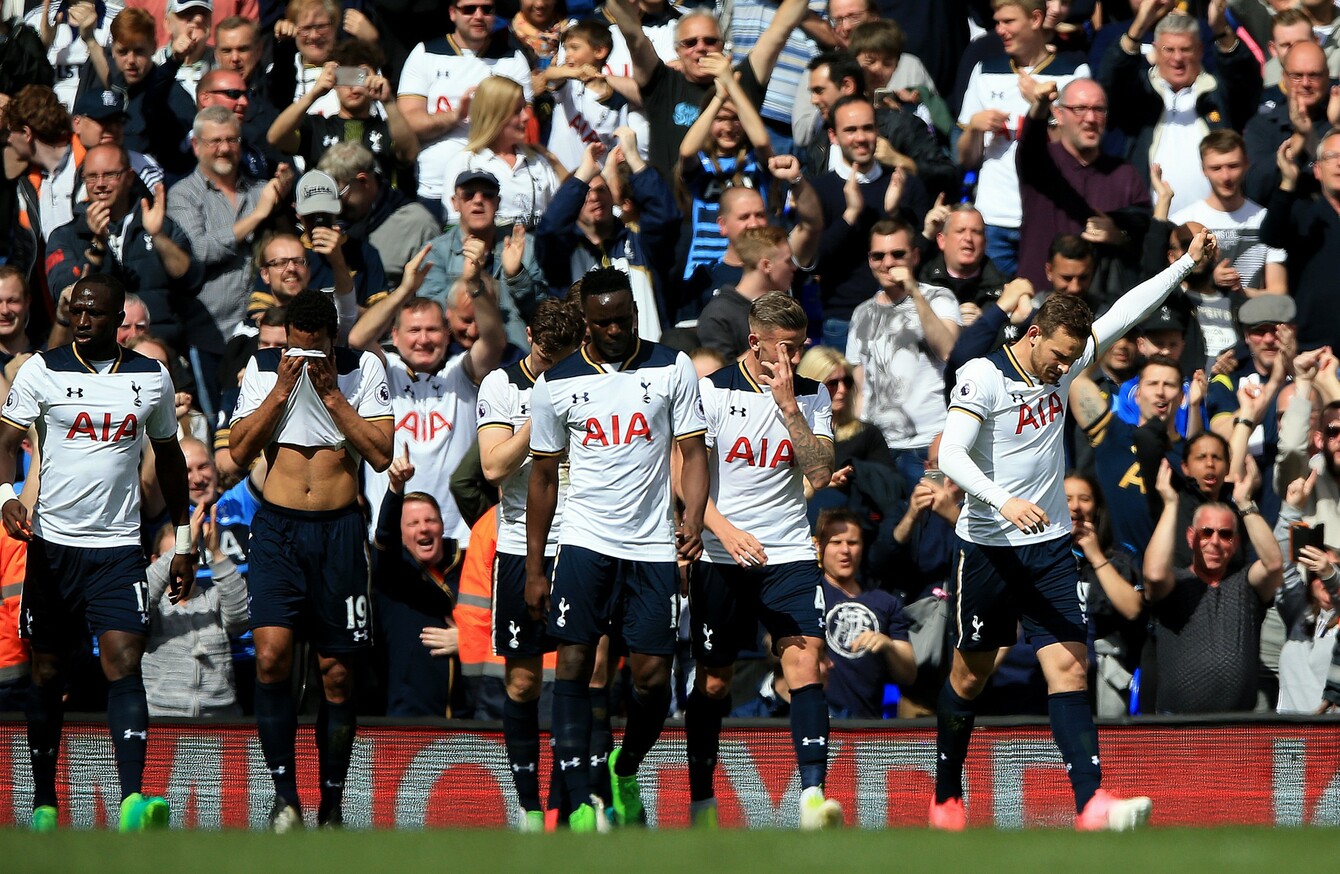 Tottenham are currently four points behind Premier League leaders Chelsea.
Image: Nigel French
Tottenham are currently four points behind Premier League leaders Chelsea.
Image: Nigel French
MAY 7 2006 has become an infamous day in the history of Tottenham Hotspur.
Spurs were on the brink of their first-ever Champions League qualification, as an impressive team featuring Michael Dawson, Edgar Davids, Michael Carrick, Robbie Keane and Jermain Defoe were in the process of guiding the club to their best-ever Premier League placing.
Only a mid-table West Ham side with nothing but pride to play for stood in their way. Tottenham needed to win to guarantee Champions League football, with bitter rivals Arsenal hot on their tails. Spurs had not finished above their arch-enemies since the 1994-95 campaign but would do so if they could secure three points at Upton Park.
What happened next is one of the strangest stories in English football from the Premier League era. Around midnight on the night of the game, several members of the Tottenham side suddenly fell ill, including Keane, Davids, Dawson, Aaron Lennon and Teemu Tainio.
Spurs pushed for the game to be postponed in order to allow the players to recover, but quickly learned they would risk a points' deduction and resulting exclusion from the following season's European competitions should they fail to play.
"I have never experienced anything like this in football before. We would like to have postponed the match for one day but that was not really possible," manager Martin Jol said at the time.
Unsurprisingly, under these difficult circumstances, Spurs badly struggled. An ailing Carrick, their star midfielder, could only play an hour before being substituted, while an out-of-sorts Tottenham were deservedly beaten 2-1 by the Hammers, with the Gunners winning their respective match and pipping Spurs to fourth place in the process.
Food poisoning and in particular a dodgy lasagne dish was blamed for this debacle, with Tottenham again trying in vain to persuade the FA to organise a replay.
The incident felt like a metaphor for Tottenham's entire Premier League existence up to that point and for some time thereafter.
There has been a word coined to sum up their perpetual problems – 'Spursy'. Essentially, Tottenham in the Premier League era have become renowned for flattering to deceive.
For a while, pundits always seemed to tip them to do well at the start of the season, only for the team to subsequently fail to meet these high expectations.
Every season, at least one expensive new foreign player was signed, and would invariably proceed to fail miserably. Think Sergei Rebrov or Helder Postiga, and more recently, Roberto Soldado.
Several highly rated managers tried to turn Spurs into a top side over the years – Jacques Santini, Juande Ramos and Andre Villas-Boas to name a few – but rarely did they leave with their reputations intact.
Catastrophe had a habit of striking just as the North London club seemed set for success — going 3-0 up against both Manchester sides in 2001 and 2004 respectively, only to somehow lose these games, constituted perfect examples of the softness that consistently undermined all that was good about the club.
Until recently at least in the Premier League era, White Hart Lane has been blessed with great talents such as Jurgen Klinsmann, Teddy Sheringham, David Ginola and Darren Anderton, but they never quite had the level of steel or footballing nous to complement these flair players, which largely explains why since the onset of the Premier League era, they have won just two trophies – the League Cup in 1999 and the same competition again in 2008.
Even under Harry Redknapp, who oversaw their first-ever Champions League qualification in the 2009-10 campaign, there were as many lows as highs. In September 2011, the side who thrashed Liverpool 4-0 at White Hart Lane, had players who were at or near the top of their game at the time, including Brad Friedel, Ledley King, Gareth Bale, Luka Modric, Scott Parker, Jermain Defoe and Emmanuel Adebayor. It was the best Tottenham team that had ever graced the Premier League up to that point.
As with the food poisoning incident in 2006, they looked set to claim a top-four spot and finish above rivals Arsenal. However, the Gunners pipped them to third by one point ultimately amid a characteristic end-of-season collapse, and Spurs missed out on Champions League qualification after Chelsea won the latter competition outright despite finishing sixth in the Premier League. Again, there was an abiding sense of underachievement and missed opportunities as Tottenham reflected ruefully on another disappointing climax to their campaign.
"I made one of the biggest mistakes of my life the night I went to watch Chelsea win the 2012 Champions League final," Redknapp later recalled in his autobiography.
"You all know what happened. Chelsea were outplayed by  Bayern Munich — as they had been by Barcelona and by Napoli in previous rounds — but they won the trophy.
"It meant Spurs hadn't qualified for the following season's Champions League, despite finishing fourth — two points above Chelsea in the Premier League. They took our place as holders. I was distraught. I felt like crying."
But despite these many disappointing isolated moments over the years, there are plenty of reasons for encouragement at Tottenham of late.
Last September, former sporting director and one of the most respected figures in European football, Damien Comolli, proclaimed: "Tottenham must be the club that has moved forward most in every respect in the last 15 years in Europe, and it's thanks to (Daniel Levy)."
The bare figures back this up. Tottenham's spending has been relatively efficient in comparison to their main Premier League rivals. They have spent roughly £170million on players in the last three years, compared with the £307million that leaders Chelsea have ploughed into the club. Moreover, consider their trajectory since the start of the Premier League era. The following is where they have finished, in chronological order, since the start of the 1992-93 campaign: 8th, 15th, 7th, 8th, 10th, 14th, 11th, 10th, 12th, 9th, 10th, 12th, 9th, 10th, 14th, 9th, 5th, 11th, 8th, 4th, 5th, 4th, 5th, 6th, 5th, 3rd.
Two campaigns standout from the early years – 1993-94 and 1997-98, where they finished 15th and 14th respectively. Even these positions flattered Spurs to a degree, as they came just three and four points above the relegation zone on the two occasions. Considering where they are now, it certainly supports Comolli's comments. While fans may complain of regular underachievement, it is hard to think of a Premier League side who have progressed more steadily in recent times, without the help of a super-rich owner, a Roman Abramovich or a Khaldoon Al Mubarak-type figure to suddenly boost their standing in the English game.
Last year, Tottenham finally did qualify for the Champions League for the second time in their history, after a record high Premier League finish saw them come third.
It was an encouraging season for many reasons, with young English players such as Harry Kane, Dele Alli and Eric Dier flourishing. But even still, there was something distinctly Spursy about the campaign.
Having looked set to challenge Leicester for the title, Tottenham collapsed under the pressure of this challenge ultimately. They 'came third in a two-horse race,' as they were once again pipped by Arsenal to second, after a final-day 5-1 thrashing against already relegated Newcastle.
Before then, a draw at home to West Brom proved pivotal, while the 2-2 draw with Chelsea, which confirmed Leicester as Premier League champions, suggested Tottenham were not yet mature enough to handle the pressure of a title run-in. The fact that nine of their players picked up bookings indicated a stark loss of discipline and control from Spurs on the night.
This season, Tottenham are looking to make up for last year's failings. They have continued to impress and unquestionably now deserve to be regarded as the best Spurs side of the Premier League era.
Currently trailing Chelsea by just four points, Mauricio Pochettino's men still have a chance to make this season a truly special campaign in the club's history.
Recent respective 4-0 wins over Bournemouth and Watford highlighted Tottenham's talent, while hard-fought away victories in recent weeks against Swansea and Burnley emphasised their grittier side.
Questions still remain over Tottenham's mentality when the pressure is amplified, however. At White Hart Lane, they have been exceptional, winning 15 and drawing two of their 17 Premier League games there.
Yet away from their home ground, they have persistently struggled against the better teams. They lost to Liverpool, Man United and Chelsea, in addition to drawing six and winning six on their travels.
In Europe, they also never really convinced, prevailing in just two out of six of their Champions League group games and failing to progress, before suffering an equally dismal defeat at the hands of Belgian side Gent in the Europa League.
Incredible recent form has seen Tottenham win seven top-flight games on the bounce for the first time since 1967, but the outcome of today's FA Cup semi-final with Chelsea away from the comfortable surrounds of White Hart Lane will surely be a truer reflection of how far this young Spurs side have come.
The42 is on Instagram! Tap the button below on your phone to follow us!