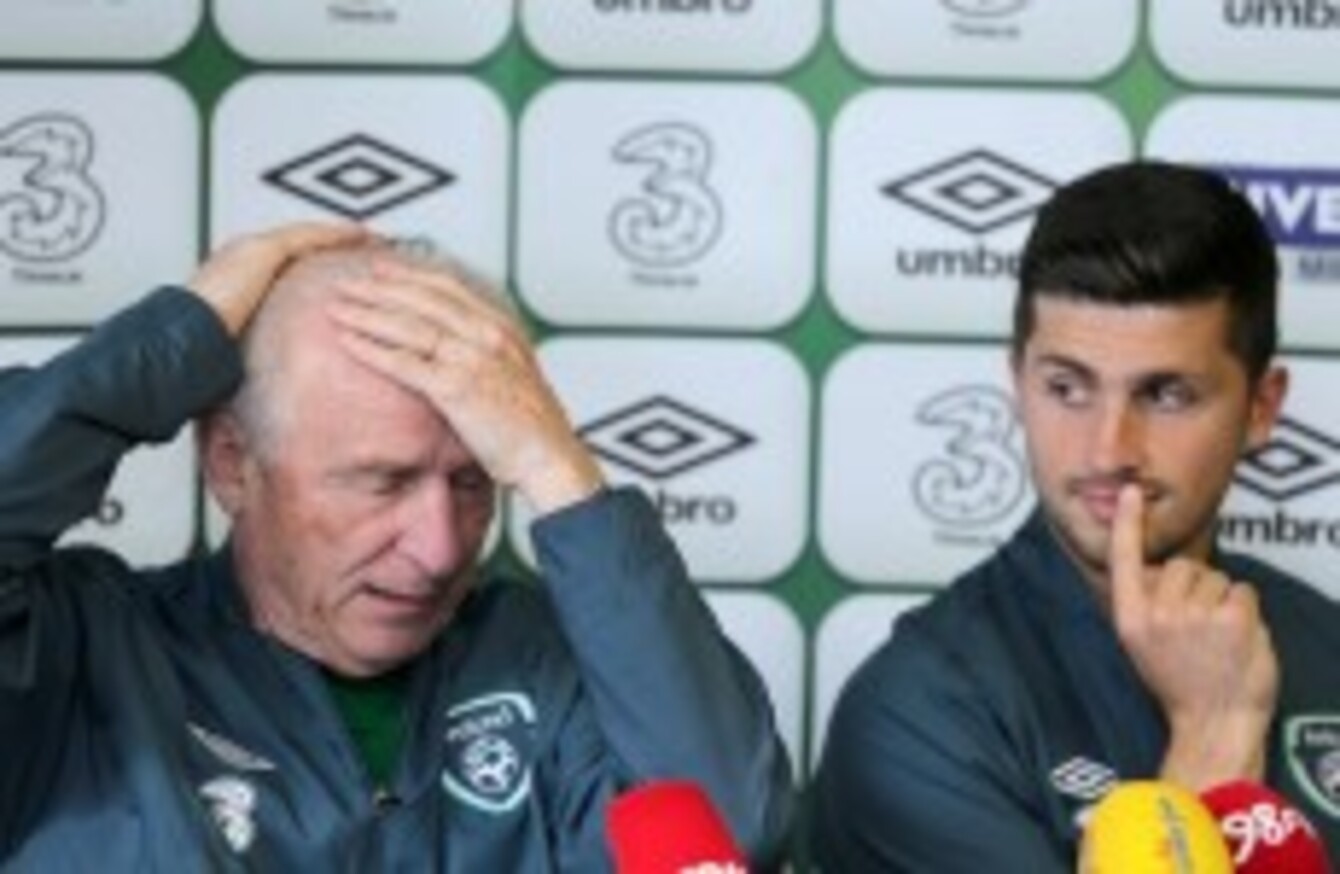 File photo.
Image: ©INPHO/Morgan Treacy
File photo.
Image: ©INPHO/Morgan Treacy
IRELAND MANAGER GIOVANNI Trapattoni was in forgiving mood when reviewing last night's friendly stalemate against Wales this morning.
"I saw, not many things, but enough things good," said the Italian.
"The good personality with the team, we played very well with possession  and we had three great opportunities to score.
"Two with Long the other with McClean; The 'keeper was brave on this goal."
Despite the missed opportunities, Trapattoni stressed that the positives from the game lie in that chances were created. In a friendly of this nature, the fact that they were not taken is largely immaterial. But the 74-year-old coach was keen to protect Long, comparing him first to a young Robbie Keane before delving further into his memory bank.
"When I was at Juventus, one of the best Italian strikers, [Giampiero] Boniperti – I was on the bench [after] missing a goal over the bar."

Trapattoni thumps the table to illustrate his frustration as a young man. "He [Boniperti] said, 'Giovanni, I also missed this goal, five metres from goal'. That was a great man and a great striker. It's possible."
He continued: "I was in the San Siro with Milan. [Juan] Schiaffino - one of the best players in Uruguay – the ball came in and, five metres from the goal, the ball went over the bar. That is football."
Of the 26-year-old Long, Trapattoni says: "When a player is young, sometimes a bit of angst is normal.
"He had time to control the ball and shoot. Easy. The same with McClean, but it's important we arrive now in the box in front of the 'keeper. We created good opportunities and that's important.
Typical
"Sure, with his experience Robbie Keane usually makes it a goal. It's typical of the young. At 20 they play not 100%, this situation is normal. In other countries and other teams the young are normally a little bit rushed."
One man who never looks rushed is Zlatan Ibrahimovic. And after the Swede bagged a hat-trick against Norway last night, it seems he is back in ominous form even at this early stage of the season.
Trapattoni places the PSG striker among the very best players in the world, but cites our nearest neighbours as an example of how any result is possible in football, even against the biggest country in the world.
"There is Messi, Ibrahimovic, Ronaldo, they have the creativity and can score goals. but we also have good defenders.

"I am confident that when a team has a good balance, we have an example last month against Spain. If we have a good balance in every position, the midfield, our wingers, I'm sure we can do well.
"We must believe. You see yesterday against Russia [Northern Ireland] showed us how a good team that play all the time in England [can win].
"We must believe. Every game you have two or three great chances to score."
Sweden, however, are likely to be much less forgiving opponents than Wales when they arrive in Dublin on September 6.
Audio courtesy of 98fm.
Join TheScore.ie's Premier League Fantasy Football League using this code: 800052-191374; http://fantasy.premierleague.com