Liveblog
The plan was to go between Omagh and Castlebar for tonight's match tracker, but Storm Jorge had other ideas.
Now that the other Allianz Football League Division 1 clash of Mayo and Kerry has been postponed until tomorrow afternoon, our sole focus is on Healy Park as Tyrone welcome Dublin to town.
Shortly after midday, the GAA confirmed that the Omagh venue had passed a pitch inspection so it's all systems go for the 7.15pm throw-in. With the Mayo-Kerry meeting falling foul to the weather, Tyrone-Dublin will now be live on RTÉ 2 as well as on eir sport.
We'll keep you up to date here, too, with all the usual build-up and updates to follow.
Here's the aforementioned confirmation from the GAA…
#GAA news: Healy Park, Omagh has passed a pitch inspection - @TyroneGAALive v @DubGAAOfficial - 7.15pm throw-in. The #AllianzLeagues game will be broadcast live on @RTEgaa and @eirSport

— The GAA (@officialgaa) February 29, 2020
But here's how things look in and around Healy Park…
Source: Tommy Dickson/INPHO
Source: Tommy Dickson/INPHO
Source: Tommy Dickson/INPHO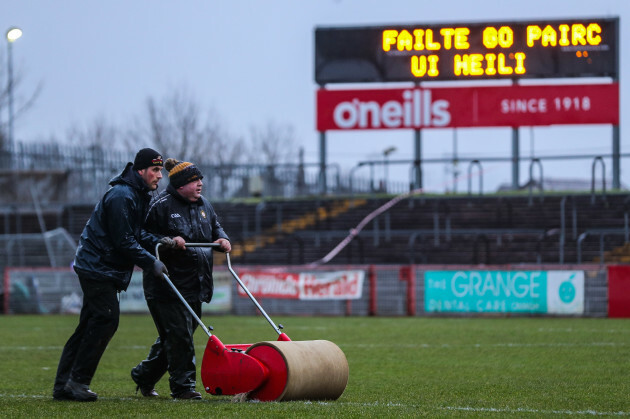 Source: Tommy Dickson/INPHO
All seems to be going ahead as planned anyway, with Dublin arriving at the venue.
Rockin' Up to Healy Park.

Dublin footballer Dean Rock arrives for the Allianz Football League Division 1 Round 5 match against Tyrone at Healy Park in Omagh tonight.

📸 @Sportsfiledfitz https://t.co/cupvdpEcU2 pic.twitter.com/vv8kRC7uPo

— Sportsfile (@sportsfile) February 29, 2020
Of course, we'll keep you updated if anything changes in the meantime, but the build-up continues for now.
RTÉ begin their television coverage at 7pm, and eir sport kick off at the same time. We'll press on with our own pre-match coverage too, with team news to follow shortly.
Dublin manager Dessie Farrell has named his starting 15 as follows:
Dublin (team to face Tyrone)
1. Evan Comerford (Ballymun Kickhams)
2. Michael Fitzsimons (Cuala)
3. Philip McMahon (Ballymun Kickhams)
4. David Byrne (Naomh Olaf)
5. Eoin Murchan (Na Fianna)
6. John Small (Ballymun Kickhams)
7. Cillian O'Shea (Kilmacud Crokes)
8. Brian Fenton (Raheny)
9. James McCarthy (Ballymun Kickhams)
10. Brian Howard (Raheny)
11. Seán Bugler (St. Oliver Plunkett Eoghan Ruadh)
12. Niall Scully (Templeogue Synge St)
13. Paul Mannion (Kilmacud Crokes)
14. Ciarán Kilkenny (Castleknock)
15. Dean Rock (Ballymun Kickhams)
Ballymun Kickhams duo Philly McMahon and James McCarthy both return to the Dublin starting team. McMahon comes into the Dubs' defence, while McCarthy is named to start in midfield alongside Brian Fenton.
Kevin McManamon and Craig Dias are the two players who make way to facilitate the changes in personnel.
Dublin GAA have just confirmed their panel in full, with start defender Jack McCaffrey returning to the matchday 26 for the first time this season.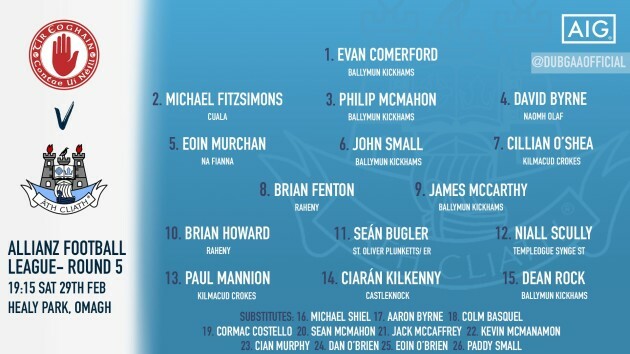 Source: Dublin GAA.
And here's Mickey Harte's Tyrone team:
Tyrone
1. Niall Morgan (Edendork)
2. Michael Cassidy (Ardboe)
3. Ronan McNamee (Aghyaran)
4. Liam Rafferty (Galbally)
5. Michael McKernan (Coalisland)
6. Rory Brennan (Trillick)
7. Michael O'Neill (Ardboe)
8. Colm Cavanagh (Moy)
9. Padraig Hampsey (Coalisland)
10. Frank Burns (Pomeroy Plunketts)
11. Niall Sludden (Dromore)
12. Darren McCurry (Edendork)
13. Peter Harte (Errigal Ciarán)
14. Brian Kennedy (Derrylaughan)
15. Conor Meyler (Omagh)
That's four changes to the side that lost to Galway last time out. Cathal McShane's injury has had a big impact, of course, with several switches made.
Padraig Hampsey, Michael O'Neill, Michael McKernan and Michael Cassidy all come in, with McShane, Tiernan McCann, Kieran McGeary and Niall Kelly all making way.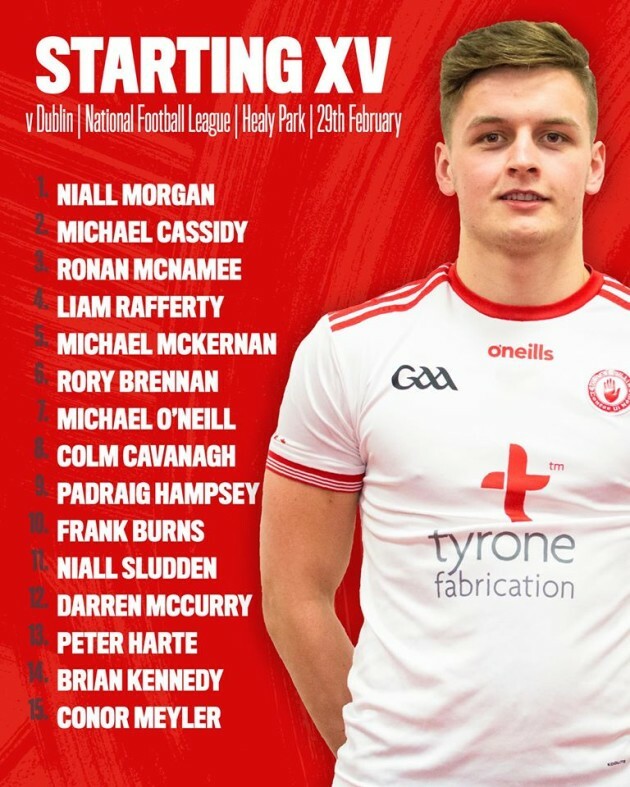 Source: Tyrone GAA.
There are sure to be late changes, so we'll have all of those for you as they come in.
GREEN LIGHT: Referee Cormac Reilly has completed a final pitch inspection and has confirmed that the game will go ahead, say Tyrone GAA. Game on in Omagh.
GAME ON ✅

Referee Cormac Reilly has completed a final pitch inspection and has confirmed that the game will go ahead. #AllianzLeagues

— Tyrone GAA (@TyroneGAALive) February 29, 2020
On with the football anyway… Dessie Farrell's men are second in the Division 1 table — two wins, two draws — while Galway lead the way. Tyrone, meanwhile, sit fifth after two wins and two losses.
Two late changes for Dublin: Eoin O'Brien and Colm Basquel come in, Philly McMahon and John Small make way.
We're almost ready to go at a wet and windy Healy Park.
THROW-IN: Tyrone 0-0 Dublin 0-0
Meath referee Cormac Reilly has thrown the ball in, and we're off the mark.
GOAL! Dublin 1-0 Tyrone 0-0

Colm Basquel absolutely rattles the net less than two minutes in. What a start for the late replacement!
Dublin 1-0 Tyrone 0-0
Conditions are absolutely dreadful in Omagh, and that's clear as day from the TV cameras. After their blistering start, Dublin have taken early control and are dominating in these early minutes. They're throwing the ball around, Ciarán Kilkenny playing a central part as per.
Dublin 1-0 Tyrone 0-0
Tyrone's first chance at the posts comes as a free. Goalkeeper Niall Morgan's effort is swept wide by the wind, to a waheeeey from the travelling Dublin fans.
Just to go back to that early goal, we must acknowledge Michael Fitzsimons' contribution in the build-up. He was closed down by a flurry of Tyrone defenders but managed to pop the ball over the top to the onrushing Basquel. Boom. Top corner.
Dublin 1-0 Tyrone 0-0
Tyrone were almost in on goal at one point there, but the conditions ultimately deny them as the ball rolls into the safety of Dublin goalkeeper Evan Comerford. Possession is obviously absolutely vital team, so once either team gets their hands on the ball they'll do their absolute utmost to keep it before breaking when the perfect opportunity arises.
Dublin 1-0 Tyrone 0-0
Again, Tyrone pounce, but the conditions lead to nothing. There's a scramble after a handling error, and good work from Paul Mannion keeps them out. Dean Rock has a go at the other end, and the swirling wind pulls it at least 30m wide…
Dublin 1-0 Tyrone 0-0
After some good work from Conor Melyer, a long ball is sent in and it comes off the Dublin upright. The Red Hand have been unlucky in all of their efforts thus far, but the clock is ticking and they're yet to score.
Dublin 1-0 Tyrone 0-1
Just as that's noted, Meyler opens Tyrone's account. After Peter Harte was held up in their previous attack, Mickey Harte's men almost walk the ball in this time around and Meyler succeeds in beating the breeze.
Dublin 1-0 Tyrone 0-2
After a few Dublin frees in the corner that amount to nothing, Tyrone break on the counter-attack and it looks like Sludden is home and hosed to pop it over. The wind, again, causes havoc and it drops short.
Rory Brennan, on the next attack, breaks through the Dublin defence and grabs Tyrone's second point of the night.
Dublin 1-1 Tyrone 0-2
Brian Fenton responds with Dublin's second point of the night. He had James McCarthy on his shoulder again, but the Raheny man goes himself. Big Brian Fenton, as Ger Canning calls him on RTÉ.
Dublin 1-1 Tyrone 0-4
Liam Rafferty brings the deficit to one, before Morgan slots his second attempt at a free over to tie the game.
Dublin 1-1 Tyrone 0-4
Tyrone awarded a close-range free after something a Dublin player handles the ball because of Comerford's (too-) short kick-out. It's impossible to make out what's happening half the time, with rain all over the camera! On we go…
Dublin 1-1 Tyrone 0-4
To be fair, both sides are showing well in absolutely horrendous conditions. They're doing as well as they can in possession, as Dublin go on the attack once again. They're happy to play the ball around, and Eoin Murchan adds an injection of pace… Brian Kennedy keeps Fitzsimons out, and they're awarded a 45.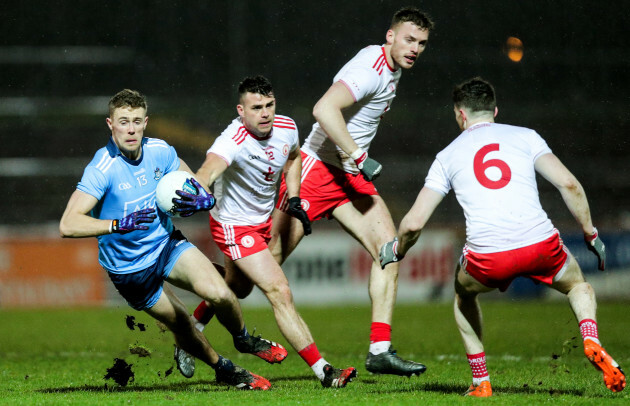 Dublin's Paul Mannion on the ball. Source: Tommy Dickson/INPHO
Dublin 1-1 Tyrone 0-4
Nothing comes off that 45, but the Dubs continue to enjoy possession. A Niall Scully pass to Paul Mannion is intercepted, and the Red Hand set out on the counter, but Sludden's effort veers wide.
Dublin 1-2 Tyrone 0-4
Rock makes no mistake with his first scorable free of the night to send Dublin one clear again.
Dublin 1-2 Tyrone 0-5
On the restart from that Rock free, Tyrone certainly got out of jail. Morgan's kick-out went next to or nowhere, and it looked like Dublin would punish. But Tyrone somehow regained control of the situtation.
Peter Harte has just stood up with probably the best score of the night, and we're all square once again.
Dublin 1-2 Tyrone 0-5
CLOSE! Another lovely team move from Tyrone, with Liam Rafferty the man at the end to take the shot. He has Comerford beaten but is denied by the crossbar. One minute of stoppage time to play.
HALF-TIME: Dublin 1-2 Tyrone 0-5
Fenton and Frank Burns go for the ball in what looks like a 50/50 challenge but Tyrone are awarded a free. Morgan's effort goes wide, Reilly's whistle sounds, and that's that for the first half.
That's that for the first half anyway, and the sides are level at Healy Park. Conditions are obviously brutal, and that shows in the TV coverage. As one commenter pointed out; it looks like someone rubbed Vaseline on the camera lens. At times, it's hard to make out anything at all. It certainly hasn't been pretty, but to be fair, both teams have come into the game and are largely using possession as well as they can.
Thoughts?
RTÉ have just shown a clip from the tunnel, and there appears to have been scuffle as the teams headed in for half-time. Certainly usavoury scenes as there looks to be swiping, and possible punches thrown, between players and backroom staff. "Disgraceful," says Tomás Ó Sé.
SECOND-HALF: We go again.
Padraig Hampsey was shown a black card before the action got underway. Unsure what that was for, but maybe it was to do with the half-time incident. Jack McCaffrey is in for Dublin, and it seems Tyrone have made a change at half time too. We'll have confirmation of both in the next update.
Dublin 1-2 Tyrone 0-5
So McCaffrey is in for Eoin O'Brien, and Tyrone's change sees Ben McDonnell replace Brian Kennedy. We start all guns blazing in the second half, there's a bit of an edge to it now. Dublin with early misses, and Tyrone go on the hunt at the other end.
Tyrone 0-6 Dublin 1-2
Another massive point from Peter Harte puts Tyrone in the lead. Brian Howard and Sean Bugler both see yellow for off-the-ball incidents, it seems.
Tyrone 0-6 Dublin 1-4
Dublin pull one back through youngster Cillian O'Shea, before Niall Scully tags on another and the Sky Blues go back into the lead. There's a bit of uncertainty, but the white flag is waved and the score stands. A really fast start to the second half.
Dublin 1-4 Tyrone 0-6
A really long Niall Morgan kick-out starts something for Tyrone, but McCurry's effort at the end veers wide. Fitzsimons sees yellow for persistent fouling, after some contact with Meyler.
Morgan goes on a run up the pitch for 14-man Tyrone and has a pop from distance after a give-and-go. Nothing comes off it, but sure it was worth a go. Worth noting that he pulled off a brilliant save amid the madness of the start of the half.
Dublin 1-4 Tyrone 0-6
Tiernan McCann replaces Michael O'Neill, and Tyrone have Hampsey back on the field to cheers from the crowd.
Dublin 1-5 Tyrone 0-6
Rock bags his second pointed-free of the night. After a few dangerous attacks, Tyrone eventually foul to keep them out — think it's Sludden who gives away the free.
Kevin McManamon replaces Bugler, and there's a yellow for Michael McKernan for a high tackle on Niall Scully.
Dublin 1-5 Tyrone 0-6
Ciarán Kilkenny opts to go with the quick free and Dublin play the ball around, as John Small is introduced and gets involved straight away. Fitzsimons is the player to make way.
McCaffrey is coming into the game more and more after his half-time introduction, and Dublin throw possession around. Tyrone win it back and at that, a free in their own half, as McManamon repeatedly fouls. The next scoring opportunity comes to Brian Howard, but it heads wide.
Dublin 1-5 Tyrone 0-7
Darren McCurry beats the stormy conditions with a critical point to put one between the sides.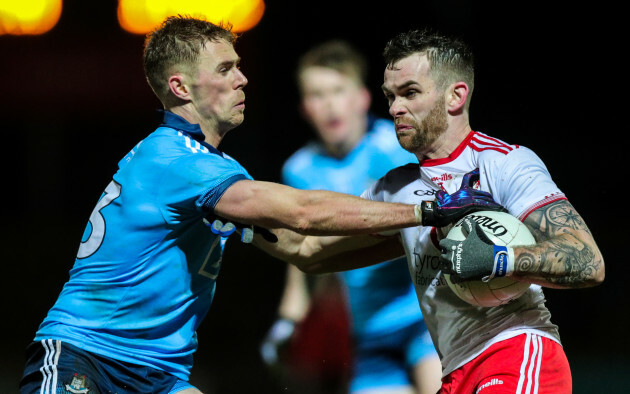 Dublin's Paul Mannion with Tyrone's Ronan McNamee. Source: Tommy Dickson/INPHO
Dublin 1-5 Tyrone 0-8
All square! An absolutely superb long-range free, all things considered, from Morgan ties the game. Niall Scully has just been shown a black card for a challenge around the middle on a Tyrone man. Could be a big loss with the game in the balance.
Tyrone 0-9 Dublin 1-5
That man again, as Edendork 'keeper Morgan sends another long-range free over to put Tyrone in the lead. The home fans are loving this!
Tyrone 0-9 Dublin 1-6
Jack McCaffrey makes a winding run towards goal, the ball is stolen off him by McCurry and the referee awards a close-range free. Peter Harte is furious but on the replay, it does look like McCaffrey's arm is held back. Rock nails the subsquent free.
Tyrone 0-10 Dublin 1-6
Harte does well from the restart, and Tyrone win a free of their own. It's from close range on the left, and Morgan comes up the field to have a go. Up and over, and Tyrone lead again.
Few substitutes in the past few minutes there: Cormac Costello for Colm Basquel (Dublin) and Kyle Coney for Niall Sludden (Tyrone).
Tyrone 0-10 Dublin 1-6
Few off-the-ball incidents there between the sides. As we hit the closing minutes, the needle is coming out more and more. There's a late challenge on Comerford after he gave a handpass, and one or two more bits and pieces but play goes on.
Tyrone 0-10 Dublin 1-7
Rock adds another free and we're level once again.
Tyrone 0-10 Dublin 1-7
Super interception from Kyle Coney as Mannion juggles the ball. Looked like Dublin were about to take the lead, but Tyrone have their chance now…
GOAL! Tyrone 1-10 Dublin 1-7 (69 mins)
Tyrone 1-10 Dublin 1-7
Another rocket! And it's Rory Brennan, as Tyrone go into a three point lead right at the death. Dublin bite back almost immediately at the other end, McManamon gets in for a goal of his own but is kept out. Real heart in the mouth stuff for Tyrone.
Tyrone 1-10 Dublin 1-7
Four minutes added on. Niall Morgan is named Man of the Match.
Padraig Hampsey is replaced by Niall Kelly as Tyrone look to see this one out. Ronan O'Neill came on for Michael McKernan earlier, while Jack McCaffrey — who just came on at half-time — was replaced by Aaron Byrne before all of that drama.
Tyrone 1-10 Dublin 1-7
The Tyrone goal is under siege as the minutes tick on, but Morgan keeps Dublin out. The Red Hand are in possession now as the home crowd cheer them home. Fenton had given away a free, and that's how that came about. Morgan calmly holds the ball and keeps his troops going.
FULL-TIME: Tyrone 1-10 Dublin 1-7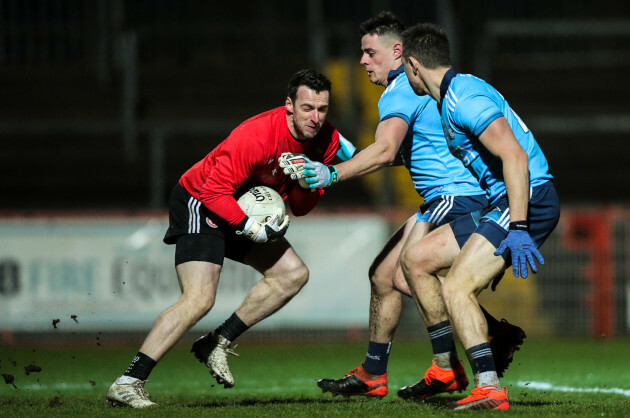 Source: Tommy Dickson/INPHO
Serious scenes at Healy Park as Tyrone celebrate an absolutely massive win. You can see how much this one means to Mickey Harte and his side.
An entertaining contest in extremely difficult conditions, but it was ultimately that late Rory Brennan goal that sealed the deal. A first league defeat of the season for Dublin, as Tyrone move up to third in the Division 1 table.
Rory Brennan's goal made all the difference for Tyrone as they saw off Dublin in tough conditions #RTEGAA #TYRvDUB #AllianzLeagues pic.twitter.com/hVzeabszVU

— RTÉ GAA (@RTEgaa) February 29, 2020
So after that, Dublin remain second with two wins from five — two draws, one defeat — and Tyrone's third win of the campaign moves them into third as the race for league final spots continues.

The Division 1 football league table. Source: Sportsline.
Attention turns to Castlebar tomorrow as Mayo and Kerry go head-to-head after their clash was rescheduled. That one's at 1pm, while Donegal and Monaghan face off at 2pm and Meath and Galway are scheduled to meet at 2.30pm.
We'll have a full match report from Tyrone's win over Dublin on The42 in the coming minutes, and there'll be much more to come tomorrow and through the week. Reports, colour, reaction and analyis; you know what's ahead.
That's all from me. Thanks so much for reading, enjoy your night and steer clear of that stormy weather. Until next time!
Contribute to this story: