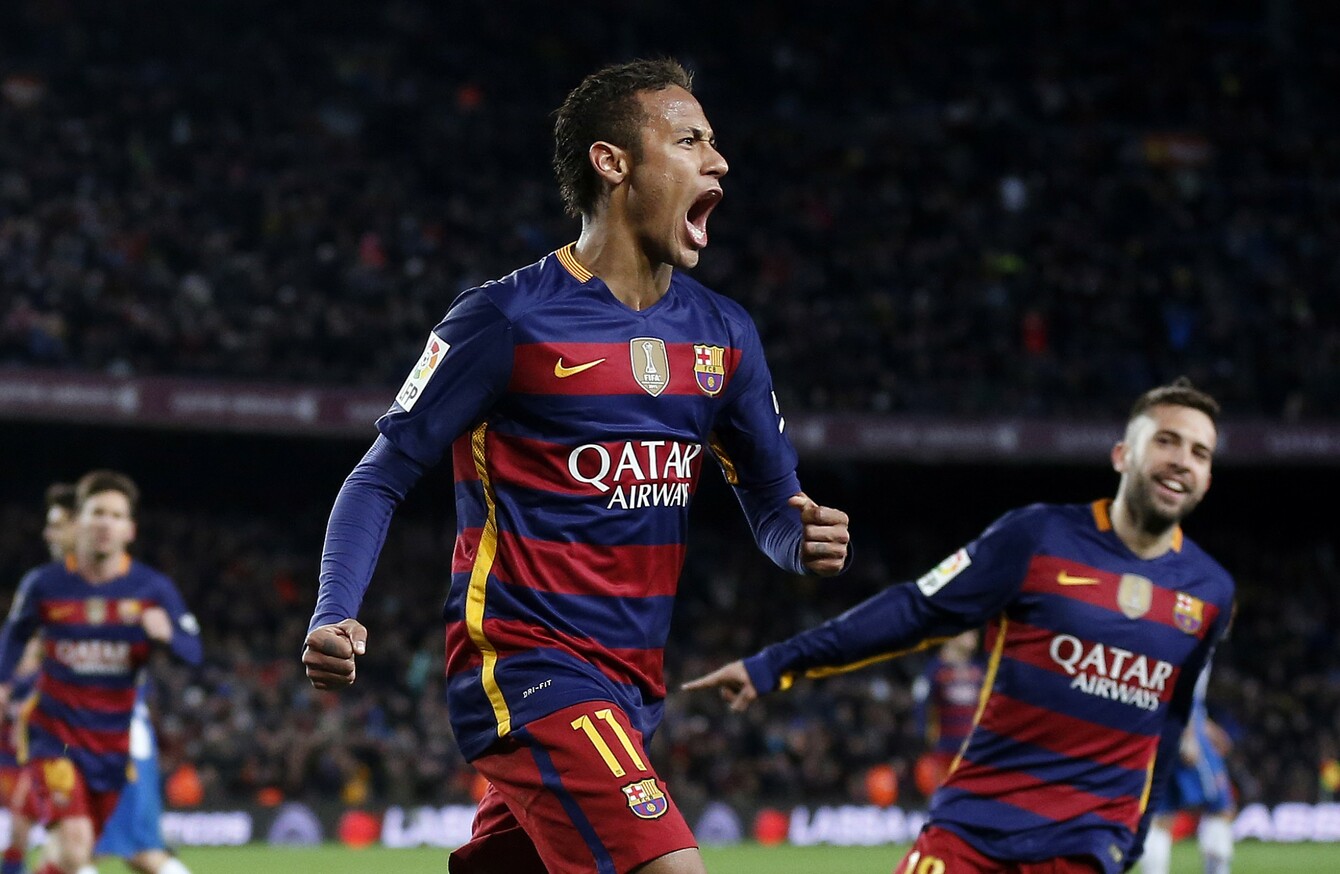 Image: AP/Press Association Images
Image: AP/Press Association Images
THE PEOPLE HAVE spoken and they have decided that the Premier League doesn't have a player good enough to make the best XI in Europe for 2015.
There were more than seven million votes cast and the result saw the selection of five Barcelona players, three from Real Madrid, two from Bayern Munich and one from Juventus.
The influence of Champions League success seems to have been a major player in the voting as only the four semi-finalists from the 2014/15 campaign had representatives on the team.
Barcelona defenders Gerard Pique and Dani Alves were joined in the side by Andres Iniesta, Lionel Messi and Neymar, although there was surprise in some quarters after the prolific Luis Suarez was left out.
German stopper Manuel Neuer made the team for a third time, an honour shared with his Bayern team-mate David Alaba.
Former Manchester United player Paul Pogba impressed fans with his form for Juventus to make the side for the first time while the Real Madrid trio of Sergio Ramos, James Rodriguez and Cristiano Ronaldo completed the selection.
Ronaldo made the side for the tenth time, which is a record and three times more than his perpetual Ballon d'Or rival Messi.
It goes to show the quality of attackers in Europe when the likes of Suarez and Bayern's Robert Lewandowski can't make the side.
Arsenal's Alexis Sanchez led the Twitter voting but failed to make the cut when the uefa.com results were factored in. The likes of Mesut Ozil and Eden Hazard may have had claims to make the side but likely missed out due to their patchy form at different times of the year.
David De Gea and Sergio Aguero were the Premier League's other leading stars to miss out, both likely losing votes on the back of disappointing European campaigns.
The last Premier League player to make the side was Angel Di Maria last year although that was largely for his form with Real Madrid, not in England. Much the same can be said of Ozil's selection in 2013 when he moved from Real to Arsenal.
The last player to make the XI on the back of a full year in the Premier League was Gareth Bale in 2011.
Goalkeeper: Manuel Neuer (Bayern Munich)

Defenders: David Alaba (Bayern Munich), Sergio Ramos (Real Madrid), Gerard Pique (Barcelona), Dani Alves (Barcelona)

Midfielders: Andres Iniesta (Barcelona), Paul Pogba (Juventus), James Rodriguez (Real Madrid)
Attackers: Lionel Messi (Barcelona), Neymar (Barcelona), Cristiano Ronaldo (Real Madrid).