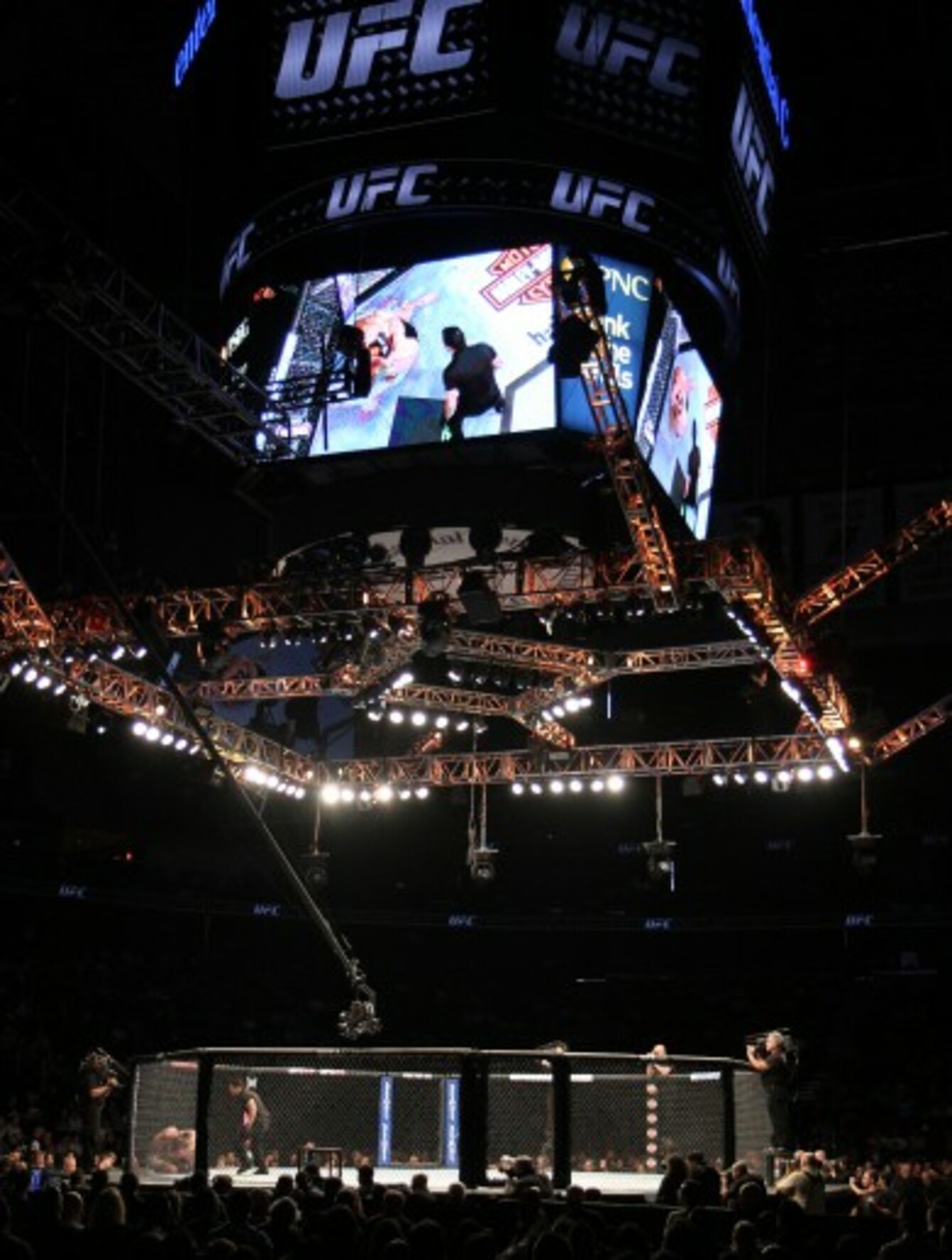 Image: Gregory Payan
Image: Gregory Payan
BRAZIL PLAYS HOST to a couple of crucial match-ups that could go some way in deciding who will be challenging for the middleweight title in the near future.
Former light heavyweight champion Lyoto Machida faces Gegard Mousasi in a hotly-contested main event while two men who are unbeaten in the UFC, Ronaldo "Jacare" Souza and Francis Carmont, look to state their title claims.
Erick Silva wants to bounce back from his devastating defeat last time out as he tries to build momentum when he faces Takenori Sato while Englishman Andy Ogle needs to upset the odds if he is to pick up a win against Charles Oliveira.
Middleweight mayhem
This Saturday is a big night at the top end of the middleweight division as four men who all have designs on Chris Weidman's title do battle for that coveted title shot. Out of the four, it is probably Lyoto Machida who is currently staking the best claim for a shot after his devastating KO of Mark Munoz back in October.
This will be Mousasi's UFC middleweight debut having competed as a light heavyweight previously and the match-up in styles between the two means that this will be an intriguing fight to watch and difficult to predict how it will unfold.
Munoz probably wasn't best suited to face Machida but Mousasi is much better versed on his feet and will pose a significant threat on his feet while possessing decent defence against The Dragon's unorthodox style.
Machida's usual game-plan of trying to frustrate the opponent might not work here as Mousasi is always cool, calm and collected in the cage and he has displayed great patience in the past. This might not be a super exciting barnstormer but there is every chance that this will be an intense tactical battle as both men compete to gain the upper hand.
Despite Mousasi claiming otherwise, Machida does possess devastating one-strike KO power and that could be the difference here as the Brazilian edges a close fought battle.
Source: TheFightNetwork
Someone's (UFC) 0 has to go
Roanldo "Jacare" Souza came into the UFC with the reputation of being the best grappler in all of MMA so it came as no surprise when he won his first bout against Chris Camozzi via an arm triangle choke in his debut.
His last fight against Yushin Okami signalled a very real warning to the rest of the middleweight division as he managed to KO Okami in under two-and-a-half minutes. The progression in his stand-up game, coupled with his unparalleled grappling credentials makes "Jacare" a real threat in the division and despite picking up 4 more UFC wins than him, Francis Carmont is really up against it here.
It wouldn't be the best idea to try and take Souza down so Carmont must call upon his kick boxing skills but in all reality Souza will have an answer for that. This could be the night that "Jacare" shows that he is a top contender and a quick finish here would be a massive statement.
Source: Lyotodossantos
Best of the rest
Erick Silva has really failed to live up to the hype in his UFC career so far and has been very inconsistent since his spectacular 40 second KO debut 2 years ago. He has laboured to a 3-3 record inside the Octagon but he has a great chance of banishing the memory of his last defeat with a win organisational newcomer Takenori Sato. Silva should be stronger in every department than Sato and he should ease to victory in this bout.
Englishman Andy Ogle has his work cut out to improve his 1-2 UFC record as he faces Charles Oliveira on the main card. Oliveira has four defeats in his UFC career but all came against top 10 ranked fighters and he is a steady mid-level guy.
Ogle, although durable and game in all of his previous fights, may be outclassed here but there is no doubt he will give everything and not be easy to break down but may go out on his sword here. Viscardi Andrade and Nicholas Musoke both won their UFC debuts and this match-up could be very tight with the TUF semi-finalist Andrade may have the edge in this coin flip contest.