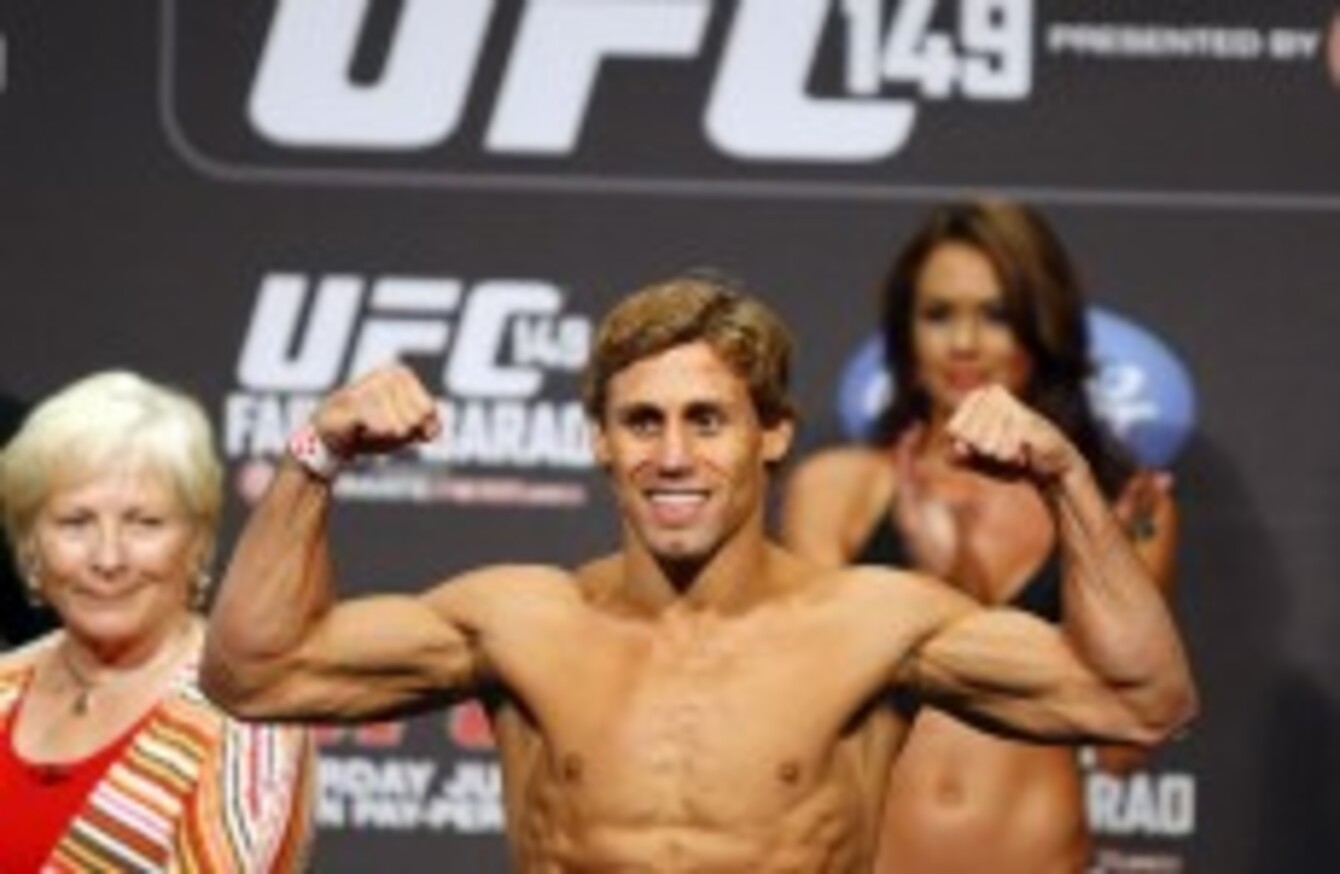 Urijah Faber has stepped up to the plate at the last minute.
Image: Jeff McIntosh/The Canadian Press/Press Association Images
Urijah Faber has stepped up to the plate at the last minute.
Image: Jeff McIntosh/The Canadian Press/Press Association Images
A CRUEL TWIST of fate a couple of weeks ago means the intended headline bout between Renan Barao and Dominck Cruz scheduled for this weekend's UFC 169 was scrapped.
Barao is now the official bantamweight champion and instead of shelving his first defence, Urijah Faber has stepped up on short notice to try and take a championship belt at the sixth time of asking.
Dana White intends to kick off the huge American sporting weekend in style with two title fights on one card with another Brazilian, Jose Aldo taking on Ricardo Lamas for the featherweight belt.
Frank Mir and Alistair Overeem do battle to prove that they can still cut it at the top level while two potentially explosive fights between John Lineker and Ali Bagautinov and Jamie Varner and Abel Trujillo complete a top notch card.
Is Faber heading for more heartbreak?
You would think that losing five championship bouts would put you off but Urijah Faber has shown an admirable resilience that has grown with every title fight defeat.
Renan Barao was the last man to deny him the bantamweight belt but four wins in a row means Faber has certainly earned another crack at the whip, albeit coming in on short notice.
Since his last defeat, Faber has been on a massive charge culminating in his impressive scalp of top prospect Michael McDonald last time out. These last few wins arguably have put him in a better position to win this fight than when the pair met first time round.
Barao has looked equally impressive since picking up the interim championship against Faber at UFC 149, finishing his 2 defences against Eddie Wineland and Michael McDonald.
His well-documented 31 fight winning streak and the fact that he is now the official champion means that it doesn't bode too well for Faber once again.
In their first fight Faber really struggled to close the distance and failed to take Barao down once and paid the price by getting picked apart. Even if he does get the Brazilian to the ground this time there are no guarantees that he will triumph in a ground war.
Barao is just that little bit better than Faber in all departments. While there is no doubt that Faber deserves another shot he seems destined to be the bantamweight division's nearly man as he comes up short once again.
http://www.youtube.com/watch?v=NhHz4LhKCrg
YouTube credit: Mikey Rukus
Aldo's unbeaten streak to continue
While Jose Aldo's unbeaten streak isn't as long as his counterpart Renan Barao's, it is that bit more impressive due to the fact that he has been around the top level for a lot longer.
Aldo has bossed the WEC and UFC since 2008 and shows no real sign that he is ready or willing to give up his long-held featherweight belt.
Ricardo Lamas joins the long and illustrious list of hopefuls, a list that includes the likes of Kenny Florian and Frankie Edgar, who all tried and ultimately failed to defeat Aldo. It has been eight years since Aldo tasted defeat in a professional MMA bout so is Lamas the man to finally dethrone the Brazilian?
It is unlikely. Aldo has long since been recognised for his brutal leg kicks and showed a completely different side to himself in his last fight when he injured his foot early and had to change his approach. That led to a fourth round stoppage of Chan Sung Jung.
This versatility cemented Aldo's status as one of the top pound for pound fighters on the planet and his complete skill-set is far superior than Lamas can offer. This doesn't mean that Lamas won't put up a fight because his aggressiveness alone will cause Aldo problems but the fact that "The Bully" has been out of action for a year means that Aldo's winning streak will continue here.
http://www.youtube.com/watch?v=Ned8pUGDHO0
YouTube credit: UFC
Best of the rest
Frank Mir and Alistair Overeem are both clinging on to their UFC contracts by the skin of their teeth and a defeat for either of them here could finish them in the organisation.
Mir has looked well out of his depth in his last three fights although they were three very difficult match-ups. Overeem has flattered to deceive since beating Brock Lesnar in his UFC debut and is looking to avoid three straight defeats for the first time in his career.
Mir hasn't looked anything other than a standing punch-bag in his last few outings and it is difficult to see how he can turn it around against Overeem's decent striking game. Mir's best chance of victory is to take it to the ground but he will do well to avoid taking shots. Another first round defeat could be on the cards for Mir here.
Ali Bagautinov will be hoping that John Lineker struggles to make weight again and will no doubt test his conditioning to the max in their battle while Jamie Varner has what it takes to overcome Abel Trujillo in what promises to be an exciting affair.