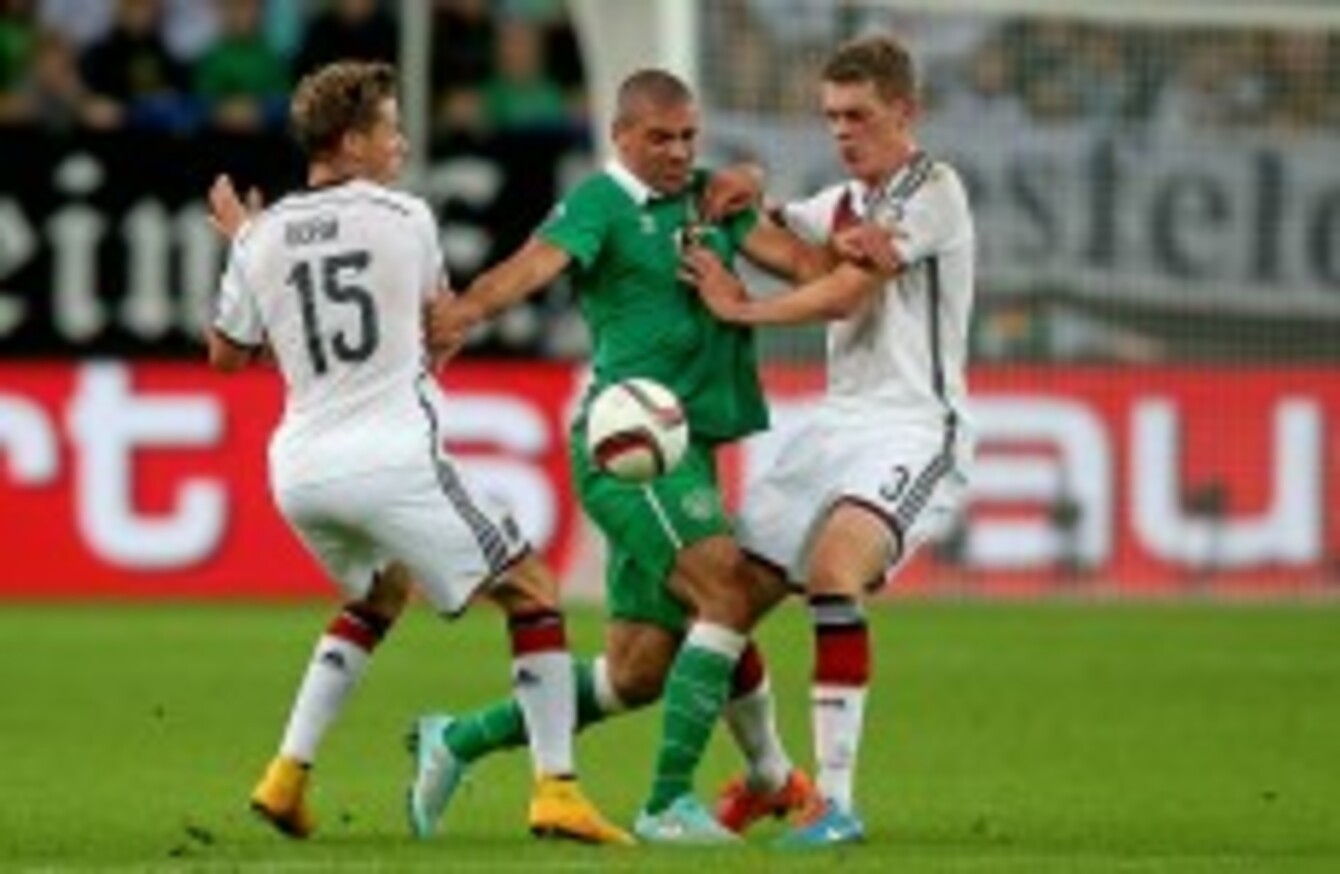 Jonathan Walters put under pressure by Erik Durm and Matthias Ginter in the recent Ireland-Germany clash.
Jonathan Walters put under pressure by Erik Durm and Matthias Ginter in the recent Ireland-Germany clash.
JUST OVER TWO years ago, towards the end of the Giovanni Trapattoni regime, Ireland suffered their heaviest ever home defeat in a competitive international, as they lost 6-1 at the Aviva Stadium against Germany.
Although it took a number of further poor results before Giovanni Trapattoni eventually stepped down as manager, it felt like the end of an era for the Irish team.
That said, as bad as the hosts were that night, Germany were on a different planet, and looked every bit the prospective world champions that they would eventually become.
One year on and Noel King had temporarily taken charge of the Irish team. Though the performance was somewhat more respectable from the Boys in Green this time around, they were again brushed aside with relative ease by an imperious German outfit, who beat their counterparts 3-0 and secured their place at the finals in the process.
In a remarkable coincidence, the sides then met once again a year later as they each sought to qualify for the 2016 Euros. Yet this time, the contrast could not have been more stark as far as both sides were concerned.
Whereas, Ireland were no longer a toothless, naive side prone to conceding a goal or six, Germany lacked the vibrancy and sharpness previously evident in their attack play.
The surprise 1-1 result in Gelsenkirchen completed a miserable run of form for Joachin Löw's side, which saw also them lose to Poland and Argentina (albeit in a friendly), in addition to scraping an unconvincing win at home to Scotland.
Incredibly, the world champions were suddenly a shadow of their usual confident selves. One journalist even infamously inferred that they were going through a minor crisis, just three months on from officially confirming their status as the best team in the world.
Source: AllGoals23/YouTube
As someone who has written extensively on the history of German football, journalist Uli Hesse is better placed than most to assess this incredible change in the team from world beaters to anything but. What does he think has gone wrong?
"As always, it's a combination of many things," he tells TheScore.ie. "One of the unfortunate by-products of winning something is that people tend to retire. So that's one of the problems they have.
"In a way, that is a deeper issue, because the team have lost important players in the two positions, where there had hardly any other players [to begin with].
"They've lost Philipp Lahm, who could play left-back and right-back and Miroslav Klose, a centre forward. Germany don't have a large pool of talent. It's slightly unfortunate now that the new full-backs are being compared to one of the world's best players, Phillipp Lahm. But that's the way it is.
"There was also the injuries. There was a bit of bad luck — they should have won both games if they'd taken their chances."
Hesse also feels the system that Germany currently play with is far from ideal, prompting a lack of confidence throughout the team, with a number of players not naturally suited to full-back, such as Sebastian Rudy, being asked to do a job there.
"One of the reasons they didn't take all their chances is that basically, they have to play with a false nine now. I don't think everybody's really comfortable with that system.
"There are also defensive problems. I don't think they really caused the goal in the Irish game, but that was an issue against Poland. There were mistakes more seasoned defenders would not have made in the Poland game."
Yet despite their recent setbacks, it is widely believed — in Ireland at least — that Germany will eventually recover and top the group. Are German fans similarly confident of this outcome eventually transpiring?
"Not taking anything away from the teams that are playing in that group, but with the restructured European Championships, a big team like Germany is almost guaranteed to qualify.
"That may have been in the back of the mind of the national coach. You have to build a team for the European Championships and find new players where others have retired.
"Give the people a game in a friendly maybe, but I think the national coach has done it in competitive games, number 1, because there are so many of them now, and number 2, because barring a disaster of biblical proportions, the German team should go through."
(Some critics have called for Stefan Kießling to be given a chance by Germany)
Even Löw, the toast of German football in the summer, has not been immune from criticism. His Trapattoni-esque stubborn refusal to pick one player in particular, Leverkusen striker Stefan Kießling, has disappointed many people.
"It's really hard to criticise the national coach after the World Cup, but there are a couple of instances where he's dug a bit of a hole for himself.
"Stefan Kießling, one of the Bundesliga's best strikers, is not a player that national coach is really comfortable with. But the job of the national coach is not to field the 11 best players. His job is to come up with a team that works. But in the last couple of years, he's all but alienated Kießling, to the point where there's virtually no chance of him getting a call-up, or that Kießling would actually come if he did.
"There are a few players at youth level who could develop into good strikers, but there isn't anybody [at senior level], and it looks like being a problem for years to come. But there's a really good U19 Bremen striker called David Selke, and maybe he will come up in a year or two.
"He will probably play Mario Gomez up front, but Gomez has been injured an awful lot over the last couple of years, and he's not very popular with the fans, but that's basically the only option he has."
And Hesse was not overly surprised by how much the Irish team has improved in the year since Martin O'Neill has taken over.
"By and large, the Irish played the way we expected them to. Even the Scotland game, which Germany won, was very close.
"The Poland game was sort of a blueprint of how to play against the German team — sit back, wait and hit them on the break. Scotland almost had success with that, Poland definitely had. I don't think anybody thought the Irish team would be disorganised."
Even after that previous 6-1 game?
"That's just football, you know? For the Bayern-Roma Champions League game [which Bayern ultimately won 7-1], Franz Beckenbauer said on TV that it's probably going to be a 0-0 and that he'd be happy with that. These things happen. If you concede an early goal, then every gameplan goes out the window. I don't want to even bring up the Brazil game [

against Germany at the World Cup

].
"And Philipp Lahm is a world-class left-back and a world-class right-back. It meant that one of those positions was always taken care of. Now that he's retired, to a certain degree, we've neither a left-back or a right-back."
Yet these setbacks will not take away from the German side's incredible performance in the summer. Moreover, they triumphed while playing with a highly attractive style that hasn't always been associated with the country's teams. So where did it all go so right, and can other sides hope to emulate their system?
Source: k24bfan/YouTube
(The Dutch football system is widely understood to have influenced Germany)
"Everyone's celebrating the German football revolution. We looked at how talent had been used in other countries, especially France and Holland, who have the taste for being very good at this.
"One of the cornerstones of the Dutch approach is that you teach every player to be an offensive player. You teach every player to be an offensive midfielder. The Dutch reasoning was that it's easier to teach somebody how to defend than how to be creative.
"They'd say, if we need defenders, we can always turn one of our midfielders into a defender. And that's by and large what has happened over the last 10 to 12 years. Even some of our centre-backs are almost like midfielders. And with Germany, some of our defenders are offensive midfielders playing left-back and right-back. And that's a problem at this level.
"To cut a long and complicated story short, at some point in the late 90s, the bus left and Germany wasn't on it. At both club and international level, they had been so successful that people just took it for granted. In a country as big and football mad as Germany, people just thought 'there will be good players coming through'."
He continues: "I coached youth teams in the 90s, and [the system] was a major disaster. It was totally out-dated.
"The Dutch were so good at nurturing talent because they had to and can't afford to let any good players slip through the net. You have to coach them very well for a small country like Holland.
"With Germany, there are millions of players, so it was bound to work unless you made a major mistake. It's hard to copy that, not only because you have to be as large and as rich as Germany, but also because we had the means to force the clubs into line. Clubs are very good at paying lip service, but at the end of the day, helping the national team is not their job. If a club can win the league or the Champions League with 11 foreign players, they will do it.
"But in Germany, there are no owners, so the FA can force the clubs into line to some degree."
And while Hesse believes it is still too early to judge the legacy of Germany's World Cup winners, he feels they are likely to be remembered more fondly than certain other past teams that have won the tournament.
"Neither the 1974 or 1990 [Germany] side were among our best or most beloved teams. The two big teams in this country are still the team that won the 1954 World Cup in Switzerland, and the team that won the Euros in 1972. And it's the second team that the current side are most commonly compared to, because of their very attacking style of football. But it was quite different two years later at the World Cup. So the 1972 side is general regarded as the best German team of all time.
"The side that played the 2010 World Cup, in particular, has been often compared to the 72 team. But no team will ever rival the 54 team. It was the first time Germany won the World Cup, just a few years after the war. It put Germany back on the map, both as a country and a footballing nation, and no one will ever come close to that."
Jonathan Wilson, Philippe Auclair, Uli Hesse & host Damien O'Meara of RTE Sport will be speaking at an event in The Sugar Club on 18 November. More info here.