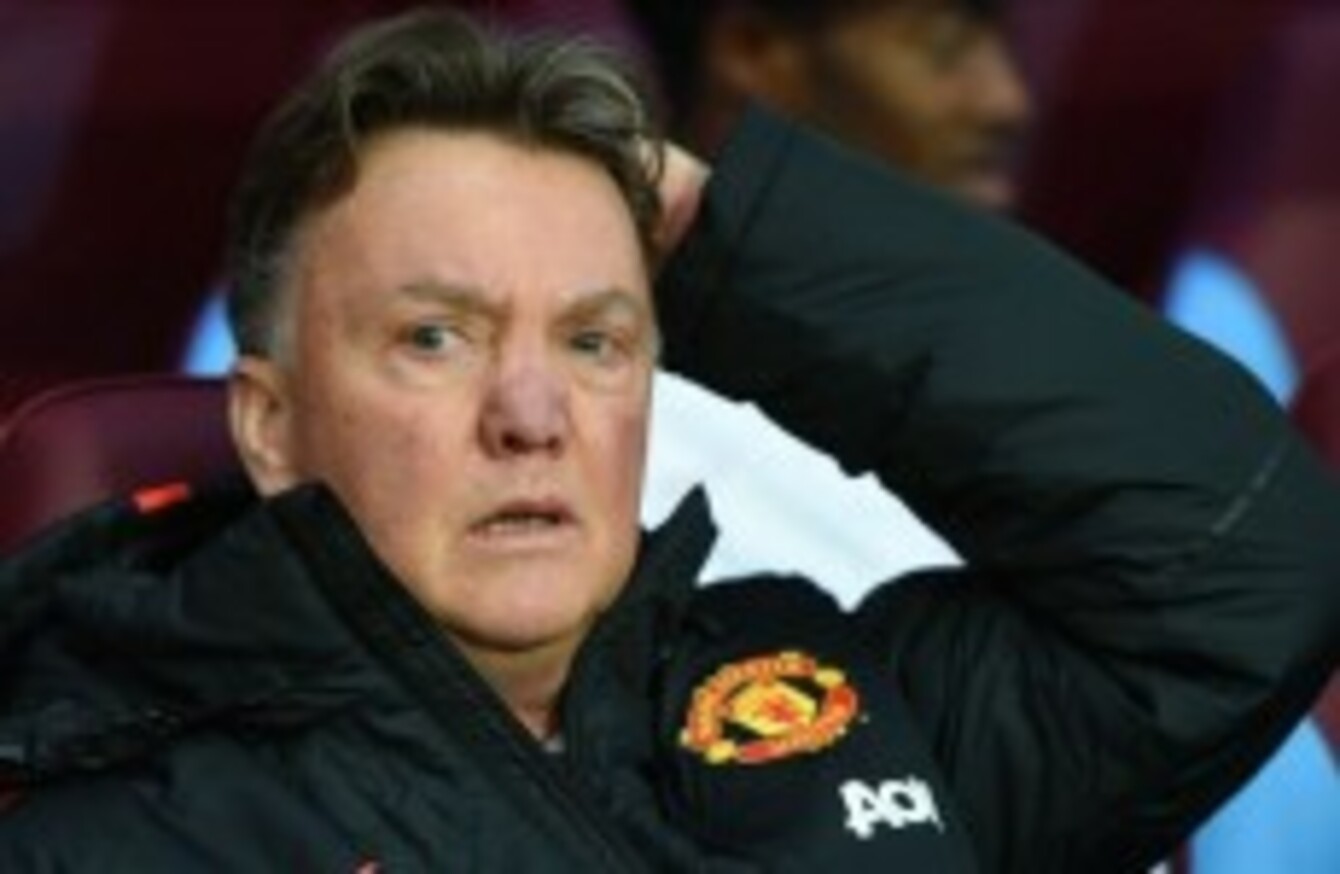 MANCHESTER UNITED MANAGER Louis van Gaal says he is "very frustrated" and believes his team's 1-1 draw at Aston Villa is the kind of result which can cost a club the Premier League title.
Radamel Falcao's second-half header cancelled out Christian Benteke's fine opener, but United could not get a winner despite Gabby Agbonlahor's red card for a foul on Ashley Young with 25 minutes remaining.
And Van Gaal was clearly disappointed that his side could not emulate rivals Manchester City earlier in the day by finding a way past stubborn opposition.
"When you want to be a part of the title race you have to win these games," he told reporters.
Asked if this result could cost his side the title, he replied: "Yes, that's what I mean. I've seen Manchester City in the first half against Crystal Palace. They struggle till half-time but at the end it is 3-0 – that's the difference. We have to win these matches but there is still a long time to go."
"I am very frustrated and I think the players [are] also because we were the better team and we don't win, you have to win when you are the better team," he also told Sky Sports. "We were not aggressive enough in the first half, in the second it was better but I have to say that Aston Villa are very well organised and it's always difficult to score, but when you allow them to score you know it will be very difficult.
"We did it in the second half better, we were more aggressive, we pressed more in front and that's why we scored, but you have to score two times and we could not do it. It was very frustrating because it could've been seven [wins] in a row."
Van Gaal also said Villa were perhaps a more difficult proposition after going down to 10 men.
"Yeah because they make the space more narrow, with long balls of course," he added. "Benteke is very strong and we couldn't manage that."
But the Dutchman, who admitted he had not seen enough of Falcao in recent weeks due to his injuries, says he was pleased that the Colombian found the target on his first start since October 5.
"I'm very happy for him because he needs it, and I'm very happy when a striker scores."