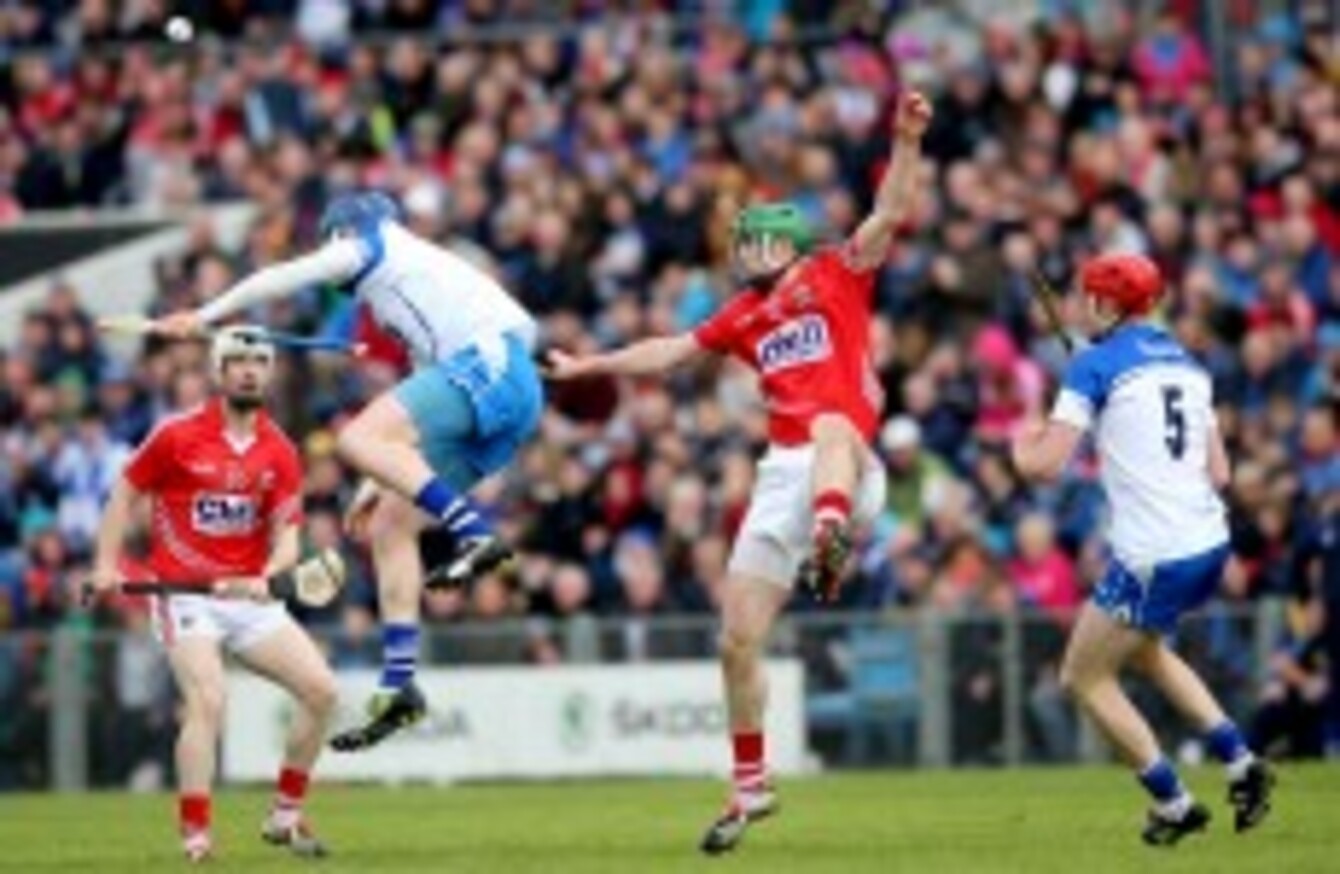 Austin Gleeson and Seamus Harnedy in opposition today in Thurles.
Image: James Crombie/INPHO
Austin Gleeson and Seamus Harnedy in opposition today in Thurles.
Image: James Crombie/INPHO
1. Waterford make national breakthrough
What's seldom is wonderful. Today was only the third time that Waterford entered the hurling league winners enclosure. Not many of the current Deise following will clearly remember the 1963 triumph while from the 2007 success only Michael Walsh and Shane O'Sullivan from this team played a part. Quite a feat then this afternoon in Thurles.
It's an achievement elevated all the more due to the torrid fortunes they endured in 2014. The Waterford camp tried to dampen the hype after this game and certainly there are more critical tests ahead. But the joyous reactions of players and fans alike demonstrated the magnitude of this triumph. It was one to savour.
2. Cork's struggles in breaking Waterford down
Waterford's shape and system have come under the microscope this spring. It's misleading to call it ultra-defensive but certainly their rearguard is more robust. Last summer Cork hit 1-21 and 0-28 in their two Munster games with Waterford, today they amassed 0-17. Only ten of those were from play and that could be attributed to Cork's struggles in breaking Waterford down.
Noel Connors attached himself to Patrick Horgan all day. Tadhg De Búrca manned the centre-back spot with authority while Austin Gleeson and Philip Mahony flanked him to form a sturdy half-back unit. Cork did come close to two goals but they didn't make much headway in piercing their opponents back line. The quality of delivery didn't help either and improving their attacking method will be high on the agenda before the Munster championship.
3. Waterford's young guns pass the test
With 14 U21′s on their panel and six members of the 2013 All-Ireland minor winning team, Waterford's squad certainly doesn't lack fledglings. They'd shown a maturity in climbing to the top of Division 1B and overcoming the knockout challenges of Galway and Tipperary recently. Today's decider on the national senior stage was a further examination of the Waterford youngsters.
They passed the test with flying colours. The emergence of Tadhg De Búrca, Austin Gleeson, Colin Dunford and Stephen Bennett is a real boost for Waterford, and their entire team didn't seem unnerved by the occasion today.
4. Cork's defensive showing
Prior to today, an average of twenty white flags per game had been raised against Cork in the league to date. They didn't plug the holes today with Pauric Mahony punishing them from placed balls nine times and Waterford also struck 1-15 from play. Aidan Ryan was pitched into the firing line at full-back and had plenty to contend with in Maurice Shanahan.
He was abetted by the clever sweeping of Cormac Murphy but Waterford's forwards posed plenty difficulties for Cork elsewhere with their running from deep. Waterford put 1-24 on the board and also chalked up 14 wides. It's the type of statistic that Cork need to address.
5. Pointers for the championship
Waterford's management and players were keen to stress the need for caution afterwards. That's a natural reaction when the team you've conquered in the league will be waiting around the corner come the championship.
What influence will this result have come the Munster semi-final on 7 June? Certainly it should provide Cork with motivation and the information on how to set themselves up to thwart Derek McGrath's team.
Whether Cork can achieve a sufficient rate of improvement remains to be seen. Waterford were exceptional today, replicating that is the target now when the teams renew acquaintances.