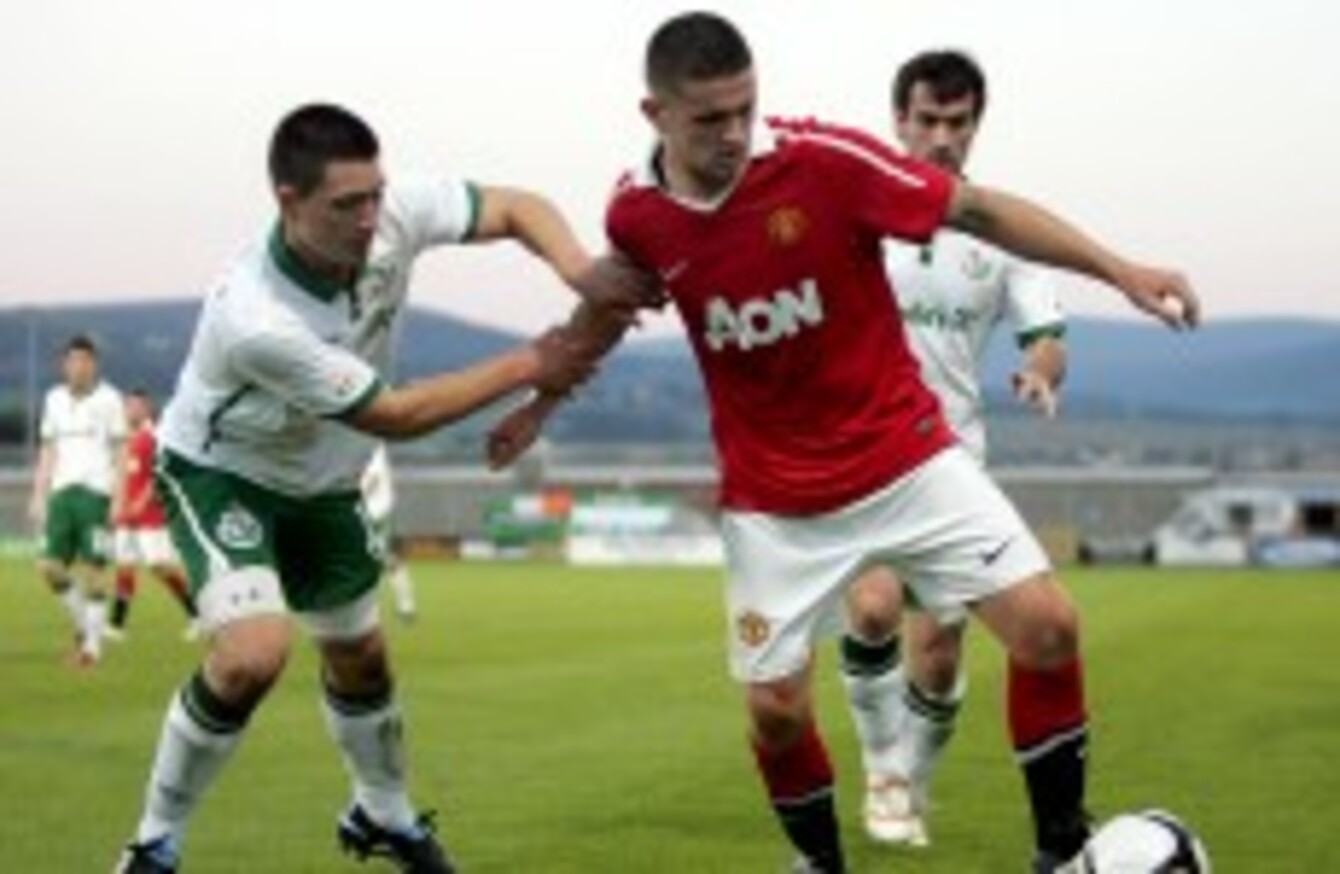 Manchester United's Robert Brady holds off the challenge of Shamrock Rovers' Darren Murray last summer.
Image: INPHO/Ryan Byrne
Manchester United's Robert Brady holds off the challenge of Shamrock Rovers' Darren Murray last summer.
Image: INPHO/Ryan Byrne
AS ONE YOUNG Irishman is this afternoon preparing to make his senior Manchester United debut tonight, his old schoolboys club on Dublin's northside are expecting him to make a real impression at Old Trafford.
Robert Brady is in contention to feature in tonight's Carling Cup tie with Wolves at Old Trafford.
Today, speaking to The Score, St Kevin's Boys Director of Football, Ken Donohoe, said Brady's former clubmates had every confidence in him.
"Robert played with us from the age of six, all the way up to when he left for Manchester United. He turned down plenty of offers to go with United in the end.
"He can play off both feet, is very strong, can head a ball. He played all across midfield, in a range of places for us, but his best position is probably left midfield – he's very quick and clever too. He's naturally left-footed – but he can certainly hit a ball off his right."
A delegation of friends and family are reported to be making the trip to Manchester today, according to this morning's Irish Independent, but with Sky televising the game, Donohue says the satellites in Whitehall will be pointed east.
"We'll be watching here. There isn't anyone from the club gone over though we have a couple of lads on trial at United so they'll be there to show their support I'm sure.
"Our secretary is in England on holidays at the moment and I wouldn't be surprised if he made his way there now too," he said earlier.
Brady joins an illustrious list of graduates from the renowned St Kevin's Boys system which includes namesake Liam Brady, Damien Duff, Ian Harte and Stephen Carr.
A member Paul Doolin's U-19 side which qualified for the elite phase of the European Championships in Bulgaria earlier this month, the 18-year-old immediately impressed on his arrival at Old Trafford, but spent almost seven months on the sidelines last season.
The Indo's Daniel McDonnell quotes Red Devils reserve team manager Ole Gunnar Solskjaer:
He came to our club two years ago and went straight into the reserves, which is unusual. But then last season he had a torrid time with loads of injuries that really restricted him and his development.

This year, I've got him through pre-season with no injuries. He's got a very good left foot, and he's Irish so he's a very a good competitor. He's enthusiastic, he's quick and although he's not a big lad – he's probably my size – he wins more or less everything in the air.

We've just got to work on his fitness and, if we can get him super fit, then he'll be a very, very good player.