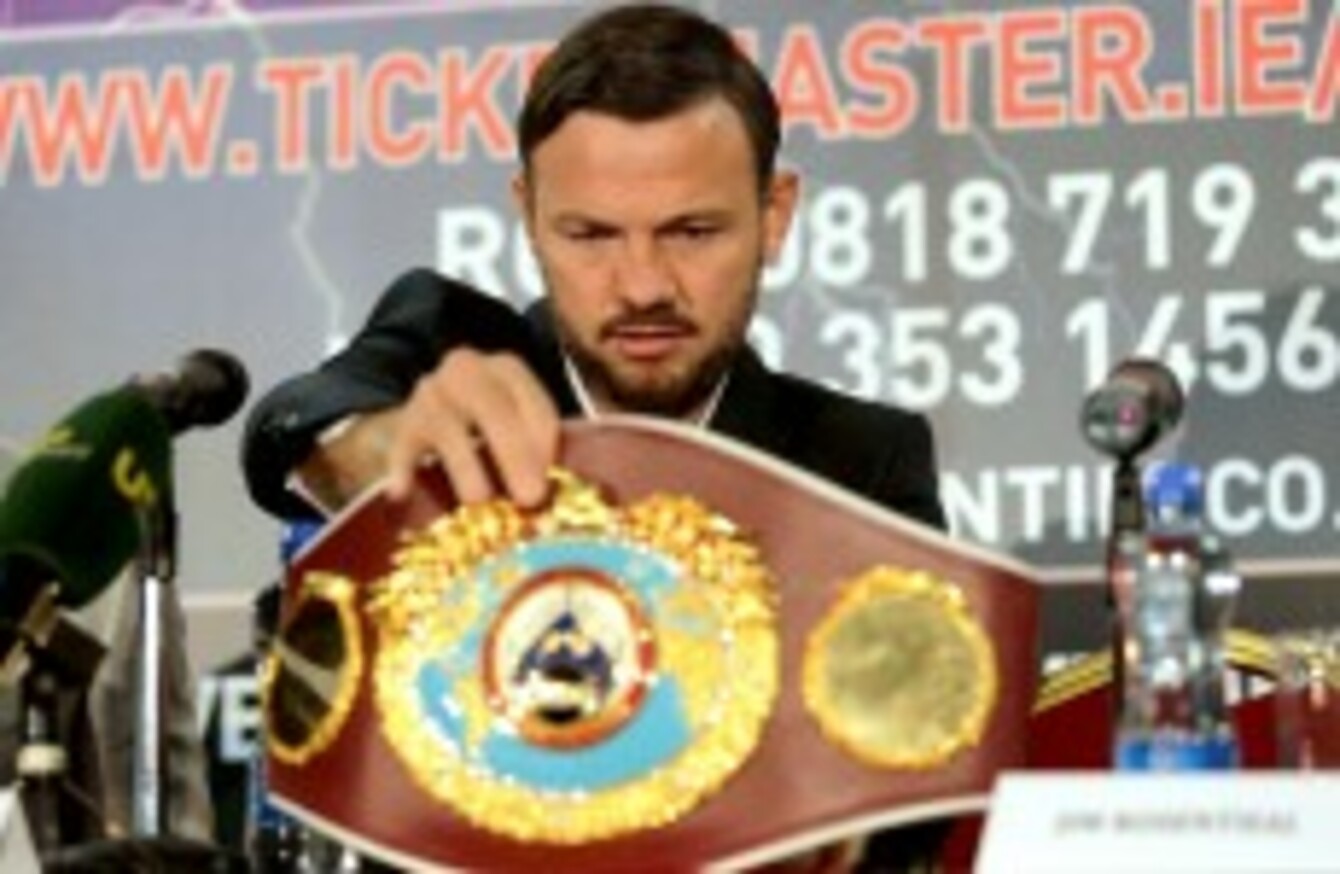 Image: Donall Farmer/INPHO
Image: Donall Farmer/INPHO
IT'S BEEN CONFIRMED that Andy Lee's WBO World Middleweight title defence against Billy Joe Saunders has been postponed.
The fight, which had been scheduled to take place in Thomond Park on September 19 will now be in Manchester, on Saturday October 10.
Frank Warren — co-promoter with Lee's manager and coach Adam Booth — told Off The Ball that Lee has suffered a virus which cost him a couple of weeks' training, with a further statement from both Warren and Lee's promoter, manager and trainer Adam Booth confirmed the news.
The Limerick boxer has suffered a virus, and while it was hoped it would clear up in time for the September fight, it was agreed that they could not risk cancelling the event altogether, and thus had to postpone it.
"Adam contacted me and quite correctly let me know that Andy was ill. Whilst they were prepared to gamble on him recovering in time, there is so much at stake for so many people, common sense had to prevail. We simply cannot risk this fight not happening and therefore the decision was made that we should postpone the fight to ensure it does," Warren said in a statement.
"With October being such a busy month in the boxing calendar and every Saturday having a show, we could not afford to wait until November and risk going outdoors. The only viable option available to us was to move the fight to the Manchester Arena on the 10th October alongside Terry Flanagan's defence of his WBO Lightweight title in a show that is shaping up to be one of the best cards in years," he added.

Lee's manager, trainer and promoter Adam Booth added that while missing out on a title defence in his hometown was a major blow for Lee, it was a risk they couldn't take.
"Obviously, Andy and I are gutted that this won't be taking place in Limerick. If  the virus had cleared, then maybe it could have. However, after speaking with Frank, my partner in the event, we decided that the risk was just too great on many fronts.
"We now move forward with a new date, a new venue, and like Frank, I have had many great nights at the Manchester Arena and we are looking forward to another."
However, speaking on Off The Ball on Newstalk this evening, Warren said that the possibility of a future bout between the pair in Thomond Park next year could still be possible, depending on the outcome of the October bout.
"If Andy wins, I'm sure his first defence can be in Limerick in the spring. If it's a very close fight we can do a rematch and get the fight on over there. I'd have no problem with that."
Warren added that tickets for the Limerick date are valid for a show at the MEN, and this evening's statement confirmed that full refunds for the Limerick show are also available.