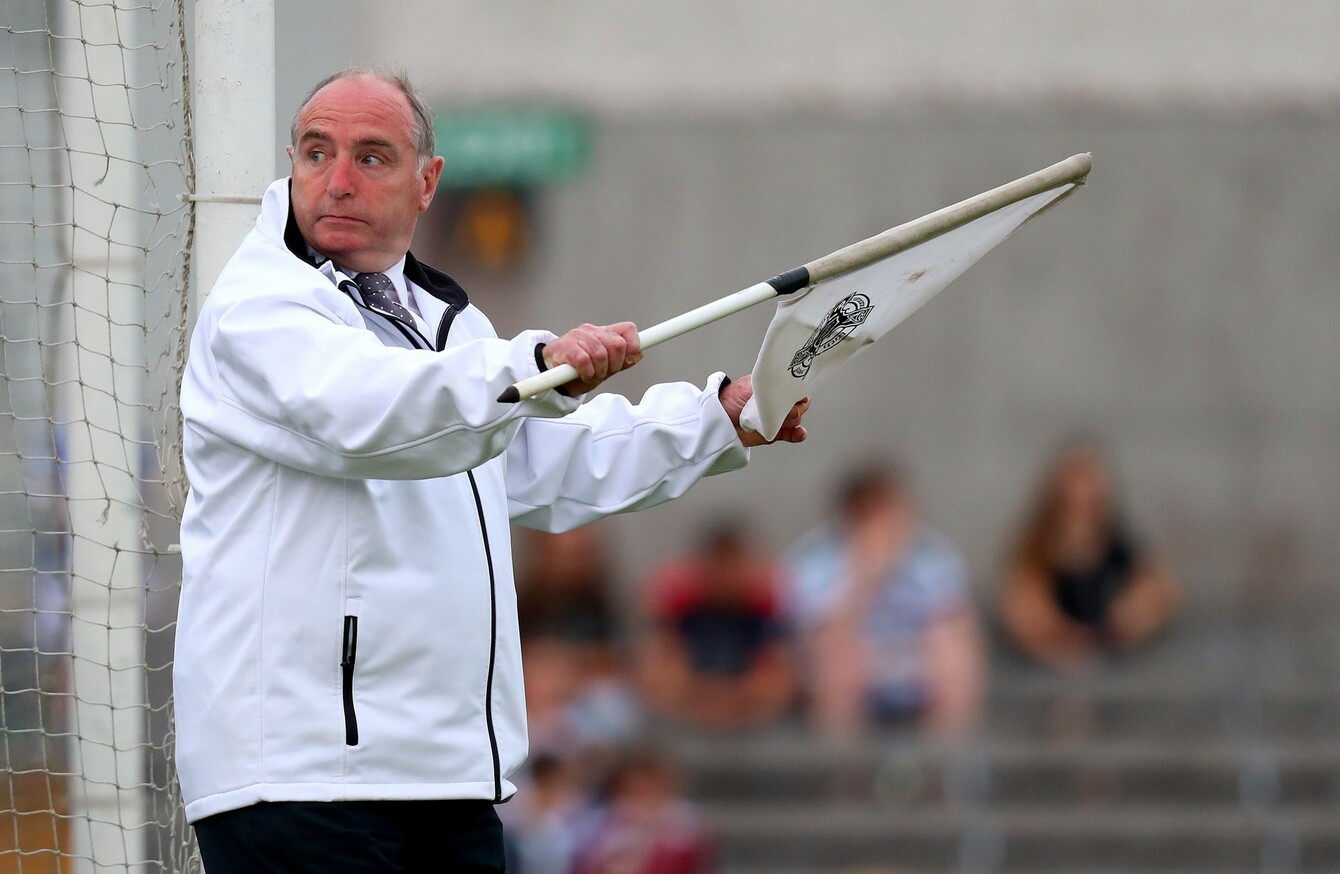 An umpire at Cusack Park (file photo).
Image: Oisin Keniry/INPHO
An umpire at Cusack Park (file photo).
Image: Oisin Keniry/INPHO
1. "SOME MEN ARE born umpires. Others have umpiring thrust upon them. Mark Gilsenan was sitting at home in Corduff, Co Monaghan on a Friday night in July 2005 when his phone went and Pat McEnaney's number came up on the screen.
"What are you at on Sunday?" asked the country's best known referee.
"Heading to Croke Park," said Gilsenan, meaning that year's Ulster final, which had been transplanted to HQ due to outlandish demand.
"Dead right you are," said McEnaney. "Be at my house at 11 o'clock Sunday morning. You're doing umpire.""
Malachy Clerkin looks at the strange life of the men in white coats in The Irish Times
2. ""It was a vicious circle. We'd lose at the weekend and the fans would get at me, and I'd be breaking. I really wanted to help us get results but we weren't good enough and I'd walk away taking responsibility in my head for the whole team's failings. I couldn't sleep, worrying about what had happened. The only relief I found was in alcohol. It would silence the voices of doubt and self-hate, temporarily anyway, but I'd be too intoxicated to go into training, and the blackouts – I'd have no memory of anything. It could be Monday and I'd have no memory of what had happened since Saturday night. I'd wake up, roll over and look at my phone, and there'd be texts from people saying: 'Did you really do this last night?' 'The manager wants to see you.' It was petrifying because I didn't know what had happened."
"There were occasions when he would wake up in a police cell. He grimaces when asked how often he has been arrested, embarrassed to admit the figure, but the drunk and disorderly offences would flare up from London to Southampton to Merseyside. "Sometimes I'd be sat there with the police and my lawyer, watching the CCTV footage of what I'd done, and I didn't recognise myself. I couldn't believe the person I was. It's so hard to accept I could be like that. In Liverpool I was waking up in the middle of the night throwing up, people were blackmailing me, club owners and bouncers: 'Pay money or we'll sell this story on you.' And I had no idea what I'd even done on those blackouts. I eventually told the club I couldn't function and needed to go back into rehab.""
QPR defender Stephen Caulker opens up to Dominic Fifield of The Guardian about his struggles with mental illness, drinking and gambling addictions
3. "McGregor backers have pointed out that he was once an excellent amateur boxer in Ireland. As an amateur, it's true that McGregor showed promise. He reportedly won a Dublin Novice Championship as part of 40 amateur fights between the ages of 11 and 17. There are no details on his record, but coaches and trainers who witnessed him spar suggest he could have been a successful boxer had he stuck with the craft.
It's hard to reconcile McGregor's amateur success with some idea that he's going to be able to compete at the highest level with a superstar boxer, though. McGregor never even entered the National Junior Championships in Ireland, let alone the Senior Championships. There's no guarantee he would have won any of those events. He never came close to qualifying for the Olympics as a boxer.
Thousands of boxers who attempt to make it through that crucible fail to win amateur titles, let alone turn professional. Just about everyone Mayweather has fought at the peak of his career had a far more storied amateur career. Andre Berto and Miguel Cotto were Olympians. Manny Pacquiao was on the Filipino Amateur National Team. Shane Mosley won medals in the World Junior Championships and Goodwill Games. Mayweather himself won a bronze medal in the 1996 Atlanta Olympic Games, where he suffered a controversial loss to Serafim Todorov in a fight even Todorov believes might have been due to suspect judging. That fight was the last time Mayweather lost in a boxing ring.
Even if McGregor were the best boxer in the world at age 17 — and there's no evidence that he was anything close — it would have been close to impossible for him to have kept up at a high level, even while training MMA. Nobody doubts McGregor's work ethic, but he has spent untold hours training everything from taekwondo to jiu-jitsu. Every hour he has spent training those disciplines is an hour Mayweather has spent on boxing."
Bill Barnwell breaks down just how much of a mismatch Floyd Mayweather's upcoming bout with Conor McGregor is for ESPN
4. "McIlroy turned 28 years old only last month, and has already dealt with a variety pack of medical problems. When Woods was that age, in comparison, his injury history was limited to a benign tumor that was removed from his knee back in college, and a 2002 procedure to remove and drain a cyst in the same knee. And while Woods was always attuned to his physical condition, it wasn't until around 2007 when he began to bulk up in a quite noticeable way. (The cycle of injuries and swing changes and tabloid appearances would soon follow.)
McIlroy believes that he injured his rib while testing out new equipment, which isn't in and of itself a bad thing. But it suggests that he's vulnerable to the sort of tinkering that can cause a player to stop playing golf and start playing "golf swing." After many years of playing with a consistent stroke overseen by his longtime coach Michael Bannon, McIlroy began implementing "drastic changes" to his swing last year. Asked at the 2016 French Open what he was specifically trying to fix, McIlroy half-joked, "Have you got 10 minutes?"
In The Ringer, Katie Baker wonders is it time to worry about Rory McIlroy and his list of injuries? 
5.  "Eleven years removed from winning the national championship at Texas, 40 months after he filed for bankruptcy, Young spends his nights in Birch Hall, collapsing after long workouts onto a twin bed. He's attempting to return to the sport that once defined him, that made him rich, that opened him up to ridicule and that ultimately crushed him. And that comeback starts in the Canadian Football League, where he's a backup quarterback for the Saskatchewan Roughriders. At least for now.
I flew north to meet with Young after speaking to two dozen of his closest friends and family members this spring. They'd offered varied theories about why he'd returned to football after a three-year absence, motives that ranged from simplistic (he hated how his career had ended, released by the Browns) to optimistic (he dreamed of an NFL return) to skeptical (he'd recently partnered in three businesses; each would benefit from the publicity)."
Vince Young was named Rookie of the Year in the NFL. After watching his career fall apart and having suffered financial meltdown, he's attempting to make a comeback, writes Greg Bishop in Sports Illustrated
6. "UC is one of those devastating diseases that can suddenly strike with no warning, has no known cause, and isn't fussy about who it afflicts. You certainly wouldn't have picked Andrew Kieran as a likely candidate.
An Ulster Minor Football League and Championship winner with Monaghan in 2013 alongside his twin brother Adam, he couldn't have been healthier or fitter.
The diagnosis of UC came completely out of the blue in March 2014, but he soldiered on through his Leaving Cert and got through the first year of his degree in Education Studies in Marino Institute of Education before his condition suddenly worsened.
"In June 2015 I got my first ever flare-up with the condition which result in checking into the Beacon Hospital for seven weeks," recalled Kieran when he spoke with GAA.ie this week.
"I just started to get all symptoms of ulcerative colitis highly fatigued, bleeding from the back end, cramps, joint-pains, headaches, everything.
"I got E Coli, sepsis, I was extremely weak. My weight dropped to 49 kilos, just over seven stone, which was extremely unhealthy. The sepsis could have actually killed me because I was that weak, but we caught it just in time."
On GAA.ie, John Harrington tells the story of Andrew Kieran's triumph over adversity 
7. "Would you go to your graduation if you didn't know whether you were going to graduate? Would you rent a cap and gown, even if you had no idea whether or not you'd get to walk across the stage? Would you ask your family to fly in to join you? What if they were coming in from another country? Would you subject yourself to hours of waiting, as your classmates shook the principal's hand and received a diploma, anxiously watching everybody else get the reward you wanted?
I did not know who Mathias Lessort was during the NBA draft on Thursday night, as I sat eight feet away from him during some of the most critical moments of his life. NBA experts did — our Draft Guide described him as "an elite athlete who plays relentlessly on offense and defense." I just knew he was a very tall person in a very beautiful suit, which meant he was at the NBA draft to get selected. But as the draft marched on, I feared the moment he'd flown his family to New York for would never come.""
Rodger Sherman in The Ringer finds out what it's like to sit in the NBA draft not knowing if you'll get picked at all 
8. "The more we learn about the Qatar World Cup, the more we have to ask: what would it actually take? What would it actually take for Fifa and its president Gianni Infantino to say: it is possible we've dropped a bollock here? It is juuuuuust possible that the worst thing about a notional Qatar World Cup wasn't the fact that the country is frequently more than 50 degrees in the summer and has as much genuine interest in football as your average Conservative sports minister. What would it take?
More than we've seen so far, is the rough answer. I mean, we've had the slave deaths. It was OK with the slave deaths. Despite the evidence, Fifa never demanded the end of the kafala system, wherein the rights of the migrant labourers working on Qatar infrastructure projects were abused, denied and the subject of intensely critical reports from the likes of Amnesty and Human Rights Watch. This appears to have been a price Fifa was willing to pay. Not pay itself, obviously – they have some faceless, indentured help from the Philippines or Nepal or wherever to pay it for them. And we don't know how many have paid it in the construction of the stadiums and the concomitant infrastructure because of Qatar's secrecy about the actual figures, or studied indifference to even cataloguing them. But clearly, the tournament's still on. The deaths were not a dealbreaker."
Despite war fears, deaths and slavery, Fifa will not allow the 2022 World Cup in Qatar be derailed, writes Marina Hyde of The Guardian
The42 is on Instagram! Tap the button below on your phone to follow us!