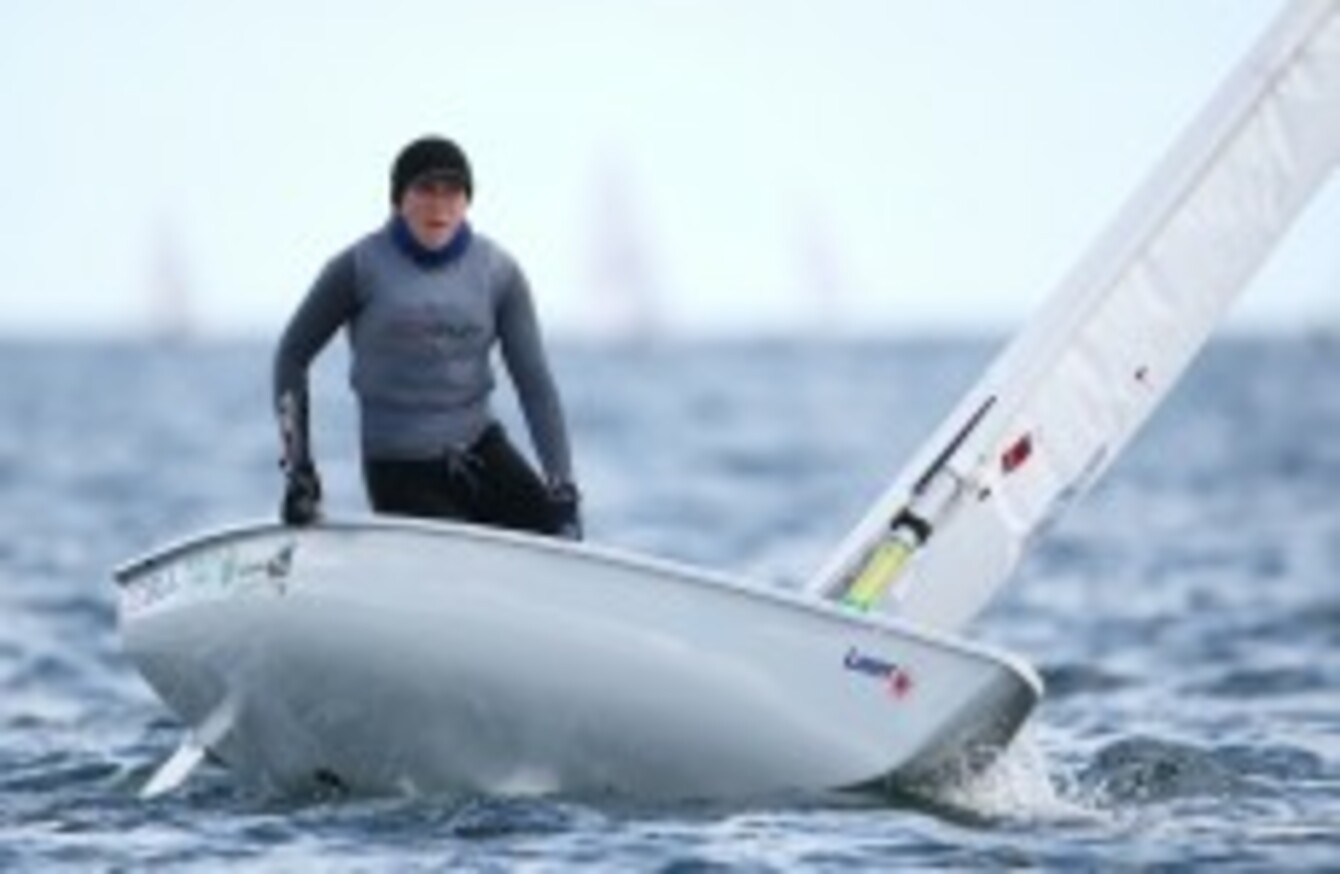 Ireland's Annalise Murphy in action at the Laser European & World Sailing Championships.
Ireland's Annalise Murphy in action at the Laser European & World Sailing Championships.
IRISH SAILOR ANNALISE Murphy has reflected on her triumphant performance at last Friday's Laser Radial European championship event, describing how she felt as if she were "daydreaming" at times.
Yet even after having a weekend to contemplate her achievement, she says that it still hasn't "sunk in yet".
It completed a great day for Irish sailing in general, after 17-year-old Finn Lynch from Carlow (who she describes as "an absolute star of a sailor") took the 2013 U21 Men's Laser Radial title
Murphy had held a considerable lead even going into the final day, putting her into an unusual position, and she says that the situation felt somewhat surreal.
"I suppose I just needed to go into the last day and get three solid races. First we had a postponement, and then I kind of felt like I was daydreaming and suddenly I looked and was at the start sequence and I was pretty far away from the start line.
"I thought: 'Oh no! I'm going to miss the start. And there was this panic to get to the start line in time. I only made it back with one minute to go. But I was lucky that I managed to get a good start and get going and had a good race."
Murphy finished second, third and first respectively during the final day in Dublin Bay, but admits it was not always as straightforward as these results indicate.
"The second race, I was pretty far back, and I was lucky that I managed to get back up to third. And then for the last race, I was quite relaxed and just had a good start and I just felt quite peaceful. And then I realised, 'oh I'm winning, how did that happen?' I was so relaxed, so it was a pretty nice way to finish.

"I think being relaxed is the best way to be, but it's difficult to be like that very often. It's a nice position to be in — I've never been in that kind of situation before."
Murphy, of course, had the misfortune of narrowly missing out on a medal at the 2012 London Olympics, and while last week's success made up for that disappointment to a degree, she suggests she'll never fully get over this heartache.
"It kind of does help, but I'll always look back on that medal race at the Olympics and think of what I could've done differently. But it definitely is nice to comeback and get a good result and also to beat the two girls who beat me to silver and bronze medals in London [Marit Bouwmeester of Holland, who finished second, and Belgium's Evi Van Acker]."

YouTube credit:
RTENewsNow
In addition, she believes the disappointing experience ultimately made her a stronger sailor, motivating her to focus on what aspects of her performance she could improve.
"After the first two days at the Olympics I was really quite nervous and worried," she admits.  "I didn't know what to do because I'd never been in that sort of situation before. In this event, I won seven of the first eight races.
"I was quite relaxed after it all, I wasn't too worried. I knew what not to do when you're in a good position."
Moreover, she acknowledges that having home advantage was of considerable benefit to her over the course of the event.
"It was really difficult week, so maybe it helped that I knew Dublin Bay could be very difficult, very shifty, and that kind of gave me an advantage in that other people weren't really too sure what to expect.
"But it also made it really difficulty [for everyone]. I think I'm just quite relaxed and comfortable sailing somewhere that I know so well. But there was a little bit of pressure on me then because it was my home club and everyone was expecting me to do well, so I thought 'what happens if I go into this event and finish 40th with everyone expecting me to do so well. That would be a bit of an anti-climax.'"
The manner of her achievement was not dissimilar to that of race walker Rob Heffernan — another Irish athlete who had to endure the disappointment of finishing fourth at the Olympics, yet came back even stronger.
And Murphy says she took some inspiration from the Corkonian's phenomenal achievement at the worlds.
"It was amazing that he won the worlds in Moscow — that was incredible," she says. "And he's some athlete as well. He totally deserved it, as he worked so hard. It was nice to see. He finished fourth at the Olympics and put in a huge amount of training to be in the best possible condition for the worlds, and he completely delivered.
"I'd done a good bit of training too, but sailing has so many variables in it. You could do lot of training, but it sometimes just doesn't go your way. That's the difficulty of sport."
Now that Murphy has some silverware, she can look forward to her future in the sport with even greater optimism, and in particular, the 2016 Olympics in Rio.
And although the event is still three years away, Murphy says she has already been to Brazil to assess the undoubtedly quite different conditions for sailors there.
"I was out there for three weeks just a month ago training. So it was really good to see what the whole venue was like, just to try and know what's going on and all that stuff.
"It's three years away though, I still have to qualify for the Olympics. I'm looking at Rio but I also have to look at all the other things in between that get me to Rio, so that I'm in the best possible place when I get there."
Yet with the event still a long time away, the 23-year-old admits that staying motivated between now and then is a big challenge.
"I'll have moments where I'm really motivated, and then other times, I'll think 'ugh, I don't know if I want to do this anymore'. So it's just about trying to keep that motivation for the next few years and just enjoy it.

"I've got my world championships in China coming up in three weeks' time, so I'm really looking forward to that."
Murphy currently sails full time in what is an intense regime, which includes five to six days a week sailing, in addition to three weight sessions and invariably at least 12 hours of cycling for those exhausting two hours of racing she faces in big events ("it ends up that I spend all my other time sleeping," she laughs).
She had tried to combine this rigorous regime with college, but understandably, soon found these two disparate lifestyles to be incompatible.
"At the moment, I'm more a student of life," she jokes. "I went back to college last September, but after Christmas, I just couldn't keep up with trying to train full time and have college as well — it was just too difficult. So eventually, I'll have to get back and finish my degree, but at the moment, I'll be putting it on hold."
And having already secured a phenomenal result in earning a European gold, does she now hope her achievements will have a considerable impact on the sport in Ireland?
"I just hope a lot more people get into sailing or actually realise that they can do it," she says. "There are a lot of really talented young Irish sailors and they never keep on going after they're in their early 20s. They just get discouraged and think: 'oh, we're such a small country, how are we hoping to compete against these big countries that have put all this money into their sailing programmes?'
"I'm hoping this makes people realise that we can compete against the big countries."