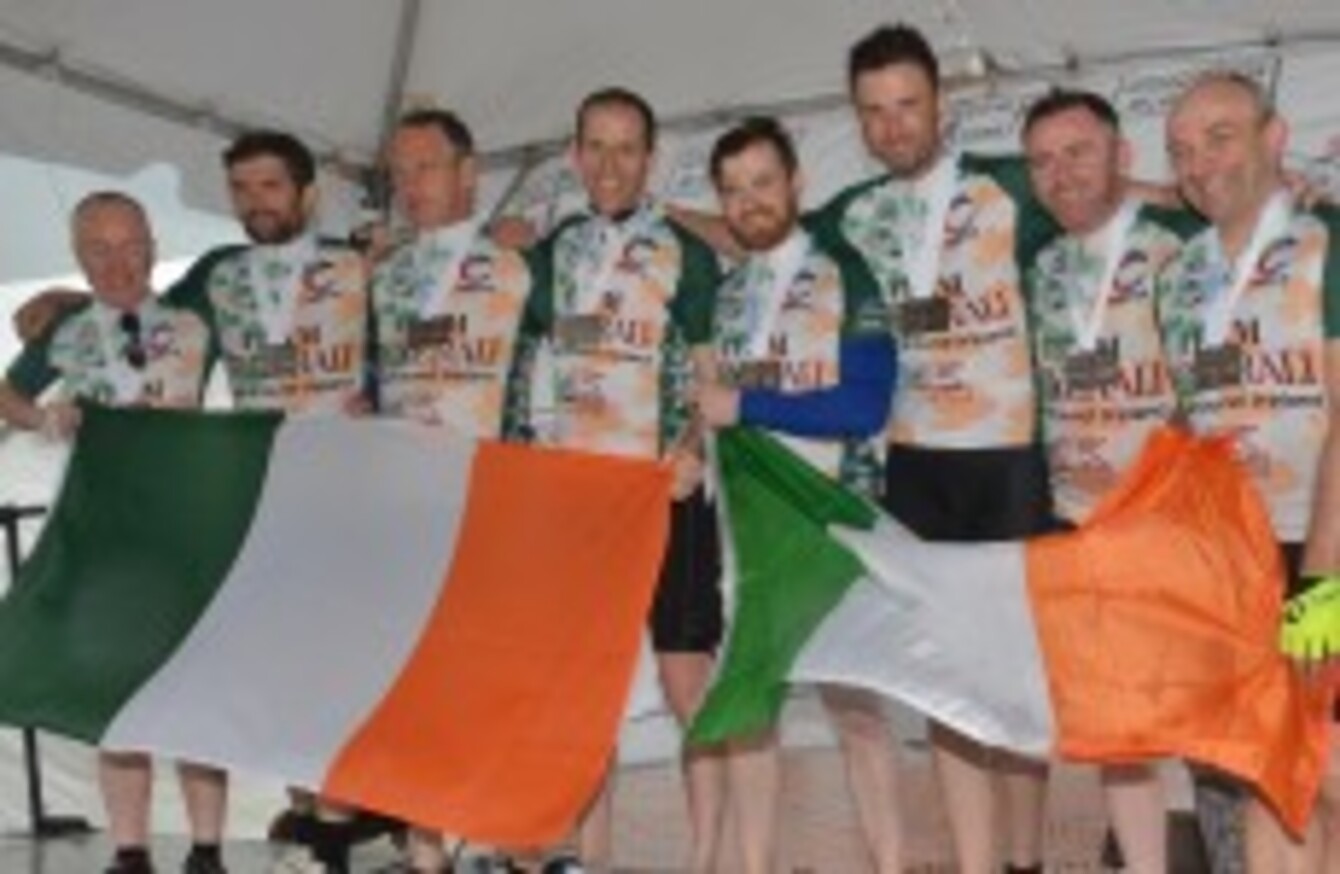 AN EIGHT-MAN, self-funded Irish team have become the first self-supported people to complete one of the world's toughest endurance races — the 5,000-kilometre non-stop Race Across America (RAAM).
The 34-year-old event is famed for its high attrition rate and every year, many of those who start succumb to either sleep deprivation, heat-stroke, dehydration, saddle sores, sickness or a combination of all five.
But the Generali Cycling Team of Colm Baldwin, Pat Doocey, PJ Nolan, Tomas Scullion, Blair Clinton, Michael Mills, Brian Hehir and Alan Heary battled all of the above to complete the challenge in a staggering time of six days, almost three days inside the time-limit.
It's something they'd been planning for a while, explained the man who helped make it happen, Alan Heary.
"​We approached Generali PanEurope last November with the idea of putting the team together with a member of their staff (Tomas Scullion) becoming one of the cyclists.
"They had competed in Race Around Ireland as a corporate team so we wanted to take it a step further by training him as one of the squad for RAAM.
"So we started the official training in January. ​We did 4 weekend camps during the year where we were fitness-tested and practiced the logistics, field tested equipment and trained on the Race Around Ireland route," he explained
Also on these training weekends, everything from diet, injury prevention as well as protocols to deal with sickness and even death were covered.
The RAAM kicked off on 20 June and teams were given nine days to complete it.
But with careful planning, the Irish team made it to Annapolis, Maryland from Oceanside, California in a staggering time of 6 days 16 hours and 45 minutes​.
Eight men, every man with a job to do.
One riding the bike at a time (sometimes up to 250 miles), two more in a support van to drive and navigate, the other four would either be sleeping, massaging another member of the team, marking the route, fixing bikes, washing clothes or arranging nutrition.
Calling home to check the weather was off the agenda. They survived on three hours sleep a day for six days, while burning up to 30,000 calories.
But it all could have gone horribly wrong so early on, as Heary outlines.
​The usual challenges in RAAM are things like sleep deprivation — you get an average of three hours per day if you're lucky — the 50 degree heat in the desert for the first two days, open traffic (a guy is still in a coma after this year's race having been hit by a truck), thunderstorms, high-speed descents and even insect bites have been known to cause issues.
"But one of the guys developed heat stroke on day one and had to take a day and a half off the bike, which of course had a knock-on effect on logistics, but we managed."
To cross the country in the quickest time possible, the team devised a pretty awesome strategy which involved breaking up into two groups of four:
Each four-person team took on a 12-hour stint on the road before swapping with the other four-person team.
Each four-person team was further split into two groups of two, and each group of two did a three-hour shift divided into half-hour stints.
This way, riders rode in shorter, sharper bursts after which they'd recover for a while (in the back of a van) and go again.
So, for example, a four-person team had riders A, B, C, D.
Rider A cycles for 30 minutes and while he is doing this, riders C and D drive and navigate the van.
At the end of the 30 minutes, rider B will start cycling while rider A rests and riders C and D continue to drive and navigate.
After three hours like this the two groups of two swap duties, with riders C and D alternating between cycling and resting while riders A and B share driving and navigating duties.
And this is how the four-person team progressed for (roughly) 12 hours. While this is happening, the other 4-person team eat and rest as much as they can (while doing the aforementioned odd-jobs), before driving ahead to swap with the four-person team which has been racing.
In theory, it sounds pretty straightforward. It was anything but.
"Sleep deprivation was the biggest issue and because we were self-supported we had to be extra vigilant and honest," continued Heary.
​We'd have burned around 30,000​ calories per day so it really was a challenge to try and keep on top of our nutritional requirements with energy gels, bars but as much 'normal' food as possible too.
At a cost of €40,000 for the whole trip the pressure was on from the start, from themselves and the organisers who gave them a special dispensation to enter (breaking their own rules about permitting self-supported crews).
The team rode through California, Arizona, Utah, Colorado, Kansas, Illinois, Missouri, Ohio, West Virginia, Pennsylvania and finally Maryland before reaching their destination on 26 June.
"It's hard to describe the feeling of relief and sense of accomplishment when you finish; you have shared an experience with a bunch of people that will tie you together in stories for the rest of your life," reflected Heary.
"There were a lot of tough times, losing a rider to heat stroke, the saddle sores, the lack of sleep, the heat, the feeling of being utterly exhausted but these have given us all great memories too and they outweighed the bad.
"Just getting to the start line was one of the best moments of the trip. Not because we knew that was as good as we'd feel for a week but it takes so much effort in terms of organising all logistics to even get there.
Other highs include seeing the sunrise every morning and seeing a different part of the country. In terms of the scenery you had the Mojave Desert, The Rockies, the Appalachians, just incredible places you might not see again.
Not only did the team finish the event but they set a new Irish record time at an average speed of 18.69 mph. The previous record of 16.42 mph was set by Team Youghal in 2012.