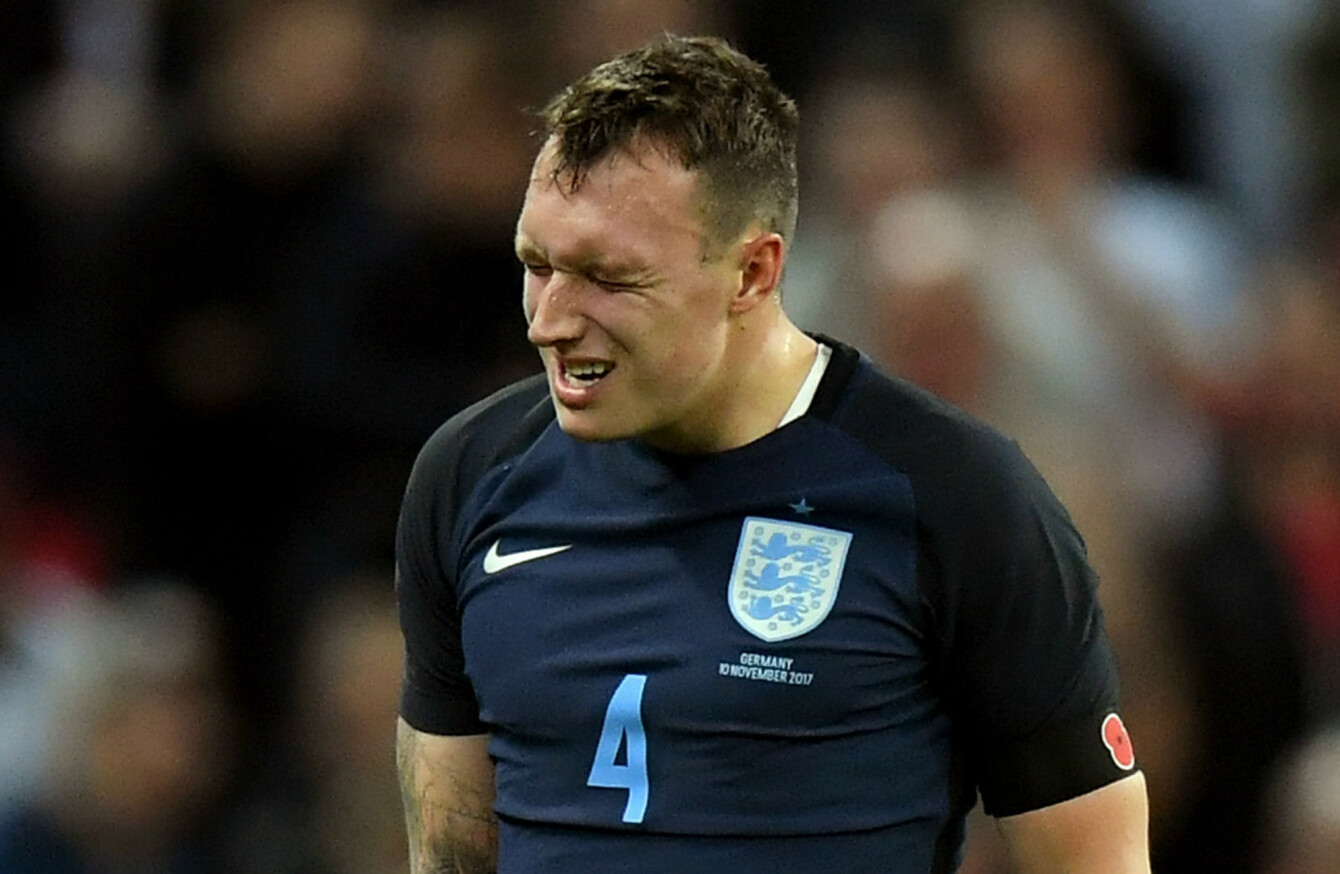 JOSE MOURINHO IS far from pleased with the English FA's medical team after their handling of Phil Jones.
The Manchester United boss claims that the defender was given six injections on matchday before lasting just 25 minutes for England against Germany before being forced off with a thigh injury.
The Portuguese, who says he has not spoken to England boss Gareth Southgate on the matter, claims he's never seen anything of the sort in his career.
"I have been a manager since 2000 and in 17 years I don't have one single player that had injections of anaesthetic to play a friendly. Never. Never," he told a press conference.
"I am not an angel and I had players be injected to play official matches, crucial matches but a friendly — to get six local anaesthetic injections to play a friendly, I've never heard of that.
"But Phil Jones had it and had it before the match and after 25 minutes he was out and he is out [against Newcastle].
"I am just telling a fact. He was injected in the afternoon of the match, he didn't feel good during the warm up. Between the warm up and the start of the match he had five more local injections to play the friendly."
While the club will have to do without the services of Jones, Mourinho will be able to rely on several players who are returning from injury.
The former Real Madrid and Chelsea boss confirmed on Friday that Marcos Rojo, Paul Pogba and Zlatan Ibrahimovic were all available for Saturday's matchday squad, though Mourinho made it clear that Ibrahimovic wouldn't be in the starting side.
"As a start, I see him on the bench and it's where I see him," he said. "It's where he's going to be tomorrow [Saturday], on the bench."
He also hinted a potentially new role for the Swede, who said he fancies himself as a No.10, when he returns to action.
"[Ibrahimovic] can play everywhere and, this season, we've played with two strikers many times," he said before going on to suggest the veteran could be playing in combination with Romelu Lukaku. "We've played [with two strikers] so many times, especially when we play with three at the back, with wing-backs, it allows us to bring in a second striker.
"We are ready to do it. We've been preparing ourselves since pre-season – when we started playing three at the back – so they can play together, no problem.
"I'm excited because I have more options. I'm excited because the team can be better. I'm excited because I want to have the best players available.
"But, you know, I don't want to make a situation of Zlatan and Romelu because I can play Zlatan and Romelu, just Zlatan, just Romelu or it can be no-one. I always want options and now I have more options in attack."
The Old Trafford outfit sit second in the table, eight points back of Manchester rivals City, and take on a Newcastle side that have picked up just one win in their last six.