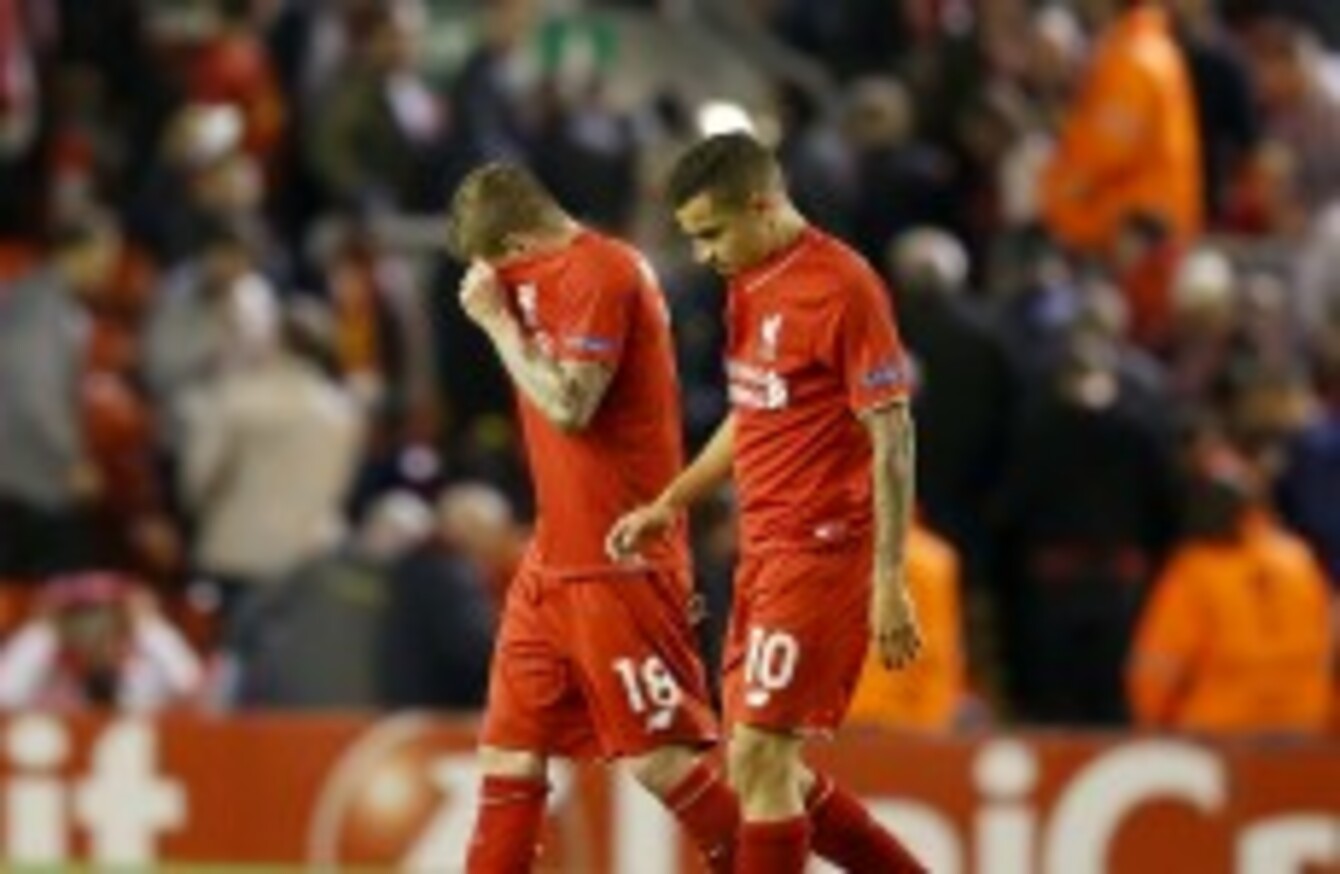 It's been a disappointing start to the season for Liverpool.
Image: Peter Byrne
It's been a disappointing start to the season for Liverpool.
Image: Peter Byrne
1. The defence
IT WAS APPROPRIATE that the last goal Liverpool conceded in the Brendan Rodgers era stemmed from the type of defensive error that became an all-too-familiar sight during his regime.
A hopeful ball was played into the box before Emre Can wildly swung at the ball, with his inept clearance going straight to Everton striker Romelu Lukaku, who finished supremely.
These type of individual errors at the back were effectively what cost Rodgers his job — if they weren't so common, they surely would have won the league the season before last.
In the 2013-14 campaign, they ultimately conceded 50 times — 13 more goals than league winners Man City and 23 more than third place Chelsea.
They was hardly much of an improvement last year, as the Reds conceded 48 times, however, their lack of firepower ensured a markedly inferior sixth-place finish.
What's crucial is that they find some consistency in selection — under Rodgers, there was too much tinkering with various personnel and formations. The new manager must simply identify his four best defenders and select them as often as possible.
2. Club politics
It's one of football's worst-kept secrets that there are problems behind the scenes at Liverpool.
Reports indicate that there were several differences of opinion between Rodgers and the transfer committee over the type of player the club needed to sign, and the result was no clear vision at the club and an obvious lack of balance in the type of players brought in.
Ultimately, Rodgers was made to pay for these failings, but as Jamie Carragher suggested on Sunday, surely the individuals on the mysterious transfer committee should also be held accountable for these problems.
Rodgers' authority was further undermined in the summer, when two of his coaches lost their jobs at the whim of the board — a decision that showed signs of frustration at the top which did not bode well for the Antrim native.
Jurgen Klopp, the favourite to succeed Rodgers, has reportedly demanded the final say on all Liverpool's transfers — and perhaps this less complicated approach is the best solution for all parties.
3. The transfer market
While it's still too early to judge Liverpool's summer signings, overall, Brendan Rodgers-era Liverpool had more hits than misses in the transfer market.
For every Philippe Coutinho and Daniel Sturridge, there was also more than a few Iago Aspas' and Mario Balotellis during Rodgers' tenure.
Despite the many millions spent in the summer and the glimpses of promise shown so far by players such as Nathaniel Clyne and Christian Benteke, the Reds hardly look much better off compared with last season.
Of course, part of the problem is that Liverpool shop in a different market to many of their rivals, with their wage structure and consistent failure to finish in the top four making them a less attractive side to join compared with certain other English clubs.
As a consequence, the Reds have had to take gambles, often overpaying for sub-par players such as Balotelli. Whoever takes over as manager therefore needs to be much smarter in the transfer market than Rodgers and his colleagues have been previously.
4. Lack of creativity
While Liverpool's defence under Rodgers was more or less a constant problem, their attack has become increasingly poor of late.
Of course, the sale of Luis Suarez and the long-term injury of Daniel Sturridge didn't help matters, but in midfield too, they have looked short, particularly given that they no longer have the leadership of Steven Gerrard to rely on, as well as the pace and footballing intelligence of Raheem Sterling.
With Adam Lallana, who they bought in the summer of 2014 for a reported fee of £25million, tending to blow hot and cold, Coutinho is invariably the only player they can rely on in the final third to make something happen.
And when the Brazilian is off form, Liverpool tend to look all too laboured and short of ideas going forward.
One of the reasons why potential new coach Jurgen Klopp is held in such high esteem is down to his ability to work well with young players, so perhaps he can get more out of highly promising starlets such as Jordon Ibe and Jordan Rossiter.
5. Getting the best out of top players
Liverpool undoubtedly have some very talented players but melding them together into a cohesive unit could prove tricky for the new manager.
For instance, it seems unlikely that Daniel Sturridge, Roberto Firmino, Christian Benteke, Danny Ings and Philippe Coutinho will all be able to fit into the same team. And what of youngsters such as Joe Gomez and Jordan Ibe — are they capable of thriving in this difficult, transitional period for the club?
The incoming Liverpool manager need only look at the situation developing at Chelsea to understand the many problems that a disaffected dressing room can present.
What's ultimately key, however, is results — once the team are winning, Klopp/Ancelotti/whoever will have the excuse they need to leave certain high-profile names out of the team.