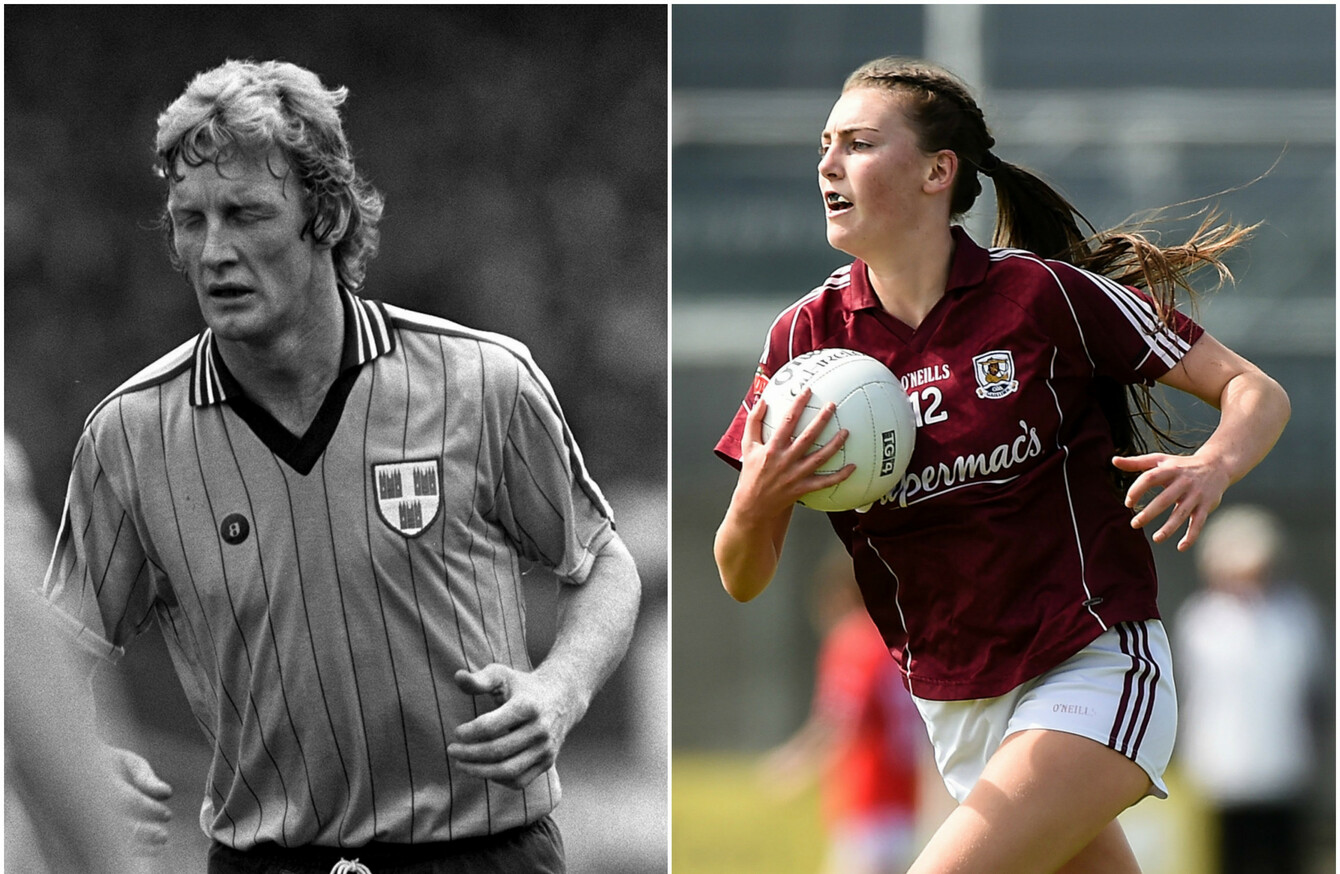 Áine McDonagh spoke about her late uncle Mick Holden.
Áine McDonagh spoke about her late uncle Mick Holden.
FROM SUPPORTING HER Cuala cousins in the All-Ireland senior club hurling final on Saturday to playing a key part in the Galway jersey and ending All-Ireland champions Dublin's unbeaten streak in the Lidl Ladies National League on Sunday.
Áine McDonagh had a weekend to remember.
The rising star was our guest on The Ladies Football Show this afternoon, where she covered a wide range of topics.
The Moycullen midfielder spoke in-depth about her family's influence on her own playing career, and went through her storied relatives.
One of such is her late uncle Mick Holden, one of Dublin's 12 apostles in 1983 and renowned dual player.
"When I was younger, even now, going back to Cuala, everyone comes up telling me stories about him," she told The42.
"Supposedly, he was an unbelievable character, especially in the club. There's so many funny stories I get told about him.
"In terms of sport, he always said he was a hurler, and hurlers can play football.
"He was always a hurling man but he ended up playing the football. That's where I get a lot of it from. Very proud of him as well, didn't get to see him much because he passed away a couple of years ago but it was great to have him as well."
Source: The42.ie/YouTube
McDonagh also delved into her background in basketball, and explained how being dropped from the Galway U14 panel led to playing basketball for Ireland.
Source: The42.ie/YouTube
And as well as discussing Galway's bright start to 2018, she brought us through the highs and lows of 2017 and how the Tribeswomen have learned from that.
One incident we revisited was a straight red card shown in the closing stages of their Lidl Ladies National Football League semi-final loss to Donegal.
"I ended up losing a limb…and throwing it back in someone's face, and getting a straight red card," she grinned.
"It wasn't great."
Source: The42.ie/YouTube
You can watch The Ladies Football Show with Áine and The42′s Emma Duffy in full here:
Source: The42.ie/YouTube
The42 is on Instagram! Tap the button below on your phone to follow us!