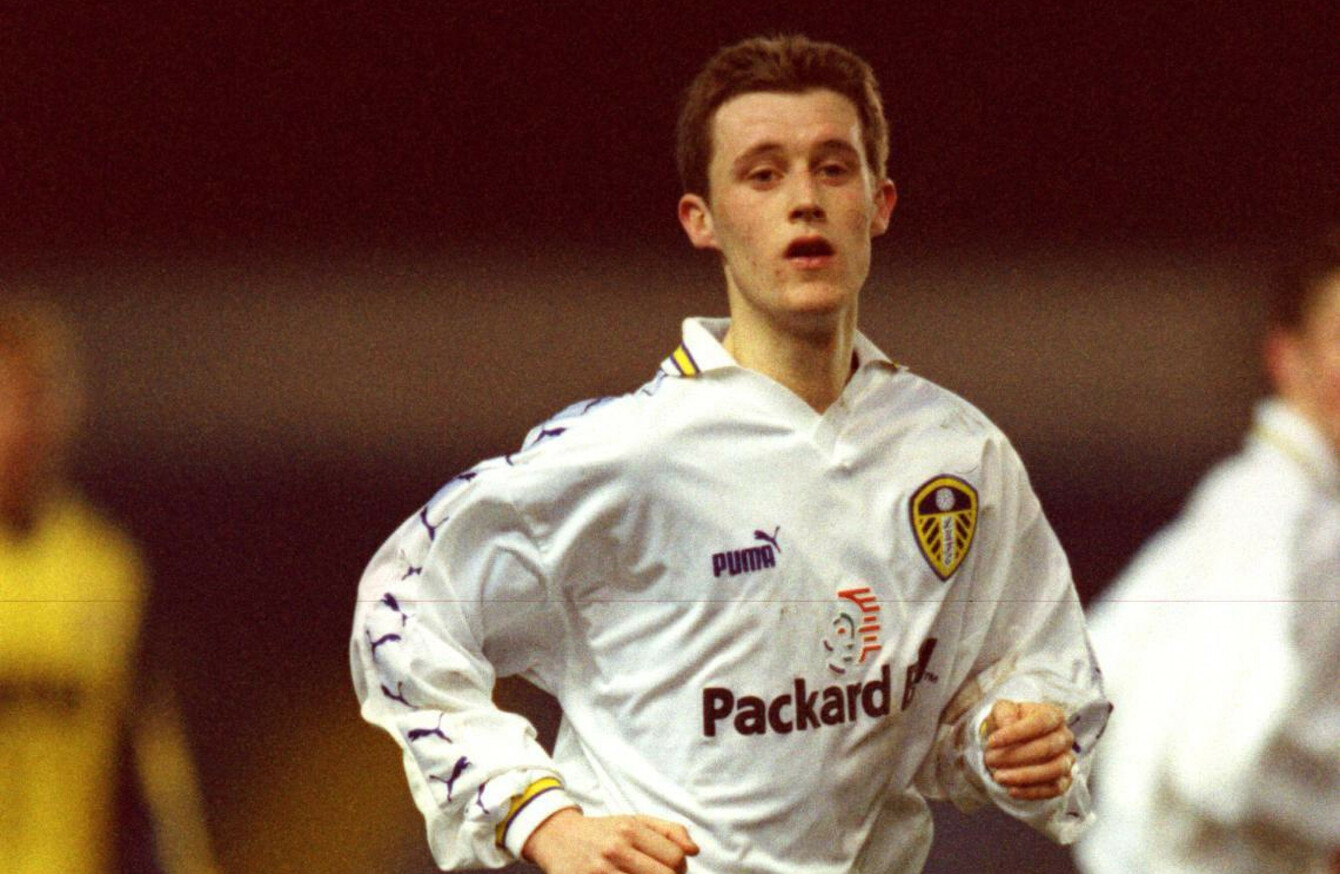 Cawley during his Leeds days.
Image: EMPICS Sport
Cawley during his Leeds days.
Image: EMPICS Sport
ALAN CAWLEY'S INSATIABLE passion for football and Sligo Rovers, in particular, were deeply ingrained from an extremely early age.
His uncle proved the Bit O'Red's hero in the 1983 FAI Cup final, and as a boy, Alan travelled to Dublin to witness them win the much-coveted competition at Lansdowne Road 11 years later.
Although he never realised the dream of lining out for his hometown club (largely, as you'll read later, due to a last-minute change of heart), the midfielder did enjoy eight years in the League of Ireland — with some highs and plenty of lows — before going on to carve out his current career as a football pundit for RTÉ.
Looking back during an hour-long chat this week, there are certainly things he would do differently if he had the chance to start over, but Cawley isn't one for regrets.
Childhood memories in the "soccer mad town" of Sligo are predominantly fond ones. Both sides of his family were involved in the beautiful game and he got a feel for what it meant through weekends spent with his father, who was a decent player at junior football.
"I went everywhere with him from the age of four or five — every match, every training session — he would drag me along to it all," he recalls.
"It was brilliant, and I used to love being in the dressing room when the lads were having great craic… It was a long time before social media. I had a great upbringing surrounded by football."
His mother's brother, Harry McLoughlin, spent over a decade at Rovers but the moment he is still remembered for today took place on a miserable Sunday afternoon – just over a year before Alan was born. Having eventually seen off Cobh Ramblers in the FAI Cup semi-finals, only after three replays, Sligo faced Bohemians in the blue riband event at Dalymount Park.
They had been beaten finalists on five occasions and it looked like the 1983 edition would be going the same way when Barry Murphy put the Gypsies in front. But the men from the west were handed a glimmer of hope as Tony Stenson blasted in at the nearly post.
Heading into the final 15 minutes, Graham Fox won the possession back in the middle of the park and Martin McDonnell found the run of McLoughlin. The winger still had a huge amount to do when he picked up the ball, stepped inside (current Ireland women's U19 manager) Dave Connell and bent an effort into the top corner to finally end the famine.
Source: retroloi/YouTube
While he wasn't around for those celebrations, Cawley did become a regular at the Showgrounds as a young lad. He would head along with friends on Sundays when Sligo were in the First Division but says the arrival of former Celtic defender Willie McStay as manager and the move to evening kick-offs added a whole new dimension to the club.
"My first experience was standing in the shed, and you would look up to the fellas singing all the songs," he says. "My most memorable times were when Willie McStay took over and Sligo Rovers put floodlights in the ground. All of a sudden, they were getting seven and eight thousand at the matches."
After claiming the First Division title and the Shield, they once again found themselves in the final of the country's premier cup competition. This time, it was played at Lansdowne Road. Derry City provided the opposition, and Cawley was lucky enough to be in attendance as Rovers, the underdogs, upset the odds to earn a 1-0 win thanks to Gerry Carr's decisive goal.
He tells a good story of getting onto the pitch and consoling his boyhood idol at the final whistle.
Myself and my best friend, Conor O'Grady, were in the stand behind the goal at the old Lansdowne Road," Cawley begins. "Just before the final whistle, we tried to chance our arm. They opened up a gate and we ran through to get down along the side. We jumped over onto the pitch and Liam Coyle was sitting on the ground, devastated after losing. I went up and kind of patted him on the head to say 'Hard luck'."
The pair were picked up by RTÉ cameras and broadcast to living rooms around Ireland. Look out for Alan in the red and black jacket 1:57:24 into the clip below:
Source: redBELLIEDxxx/YouTube
Cawley looked up to local hero Johnny Kenny and Sligo's Scottish winger Eddie Annand but it was often visiting players that caught his eye most — names like Stephen Geoghegan, Tony Sheridan and Eddie Gormley. The aforementioned Coyle too.
As fate would have it, he got the opportunity to line out against the legendary Candystripes forward years later.
"Liam was one of the players I really looked up to. Anytime Sligo played Derry at the Showgrounds, it was amazing to see the likes of him playing. He was unbelievable. I played against him when he was coming to the end of his career and I was only starting off. Even then, the touches on him. I remember he did this turn out in Belfield and left two of us for dead from a throw-in. This fella was amazing."
Alan's schoolboy career had begun at local side Abbey United, but a cousin was looking after the more successful Merville United on the other side of town. Ambitious even back then, he made the switch despite the fact "it didn't go down too well".
His big break arrived at U14 level, due in no small part to Mícheál Murphy, who, it turns out, is the father of Newstalk's Off The Ball presenter and commentator Nathan.
"There was no one in Sligo pushing young fellas at the time," Cawley says. "If you happened to be a good player, you just played in Sligo. No scouts were looking or thinking 'This fella has a chance'.
I was playing a school game for Summerhill College in Ballyhaunis on a random Tuesday. There were very few people at the game, but this man came up to me after the match and said 'Would there be any chance I could get your phone number?' I was looking at him, and if someone did that now you'd think it was weird, but I says 'Yeah, no problem'.
"He told me he often watched matches and he thought I played well. I gave him the landline number and a couple of weeks later he rang the house and asked if he could speak to my dad. He told him there were trials in Athlone for the Ireland underage team. Dad thought it was bizarre that a man was ringing out of nowhere, but we travelled down on the Saturday. It turned out I was a year too young for the trial, but the coach said he would pass my details onto the right man, Vincent Butler.
"He rang and I went up to trial in Dublin the following week for my own age group. It all started from there and Mícheál played a huge part in that. I remember speaking to Nathan about this a long time ago. I didn't know the connection with him and he was saying he also played in that schools game that I had run amok in."
Cawley was picked to play for Ireland's U14s against Scotland in Limerick alongside the likes of Andy Reid and Cliffy Byrne. The following year, Leeds United visited Sligo on a pre-season tour, and although he was away with the Ireland squad at the time, they offered a trial after his dad and the Merville manager got chatting to their youth development officer.
He went over on the Sunday and they had asked him to sign by the Tuesday. Alan's parents were flown over to Yorkshire and a contract was put on the table.
"They wanted me to fly home with my mum and dad and then come straight back," he explains. "I said I'd stay in Ireland for a year and come over after that. Even my mum was a little apprehensive, it was all a bit of a whirlwind. I was coming from Sligo and this hadn't happened before so we didn't really have anyone to speak to or advise us on it. I made the decision to go home and do another year at school."
There had also been some interest from Liverpool and Newcastle United through Noel McCabe — the man who famously discovered Roy Keane for Nottingham Forest. Cawley agreed to visit all three before making a final decision but an injury picked up at Leeds would see that promise broken and leave McCabe furious.
"It was a mad scenario," he says. "Newcastle and Liverpool were interested and I told him [McCabe] I'd go as I hadn't signed anything with Leeds. I thought I'd try them all before I made a decision, but I got injured that year.
"Every time I went over to Leeds during the holidays, I was only getting treatment and physio. This went on for two or three visits. They sent me to Harley Street in London, the surgeon's name was Dr Gilmore and the injury I had turned out to be Gilmore's Groin. It was bonkers. He was the top surgeon there and it was named after him.
"I hadn't even signed with Leeds and they forked out big money for the surgery. I got it done and was back playing within six weeks. After that, I nearly felt an obligation to sign for them, and I never went on trial at Liverpool and Newcastle in the end.
When Noel found out, he came up one day and devoured my oul' fella on the sideline in Fairview Park!"
Leeds wanted Cawley to be playing at the highest level of youth football in Ireland, which was the Dublin District Schoolboy League (DDSL). Through Ireland underage boss Butler, he joined Belvedere and his dad would drive them up from Sligo on a Sunday to play.
A ball-playing midfielder with a slight frame, Cawley admits finding some parts of the sport difficult, not just during his schoolboy days, but right through to playing senior football. "The technical side of the game was always one of my strongest parts but I struggled with the physicality. I was really skinny. I had two good feet and I was a passer in midfield. That would have been my game, but I had a tough time with the dirty work."
On his debut for Belvo, he remembers being left mesmerised after coming across a pint-sized playmaker by the name of Wesley Hoolahan for the very first time.
Cawley starts off: "It was U15s and I knew nobody other than Vincent and a couple of the other lads through the Ireland set-up — Fred Murray, Declan Field and Robbie Martin. But I hadn't spoken to them that much.
"We were warming up after I was introduced to the managers at the time, Matt Halpin and Gerry Smullen. They were two gentlemen and absolutely brilliant to me. After the introductions, they told me to put on my kit and get warmed up with the rest of the squad. As I was doing this, I spotted this little fella. I'm saying to myself 'He couldn't be playing'. He was literally like a small child compared to the rest of us, but he had all the touches and kept catching my eye. I presumed he was one of the coach's sons who was just tagging along to watch the match.
"When they called us in to go through the jerseys, it came to number 11 and he threw it to this little fella. Again, I was thinking 'There's no way he is playing, he'll be murdered', as there were some big lads playing at U15. I put on my jersey and ran over to the sideline to give my dad the warm-up top and I remember him asking who the small lad was. I think we won 3-0 but Weso was just unbelievable. I spent more time watching him than I did playing the game. He was picking up all sorts of positions, putting the ball through fellas' legs and doing incredible things — all while the jersey was hanging down around his knees!
"I'll never forget driving back after the match, me and my dad just looked at each other saying 'What about the little fella?!'. From then on, we would go up every week and even my da would get excited to see Wes play. It was a great team, I think we won a double and nine of us went away to England that year."
In 1998, he made the move across to Leeds. Yet to suffer financial meltdown, the club was flying high in the Premier League under manager Dave O'Leary and owner Peter Ridsdale and there were dozens of Irish lads to make him feel at home.
"It was absolutely brilliant. There were loads of Irish there — Alan Maybury, Stephen McPhail, Paul Donnolly, Alan Martin — and then Gary Kelly and Ian Harte playing in the first team as well.
I went with a lad called Martin Kramer. Gary Kelly was amazing with the Irish lads and he always looked out for us, Ian Harte too. Stephen McPhail was an absolute gentleman, Damian Lynch was great to me and I became best friends with Alan Maybury. I used to clean his boots and we're great pals to this day. I was best man at his wedding three or four years ago.
"O'Leary was in charge and it was a great time to be there, but not if you were a young fella looking for an opportunity. They were doing so well in the league and in Europe and they were spending big money. I remember being there when they broke the British transfer record to sign Rio Ferdinand for £18m, which was bonkers money at the time.
"That was the calibre of player there at the time — Mark Viduka, Harry Kewell, Alan Smith, Jonathan Woodgate. The batch of lads the year before us — Kewell, Smith, Woodgate, Maybury, McPhail — they would have been like the Class of '92 at Man United or the next best thing. It's rare that you get five or six coming through the youth system around the same time.
"I remember watching Woodgate and only for the injuries, he would have been every bit as good as Ferdinand. Kewell trained with us and he was absolutely amazing. I played in the reserves and McPhail was there just before he broke into the first team. We go on about Weso, but McPhail was probably the most cultured footballer I ever played with. He was so technical and had he been born in Spain, he would have had 80-100 caps, no problem. What used to work against him was the physicality side of things. It was around the time of Patrick Vieira and Emmanuel Petit and teams wanted robots in midfield.
"You used to hear names bandied about by the lads in the digs. [Stephen] Gerrard was one, people would say 'Wait until you see this fella', and you would go play Liverpool youths. We all know what Gerrard went on to do, but some of them never made it. There was a lad Ian Armstrong at Liverpool, 'Army' they called him, who was top notch. McPhail was another, people knew who he was before he made it big."
Although he admits struggling with homesickness initially, Cawley did well and was playing at reserve level under Roy Aiken by 18.
"I had a great relationship with him [Aiken]. I played on the left, cutting inside, and things were going great. The money they were spending was crazy and young fellas had no chance. Leeds had just signed David Batty and Olivier Dacourt — top quality international players. Nobody came through at my age group, the only one who went on and had a decent career was Frazier Richardson, who played a few games in the first team. Part of that was there wasn't any exceptional talents but it also shows how difficult it was at Leeds during that time.
"You look at the struggles they've been having now and young fellas would have a much better chance. It's something I look back on and think, it's very hard for mums and dads to know what to do. They're trying their best to support their son but when you've no one to advise you, it's very difficult.
"Looking back on it now, I'd go to a lower club and work my way up. There were a group of lads my age group who went to Nottingham Forest at the time and three or four came through — the likes of Andy Reid and Keith Foy. They probably had a better chance because of the club they were at. If I had the opportunity again, I probably wouldn't have gone to Leeds, to be honest."
After two years, Cawley tried his luck at Division 1 (now the Championship) side Sheffield Wednesday.
"I thought there would be more chances to break through," he explains. "It was a massive club and there were a couple of Irish there — Alan Quinn and Derek Geary. When I went on trial first, Paul Jewell was the manager but the next time I went back he was gone and Peter Shreeves took over."
He says he was flying in the reserves and that led to him travelling with the first team for a couple of games. At the end of that season, his hopes of breaking through were high.
"I went home on my summer holiday thinking I was in a great position. I told myself I'd get as fit and strong as ever and push myself to get into the first team. I came back the fittest I've ever been, and had a brilliant pre-season."
However, things then took a change for the worse. While on a first team trip to Scotland, he got wind through the reserve team manager that he needed to ring home. Once getting through to his father, Cawley learned that his grandmother had passed away. Shreeves couldn't be nicer in telling him to take as much time off as he needed, but their relationship changed as soon as he got back.
"From then on, he started hammering me for little things and the lads were even coming up to me to ask what the story was," he reveals. "That was it really, he was against me from then on. To this day, I still don't know why. It was a really tough time, going from travelling with the first team to getting hammered by the manager. He got the sacked and I was delighted, but Terry Yorath took over and he was his assistant so it was more of the same.
"The year just petered out, I was playing in the reserves and getting nowhere so I thought 'I've had enough of this'. I could have dropped down divisions but I had been four years in England so I said I'm going home."
There are countless cases of Irish footballers falling out of love with the game if their experience across the waters ends on a sour note, but Cawley's plan was never to pack it in.
"I love the game, I would be fanatical about it even if I never played. When I was playing, I was one of those lads who would go home and watch every match going, read up on everything and try to know what was going on.
There are some lads who have no interest in watching football. Even though the experience had gone pear-shaped at Sheffield Wednesday, I always knew I would go home for a couple of weeks and get back involved at some level."
Having experienced the city life, he wasn't back in Sligo more than three weeks when he began getting itchy feet.
"When I went to England, I struggled badly with homesickness," Cawley admits. "I was home every five or six weeks the first year and I got on Leeds' nerves, but they were as good as gold to me and let me travel back whenever I wanted.
"After that though, I was totally settled and got used to it. When I returned to Sligo, as much as it was my hometown and I loved it, I thought 'I can't settle back here'. I was there two or three weeks and I was going off my head."
Friends of his lived in Dublin and a couple were staying in a house with Pat Jennings Jr, son of the legendary Northern Ireland  goalkeeper, who was following his father's footsteps and playing for UCD. Cawley went up to visit and ended up going training with Pat.
"The first time I went out to UCD, I absolutely loved it. Paul Doolin was the manager and he was brilliant. They were a great bunch of lads, Tony McDonnell was there along with the likes of Alan McNally and  [Pete's son] Alan Mahon.
"They were brilliant lads, and I loved it. I went back the following Thursday night and Paul wanted to sign me straight away. He's probably the best manager I worked with to this day. Eddie Gray and Roy Aiken were great in England in terms of coaching, but Paul was excellent. To think he's not involved in football now, it's bonkers."
After an indifferent start, Cawley took to life with the Students extremely well and, under the guidance of Doolin, he began to flourish on his debut season in the League of Ireland.
"It was my first experience of men's football, even though I was still only 20 at the time, and I remember making my debut against Shamrock Rovers at Tolka Park," he tells. "The whole game passed me by and I was thinking 'Wow, what happened there?'. I love to be on the ball and have as many touches as possible. I remember not getting a kick and thinking 'Was I even playing today?', but it was a great way to cut my teeth. It got a million times better after that, and Paul was great to me. We played a good brand of football too.
"He was always trying to change things out there. It was probably fighting against the wind as UCD always had the mindset of being a pathway to the league for young players. Paul was trying to make things as professional as possible and it was great for me because I had come from a professional environment. I loved his attitude and what he was all about. He was very demanding, some lads couldn't deal with it, but I loved it.
In fairness to the League of Ireland, that was 15 years ago and 95% of it is a professional environment now, whereas back then there was more of a part-time thinking. I really developed under him. I was only there a year-and-a-half and I played well."
The youngster's performances caught the attention of Pat Fenlon and Cawley was signed by league champions Shelbourne along with Glenn Fitzpatrick (from Shamrock Rovers) in 2004. That Shelbourne team was one of the finest Irish football has ever seen — packed full of experience and bursting with talent. As you might expect, there were some nerves on day one.
"They were full-time and it was a great move, but it was daunting," he accepts. "I'd be lying if I said it wasn't. Even though I'd be a fairly confident lad and I knew myself I was playing well at the time, now I was going into a dressing room with proper men — Owen Heary, Stuey Byrne, Jim Crawford, Thomas Morgan, Weso, Ollie Cahill — brilliant lads and brilliant players.
"It was a whole different dynamic to the UCD dressing room. Pat was there and he was brilliant as well. He was very much of the same ilk as Paul. They played with each other over the years, he was so professional, no messing, and I loved it. Heary was probably the best League of Ireland player I played with in terms of producing an eight out of ten every week. Wes was the best in terms of ability, but Heary was a super captain and he was just a brilliant fella, on and off the pitch. He trained the same way he would play on a Friday night."
Eager to get going at his new club, Shelbourne faced Shamrock Rovers and Cawley was hopeful of earning a starting berth. Instead, however, he was left baffled by news brought to him by Fenlon just before the game.
"Pat named the team and I was ready to start against Shamrock Rovers. At this point, I was thinking 'Who knows? If this move goes well, I could go back to England'. He pulled me into the gym underneath the stand at Tolka two hours before kick-off and said he's not going to play me because UCD had put in an objection to the move. I was thinking 'What?'. He said 'Let me get through the game tonight, and I'll deal with it in the morning'. I was completely shell-shocked, I couldn't believe it.
"UCD were putting in for compensation and a lot of it was to do with the people who running UCD. A lot of it was to do with their own squabbles with [Shels owner] Ollie Byrne and I was the pawn in the middle. Unluckily for me, I was being dragged into this and whatever grievances they had with Ollie, I was the bait. They were claiming that I was at UCD for two years and I was under 23 so they were due money, which was never the case because I was only there a year-and-a-half.
"I had gone to being on top of the world, playing at a great club, to fighting this for 11 weeks. It wasn't resolved until we ended up going to the High Court."
UCD were reportedly looking for €40,000 for the 22-year-old but Shels disputed that it wasn't due as he hadn't been with the Students for two years.
"Ollie was amazing through the whole thing," Cawley adds. "If you were on the other side of it, he would fight you tooth and nail, but if he was with you, it was to the end of the earth. He did that with me, he was absolutely brilliant. It came to the stage where the boys were going training and I was told to not turn up to help the case. It started to get messy and to be fair to Fran Gavin, who was head of the PFAI (Players Football Association of Ireland), he got involved and stuck with me. Shels got off to a great start without me and by the time I got back, I was just coming on as a sub. I featured with 19 appearances and got my league medal, so I contributed and set up a few goals for Jason Byrne but it was just a disaster."
The whole fiasco was a bitter pill to swallow and he had lost out on invaluable time but, once back up and running again, Cawley played his part in their Premier Division title success, as well as featuring in their famous Champions League adventure of 2005.
"I remember were 2-0 down against KR Reykjavík and we got it back to 2-2. I played a big part in that and I often slag the lads that there would have been no Deportivo only that. We've all seen how much success Dundalk have had, but Shelbourne are probably the first team to do anything in Europe at that level. For us, it was an unbelievable experience. We had a great team when you look at the players — Alan Moore, Joey Ndo, Jason Byrne, Glenn Fitzpatrick, Owen Heary, Kevin Doherty, Jamie Harris, Jim Crawford, Dave Rodgers — proper men.
"The one thing that always stood out for me when LOI clubs played English teams, they looked like men and we looked like boys, but that Shels side were men."
Hoping for more first-team opportunities, Cawley joined Longford Town on loan, but it turned out to be a terrible decision in hindsight.
"Pat was friendly with Alan Mathews. Paul Doolin was trying to get me up to Drogheda, I only heard this after, but Pat was guiding me to Longford. They had won a couple of cups, but Mathews was completely against the type of footballer that I was and why he was ever interested in me, I'll never know. All he wanted to do was put balls into corners, fight and kick. That was no use to me, so I lasted three or four weeks."
According to Cawley, that lack of physicality hindered his career but he accepts much of the blame is on himself.
"I was growing up in an era where the physical side of the game was very prominent — certainly among the managers. They were more interested in that than the technical side. I look at the league now and think it's a lot more technical. Many of the teams are playing a far better brand of football. I was very slight, but I also look back and think that I should have been working on that. All footballers are athletes now, they take off their tops and they're in great nick.
"It wasn't like that at all. The sports science, the strength and conditioning and all that wasn't really a feature. I had the best facilities in the league but the problem for me was, because the game came easy enough to me, I used to think 'Sure all I have to do is turn up and play'. I should have been bulked up to give myself every chance. The football side of it was never a problem. [Leeds coach] Eddie Gray once told my dad 'Look, on the ball we've no questions whatsoever, but off it he's a liability'. I'm honest enough to admit that I should have been doing everything in my power."
Admitting that he could've done more to develop into a more rounded player, Cawley adds: "I genuinely don't have any regrets. I'm honest enough to realise that I didn't put in the work. The first thing you have to look at is yourself. It wasn't a conscious decision that I wasn't going to do the work, it was more a case that I didn't realise what it took to be a top professional player. Growing up, I just went out to play and it all came naturally. The higher up you go, you see that the other side is just as important. Looking at games now and trying to analyse them, I realise that now but I didn't back then.
"But I don't look back with any regrets because it taught me so much, it opened so many doors for me, it got me a brilliant career, albeit not at the highest level, but I'd like to think I had a good enough career back here. I met so many great people and had some great experiences. Even the stuff I'm doing now [media work], I don't think that would have happened without everything that has gone before. It was a great learning curve."
Shelbourne had invested heavily in their squad again and Cawley found himself down the pecking order. He returned to UCD, but Pete Mahon had taken over and it was fair to say they didn't see eye-to-eye.
"He had Ronan Finn at the time and he was flying," he says. "He said he couldn't hold him back any longer. At the time, I was saying 'You have me', and Ronan was a great up-and-coming player. Gary Dicker was there and some other very good young players too. Pete is all about the physical side of it and we had a different view. That's what I'm saying about the league changing. You look at Stephen Kenny, Martin Russell and Keith Long — the game has changed. His son Alan and I are best friends but I clashed with Pete… that's just football."
After a brief spell at Waterford, Eddie Gormley invited him out to Bray Wanderers, and it seemed a good fit. "I loved it there. I was captain and I had two great years under Eddie. We had a good team with the likes of Clive Delaney, Gerard Rowe, Derek Pender and we did well."
Cawley always felt he'd love to play for Sligo, having spent so many nights at the Showgrounds as a fan, and it nearly happened in 2009 when Paul Cook, who just last week knocked Pep Guardiola's Manchester City out of the FA Cup with Wigan Atletic, expressed an interest.
"I was mad to play for Sligo Rovers because I had grown up with the club, my uncle had played for them, my best friend was playing with them at the time and they were going for the league," he explains. "They had a great manager and Paul Cook liked me. We had a chat and he wanted to sign me. We agreed a deal and shook hands, I was ready to sign there and then on the spot but there was no contract. I had travelled down from Dublin and he said come back on Wednesday and we'll sign it.
"In the meantime, an agent, Eamon McLoughlin, rang to ask if I'd signed and I said 'No'. He told me Jeff Kenna is really interested in me joining Pat's. They offered me a really good deal and my missus was expecting our first child so the fact that it was in Dublin suited me.
"I signed for Pat's and did a medical, but I was due down in Sligo and Cook was ringing and ringing and I never answered the phone until I had the deal sorted! That's the truth, I might as well be honest. No more than anyone else, you're trying to look after yourself. As it turned out, they went on and won the league and cup and I missed out on all that. At the time, I thought it suited me best but I remember meeting Cooky afterwards and he absolutely hammered me! I have a great relationship with him since then though, he's sound and I'm delighted to see him doing so well."
While it's a tale of what might have been at Sligo, he did enjoy his time in Inchicore and picks a European game against Steaua Bucharest at the RDS as one of the games that stands out for him.
Pat's was great and I got on with Jeff. I played every week and we had a great run in Europe. Those European games suited my style best because they allowed you to play and vice versa. It was probably one of the best games I ever had."
When Kenna was sacked, however, Cawley's old friend Mahon took over.
"He came in and I never played again. He wanted me battling and fighting. We had a bit of a run-in at UCD and I knew that it would be the last of me. He came in and gave it the whole 'clean slate'. I said 'I'm here to do a job, you'd here to do a job' and he said 'Fresh start, I'm not one for holding grudges so let's get on with it'. For the first game on the Friday night, I wasn't even in the 16."
Source: St Patrick's Athletic FC/YouTube
A stint at Dundalk followed and Cawley also had a brief spell with Portadown before deciding to call it a day.
"I started looking for a day job because we were after buying a house and we had a kid, the arse had fallen out of the football at the time," he says. "I went for a job with a company called Fleming Medical and I got it. That was it, I made the decision to finish with it — just like that."
But he didn't stay out of football for very long. Home in Sligo one Christmas, he met bumped into Rory Houston, a journalist with RTÉ.
I was probably only in the job six months, but I always had an eye on the analysis stuff and punditry. I didn't know how to break into it and the best way to get involved in it.
"Rory's from Sligo and he's a lovely lad, sound as a pound. I had a few drinks on me and he asked if I'd be interested in doing a blog. I was looking at him like he had two heads, thinking 'What the fuck is a blog?'
"Of course, I was like 'I'll do it, no problem' and I didn't even bat an eyelid. Next thing, the phone rings two and a half months later when the league was about to start and he said 'Do you remember the night you said you'd do the blog?'. I said 'What are you on about?' But I said I'd be interested in the column, the only stipulation was that it would be all my own piece, unless I'm slandering someone or whatever. He agreed to that but said they'd need one each week."
The weekly LOI column provided him with exactly what he needed, a foot in the door of the national broadcaster, and he hasn't looked back since — joining 2FM's Game On and becoming a regular on RTÉ's televised coverage of the league.
"I started writing the pieces and for the first four or five pieces, people were saying 'What is this fella doing?' but I was writing about a lot of lads I would have played with and against so it started to grow a bit of legs. All of a sudden, it got a bit of traction and people would be asking when the piece was out. It went great for the year and it was all voluntary, but I didn't mind because I wanted to do it.
"Then RTÉ said 'Look, we'd like to start using you more' and they began giving me a few quid for the pieces. The radio stuff and Soccer Republic followed after that. I think I'm doing that about four or five years and I absolutely love it."
The42 is on Instagram! Tap the button below on your phone to follow us!