THE GERMANS PROBABLY have a word for it but the English language doesn't do it justice.
'It' is the feeling you get when you're watching a TV show or movie, and you know something bad is going to happen but, no matter how much you find yourself hoping it doesn't happen, it still does.
Whatever 'it' is called, it's the same feeling The42 gets when Alan Lynch is recalling the story of how he found himself in a wheelchair, an incomplete quadriplegic, at the age of 14.
Not that Lynch, a star of the Irish Wheelchair Rugby team on the verge of World Championship qualification, would want anyone feeling sorry for him. Far from it, but still, his is a story most people growing up in rural Ireland could identify with.
Except where their tale ends with a broken arm or leg, his fall changed everything.
"I was 14 and I'd never so much as broken a bone in my life," he told The42 recently.
"Now, how I'd never broken a bone, I don't know because I was always up to something, either climbing trees or — my dad has a joinery here in the shed — and I'd be climbing up in the loft and what not.
"I'd always be doing something I shouldn't really and where we lived there's a small wooded area across the road from the house and we'd always go down there playing as kids 'cause there was nothing else to be at I suppose. We'd go down to the woods and play in the trees or clear a path through them so we could ride our bikes on a trail.
"This particular day, we'd family over from Canada and were having a barbecue out the back of the house. It was July, a nice evening. My cousin from Canada was with me and he just couldn't manage to climb this one tree that I loved to climb because you could get really high up fairly handily.
"I'd already been up it that day so I told him to follow me up and I showed him how to get from branch to branch. I got about 35 feet up and just grabbed this one branch and it came off in my hand. All my weight was on it so, as soon as it snapped, I just fell straight down to the ground."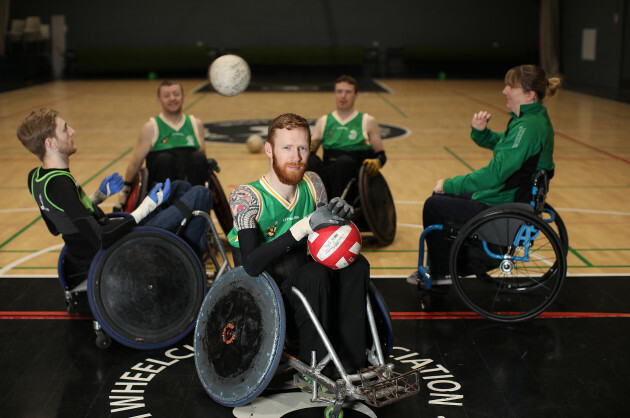 JULIEN BEHAL Irish Wheelchair Rugby recently received funding fro the National Lottery Good Causes programme. JULIEN BEHAL
Even now, two decades removed from the accident, Lynch still wonders how nothing went through his mind as he fell, especially considering the height.
"To be honest, I don't remember anything about the fall even though 35 feet is a pretty long way. You'd imagine you'd have time to think 'Oh Jesus, this isn't good' but all I remember is the branch coming off in my hand and then being on the ground.
I was on my face, lying on my belly. I couldn't move a thing and I knew straight away it wasn't good. I was just lying there shouting 'I'm paralysed, I'm fucking paralysed. Quick, go and get help' because both my sister and brother were there as well.
"My sister just bolted up the wood to my parents. My cousins all thought I was messing, but I just knew. And I suppose that's kind of bizarre because, at 14, you probably wouldn't expect someone to know what paralysed is but I knew straight away I was fucked.
"I told them to roll me over and the doctors afterwards told me I shouldn't have done that but, sure look, I wasn't exactly thinking straight at the time.
"But I wasn't knocked out and there was no pain or anything at the time. A lot of lads who would have injuries like this — even those who damage their spine — would still have pain but I didn't feel anything at all. My Dad and my uncle came down and they were trying to get me to breathe slowly until the ambulance came.
"Like I said, up to then I'd never broken a bone. And, maybe because of that, looking back I didn't take what was happening that seriously. I was in the ambulance on the way out to the hospital and I was saying to the paramedics 'Oh this is great, I've never been in an ambulance before and at least I got a spin in one.'"
Soon though, Lynch began to realise how serious his accident was. But he still tried to keep his outlook positive.
"The next morning they took me to Dublin in a helicopter and I was even more excited about that. I thought it was a bit of craic nearly. It was only when they brought me into the Mater Hospital and I was brought into the spinal ward with the curtain pulled around and there were five or six doctors there that I thought to myself this is serious.
"They shuffled my Mam and Dad outside and they started to do the tests on me, asking me if I could feel this or that and, because I was in the neck brace, I couldn't see what they were doing. I obviously can't feel a thing and there was no nerve reaction until they got up to my collar bone and, yeah, then I knew it was probably a lot worse than I thought it was up until that point."
Medication and MRIs
One of his outstanding memories of the next 48 hours, is falling asleep in the MRI machine. As anyone who has had an MRI can attest, that's easier said than done.
"They brought me for an MRI exam, and I was brought for X-Rays. At this stage, I was pretty exhausted because they'd put me on a lot of drugs to try stop the swelling on my spine and they gave me some stuff to relax me.
I actually fell asleep in the MRI machine, that's how exhausted I was. They told me that was pretty bizarre because they're very loud machines but I don't remember anything after going into the room and they put me in the tunnel. They came in to check on me because they'd been calling me over the speaker but I hadn't heard a thing.
"The scan showed that I had broken the fifth vertebrae and it had collapsed onto the sixth vertebrae in my neck and that had pushed into the spinal cord and compressed it, starving it of blood and that was it. So, for me, it was more of a bruising of the spinal cord but I didn't actually cut it. That's the reason I still have feeling in a lot of my body and it's better than nothing.
JULIEN BEHAL Alan Lynch (LEFT) and Ronan O'Keeffe of Gaelic Warriors JULIEN BEHAL
"When they told me I'd bruised my spinal cord I just thought that I'd recover pretty quickly because I was thinking it was just like bruising my arm or my leg and that it would go away in a week or so. They corrected me fairly quickly and explained that it was a very different injury and once the damage was done, it was done and that was it.
"It was a lot to take in at 14 but I was very lucky that I'd grown up around adults all my life. My Dad owned his own business and there would have been 10-15 lads working here so I was always surrounded by older lads. I think that made me quite a mature 14-year-old, especially with my sense of humour and sense of self. I was definitely more mature than the average 14-year-old at the time but, still, it was a lot to take in."
Playstations on the Party Ward
For as much as Lynch tried to keep his spirits up, when he was transferred to Dun Laoghaire the reality of what was ahead over the coming weeks, months and years overwhelmed him.
"I was in the Mater for a week and then they brought me across to the National Rehabilitation Centre and I remember when they were wheeling me up the corridor to the ICU ward there, I had a panic attack and started bawling my eyes out, I just couldn't stop crying.
"That was upsetting for my Mam and, I suppose, it just hit me in waves after that and you deal with each one when they come along. You think you've dealt with it, but then it comes back to you that it's never going away.
There were definitely days when I was pissed off about what happened and I'd be saying to myself, fuck this. I didn't want to leave the room, or even leave my bed. But I'd never want anyone to know so I just got on with it.
"Not everyone was like that. I saw some lads who were in the rehab at the same time I was and should have been nearly walking out of the place, or at least leaving the hospital independently, but they just point blank refused to do that. They let the injury get on top of them and let it control them. That meant they left and they'll be sitting at home in a room for the rest of their lives and they won't achieve anything or be able to look after themselves, nothing like that.
"That is, unfortunately, the way these injuries impact some people. It's like anything I suppose, and there are people who are fully able bodied who let themselves get like that too."
With that in mind, Lynch was determined to make the most of his time in Dun Laoghaire.
"I was in ICU for a month and, when I finally was taken off traction, I was in the next ward down for about six months or so.
Then they put me into a ward that we called the Party Ward because, if you were in there, you were basically able to look after yourself. You were pretty much left to do your own thing as they had a nurse in there in the morning and an orderly at night time. If you needed it, one of the nurses from the other wards would check in at night time but you were basically left to your own devices.
"When I was there, I was just having the craic really. One of the lads had a Playstation and we were in his room until two or three in the morning and you'd have to get up for physio at 9.30am and you'd be wrecked tired.
Exclusive Six
Nations Analysis
Get Murray Kinsella's exclusive analysis of Ireland's Six Nations campaign this spring
Become a Member
"But I kind of enjoyed hospital to a certain extent. It's a safe space as such because everything is accessible and everyone's in the same boat really. When you go out in the real world to a restaurant or a shopping centre and people are staring at you — they're trying not to, but you know they are and as soon as you catch them they glance away –it's awkward at first, but you get used to it.
"The routine in rehab was that you'd get up in the morning and have breakfast, go to physio. Then you'd go to occupational therapy and have lunch. After that, you'd have sports therapy. That was basically your day right up to 4pm. Your day was kind of your own after that with visitors or watching a bit of TV. You had to make your own craic really.
"What I'd do, is that I'd pack in two sports therapies per day. I hated occupational therapy. Don't get me wrong, it's very essential and, looking back, I was probably a bit of an arsehole about it, but it was just so boring. I was right handed, but, after my accident, I can't move any fingers at all in it. My left hand still has some movement so they were teaching me how to write in occupational therapy with that one. It was like being back in first class.
"But I stuck at it a bit but stopped going as soon as I could. I'd head to the sports hall instead and do an extra session there. That could be an extra round of weights or join in on a game of table tennis or whatever."
'That's not what people in wheelchairs are supposed to be doing'
Premier Lotteries Ireland / YouTube
It was in that sports hall that Lynch would discover the sport that would change his life.
"Jane, who ran the sports therapy, said we were going to try some wheelchair rugby. She said it was a relatively new sport and wanted to know what we'd think of it. At first, I thought we were going to go outside but she explained the rules and that we'd be inside on a basketball court with a round ball and that you don't have to pass backwards or anything like that.
"I gave it a go, and next time there were six of us just milling around in hospital wheelchairs just absolutely wrecking them. It was brilliant. The first thing I asked her was if there was a team I could play for and she passed on the contact details for Gar Culliton who started the Gaelic Warriors club and I was hooked.
I just loved the contact, that was just brilliant at the start. It was so anti-stereotype for wheelchair users. You know, everyone looks at someone in a wheelchair and thinks we don't do much or whatever. You introduce them to this sport and they're asking 'what the fuck is this, that's not what people in wheelchairs are supposed to be doing.'
"I love that and I love that it's a team sport. I couldn't play basketball because my injury was so bad and I can't throw the ball high enough. This was basically designed for people like me in mind, who have a more severe impairment. Add to that, that it's fast paced, and I knew it would be the sport for me.
"I went down one Sunday to join the team and that was it."
Lynch admits a lot has changed since he first took up the sport, but mostly for the better.
"It's a completely different sport from when I first started. The first time I went it was only people with spinal injuries taking part, the chairs were still custom-made, reinforced chairs but they wouldn't last 15 minutes in a game today because of the speed and strength of players. Other types of disabilities are now catered for so there are guys with a lot more function playing than would have when I first started too.
"The rules have been tweaked a little too. There wasn't always a shot clock so teams could build a four or five-point lead and then get into the opponent's half and just run the clock down. That was kind of killing the game as it was a pretty tough ask for people to watch. Now you have 40 seconds so there's always something happening and you're always under pressure to score.
"It's definitely better now than it ever was before and the only off-putting thing for people now is that, because it has become so fast, when you're introducing someone to the game, it takes nearly a year to catch up with it because of the pace of the game. Compare that to when I started and, even though I was just six months out from my injury and still relatively weak, I was able to keep up with some of the lads."
Murderball
The movie Murderball brought the sport of wheelchair rugby to a wider audience, and Lynch believes it definitely helped to grow the number of people playing in Ireland.
"I think it was definitely a positive because it showed that, just because you're in a wheelchair, that doesn't mean you're not a regular person just like everyone else. It didn't dwell on the whole 'I'm in a wheelchair thing' it just showed that these are guys who play this mad sport.
"I would have a lot of people who might have seen that movie and then ask me if it's the same game I play and when I tell them it is, they can't believe it. I suppose a lot of people don't realise that lads in wheelchairs are just like everyone else. We go out drinking and we go out partying the same as everyone else.
We get in just as much trouble and do as much stupid shit as everyone else, we're just in wheelchairs doing it.
"But the movie was a positive in helping to get people playing the sport. A lot of people watched it and said to people they know that they should give it a shot and they did. Next thing, we had seven or eight more bodies rocking up to training sessions looking to take part.
"The numbers now are good. There are probably 50 or 60 people playing and the vast majority of them are playing a social level, to keep fit and just get out to do a bit. At the higher level, on the national team we have seven players going to Switzerland and we've a long squad of about 12 or 13. They're decent numbers for the size of the country."
A world away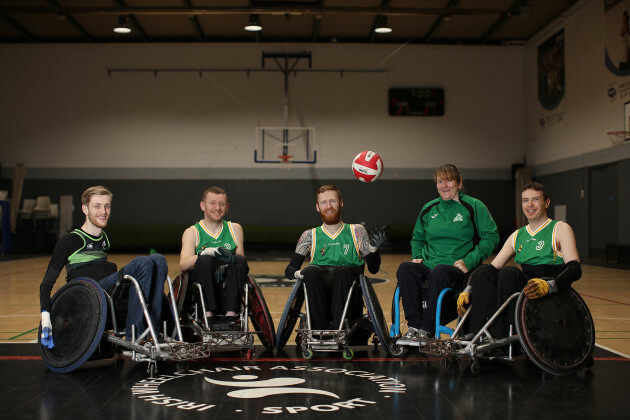 JULIEN BEHAL Lynch will travel to Switzerland next week with the Irish team. JULIEN BEHAL
This week, Lynch and his team-mates head to the Swiss Paraplegic Centre in Nottwil, Switzerland where they'll take on the likes of New Zealand and Brazil with the final four winning a place at the World Championships in Australia.
"We're definitely going in with expectation more than hope. The minimum for us is to get to the semi-final as that gives us qualification for the Worlds. But, to be honest, we're going in with the strongest squad we've ever had and, for me personally, anything less than a final would be somewhat of an underachievement. The rest of the lads feel like that too.
The expectation is that we'll 100% qualify for Australia. I'm not saying the other teams aren't any good, they'll be hard fought games, but we should still win our games by four or five points."
But, sadly, even if they qualify, Lynch says they might still have to pass on a trip to the Worlds.
"When we get back, it'll be back to shaking buckets and self-funding again. The Sports Council allocate a certain amount of the money to the Irish Wheelchair Association every year and they have to divide that between all the sports they're governing so, by the time it gets down to us, there's not a whole lot to spread out.
"Rugby is an expensive sport because it's a team sport. We've been lucky with the likes of the National Lottery, there are grants you can apply for and we got one for a few chairs but I've bought six chairs of my own and they're four grand minimum each so it's not a cheap sport by any means. Sometimes, you can rescue a few parts from one chair and bring it on to the next one to keep the costs down but not always.
"The last chair I got, I spent €5,500 on it because I couldn't replace any parts so it was a totally new chair.
But, when we qualify, there's no money in the kitty to get us there, we'll have spent everything we have to get to Switzerland. We get home on the Monday, and whatever teams qualify are supposed to be sending a deposit to Australia for five or six grand on the Tuesday so we'll have to figure something out.
"If we don't get stuff sorted fairly quickly we're going to have to tell them we can't go which would be a killer. To get this far, this has cost us so much just to get here, and then not be able to go, it would be sickening.
"We do a lot of our own fundraising but it's hard, because a lot of the time you're tapping up the same people, pestering the same friends on Facebook and that's not fair on them either. If we could secure a corporate sponsor or any sort of official funding, it would make things that bit easier for everyone in terms of not having to worry about where the money for the next tournament is coming from."
Alan Lynch was speaking to The42 as The National Lottery provided grant aid of €25,000 for the Irish National Wheelchair Rugby side. Nearly 30 cent in every €1 spent on National Lottery games go back to Good Causes.
The42 is on Instagram! Tap the button below on your phone to follow us!