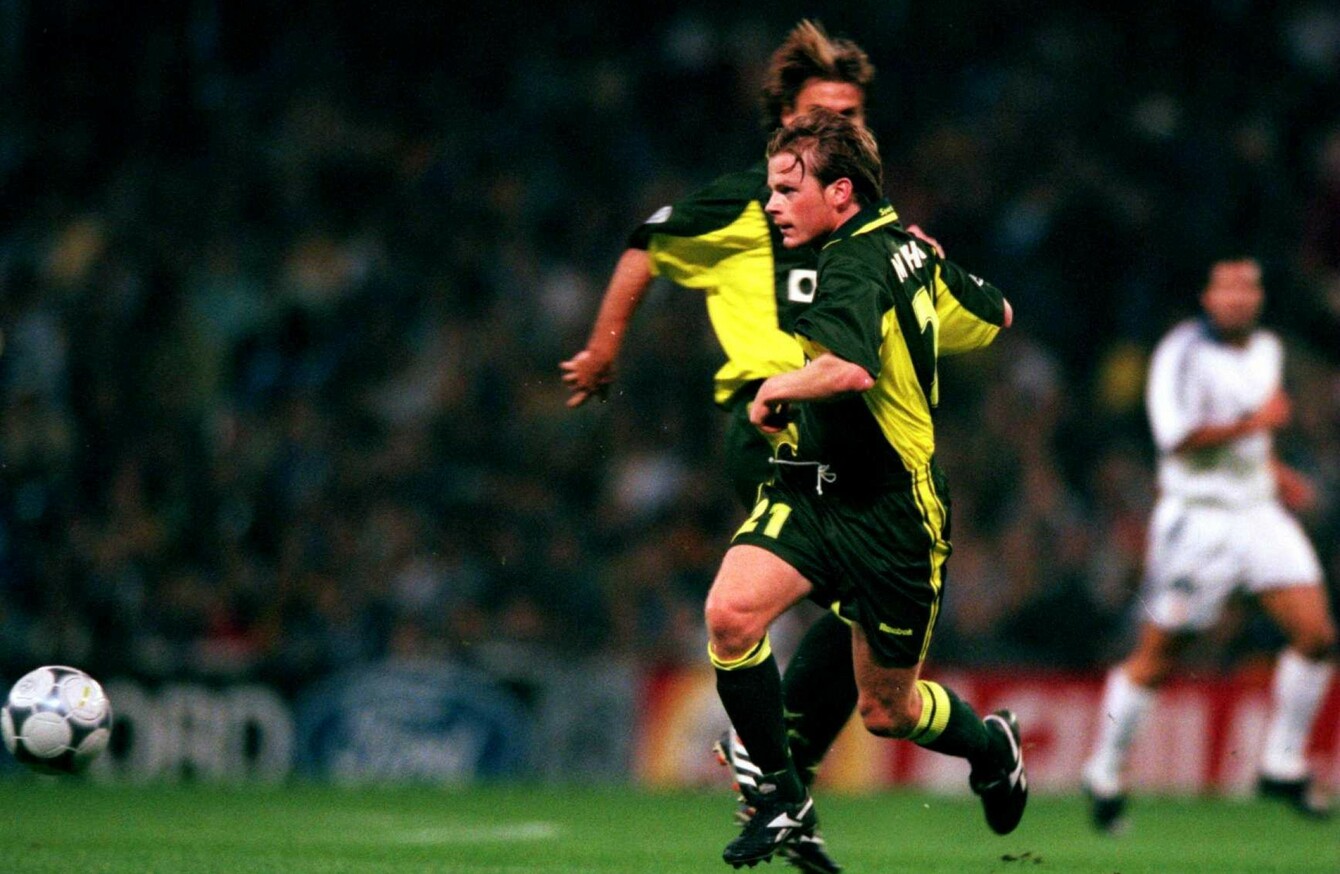 Alan Mahon pictured playing for Sporting Lisbon against Real Madrid during a Champions League match in 2000.
Image: EMPICS Sport
Alan Mahon pictured playing for Sporting Lisbon against Real Madrid during a Champions League match in 2000.
Image: EMPICS Sport
IF I WAS to ask you to name the five Irish players that have played in the group stages of the Champions League with non-British teams — how many could you answer correctly?
There's a good chance you would name the two active players; Aiden McGeady and Cillian Sheridan.
McGeady faced some of Europe's best during his spell in Russia with Spartak Moscow, while Sheridan entered the continent's premier club competition with Cypriot side APOEL in 2014.
Former Ireland striker David Connolly may also come to mind for his exploits with Dutch outfit Feyenoord in the 1990s. But what about the other two?
Bonus points are awarded if you named Phil Babb and Alan Mahon, who played in the competition for Sporting Lisbon in 2000.
The pair made the surprise move to Portugal on free transfers earlier that summer as Babb departed Liverpool — after a brief loan spell at Tranmere Rovers — where Mahon also caught the eye of the newly-crowned Portuguese champions following a couple of impressive seasons at Prenton Park.
My agent spoke to me about it, but I thought it was all done and dusted with Everton," Mahon tells The42.
"For me it was a hard decision. I was away from home anyway in England, but to live in Portugal would be difficult. However, there was an opportunity to play in the Champions League there."
Before leaving Dublin to travel the well-worn path taken by many Irish footballers to England, the former Crumlin United man carefully weighed up his options, with offers from Chelsea, Leeds United and Middlesbrough on the table.
"I sat down with my dad, who was my hero and my idol, and he was always honest with me.
At the time, Tranmere had just got to the semi-final of the EFL Cup and the commentator was saying that eight of the players in the squad had gone through the youth team and the reserves.
"In front of my eyes, my dad ripped up the Chelsea contract, and then he ripped up the Leeds and Middlesbrough ones.
He said: 'This is where you are going. You'll get an opportunity there and you'll play. You won't be lost. I don't want you to go to the bright lights of London. In Leeds and Middlesbrough there are plenty of Irish players there. I want you to go over and just concentrate on your football. You'd be homesick, of course, but focus on the football.'"
Tranmere, who have since dropped out of the Football League, were a competitive mid-table Championship club in the 1990s, and had hoped that one year they would be able to gather enough late-season momentum to sneak into the play-offs for the chance to gain promotion to the Premier League. But it wasn't to be.
"I managed to make my debut when I was 16 or 17. Every year we were pushing for the play-offs, so as a club it was the perfect start for me.
They had some really good pros that would put me in my place if I ever stepped out of line, which is the way it was back then — you got schooled by the senior players — if you messed about you were in for it.
"It made me understand the pecking order of football, the respect within football.
John Aldridge was a player there before he became a manager, he was fantastic with me. It was a great family club with a lot of tradition.
"A lot of players speak about that they should have done this or that they should have done that, but I have no regrets about my career, especially at the start."
The midfielder, who was named the FAI U21 Player of the Year in 1999, went on to score 13 goals in 120 appearances in his first spell with Tranmere that also included a run to the EFL Cup final in 2000, where the Birkenhead-based club lost to Martin O'Neill's Leicester City.
I never watched the final back, but about six weeks ago my little daughters were wondering what I did because they never understood, so my wife got some footage out and they were watching the final.
"I actually watched the whole game and I was thinking we actually could have won that — we had plenty of chances in the game.
But as an experience for a young lad from Dublin, they are the days you dream of — I was only playing in Pearse Park a few years before it."
A taste of Wembley whetted Mahon's appetite for some potentially big occasions ahead at Sporting Lisbon, but ultimately a lack of chances to impress in the first-team left the then-22-year-old frustrated.
I really wanted to test myself, when I went out there I wanted to play games. They had a roster of about 40-45 players all vying for places, that's excluding the youth players coming through like Cristiano Ronaldo.
"I was desperate to play. When I went out there, the opportunities were few and far between."
Mahon, who won the first of his two Ireland caps earlier that year, had to wait until the end of that October to make his first appearance for the Portuguese giants, but it was well worth the wait with his dream debut coming against the Galacticos of Real Madrid at the Bernabeu in the Champions League.
Although Vicente del Bosque's men had already secured qualification to the next group stage, their side that day still included the likes of Roberto Carlos, Claude Makelele, Guti and Luis Figo.
Meanwhile, Sporting's Champions League aspirations were already shattered by the time matchday five came around, but the outside chance of reaching the Uefa Cup — now the Europa League — as the third placed team remained a possibility.
"I got told the day before that I was playing. I'm actually getting quite emotional because my dad and mum couldn't be there.
I was playing a team like Crewe a few months before and all of a sudden I am playing Real Madrid in the Bernabeu in the Champions League. It was a big thing. I look back on it now with a lot of happiness — one of the highlights of my career."
The game though did not go according to plan, with Mahon substituted at the break with his side 2-0 down. Fernando Morientes came off the bench in the second-half to score twice to complete the 4-0 rout.
I got Figo's jersey at the end of the match. I probably moved quicker for that at the end of the game than I moved during the match," Mahon jokes.
In December, Mahon closed in on a return to England after playing just one more time for Sporting — the same month they sacked manager Augusto Inácio after a poor run of results — this time as a substitute in the league win over Belenenses.
A restlessness over the lack of game time resulted in Mahon swapping Lisbon for a loan move to back to the Championship with Blackburn Rovers.
I got to play and train with the likes of Paulo Bento and Joao Pinto, training with these type of players on a day-to-day basis improved me technically, but I needed more, I needed games.
"In fact, the public were allowed in to watch the training but they also had two local papers who would give you marks out of ten just for your training. There was that type of pressure the team was under.
But I was used to playing every week with Tranmere. I spoke to my agent at around Christmas time and said this is not what I came here for — I haven't come to sit on the bench or not be involved — it was difficult. I had played regularly since I was 17, so I didn't want it to stop."
In the summer, Mahon signed permanently with a Blackburn side managed by Graeme Souness, after he helped Rovers earn promotion to the Premier League. The Dubliner was also part of the Blackburn squad that beat Tottenham to win the League Cup the following season.
Mahon would go on to spend the majority of the rest of his career in England's North West with permanent spells at Wigan — where he again won promotion to the Premier League — and at Burnley, before ultimately retiring in 2011 after a second spell with Tranmere.
I always said I would be honest with myself when calling it a day.
"I was getting a couple of niggling injuries and it was the year my father passed away. Like a lot of Irish boys, my dad was a big part of my life. He died in the March and I retired that June.
I had a year left of my contract with Tranmere, but I was sitting on the bench and I felt I was clogging up the space. There were young lads trying to get through, players such as Aaron Cresswell, I was thinking it was better for me to retire, give the younger ones a chance and crack on with my life."
Despite pursuing other business interests outside of football after hanging up his boots, it was difficult for Mahon to completely remove himself from the sport he had immersed himself in since he was a boy, and he has since progressed to become the assistant coach of the Manchester City Women's team.
"I missed the hustle and bustle and structure of day-to-day football; it was what I have been doing since I was a child out in Crumlin.
After missing it for three or four years, I spoke to Mark Allen who I had known for a while, and he is the Head of the Man City Academy.
"He was the one that gave me the opportunity. He said: 'Go off and do your badges, come back to me and we'll organise something for you, as long as you are willing to work hard.'
I got my badges and he said that the Women's team was up and coming and that he was very proactive in pushing it.
"As they hadn't had much coaching before, he said that the girls would be really receptive; he thought it would be very good for me and very good for them.
"And because the club are so proactive in pushing the team and giving them everything they need to become better players, it became an easy choice for me to come."
Fortunately for Mahon and the team, it has resulted in a mutually beneficial relationship with Nick Cushing's side claiming their first Women's Super League title last season.
The aim to eventually emulate the Arsenal team that have dominated the women's game in England with 11 league titles since the turn of the millennium will be a difficult one to achieve.
But to help the team's cause, the affiliation between the Women's side and Manchester City has been strengthened and revamped to a more "formal partnership" to provide the team with the extra resources needed to develop into one of Europe's top clubs.
This has also coincided with the team name changing from Manchester City Ladies to Manchester City Women.
Within the team is current Ireland international Megan Campbell, who joined City last year after the full-back completed her scholarship at Florida State University, and is the sole Irish representative in the side.
Earlier this month the 23-year-old was among the players that voiced her dismay with the way the FAI treated the national Women's team in the well-publicised dispute, but the facilities and structures appear to be in place for the side to succeed at City.
"The Women's team are integrated within the City Academy – we're not stuck in the corner – we're centre to where everything is.
When we play a lot of coaches from the club turn up and watch our training and games. The girls will also talk to various other coaches within the Academy. I haven't seen any other team in the world, but especially in England, push it as much as City have.
"Pep [Guardiola] has come to a few of the sessions to see the girls train, even though he is a busy man with a lot on his plate with his own team. The Academy staff then in general too would come over to have a look. It's quite an open place in wanting to learn.
I think it is down to how the club are in general, everything we do, we do right, and the women's game is no exception.
"It has been an eye-opener for me in terms of people who really want it. The girls really, really want to succeed.
They are all really passionate about it. It has also been really good for me; I get the chance to dip into the methodology of Man City, which is the same across the board."
Mahon is not the only former Ireland international who is part of the coaching setup at City, with Mark Kennedy and Lee Carsley Head Coaches of the male U15 and U18 sides respectively.
I will eventually go back into men's football, but this has been fantastic for me. The club have been very good to me and have really looked after me in terms of my development as a coach. Anything you need to become better as a coach, they will provide.
"I'm still new to the coaching world, I'm still learning and still got a lot to learn, but I am in a very good place to do it."
The42 is on Instagram! Tap the button below on your phone to follow us!