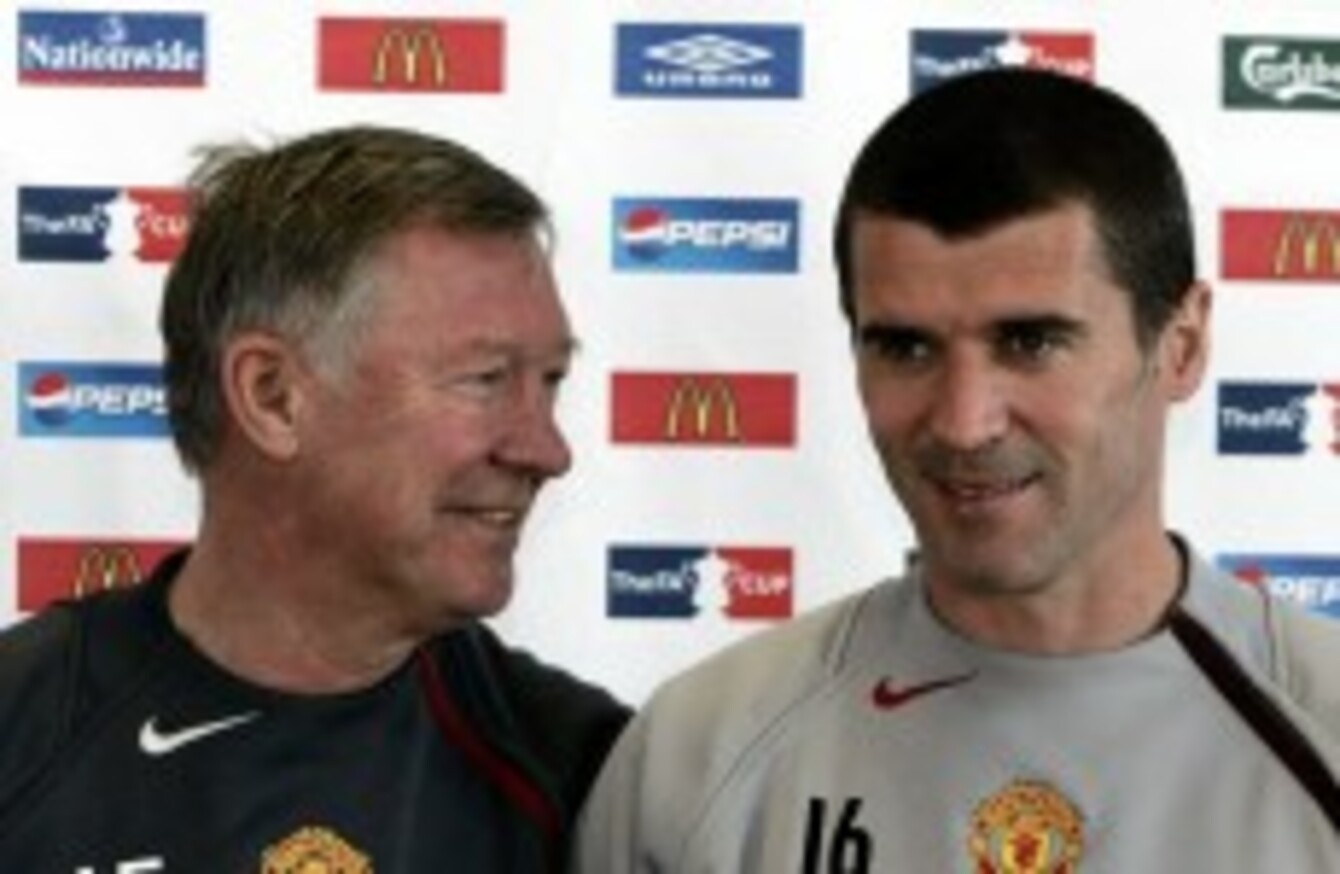 Keane was at one stage planning a book that would claim Ferguson had lost his hunger.
Keane was at one stage planning a book that would claim Ferguson had lost his hunger.
1. I owe the man a huge debt of gratitude myself, for giving me the interview that was to change my life in 1997.
I had been getting short shrift at press conferences from Fergie for a couple of years as the Manchester reporter for the Press Association when I was offered a one-on-one with him to promote his book 'A Will to Win.'
My nerves were shredding when he greeted me at the door of an executive box overlooking the Old Trafford pitch.
Writing for the Mirror, Simon Mullock recalls the first time he interviewed Alex Ferguson.
2. As I lurked near the dressing-room doors, Ferguson, his face a familiar shade of angry puce, spotted me.
"You know you're not f***ing allowed down here," he bellowed, bursting through double doors.
"F*** off!", he continued to bawl, as I made a hasty retreat down to the mouth of the tunnel.
And a host of Mirror writers also recalled their experiences of the Manchester United manager over the years.
3. Roy Keane was thinking of writing a book, a follow-up to his autobiography that would have picked up his story from 2002 onwards. Part of the book would be an exploration of how Ferguson's focus had become blurred, how he had his head turned by his new friends among the thoroughbred horse-racing elite and how his hunger had lessened as a consequence.
There was a story about Ferguson bringing his new billionaire pal (soon to be his sworn enemy) John Magnier to the United team hotel in Germany on the day of the 2002 Champions League semi-final second leg against Bayer Leverkusen. Ferguson introduced Magnier and his equally monied friend, JP McManus, to some of his team, eventually getting to Keane who greeted them with a perfunctory hello delivered in the unmissable style of a man who clearly didn't believe they belonged there, no matter how important they were. This was held up as an example of a less than focused Ferguson. The Fergie of old would have treated the team hotel as a fortress on such days. Nobody would have got in, regardless of wealth.
Tom English recalls a Roy Keane book that never was, and the ruthless nature of Alex Ferguson's genius.
4. Ferguson won his first trophy in 1977 and his last in 2013. That's 36 years – or 29% of the codified game's history. Remarkable.

For all the platitudes about no one man being bigger than any club, all of Manchester United's current defining qualities are Ferguson's: resilience, character, come-backs, last-minute winners. Many players and managers have spoken about how that genuinely conditions everything they do on a pitch against United. That almost intangible level of intimidation is now gone. The club suddenly feels a little more mortal, without much of the magic.

Miguel Delaney illustrates how the glowing tributes about Sir Alex's greatness are backed up by hard statistics.
5. Ferguson's team for his first game, at Oxford United, was: Turner, Duxbury, McGrath, Moran, Albiston, Hogg, Blackmore, Moses, Stapleton, Davenport, Barnes. Ferguson, determined to get to his first team-talk right, managed to call Peter Davenport "Nigel" by mistake. They lost 2-0.
Twenty-six years on, we probably have a better idea why he could not bring himself to face the media after that defeat to Real Madrid in the Champions League in March and the shattering effects it must have had on him, knowing as he did that it would be his last stab at the trophy he has always coveted the most.
Writing in The Guardian, Daniel Taylor assesses the United manager's matchless legacy.
6. Even halfway around the world, chasing the Asian or American  market, United never lost their sense of identity and that is down to him, his faith in youth, in soul, in moulding a group that was more than just an accumulation of  marquee names and galactico egos.
He could have turned Manchester United into Real Madrid or modern Manchester City, he could have tried to take the fast track. The path he chose instead was tougher, longer, more painstaking. It required tremendous attention to detail, a knowledge of every player, from the star of the first team to the schoolboy getting off the bus with his homework still in a rucksack on his back.
Martin Samuel delves into the inimitable manner of Ferguson's time in charge at Old Trafford.
7. Success is an aphrodisiac and in the 1970s and early 1980s, Liverpool seemed to have a monopoly on it in English football.

The game thrilled then to the feats of Kevin Keegan, Steve Heighway, Graeme Souness, Ian Rush, Mark Lawrenson, Alan Hansen and the king, Kenny Dalglish.

Liverpool swept all before them domestically and in Europe. They were like a red machine. It was hard to imagine their dominance ever ending.
Oliver Holt looks at how Alex Ferguson utterly transformed English football, and made United the team to beat.
8. Moyes's big challenge will be to reinvent himself from a manager whose team tends to play direct football and often relies on others' mistakes to one which can force the pace, dominate the opposition and control a game. This style may just have been down to the circumstances at Everton and he'll take a different approach with United; we'll find out soon enough.
For the moment United hang on to their status as a dominant force in world football due to the sheer magnitude of the club and their relatively recent European glories, but another one or two seasons without Champions League silverware is likely to be critical for a club whose huge global fan base hungers for more than just domestic glory and whose business model is dependent on continued success. So you could say it's a big risk to take a manager with extremely limited European experience.
Writing in The Guardian, Tor-Kristian Karlsen suggests Jose Mourinho may have been a better choice than David Moyes to replace Ferguson.
What have we missed?