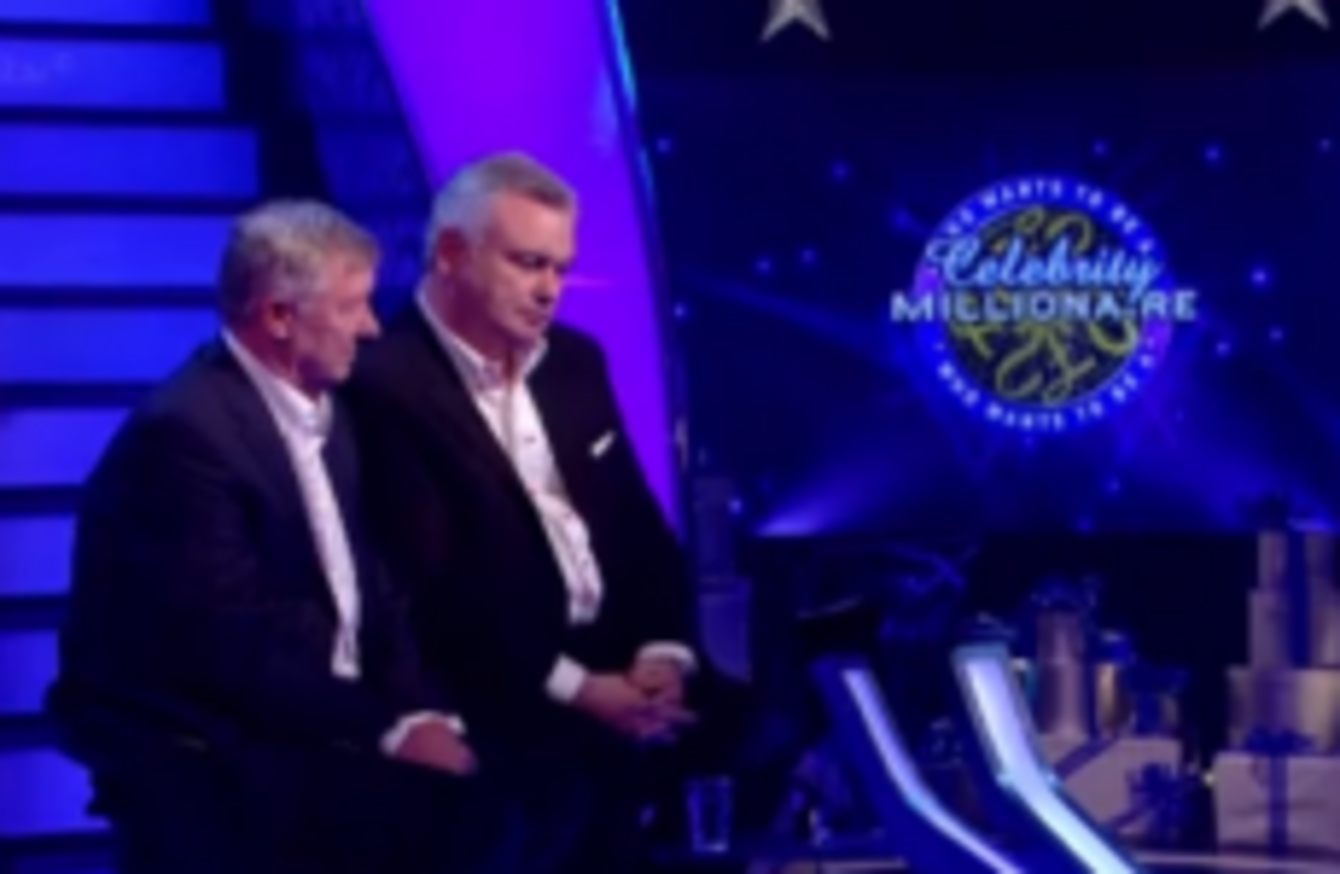 Fergie and Holmes: struggled with the £125,000 question.
Fergie and Holmes: struggled with the £125,000 question.
ONE OF THESE nights, you'll be able to switch on the television without having to watch Alex Ferguson.
Last night was not that night.
The former Manchester United boss teamed up with Eamonn Holmes for a celebrity edition of Who Wants to be a Millionaire?
Fergie and Holmes survived Chris Tarrant's grilling and won £50,000 for their charities — but how would you have done with the same questions?
1. £500 — Complete this line from Wham's classic song, 'Last Christmas, I gave you…'?
(A) My heart (B) Fine art (C) A la carte (D) Some art
2. £1,000 — On Sunday, who was crowned the 2013 'X Factor' winner?
(A) Sam Mendes (B) Sam Bailey (C) Sam Neill (D) Sam Fox
3. £2,000 — Which of these completes the name of an English League football club in Sheffield?
(A) Monday (B) Tuesday (C) Wednesday (D) Thursday
4. £5,000 — What new minimum hourly wage for over-21s was introduced in the UK in October?
(A) £4.31 (B) £6.31 (C) £8.31 (D) £10.31
5. £10,000 — Notching up more than 21 million copies, which of these has sold the greatest number of cookery books in the UK?
(A) Rick Stein (B) Nigel Slater (C) Delia Smith (D) Nigella Lawson
6. £20,000 — Margaret Thatcher regularly had 'Carmen' listed in her daily diary, indicating an appointment with her what?
(A) Housekeeper (B) Press secretary (C) Travel agent (D) Hairdresser
7. £50,000 — What has been the most common surname in Britain since civil records began?
(A) Jones (B) Taylor (C) Smith (D) Brown
8a. £75,000 — Which of these creatures has three hearts?
(A) Oyster (B) Jellyfish (C) Seahorse (D) Octopus
8b. £75,000 — In which of these countries do residents pay half the usual amount of tax in December so they have more money for Christmas?
(A) Germany (B) Sweden (C) Switzerland (D) Norway
9. £150,000 — What name is given to the indentation on one side of a common brick?
(A) Newt (B) Frog (C) Toad (D) Tadpole
How did you do? Here are the answers:
1. A 2. B 3. C 4. B 5. C 6. D 7. C 8a. D 8b. D 9. B