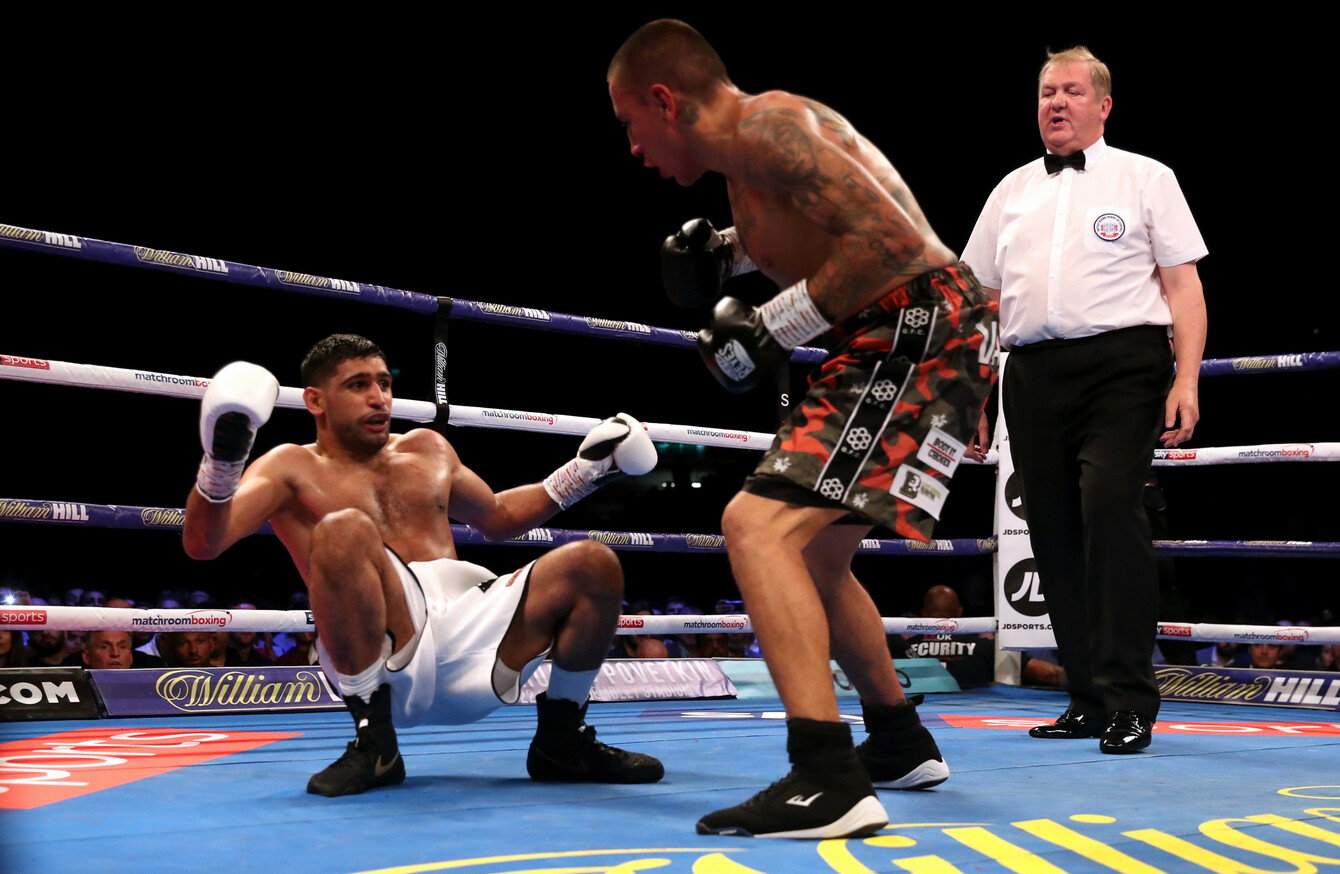 AMIR KHAN peeled himself off the canvas and survived a number of scares as he earned a wide unanimous points decision over Samuel Vargas.
The former light-welterweight world champion was twice saved by the bell and looked years beyond his electric best in Birmingham but scored two knockdowns of his own en route to a 33rd career win.
The scores of 119-108, 119-109, 118-110 were more than fair and Khan claimed following his win that he had been keen to go the 12-round distance, but nothing about his performance — or indeed his physical shape — will have struck even a semblance of fear into any of the world's top welterweights.
"It was a flash knockdown"

Amir Khan admits he made mistakes against Samuel Vargas despite victory.

📲 Follow here: https://t.co/HOy8jzD96n pic.twitter.com/S2eCCZvcvm

— Sky Sports Boxing (@SkySportsBoxing) September 8, 2018
After a strong opener, Khan brought the Birmingham massive to their feet with a second-round knockdown, dropping Vargas with a straightforward one-two.
At the end of the sophomore stanza, however, the arena became an oxygen vacuum when Vargas — by no means a puncher with 14 KOs from 29 wins — detonated a picture-perfect overhand right on Khan's famously indisposed chin, sending 'King' Khan crashing to the canvas.
The Briton was unsteady on his legs but the bell came to his aid.
🥊 KHAN DOWN 🥊

Amir Khan is put down right on the bell at the end of the second round, after earlier dropping Vargas! In to the third.

📺 Watch #KhanVargas live on Sky Sports Action now
📲 Or follow here: https://t.co/HOy8jzD96n pic.twitter.com/GQy9bKl2J4

— Sky Sports Boxing (@SkySportsBoxing) September 8, 2018
And the minute's break proved the perfect antidote for Khan, who scored a second knockdown of his own a round later with a right hand that appeared to stray towards the back of Vargas' scalp.
The Colombian-born Canadian resident complained immediately as he rose to his feet, but referee Tery O'Connor, his count having already reached the obligatory eight-second mark, waved away his protestations.
Khan, who sparred Monaghan teenager Aaron McKenna in LA during his fight camp, was conspicuously fleshy around the midriff and much of his work was suitably sluggish and sloppy by his standards.
He did well to swallow another couple of huge Vargas right hands to the jaw in the final 70 seconds of the fourth, only truly finding his own sustained success when he instinctively retaliated with one angry fusillade sandwiched between them. Still, he had done enough during the two or so minutes which preceded that latest scare to bank another round.
Penny for Kell Brook's thoughts at this juncture, though: Khan's career-long nemesis was sat ringside and, on the one hand, must have found it fairly mirthful to watch the Bolton man regularly caught flush; on the other, though, his multi-million-pound payday was dangerously close to being flushed down the jacks.
Khan, however, exploded into action to start the fifth, launching a series of unanswered, multi-punch assaults as the nearly-overwhelmed Vargas briefly froze in sheer panic.
The 29-year-old weathered that particular monsoon and held his own in a comparably quiet sixth, targeting Khan's relatively soft body and taking most of the home fighter's efforts on his arms and shoulders.
HOW DID VARGAS STAY IN THERE?

Khan has Vargas on the ropes in round five but somehow the challenger grabs hold.

📺 Watch #KhanVargas live on Sky Sports Action now
📲 Or follow here: https://t.co/HOy8jzD96n pic.twitter.com/96Fto9XQlT

— Sky Sports Boxing (@SkySportsBoxing) September 8, 2018
Into seven — a round which Khan hadn't seen in over three years — and Vargas first unsettled Khan with a neat left hook in an exchange before planting two more thudding rights on the taller man's whiskers. Khan, reckless intermittently throughout, regained some composure a round later, a tidy right hand the highlight of another tame verse which he largely bossed.
Halfway through the ninth, Khan appeared to have almost irretrievably captured the ascendancy, dictating the tempo behind his jab and sending an off-balance Vargas sprawling towards the ropes with a fleeting three-punch combination to both floors.
He rubber-stamped his control with a cuffing left hook to the visitor's ear on the bell, and Vargas retreated to his corner with a shake of his head.
The younger fighter was scarcely dispirited, though: Vargas poured forward in the 10th, barraging Khan's body in the corner and briefly forcing 'AK' to hold.
With seconds left before the championship rounds, there were gasps once more from the English crowd as Khan was left dancing the funny dance: a lazy retreat was punished by Vargas who caught the former world champion clean on the chaffer with a powerful right.
Legs jellied, Khan defiantly goaded his foe before being guided onto his stool.
Again, Khan stymied the Colombian's flow in the 11th, nicking another round with his jab.
He upped the ante once more to start the final three minutes before Vargas had one last go at it. Wary of getting clipped on his way to what was bound to be a wide points win, Khan got on his bike and prodded his way to the final bell.
Following the announcement of the scores, Khan confirmed that his preferred next opponent is Manny Pacquiao while also expressing an interest in finally facing fellow Briton Kell Brook.
Promoter Eddie Hearn, under whose Matchroom banner both men fight, suggested that if Khan vs Brook doesn't happen next, it never will.
The42 is on Instagram! Tap the button below on your phone to follow us!