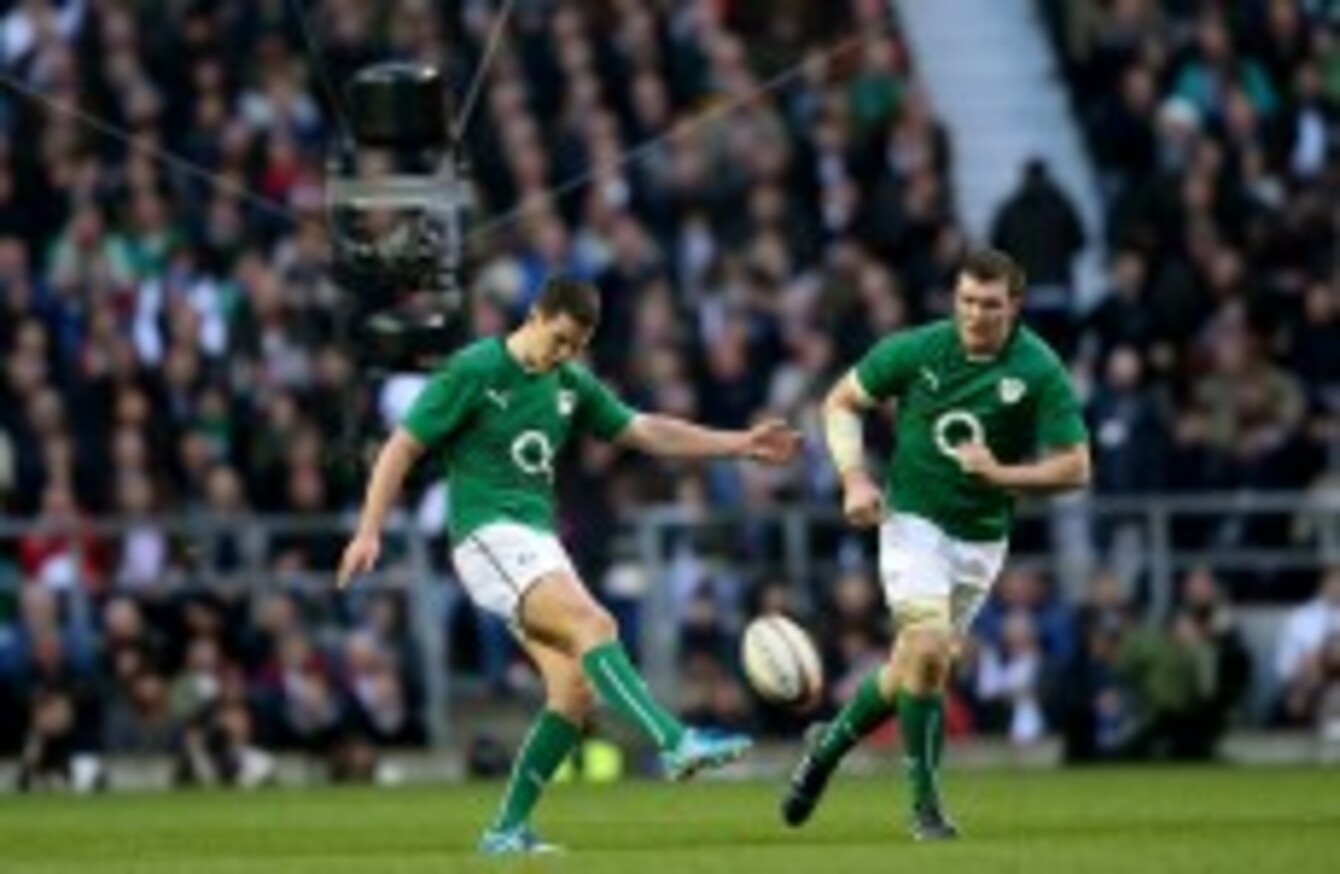 Jonny Sexton's kicking will need to be accurate against the French counter-attack.
Image: James Crombie/INPHO
Jonny Sexton's kicking will need to be accurate against the French counter-attack.
Image: James Crombie/INPHO
RUGBY IS OBSESSED with structure.
Just as ankle-high boots and sneaky punches were cornerstones of the sport in decades gone past, providing one's team with pre-agreed attacking patterns and shapes is now widespread.
Sending a professional team onto the pitch without an attacking system, without the players understanding where they need to be for at least the first three phases of attack, is seen as a failure on the head coach's part in our pattern-infatuated game.
That is the stick being used to beat Philippe Saint-André at the moment, with his France team looking bereft of attacking structure, to the point that the players themselves often seem unaware of what exactly they are doing when they are in possession.
Are France simply a poorly-coached team, or is there more to their attacking ideas than meets the eye?
Quel est le plan?
France have been the least aesthetically pleasing team to watch in open phase play during this Six Nations, but their seven tries in four games is an illustration that they have not had major issues crossing the whitewash when they really need to.
That is, in large part, down to their magnificent counter-attacking ability, which we will look at in more depth later in this piece. Going through the phases, it has been difficult to pick up a discernible shape to France's play, meaning this was a difficult issue to tackle!
We have seen many instances like the one below, where Saint-André's men lose a full 10 metres on a single phase of play.
While a team does not necessarily have to make yardage with every single phase of their attacking play, this has been a repeated feature of France's attack in recent weeks. As above, there appears to be a lack of ideas amongst the players; they simply don't seem to have a structure that they can easily fall into when they are attacking.
We get another typical example in the video below, this time against Wales. The sheer lack of pace in France's phase play is notable in the clip, as is the apparent lack of understanding amongst the players regarding what they will do next.
After the first painstakingly slow ruck, Thomas Domingo's linking pass appears to take Wenceslas Lauret totally by surprise and another clear five metres of territory are lost. Even a simple mini-play like a short linking pass from forward to forward is not expected by the French players.
Even when France get into vital attacking positions on the pitch in phase play, they have continued to demonstrate a similar lack of shared understanding in what they will do next.
The GIF below shows such an occasion in the defeat to Wales, with the French attacking inside the home team's 22. Turning visits to the 22 into points on the scoreboard is a crucial, crucial facet of international rugby at present but even in these positions, France are seemingly rudderless.
In the instance above, replacement out-half Rémi Talès actually does well to carry the ball right up to the gain line after receiving quick ball from the preceding ruck [which as we'll touch upon below, hasn't always been the case for France].
After that positive action, there is plain confusion at what the out-half wants. Captain Pascal Papé [4] is clearly expecting Talès to carry the ball, Nicolas Mas [3] appears ready to accept the pass back inside, while Yannick Forestier [17] seems to have no idea what is going on.
It ends with a wasteful knock-on in a key area and Wales are off the hook defensively. This is not a standalone example, rather an illustration of what is happening repeatedly for the French.
We get a further snippet of similar play in the video below, with France shovelling poor passes along the line and wasting what starts as a decent attacking opportunity, with Italy a little light on bodies in the defensive line.
France are getting themselves into some good attacking positions [pause the clip above after one second and you can see that the French are actually numbers up out on the left.]
The fact that they are managing to create decent opportunities to make further gains is because they have physically powerful ball carriers. Men like Dimitri Swarzewski and Louis Picamoles will make gains when in possession more often than not, as long as the passes they receive are not of the hospital variety.
Once they get onto the front foot, it appears that Saint-André wants his French team to make decisions for themselves on the pitch, not only in terms of whether to kick for goal or go to touch and so on, but within each actual phase of attacking play.
Encore, le dix est un problème
Yesterday, we looked at the defensive issues that have made Jules Plisson's early international career a difficult time. After a solid debut against the English in the first round, the 22-year-old has gotten worse with each passing week.
We are huge fans of the Stade Français playmaker and he has been sublime in the Top 14 this season, but the Six Nations is an entirely different proposition and Plisson appears to be struggling with the pace and physicality of the game.
That has resulted in some of the attacking skills that first earned him a place in the French team going out the window. From an out-half who assaults the gain line domestically, Plisson has fallen deeper and deeper into the pocket for France.
That issue is highlighted in the GIF above, as the youngster runs across the pitch before releasing his pass. By the time he completes the pass to Wesley Fofana, Plisson is actually moving back down the pitch away from Italy.
It may not seem hugely important, but it means the likes of Fofana, Mathieu Bastareaud and Brice Dulin are receiving possession with two men on top of them, as defenders have been able to drift off the non-threatening Plisson.
We must stress that the intention is not to lay all of the blame for France's problems at the feet of Plisson, but the out-half is such an integral part of any team. The fact that Saint-André is demanding even more from his players in open play by not providing them with set structures makes the number 10 even more crucial.
A key part of Plisson's skillset is his running threat [one of the reasons we believe he can be a long-term success for France], but that simply hasn't shown up on the international scene.
While he has repeatedly cut apart Top 14 defences this season, Plisson has zero line-breaks and has beaten a single defender in his four Six Nations games so far. That is emblematic of the better defences he is facing, but also of how deep he is lying and his failure to take the ball to the gain line.
Le rêve
So have we seen any examples of what Saint-André is looking for from his team in attack?
The former Sale Sharks coach was understandably thrilled by the match-winning try against England in Paris, but beyond securing the result, it gave us a glimpse of what France are after.
While some of the passing in the passage of play above is very inaccurate, it is hugely impressive attacking play and gives us some indication of what France can achieve. Assistant coach Patrice Lagisquet was at pains to praise this try after the game, stressing that is was an example of what Les Bleus' coaching team are striving to build.
France play into the centre of the pitch initially before coming back to the left side of the pitch [a repeated pattern in their play and something we'll come back to]. The ball arrives in Dulin's hands and it's obvious again that France haven't called any mini-play [for example, the loop Ireland use].
Instead, the players' decision-making is tested, and Fofana comes up with the goods, looping a pass over the rush defence and allowing Fickou the space to use his footwork. Play comes back into the middle of the pitch and rather than simply accepting the loss of metres in contact, Damien Chouly throws a perfect offload.
The ball is shipped wide to the right, where the attacking abilities of an individual [this time Yannick Nyanga] are given the chance to flourish. Once again the ball is sent to the middle of the pitch, where Fofana offloads and then two forwards [Papé and Swarzewski] are involved in putting away the try-scorer with their handling ability.
We see more of the same in the second video above. Sébastien Vahaamahina [19] understands that Guilhem Guirado [16] is in danger of being choke-tackled, so makes the decision to strip the ball and burst off to the right.
From there, Chouly runs a diagonal line to the right, but crucially Fofana reads his intentions and offers a smart switch line to continue the progress. Next, Talès gets flat to the line to take out George North and Papé reads the popped pass just outside the out-half. In a two-on-one situation, the lock then makes a good decision to dummy and run.
These passages of off-the-cuff rugby based around strong decision-making and intuitive understanding of teammates's intentions are what Saint-André wants to see more of. England and Wales have trouble defending in these two examples because they really don't know what to expect.
However, clips like the two above are few and far between in France's play during this Six Nations. More often than not, we are seeing the muddled, sloppy play illustrated at the start of the article.
Dulin, le maestro
Perhaps the key attacking weapon in France's armoury is Castres fullback Brice Dulin. The 23-year-old is a thrilling counter-attacker, as we will see, but his awareness of space and darting footwork make him a real threat in open play too.
Within France's often-structureless structure, his individual skills have the potential to do lethal damage to Ireland's defence. We saw in two of the clips above how France switched play back to the left of the pitch to get the ball into his hands in phase play, a repeated habit in their attack.
As demonstrated in the video above, France like to work their way from left to right, getting to midfield or even a little further beyond that through their forward carriers, before switching the ball back to the left and into Dulin's hands.
The intention is for the fullback to get one-on-one with forwards [that's Luke Charteris he runs at in the clip above] in the defensive line, either beating them with his footwork and pace, or drawing them in to release a teammate with a short pass.
While it doesn't result in a line-break above, one can see what France are trying to do and it's one of the few patterns that they do repeat in open phase play. Saint-André's men have done exactly the same thing in each of their games, with the example below coming against Italy.
Note again how Dulin picks out a slow forward [this time hooker Leonardo Ghiraldini] and uses his pace to exploit the one-on-one.
Many teams in the world of rugby operate with the basic attacking pattern of working across the pitch in attack. That is, they will use up all the space on the pitch as they move left-to-right, before coming back across the pitch from right-to-left.
As we see in these examples, France are happy to deviate from such tactics, and Ireland's assistant coach Les Kiss has referred to the "multi-directional" attack of Saint-André's side. It means that Ireland cannot afford to switch off in the 'blindside' channels.
Expecting France to continue to work out towards the right-hand touchline will leave Ireland open to these switches in attacking direction as Dulin looks to pick out their slower, less agile defenders [Mike Ross, Paul O'Connell, Devin Toner and Rory Best will need to be on their toes].
Below, we get another example of the same plot, but England show Ireland exactly how to manage this attacking tactic.
England stay 'alive' on their feet, not resting back on their heels as play moves away to the right side of the pitch. They're alert and proactive when the ball is shifted back to the left to Dulin, coming off the line and taking him out before he can really target an individual.
Jouez!
Where Dulin really comes into his own is on counter-attack, the area of the game where France pose the biggest threat to Ireland's chances of winning at the Stade de France. Saint-André's men are certainly one of the strongest counter-attacking teams in the world and Ireland's kick chase will need to be inch-perfect to cope.
Dulin makes up the French back three with Toulouse pair Maxime Médard and Yoann Huget, and all three players have superb evasion skills as well as a strong understanding of space on the pitch.
Many of rugby's fastest players fall down on their inability to identify areas of the pitch to actually run into, but that is no issue for this thrilling French trio. Dulin is at the heart of it all, the leader of les Bleus' counter-attack.
The GIF above gives us a typical example of the Castres' man's skills in this area. Italy launch a poor garryowen [it's too long and uncontestable] and then compound their error by offering a sluggish kick chase.
The Italians appear surprised by Dulin's quick-tap and darting run, something Ireland simply cannot afford to repeat. As we see above, an apparently non-threatening situation is turned into a 40-metre gain for France, with a quick ruck to follow.
Scotland also allowed themselves to be taken by surprise on a Dulin-sparked counter-attack following a poor kick of their own last weekend, as we see below.
After Hogg's potshot of a drop goal, the only Scottish player who appears to be aware that Dulin might run the ball back is Greig Laidlaw. The scrum-half is easily evaded by Dulin and suddenly France are running at forwards, offloading out of the tackle and making an easy 50 metres up the pitch to leave Scotland in disarray.
Ireland just cannot afford to switch off for a split second when following up their kicks. Schmidt's men have been largely excellent in contesting their own kicking game during this Six Nations, and that has to continue. Giving Dulin any sort of head start is a recipe for disaster.
Ce n'est pas seulement les coups de pied
However, France are not only reliant on loose kicking and a lazy kick chase to show off their counter-attacking ability. They thrive on opposition handling errors too, any sign of weakness in ball security.
The try for Hugo Bonneval in the video above is a fine case in point, with Italy's lack of security in their passing allowing Fofana to intercept and burst clear. In that type of broken-up situation, the French are devastatingly effective.
It doesn't matter how good Ireland's scramble defence is [although it was poor for Leonardo Sarto's try last weekend]; if they give France opportunities like the one above, they will be punished through conceded tries or a huge loss of territory.
Scotland learned that with their lack of ball security in contact last weekend, as highlighted below. Scott Lawson loses the ball in the tackle and France are ruthless in immediately shifting the ball into space wide on the other side of the pitch.
Dulin is involved as ever, eating up the ground before releasing the ball. The tackle on Huget is poor, but the right wing has a habit of drawing tackles of exactly that nature, as we see in the clip below.
The situation above is remarkably similar to the example against Scotland, with a forward carrier carelessly losing possession in contact and France shifting the ball swiftly to the far side of the pitch.
Huget and Dulin are integrally involved, and while there is a slice of fortune with the bounce, France deserve it for their stunning intention to counter-attack. The lessons for Ireland are clear – ball security must be prioritised.
That does not mean taking no risks whatsoever in attack, Ireland still need to push to score tries when they have the ball. However, Schmidt's side have avoided offloading out of contact in their four games so far [they have made just 23 offloads, compared to France's 67 so far] and that seems extremely unlikely to change.
The Ireland head coach recognises that international games such as the one that awaits on Saturday are lost on 'fine margins' and appears determined that a failed offload attempt will not be the element that denies Ireland victory in Paris.
J'ai peur de la sortie
When the opposition have the ball, the defensive team's attitude in rugby should always be based around turning the situation into a chance to score tries. As we have just seen, France bring that mindset to those precious turnover situations where defence becomes attack.
While Ireland lack a similar counter-attacking threat to the French, there may be opportunities of a different sort to benefit from when France have the ball. Saint-André's men have been sloppy in so many aspects of their play when in possession, and their exit strategy is no different.
When we speak of an 'exit strategy', we refer to a team's plan for kicking the ball out of their own defensive zone of the pitch. Ireland have been strong in this area, patiently using forward runners to get onto the front foot before allowing Conor Murray and Jonny Sexton to kick from positions of strength.
France, on the other hand, don't seem to have any plan or structure for this facet of the game, and Ireland should look to exploit that.
The example above shows scrum-half Machenaud attempting to box kick out of France's defensive third of the pitch with little success. Jim Hamilton gets an excellent block in, but the issue is with the lack of protection France's number nine has when he is kicking the ball.
We see the same failing again below, as Scotland come very close to another block down, this time from Plisson back in the pocket behind the ruck.
The problem is that France's half-backs are kicking from exposed positions, with few teammates in positions to hinder the defenders. While 'screening' and obstructing would-be blockers is obviously illegal, it is very common and most referees will not penalise it.
Again in the clip below, we see that France are not getting players into those positions before their kicks, as Richie Gray gets close to a block on this occasion.
The half-backs are certainly not blameless in these scenarios; it is their job to demand that their forwards provide some shelter for the kick in as discrete a manner as possible. We see above that Machenaud has to dig around for the ball before kicking, providing Scotland with time to get set for a blocking attempt.
Another issue with the scrum-half's box kicking is the amount of time he takes to actually gets his kick away. The little toss of the ball up into the air, rather than dropping it onto the foot, gives the defender another split-second to get a hand in, as we see below.
This example comes immediately after that wonderful match-winning try against the English, and is typical of the lack of composure and technical strength France bring to their exit strategy.
For Ireland, the likes of Toner, Peter O'Mahony and O'Connell must be alert and ready to get their block attempts in on the French scrum-half. There may be only one opportunity over the course of the 80 minutes in Paris, but France's exit strategy represents a chance to put some real pressure on.
Expecting the unexpected
Ireland's defence has functioned superbly in the tournament so far, letting in just two tries and generally giving up few try-scoring opportunities. Schmidt and Kiss' intelligent analysis of the opposition's attacking play has allowed Ireland to be aware of what was coming and to plan for how to deal with the onslaught.
However, Saturday will be the most demanding task that Schmidt's Irish defence has faced outside the All Blacks match in November. Les Bleus will almost certainly produce their best performance of the championship in front of the demanding Parisian crowd and with the stinging criticism of their own media driving them on.
The sheer unpredictable nature of France's attack, its lack of identifiable structure, could prove to be a strength as Ireland are forced to constantly adapt and react to shifts in direction.
The counter-attacking threat must be dealt with by the maintenance of Ireland's fierce contesting of their own kicking game, as well as by being proactive in snuffing the attacks out at source.
As with everything they have achieved so far in Schmidt's first season in charge, Ireland's defensive efforts must be underpinned by endless work-rate and energy. The signs point to a thrilling Six Nations denouement in Paris.