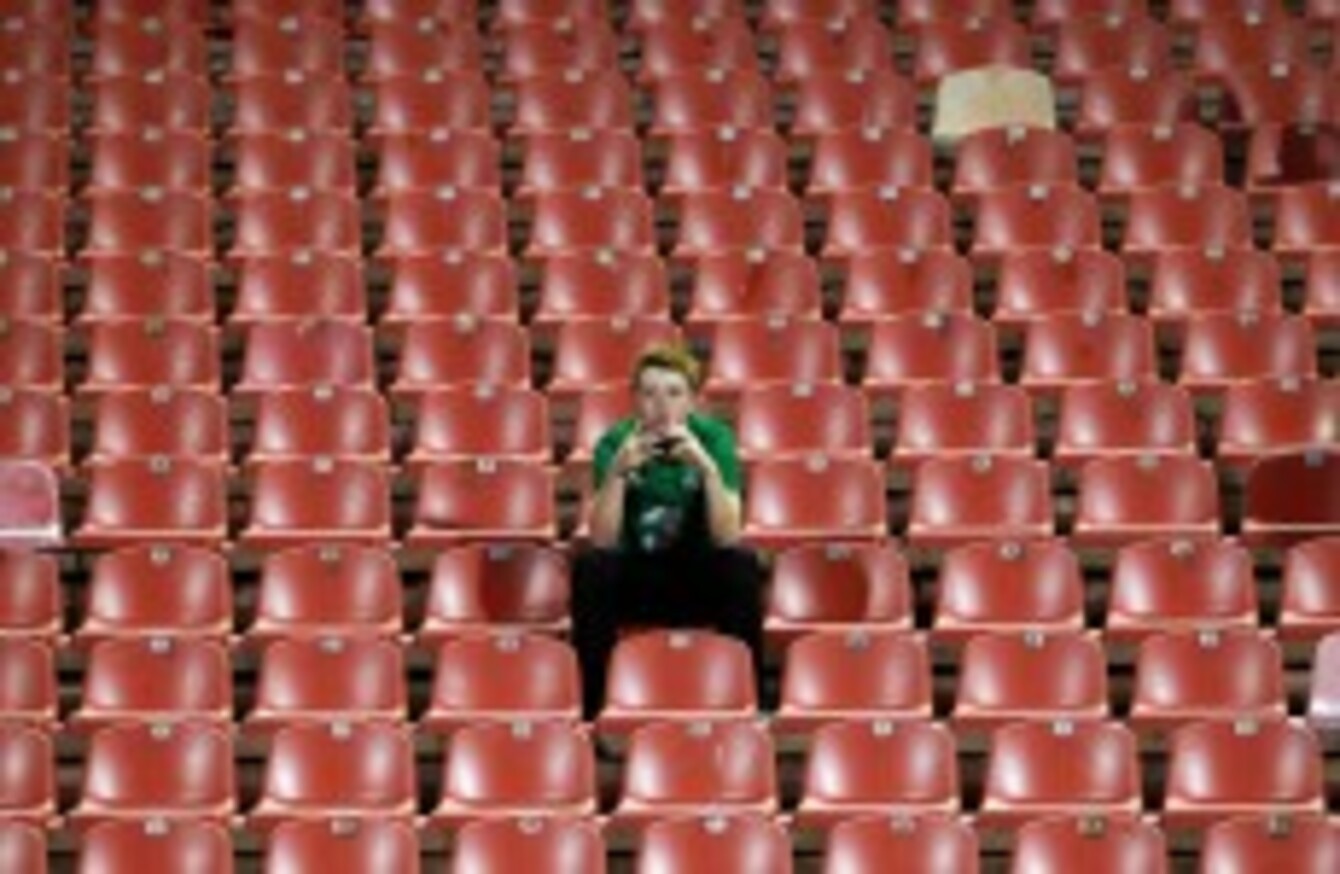 A supporter watches on during Ireland's uninspiring 0-0 draw with Serbia this evening.
A supporter watches on during Ireland's uninspiring 0-0 draw with Serbia this evening.
WHILE A DIFFERENT formation and the introduction of new faces may have suggested a stylistic revolution was about to begin as Giovanni Trapattoni's Ireland took on Serbia this evening, it soon became apparent such signs were illusory.
Long after several of the team's critics had urged Trapattoni to do so, a 4-3-3/4-5-1 system was at last introduced. The results, however, were largely the same as before.
Despite the much-anticipated presence of James McCarthy in the centre of midfield, Ireland looked uninspired for the majority of the contest.
And while Trap may have surprised most commentators by opting to play with a lone frontman, this was still very much a typical Irish performance in essence.
Many of the Trapattoni hallmarks were in place – Ireland were, on the one hand, well-organised and tough to break down, but on the other, frustratingly unambitious and reluctant to get players forward in numbers.
The emphasis, as always, was on defensive solidity and preventing the opposition from attacking – playing with a significant degree of fear, in other words.
Yet there is scope for some optimism, amid a performance that even the most die-hard Irish fan will have found considerably unenthralling.

Aside from one moment in the first half where he struggled to clear a bouncing ball, Keiren Westwood had a satisfactory first game of the post-Given era.
And the makeshift defence in front of the Sunderland man also looked assured for the most part, with fans' pet hate, Paul McShane, rarely putting a foot wrong.
The midfield, on the other hand, seemed less comfortable, as they struggled to adjust to their new individual roles.
James McClean and Aiden McGeady, in particular, looked unsure of what was required of them at times. Yet, it is hardly a surprise, given that it is the first time Ireland have adopted this system under Trap, and in McClean's case, the first time he has played in an unfamiliar central position at this level.
Other players, such as Simon Cox, Jon Walters and Glenn Whelan, worked extremely hard, but had very little to show for it ultimately.

Meanwhile, the question of where Ireland's goals will come from in Robbie Keane's absence remains a pertinent issue.
Yet though there may have been a sense of deja vu about tonight's performance, Trapattoni has at least shown he is not as stubborn as some believed, given his willingness to depart from the traditional 4-4-2 formation.
Consequently, while the new style is hardly revolutionary just yet, the players will naturally take time to adjust to its demands.
And as a result, the hope remains that brighter, more enterprising days are to come for the Irish team. And that hope, for now, is enough.
Yet with the World Cup qualifiers fast approaching, it's imperative that Ireland's youngsters master this learning process promptly.