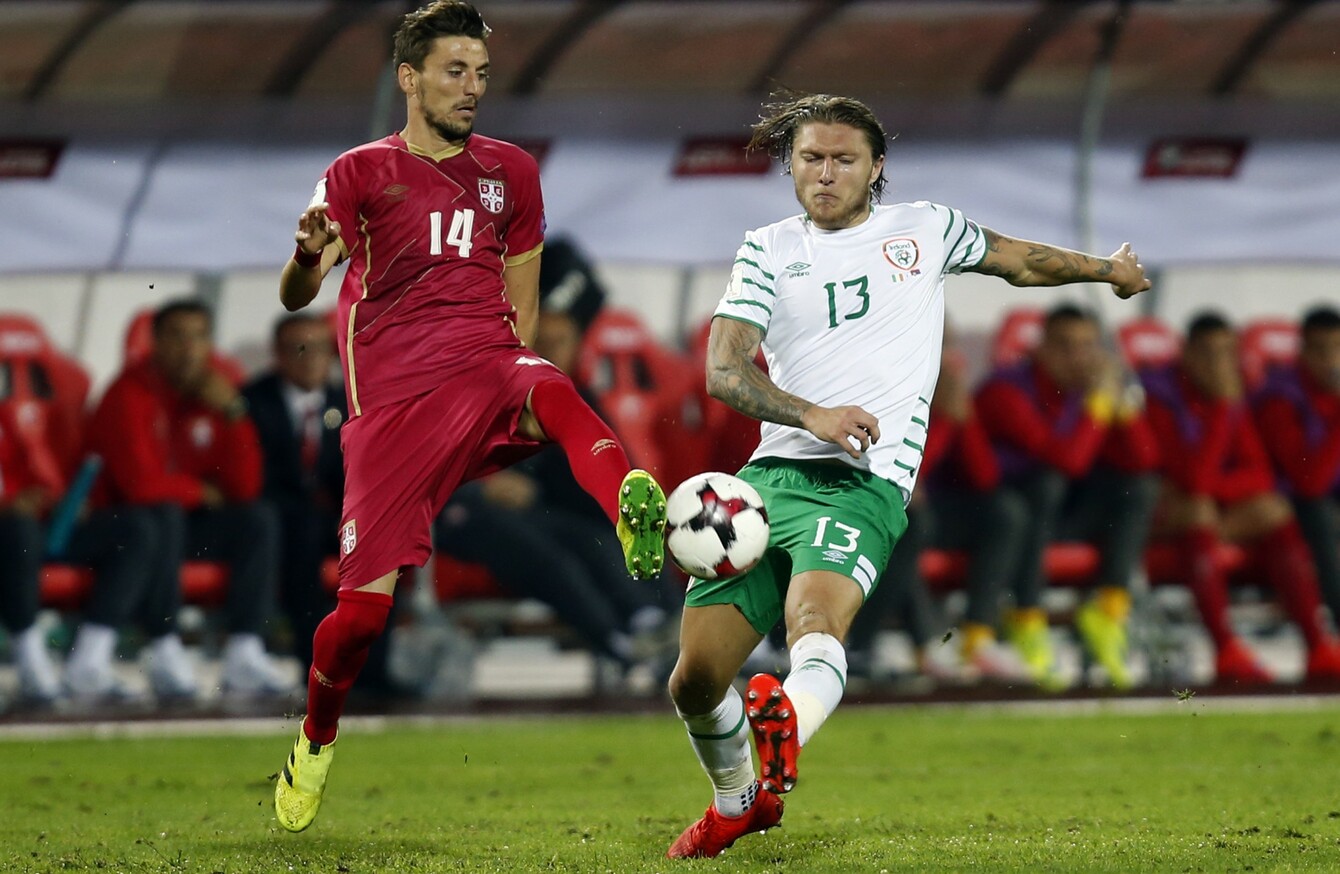 Serbia's Filip Mladenovic, left, battles for the ball with Ireland's Jeff Hendrick.
Serbia's Filip Mladenovic, left, battles for the ball with Ireland's Jeff Hendrick.
Overview
ANYONE WHO WATCHED the Serbia-Ireland game during the week will know that it wasn't pretty from the visitors' perspective.
Ireland secured what many, including goalkeeping legend Shay Given, deemed a "good point," drawing 2-2 thanks to Daryl Murphy's 80th-minute header.
Serbia were deemed formidable opposition and were unlucky not to win the game on the balance of play, even if the penalty that put them ahead came about as a result of a contentious decision.
The hosts missed two gilt-edged chances in the second half – Andrija Pavlovic hit the crossbar after Darren Randolph spilled a Filip Mladenovic shot, while the West Ham goalkeeper saved a Branislav Ivanovic effort from close range, before Seamus Coleman cleared the ball off the line.
Yet while the result was in many ways positive, the same cannot be said of the performance. Aside from a brief opening flurry that led to the first goal, in addition to a 10-15 minute period in the second half when they felt compelled to react to Serbia's goal, Ireland showed little attacking ambition and spent the game defending and booting the ball as far away from goal as possible.
The horrible weather and resultant dodgy pitch was cited as an excuse by some, but the two sides were playing on the same grass, and it's not as if Ireland are usually brilliant on the ball away from home — in their last qualifying campaign, technical ineptitude was a recurring theme in away matches against Germany, Scotland and Poland.
This match, however, seemed particularly bad. Serbia, despite missing two of their best players through suspension (Nemanja Matic and Aleksandar Kolarov), coming off the back of a disastrous, morale-sapping Euro 2016 qualifying campaign in which they only picked up four points (though that admittedly doesn't tell the full story) and being 16 places below Ireland in the Fifa rankings, they still looked the far superior team for much of this contest.
Passing stats
The vast majority of the game was played in Ireland's half, while Serbia also dominated possession, although it was only in the second half when they started creating clear-cut chances.
The hosts were better in every respect. According to the official Uefa website, they had 59% possession overall and had eight shots on target to Ireland's five.
Moreover, the Serbs attempted 409 passes and completed 371 (90%), while Ireland attempted 138 passes and completed 94 (68%).
Are these stats a fair reflection of Ireland's limited play under Martin O'Neill or was this just a particularly bad night?
Let's compare these passing stats with the Euros. 
Against Sweden, Ireland completed 195 passes out of an attempted 279 (70%). Sweden completed 301 passes out of an attempted 385 (78%). Possession was 54% in Sweden's favour.
Against Belgium, Ireland completed 278 passes out of an attempted 337 (82%), whereas Belgium had 407 completed passes out of an attempted 455 (89%). Possession was 54% in Belgium's favour.
Against Italy, Ireland had 225 completed passes out of an attempted 277 (81%), whereas Italy had 313 completed passes out of an attempted 372 (84%). Possession was 54% in Italy's favour.
Against France, Ireland completed 171 passes out of an attempted 226 (76%), whereas France had 447 completed passes out of an attempted 494 (90%). Possession was 60% in France's favour.
Now let's look at Ireland's possession stats in the last qualifying phase prior to the Euros.
Away to Georgia, Ireland completed 319 passes out of an attempted 374, whereas Georgia completed 235 out 263 attempted passes. Possession was 54% in Ireland's favour.
Home to Gibraltar, Ireland completed 543 of an attempted 589 passes, whereas Gibraltar completed 202 of 237 passes. Possession was 65% in Ireland's favour.
Away to Germany, Ireland completed 204 passes out of 227 attempted, whereas Germany completed 531 passes out of 577. Possession was 63% in Germany's favour.
Away to Scotland, Ireland completed 164 of 209 passes, whereas Scotland completed 280 of 328 attempted passes. Possession was 56% in Scotland's favour.
Home to Poland, Ireland completed 269 of 319 passes, whereas Poland completed 179 of 240 passes. Possession was 55% in Ireland's favour.
Home to Scotland, Ireland completed 284 of 343 passes, whereas Scotland completed 290 of 349 passes. Possession was 50:50.
Away to Gibraltar, Ireland completed 412 of 463 passes, whereas Gibraltar completed 210 of 275 passes. Possession was 60% in Ireland's favour.
Home to Georgia, Ireland completed 381 of 448 passes, whereas Georgia completed 376 of 434 passes. Possession was 50:50.
Home to Germany, Ireland completed 179 passes of 229, whereas Germany completed 613 of 659 passes. Possession was 67% in Germany's favour.
Away to Poland, Ireland completed 173 of 243 passes, whereas Poland completed 255 of 322 passes. Possession was 55% in Poland's favour.
Away to Bosnia, Ireland completed 166 of 261 passes, whereas Bosnia completed 309 of 403 passes. Possession was 59% in Bosnia's favour.
Home to Bosnia, Ireland completed 144 of 225 passes, whereas Bosnia completed 412 of 498 passes. Possession was 64% in Bosnia's favour.
So what can we conclude from these stats?
As Leicester showed in the Premier League last season and many teams have done before, possession isn't everything. Ireland's best performance possession-wise at the Euros was generally regarded as their worst performance overall (against Belgium), although the stats were very similar to the Italy game — by far Ireland's best performance at the competition. Similarly, having little possession doesn't necessarily lead to a negative result. The home games against Bosnia and Germany were the two best results of the qualifying campaign, but they were two of the worst performances in terms of pass completion.
Ireland's 98 passes against Serbia is comfortably the worst of the O'Neill era so far. The next worst is Bosnia at home — 144 passes. Interestingly, both were matches where Ireland took a relatively early lead.
Ireland's home possession stats are often markedly better than their away ones, as the Poland and Scotland games illustrate, though the Germany and Bosnia matches are anomalies in this regard.
Why was the Serbia game particularly bad?
There are a number of factors. The pitch and the fact that it's early in the season have been cited, although these problems also apply to Serbia, who completed almost four times as many passes as their opponents. The fitness issue probably impacts on Ireland more, given that they are a team heavily reliant on running and working hard off the ball.
The inexperienced midfield was also problematic. It was the first time that Glenn Whelan, Robbie Brady, Jeff Hendrick and James McClean have started together as a midfield.
The energy of James McCarthy was probably missed, while the pass count would surely have been considerably higher if Wes Hoolahan was on the field.
Wasteful play
A number of players simply seemed to have an off day.
James McClean made a number of poor decisions, Jeff Hendrick gave one of his quieter displays, while even players considered among Ireland's most technical footballers — Robbie Brady and Seamus Coleman — produced a couple of uncharacteristic sloppy passes.
It felt at times as if Ireland were hoofing the ball aimlessly out of instinct rather than necessity.
Randolph's long kick-outs almost always conceded possession (there were at least five instances of this), as did Seamus Coleman's long throws. The concept of players coming short to receive the ball seemed thoroughly alien to the Irish players on Monday night.
In fact the attacks for both Serbia goals emanated from a Coleman foul long throw and an aimless Randolph punt respectively.
None of the midfielders took responsibility to get on the ball and control the play, so it was no surprise when Hendrick was substituted and Brady was moved to left-back, as both were largely on the periphery of the game.
Below is one example of many. Hendrick plays the ball back to Keogh. The return pass is on, but instead, the Derby defender panics and hoofs the ball forward aimlessly.
No one is suggesting Ireland need to become Barcelona, but achieving just over a pass a minute during the course of a game is pathetic by any team's standards.
In their recent Champions League qualifier away to Legia Warsaw,for example, Dundalk completed 370 of 436 passes. Excluding games against Gibraltar, since O'Neill took charge, Ireland have only once bettered this tally (at home to Georgia) and only twice breached breached the 300-plus mark.
Yet if a League of Ireland team can go away in Europe and play with such positivity against comparatively tough opposition, then surely the national side are capable of doing likewise.
Fear and panic in possession
One noticeable factor of the Irish team in recent years has been the tendency to almost treat going a goal ahead as a burden rather than a boost, with the team immediately looking to sit back and play as negatively as possible. It was evident against France, Sweden, Bosnia, Poland and Scotland, and this bad habit was also apparent on Monday night.
Ireland simply need to learn how to manage matches better and slow the game down. The best way they can do this is by keeping the ball and frustrating the opposition, but instead, they do the opposite.
O'Neill's side's work ethic cannot be faulted, but constantly running after the ball leads to fatigue and eventual mistakes.
Watch the clip below. Ireland are leading 1-0 at the time. McClean needs to come short for Ward, enabling him to play the simple pass and slowing the game down in the process. Instead, he charges forward excitedly and Ireland lose possession, as an ambitious attempted pass is unsuccessful.
And similarly, notice the video below. Again, Ireland are 1-0 up at the time. The simple pass to either Whelan or one of the defenders is on, but again Coleman ill-advisedly opts to play a much too elaborate ball when Ireland badly needed to slow the game down and give their defenders some breathing space.
And it wasn't always the player in possession who was primarily at fault. Too often, no teammate offered an outlet and the man on the ball was forced to hoof it forward and give it back to the Serbia defence.
Notice the lack of options for Coleman below. A midfielder needs to show for it in that instance, and be in the correct position to receive the ball in front of the defence, but instead, the Everton full-back has to play yet another long ball.
Any positives?
If Ireland can't beat Serbia, then they are unlikely to get anything better than a draw away to the group's top seeds — Wales and Austria.
Assuming that is the case, Ireland will surely be looking at needing to win at least four out of their five home matches in the group — it's a difficult task, but not an impossible one.
It's legitimate to compare the present to O'Neill's other experience with European football at Celtic in the Champions League.
Like Ireland, Celtic during this period tended to be much more negative, cautious and ultimately unsuccessful in their away matches.
In O'Neill's five years at the club, they played nine Champions League away matches, losing eight and drawing one. By contrast, in their nine home games, they won six, drew two and lost only one.
Similarly, their famous run to the Uefa Cup final in the 2002-03 season encompassed three losses, all of which were away from Celtic Park.
Under O'Neill, Ireland have yet to lose a competitive home match. Although draws in the last campaign against Scotland and Poland were underwhelming, spectacular home defeats of Germany and Bosnia gave the impression the Aviva Stadium has potential to be a fortress the way Celtic Park once was.
But whatever happens, one thing is certain — Ireland will need to improve considerably from the game in Serbia if they are to retain serious aspirations towards reaching the 2018 World Cup in Russia.
The42 is on Snapchat! Tap the button below on your phone to add!