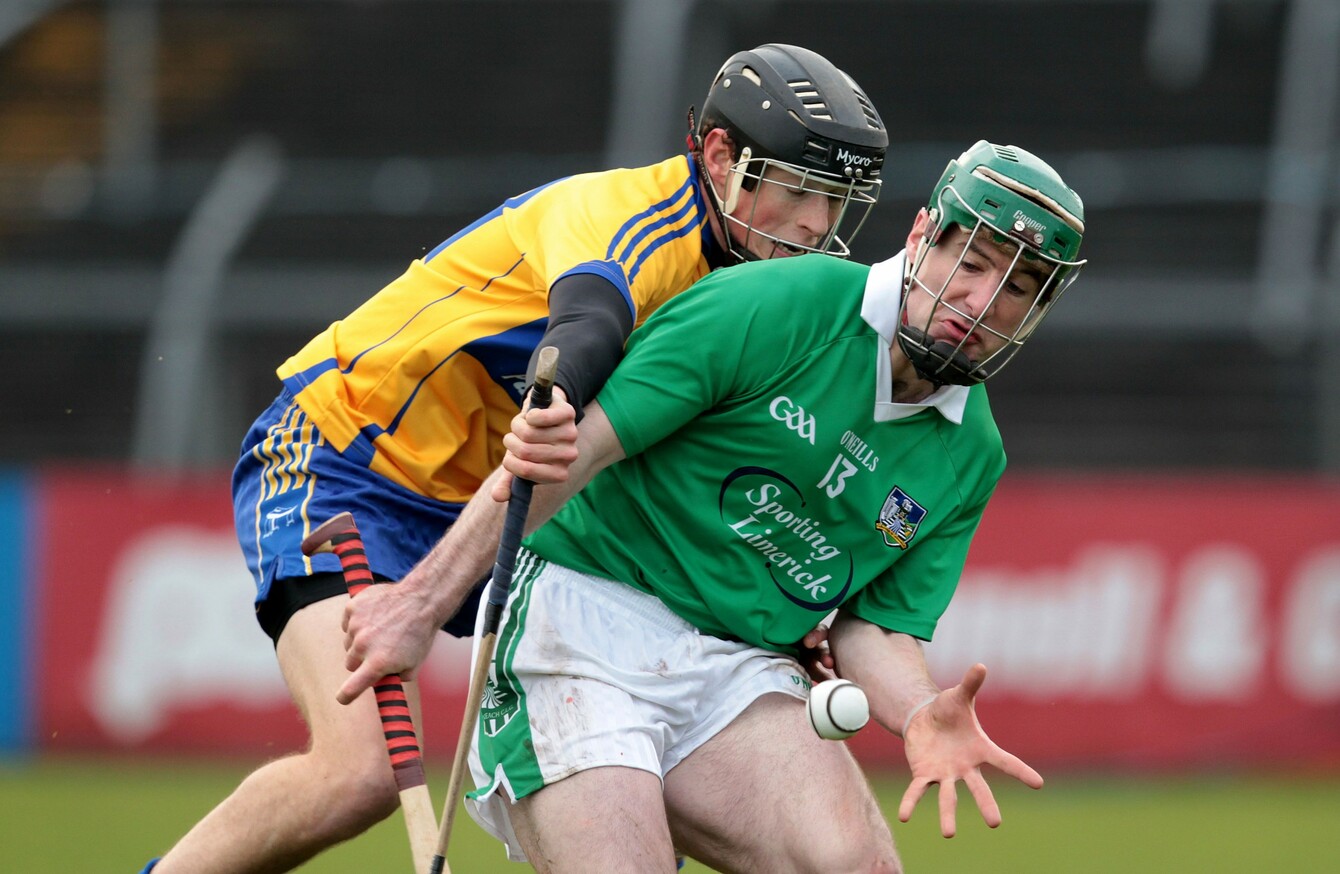 Image: Cathal Noonan
Image: Cathal Noonan
IN A NEW series on The42 titled 'Where are they now?' we'll be looking at some of the 'forgotten' men and women of Irish sport.
This week, with the Fitzgibbon Cup up for grabs, we caught up with former Limerick star Andrew O'Shaughnessy whose life was never ordinary and now, following the birth of his baby son Fionn, it's 'a lot less ordinary'.
Given the Kilmallock man is 13 years working in the army, we thought it appropriate to nab that last catchline to describe the daily life of the man known as 'Shaughs'.
He's 31 now and if he was still involved in the Limerick panel he'd be the last man standing from their three in-a-row winning All-Ireland U21 teams from the start of the millennium.
Donal 'Dodge' O'Grady was the last to go and if that doesn't make O'Shaughnessy feel old, watching some of the greyhounds playing the game now from the stands at the Gaelic Grounds surely does — or indeed, watching his new arrival growing up.
His inter-county playing days seem like a lifetime ago now for O'Shaughnessy and so much has happened since; the highs of making that All-Ireland final in 2007 to the low of being axed from the panel two years later.
There was the return in 2009 and the subsequent diagnosis with MS – a condition that doesn't concern him "one bit" nowadays, though he's wise enough to admit he's been relatively lucky.
If life as an inter-county hurler was a full-time occupation, what must it be like commuting to Cork on a daily basis? And travelling overseas for a six-month mission when your wife Eimear is about to give birth to your first child?
"I'm just back from Kosovo two weeks ago now," O'Shaughnessy informs us, sounding rather relieved.
"I was there six months with the army, it was good, a good experience working as part of a small unit but I definitely learnt from it and I definitely missed Fionn and Eimear."
He was granted a few days off over Christmas to pop home, albeit via Istanbul, but it was no less easy to leave again.
"Fionn arrived 22 weeks ago and Jesus I missed him, it was tough, more so for my wife than me, to be honest."
He arrived in September. O'Shaughnessy was gone in July but he got home for the birth.
"It's a fantastic change to your life," he confirmed.
"I hear people say 'what did I do with my time before' and it's true; a baby takes up so much time and you don't have a second to yourself but it's great, I'm delighted and I ask myself what I did before!
"But you manage and you adapt."
Babies aside, O'Shaughnessy gets his weekly fill of hurling, be it training with the Kilmallock seniors or watching the Limerick hurlers.
It seems like just yesterday that he was there — though he feels old looking at some of the guys on the panel now.
"It's been a while since I was there but the panel is all young; the oldest is around 28 or 29 at a guess.
It's gone to the stage where it's all young fellas and the game has gotten faster as a result.
"I'd say it's getting near impossible to play now at this stage if you've young family and a full-time job.
"The way GAA is gone, there's enough commitment as it is. It suits people who are students basically — or a teacher.
"Most people playing are full-time working but they're either self-employed or their employer is very understanding.
"Having said that, it's all well and good having an understanding boss but if you feel like you're putting them under pressure it's unfair on him/her and you; I can't see many married people with kids and jobs and meeting the demands of inter-county hurling anymore."
That's not to say he ever lost his love for it. Far from it, actually, and even now he's still engrossed by it.
This week sees the Fitzgibbon Cup take centre stage and though it's a competition he was never competitive in, it still has its place in his heart.
I loved playing every hurling game.
"The Fitzgibbon Cup was a great experience but an all too brief one for me.
"I was in an unusual position because I went straight from school to the army and then I'd something like 18 months away so I didn't know much about it at the time in the sense I had no personal experience of it.
"Then when I went to college (GMIT) there was a huge emphasis on trying to qualify and the year we qualified (in 2008) was the first time any team from the college had so it was great to be a part of that team.
"It was a pity we didn't do a bit better but we got there and it was some bit of a bragging right."
Speaking of his love for the game, O'Shaughnessy admitted his three happiest times were the successful Harty Cup teams he was a part of at St Colman's College, Fermoy (2001-2003), the All-Ireland winning Limerick teams from 2001-03 (he was on the squad for the latter two years) as well as when Kilmallock won the county and followed it up with a Munster crown in 2014.
"They're the three things I'd pick out because they're the three teams that won," he said.
"You play sport to enjoy it and I think the enjoyment is gone out of hurling a bit because there's so much emphasis on winning.
Obviously if you want to win you have to make the sacrifices but you want to have a bit of a life too.
"It shouldn't be all-consuming because when you stop playing you realise there's more to life than GAA.
"But when you're growing up in that environment it's all you think of; from the U14 team to the U16 team to the minors and so on to senior, you're always progressing but there's nowhere after (senior).
"I think, in hindsight, in that environment you should be focusing on what's on in the world outside and looking down the line more so at your life; where you're going with your job and your family and whatever."
Aside from his work and family life, health is another of his top priorities and he was provided with a stark reminder of how fallible we are when he was diagnosed with MS in 2009.
"I'm good, there's no fear," he explains.
"It's something that's monitored on a yearly basis but that's no burden, really.
"If I felt a bit off or not confident in doing something I'd ring the consultant and he'd see me but I haven't done that yet, thank God.
"Hopefully that'll continue but again, if you think about these things too much you'll bog yourself down and if you think something is wrong, you'll convince yourself there is.
"But it doesn't affect me one bit in my life. Other people have this condition and they're not so fortunate."
Just as well he's only got that 50-minute daily commute to Cork every day to think about his own life.
"It'd be a lot shorter if they built that motorway but I'm very lucky for what I have," he acknowledges.
I love what I do for work and it's what I wanted. I never wanted an office job where I'd be sitting down all day every day.
"It's a nice mix of getting plenty training and getting out of an office and no two days are the same."
The42 is on Snapchat! Tap the button below on your phone to add!