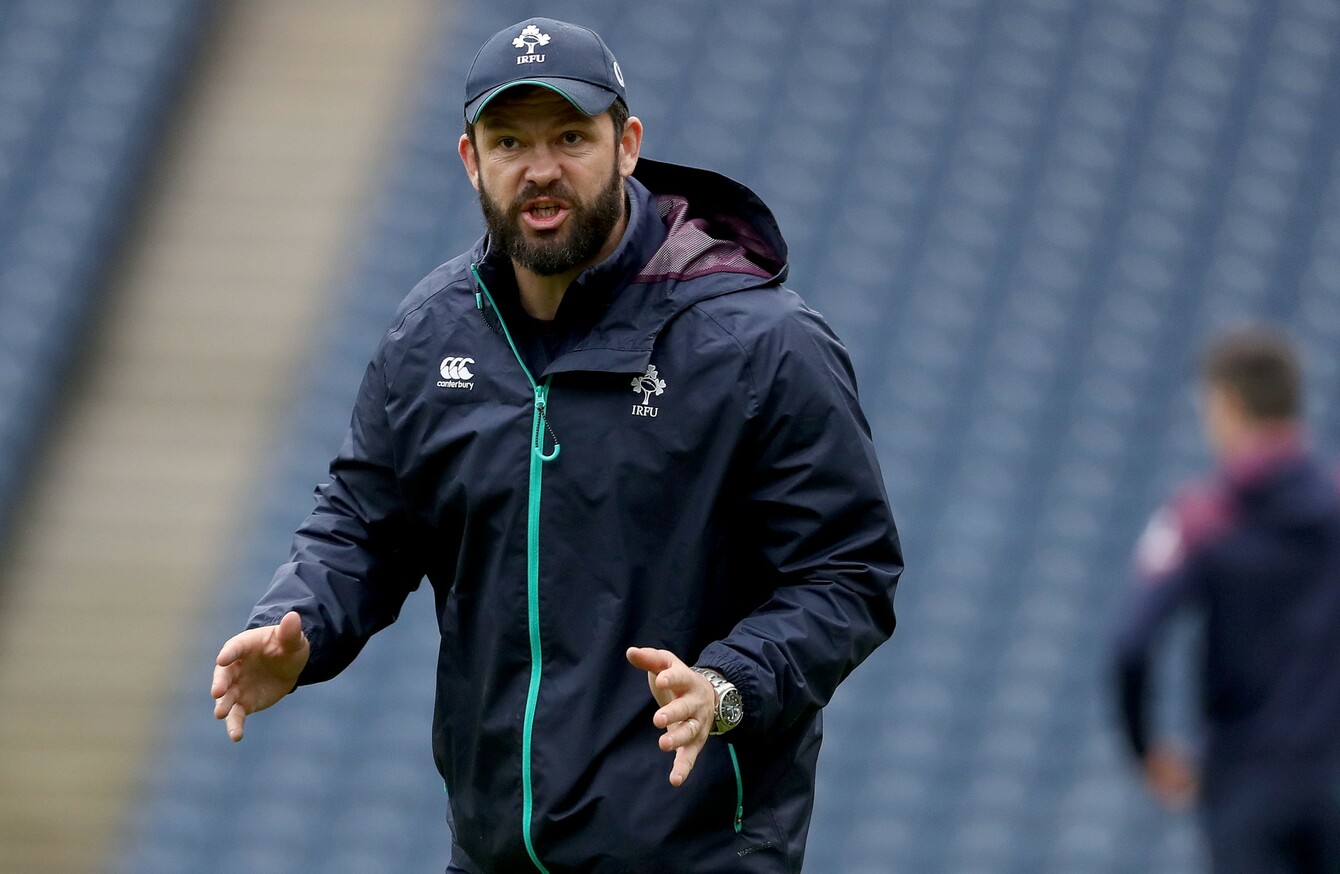 Image: Dan Sheridan/INPHO
Image: Dan Sheridan/INPHO
IT'S LITTLE WONDER that Andy Farrell prefers not to dwell on some of the big statistics of his time in charge of Ireland's defence.
Though Farrell has clearly brought an energetic new presence to bolster Joe Schmidt's coaching ticket last summer, there have been numerous times when the energy and willful destruction he calls for has not translated into a miserly defence.
Keeping in mind the enormous caveat that Ireland have played, and beaten, the traditional southern hemisphere big three in the last year (with only the Wallabies not coming back around for a second bite) Farrell's Irish defence have conceded: two, four, one, four, three, three, three and three tries. It's an average of 2.87 tries conceded, or at least three per game this season.
"When you say three tries, it's too high. But I don't go on stats," said Farrell after wincing through his memory of  scores by Stuart Hogg and Alex Dunbar on Saturday,
"At the weekend, we got caught tight twice and those tries needed to be dealt with better from us and it was in the second half. We got the ball we wanted because of that and those  are the things we need to address."
Farrell put the second half improvement down to a reinvigorated attitude, feeding the better technical points touched on by Robbie Henshaw. The slow start, he insists, was not down to any complacency or lack of fear factor to heighten the collective urgency, but he did highlight an important mindset lesson to be taken from Murrayfield.
Consistency of application across the board and understanding what ruthlessness looks like."
Schmidt's men were clinical enough in reeling in Scotland's lead in the second half, but once they hit the front, the foot seemed to come off the pedal with decisions made on and off the field sucking the wind back out of Ireland's sails.
"That last 10 minutes we slacked off the mood a bit and allowed them access back in. I ain't taking anything away from that second half performance, I thought they were fantastic. We challenged them at half-time and they rose to it. It was a big old mountain to climb, but they climbed it pretty hard.
"If we can get that ruthless streak for 80 minutes we're going to do well in this competition.
"Because they're all good teams, every international team is tough and if you've not got an edge then it's very hard to put teams away. We've got it in us, we've got to just keep educating, keep drawing it out of them."
A relentless and ruthless streak would certainly be valuable this weekend as Ireland go to face Italy. A bonus point win could help start turning the Six Nations opener into a mere footnote rather than a defining 30 minutes of Ireland's year.
Subscribe to The42 Rugby Show podcast here: