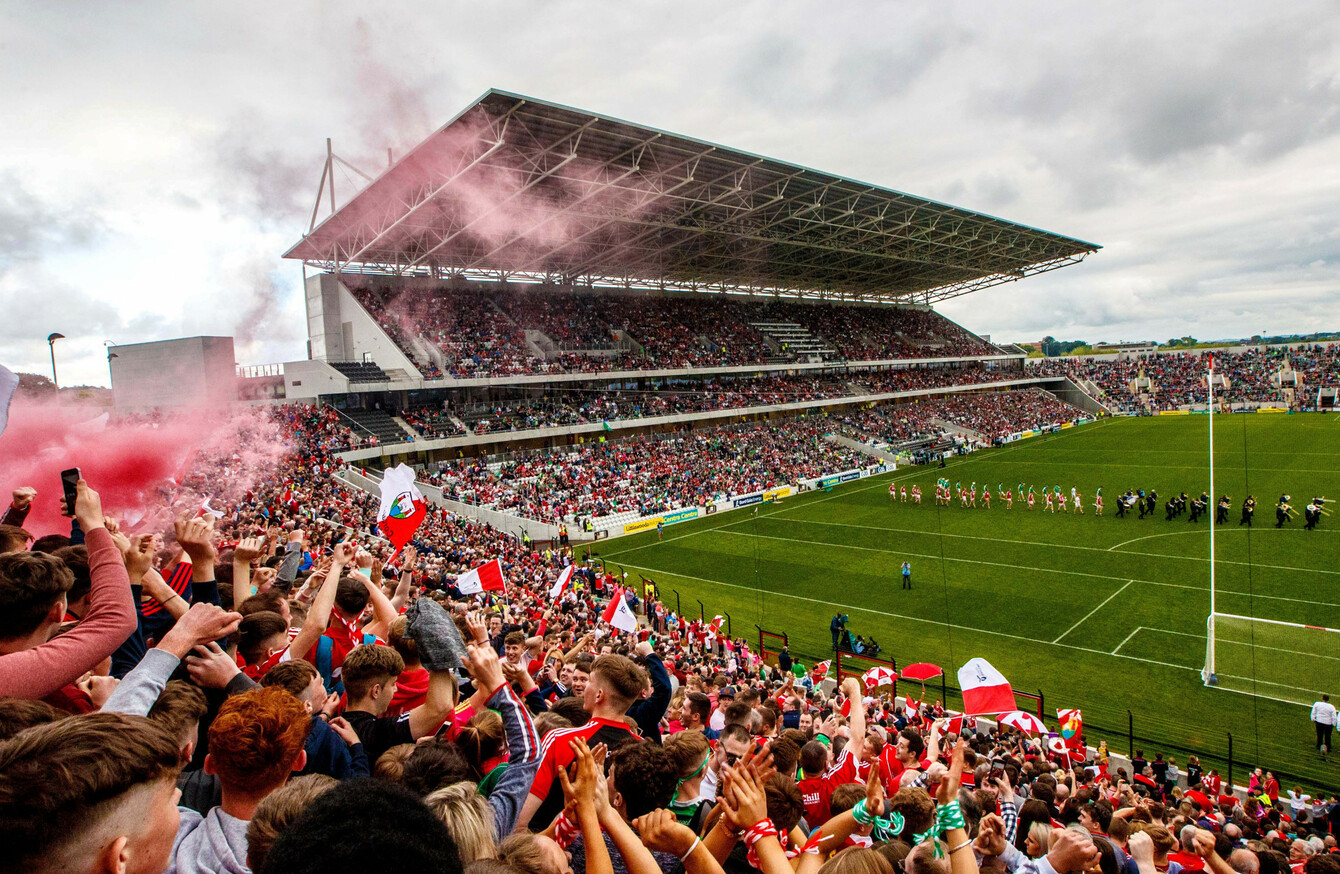 Páirc Uí Chaoimh hosted Saturday night's showdown.
Image: James Crombie/INPHO
Páirc Uí Chaoimh hosted Saturday night's showdown.
Image: James Crombie/INPHO
THE BIGGEST ATTENDANCE to date in this year's revamped Munster hurling championship witnessed Saturday night's action in Páirc Uí Chaoimh and the occasion crystallised a view for goalkeeper Anthony Nash.
A pulsating encounter finished level at 1-25 to 0-28 between Cork and Limerick with the Rebel netminder calling for repeat occasions when GAA chiefs schedule games.
"The only thing I would change is Saturday night games because we've to wake up a Monday morning after a Sunday game and go to work and you're talking about recovery.
"If you've more Saturday night games fellas could wake up Sunday morning and have a day to themselves with their families or whatever. You see 35,000 there tonight – I don't think any supporter would be disagreeing with more Saturday night games.
"Obviously, all of them can't be with the number of games but that's the only thing I would tweak going forward especially with the weather the way it is."
2018 Munster hurling championship attendances
20 May – Limerick v Tipperary – 20,423
20 May – Cork v Clare – 24,490
27 May – Tipperary v Cork – 22,456
27 May – Clare v Waterford – 13,736
2 June – Cork v Limerick – 34,607
2 June – Waterford v Tipperary – 10,237
Nash believes there should be a judgement made on the new hurling championship format – which saw Cork play three games in 13 days – at the close of the season.
"Like, I think it's more for an outfielder to comment on that and I think at the end of the year there should be a review done on it from players.
"For a goalkeeper it's fine, it's just being mentally right for the game more than anything. I'm sat here now and I could probably go and play another (game).
"I think an outfielder could comment on that and say whether it's a good thing or not but, look, the numbers turning up to games are showing that it is a positive.
"People might be going away and saying after a draw there's a lot of negatives but we've a lot of positives we're going to take from it.
"I can't comment on fellas' fatigue but to go three games in 13 days is an incredible feat from lads and to show the energy at the end of the game to not give up I thought was a massive boost."
Cork are top of the table after the third round of games but after playing out two draws, Nash reckons that is proof of the competitive nature of the action in Munster.
"When it was laid out last year, we had an idea of it but we never thought we would have two draws. Everyone around knows how competitive the championship is. You saw the league there, most of the Munster teams performed fairly well.
"Last year's All-Ireland semi-finals, there were three Munster teams. I know Galway went onto win it and deservedly so but it's super-competitive. The people delighted leaving here are the supporters. There's 35,000 people there and people watching on TV who will be thrilled with the spectacle the two teams put on and that's what I think should be taken from today.
"You can nitpick this, that and the other but I thought the two teams were absolutely unbelievable and gave everything. I know there was a sending-off but I don't think there was one bit of a dirty swipe in the game. I thought it was open, brilliant hurling."
The42 is on Instagram! Tap the button below on your phone to follow us!