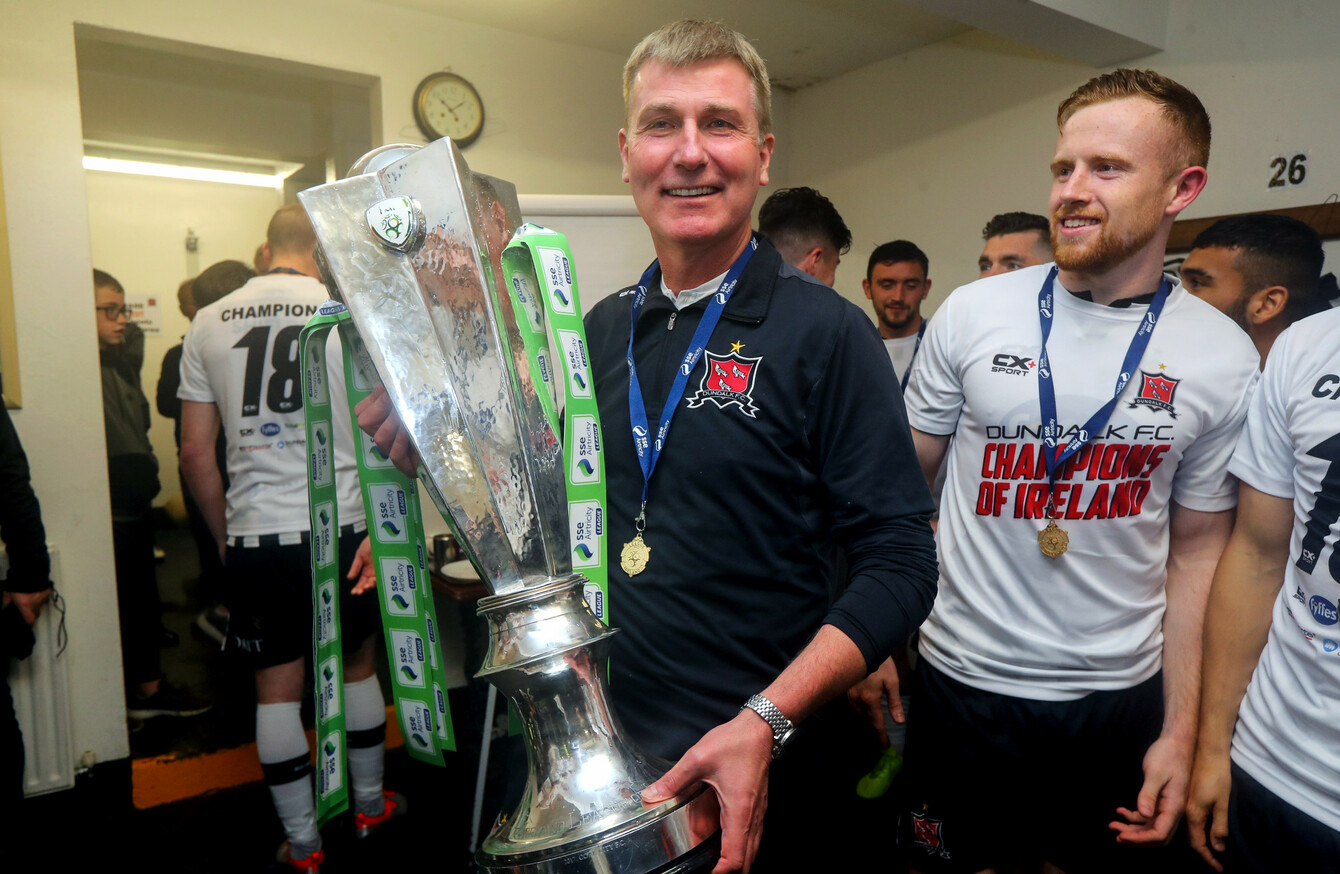 Kenny pictured with the SSE Airtricity League trophy at Oriel Park.
Image: Ryan Byrne/INPHO
Kenny pictured with the SSE Airtricity League trophy at Oriel Park.
Image: Ryan Byrne/INPHO
STEPHEN KENNY HAS won the FAI Cup twice before in his managerial career, but would relish the chance to lift the famous trophy a third time later this afternoon when his Dundalk side face Cork City.
The pair have forged a intriguing rivalry over the course of the last four years, one based not in geography or any other old tradition, but on success and wanting to snatch the next title away from the other's hands.
Dundalk have won four of the last five SSE Airtricity League titles, this season setting a points record, a goals scored record and keeping an impressive 21 clean sheets.
A side which some might have expected to have reached it's peak a couple of seasons ago has reinvented itself with fresh blood, and continued to maintain success under the guidance of Kenny in the dugout.
It has been a season of seasons for the Lilywhites. Last year was one of immense pain, with Cork denying Dundalk the chance to match Shamrock Rovers' record of four league titles in a row, before beating their old foes on penalties at the Aviva Stadium in the FAI Cup final 12 months ago.
Securing a first FAI Cup since 2015 is Kenny's ambition for today, looking towards the club's second double in the space of four seasons.
It's a great honour to be in the FAI Cup final," he said speaking this week. "We can never be complacent about that. This club went 13 years without a cup final and it was a long period before that since the previous one as well.
"We shouldn't and we don't take it for granted. It's a great position to be in to win a 'double-double' if you like as well as the league titles. That is what we want. We want to try and play well tomorrow and to put in a good performance."
Dundalk all but secured the league title this year with a completely dominant 1-0 victory down in Turner's Cross in September, beating John Caulfield's reigning champions three times out of four this season.
Kenny is still wary of the threat the Leesiders pose and needs no reminder of their back-to-back FAI Cup final defeats against tomorrow's opposition.
We have to earn it," says Kenny. "We know that Cork City will be formidable opponents and no one hands you the trophy. We have to go and earn it and we understand that. Cork have been very consistent. We want to put in a great performance on the day.We want the players go out and express themselves, so hopefully we can do that.
"It's a great occasion, the FAI Cup final, and the players are looking forward to going and playing at the Aviva Stadium. We have had a great season winning the league. It would be a perfect season for us if we could win the double, and we are hoping to do that.
"We've lost three league games this year — Shamrock Rovers here at Oriel, Waterford away and Cork away — and I don't feel like we deserved to lose any of them," the manager continues. "I'm not saying we deserved to win all three, but I don't think we deserved to lose them.
"Certainly I don't think the players have let-up in any week in relation to how they've trained and how they've played, and we need to bring that on Sunday again. Cork are seasoned professionals, they are a strong team, very physically strong and have a lot of experience.
We will be tough opponents. We have three of our games against Cork this year, they've won one, but there has not been more than a goal in it. They have been hard-fought games all season, all of them. So we'll have to earn it."
This will be the fourth year in a row that Dundalk and Cork City will meet on the first Sunday in November at Landsdowne Road. Kenny understands that there may be a public fatigue with the fixture, year after year, but maintains that it is a positive spectacle for the two best teams in Irish football to face off at the national stadium.
A tough and, at times, bitter rivalry has been forged between the two teams over the last four seasons, and Dundalk boss Kenny is hopeful that today will offer up another memorable instalment for the Irish public to enjoy.
"I understand that [the fatigue]," he explains. I was in two FAI Cup finals with Derry City where we drew 2-2 and lost on penalties in 2008, and two years earlier won 4-3 against St Pat's. So in the two matches there was 11 goals — whereas the three matches between Dundalk and Cork haven't been absolute thrillers.
We've set out to try and play and they've had a game plan to try and stifle us and keep it tight. Each final has been different, certainly, but there hasn't been the goals scored, the 2-2 draws or the 3-3 draws that people like to see in a final. So I suppose I can understand that to a degree, but in other ways it's quite fascinating.
"People like to see games that are never easy to predict. People going into Sunday's game would say they don't know what way it's going to go — it's somewhat unpredictable. I think people who love sport and love two teams really going at it with a view to win the cup and bring it home… they know that that has it's own intrigue."
Kenny adds that the turnover of players within his Dundalk squad over the course of his five years in charge also brings a new dimension to big final occasions like today's. Where stalwarts of previous league-winning sides have moved on to new pastures, new generations of Dundalk stars have taken their place and continued to reap success.
"I do understand the fatigue element of it, but from our point of view a lot of the players — Michael Duffy, Jamie McGrath, Dylan Connolly, Sean Hoare, Daniel Cleary, Dean Jarvis, Ronan Murray, Stephen Folan — it's their first league title. So from my point of view, it's all new to them and going to the Aviva is new for players like Pat Hoban too.
This year this team has had to prove itself again, because a lot of players have come in over the last two seasons — young players — and they have had to prove themselves. In a lot of ways they were in the shadow of other Dundalk teams that had gone to the Europa League with players like Daryl Horgan, David McMillan, Richie Towell and Andy Boyle.
"You can't replace those players, but the new lads have done brilliantly because they've broken a points record and they've broken the all-time goals scored record. You can't do any more than that; the players have been absoutely spectacular.
"For a lot of them, it's not just their first league title with Dundalk; it's their first ever trophy. So they've responded in a way that you'd be thrilled about as a club and now they are going to an FAI Cup final to try and have a sort of 'perfect season' — to go and win the double.
What we'd like to do is turn it on, really turn it on in the cup final. To really, really open up and show our quality. That would be what I want the players to do; to open up and show their quality in the final and show that level of creativity that we need.
"But we'll have to earn it," Kenny adds. "Cork won't give it to you. They close you down quicker than any other team, they don't give you a minute in possession and you have to absoutely earn everything you win against them."
Subscribe to our new podcast, Heineken Rugby Weekly on The42, here: