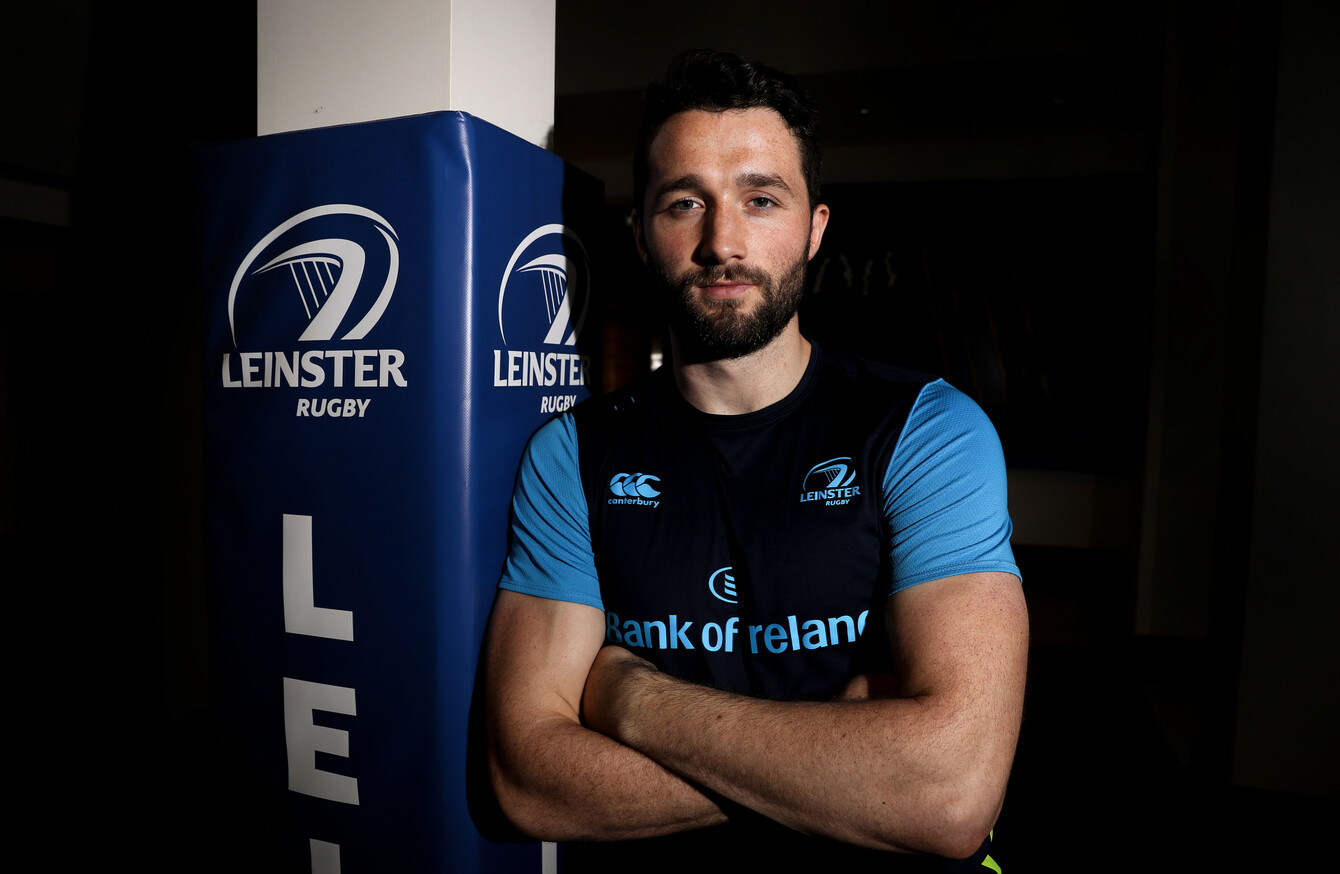 Daly pictured at Leinster HQ earlier this week.
Image: Bryan Keane/INPHO
Daly pictured at Leinster HQ earlier this week.
Image: Bryan Keane/INPHO
Updated at 09:00
BARRY DALY KNOWS better than most how fine the margins between success and failure at the very top level can be, and — more pertinently in his case — how luck can play a significant role in shaping a career.
For Daly, it appeared his opportunity had come and gone when he was overlooked by the Leinster academy at the age of 19, a decision which forced him down a different path and into a career in accountancy with KPMG.
Rugby became a hobby, and nothing more.
There was even a point when Daly became so unenthused by rugby that he wasn't interesting in playing in the AIL with UCD anymore, with work and everyday life taking hold as it does for every young person in their 20s.
"I wouldn't say I lost belief in myself," Daly says. "But I gave rugby up for about two years.
"It was Noel McNamara [the then UCD coach] who got me back into it and as I said I started playing sevens again and that really got me going, and thinking I could actually get back and have a shot. It was a combination of a really good club year and a really good sevens year."
Daly always had an eye-catching finishing ability — described by Leo Cullen as a natural — and when he started scoring try after try at club level, his form was too good to ignore and Leinster offered him an olive branch.
"I always thought there were loads of guys that can play at the top level, and I always felt that I could, but just the breaks never went my way," he continues.
"I didn't get the academy in here for whatever reason. I always felt like I could but things just never really worked out the way I need them to.
"But that last year [2016] just worked out perfect. I didn't get injured, had great form and then Luke Fitzgerald got injured. Leinster needed a winger so it was all just perfect timing. I was just lucky."
This time it was in Daly's favour. His initial trial period with Leinster was extended until the end of the 2015/16 season and last April he was rewarded with a senior contract extension five years after being originally turned away.
"I think it's literally just luck and the way things fall for you. Getting a chance with a good team, a good coach, getting a run of form without getting injured. There is just so many different things that you can't control.
"I believed that I could always play at this level because I knew my physical ability was better than a lot of the guys who were coming down to play with me in UCD — from the academy and going on to play with Leinster and Ireland.
"I was like 'I'm physically there.' I had to prove to myself that I could do it mentally with the speed of the game. I always knew I had the physical tools and not everyone has that."
And for Daly, pace is everything and makes him the player he is. It is why he was so devastating at club level and why, having been given the chance in the professional game, he has 12 tries in blue so far. Cullen describes his journey as a 'great story'.
"When I came out of college I was working in KPMG for a year," he explains.
"It was good. It was different. I kind of feel blessed that I got the opportunity to see what the real working world is like and I got to experience college life. A lot of guys in here didn't really get to do that. There's positives in everything."
Daly is the perfect example of a late developer. A player deemed not good enough at 19 but one whose innate talent eventually filtered through and found its way to the top. Leinster always knew he had potential and kept an eye on the former Gonzaga man when lining out for UCD.
The 25-year-old made 10 appearances last year but built on that at the start of this season by scoring a hat-trick against the Cheetahs but his momentum and form was halted by an untimely ankle injury – syndesmosis — which sidelined him for the best part of two months.
It also meant Daly missed the chance to be called up to Joe Schmidt's squad for Ireland's November internationals last year but he remains highly-rated by the head coach, as underlined by the time he spent in camp at Carton House a couple of weeks ago.
"It was good to be there," he adds. "It was pretty overwhelming. There was a lot to take in, and a lot to learn with all the calls. I was there for a day and a half and it was great to see how things work at the next level.
"It was a complete surprise. I got a call after the squad was announced for the Six Nations and I didn't expect that, and just saying keep up the good work kind of stuff. I was happy just to receive that call and even happier to get the call to come down for a day."
Now back fully fit, Daly has featured in Leinster's last two Pro14 outings and is in line to start Friday's clash with the Kings at the RDS — but after his experience in Carton how close do he feel he is to that call up?
"I don't know. It was the same kind of thing when I came in here [to Leinster]. I didn't know for sure. I always thought that I could, I always believed that I could but it's tough to really truly believe it in your own head until you actually just prove it to yourself as much as everyone else.
"Once I got that run of games, even at the start of the year. Leading up to Montpellier and Glasgow, I was really playing well. I know that I can get back to that level. If I do get that chance at the next level, I'll take it."
The42 is on Instagram! Tap the button below on your phone to follow us!