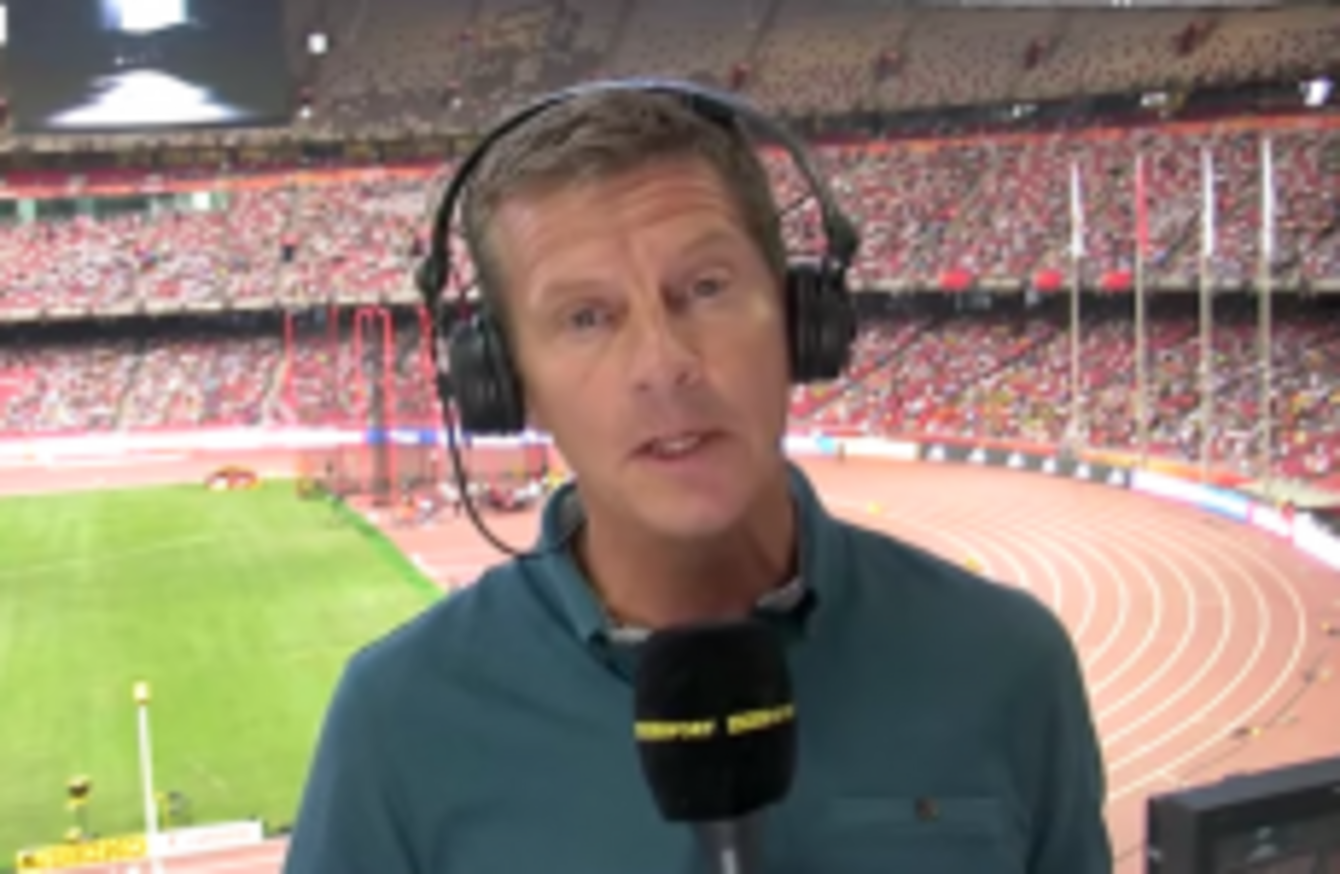 Cram: "Gatlin has no right for people to completely forgive him."
Cram: "Gatlin has no right for people to completely forgive him."
BBC ATHLETICS PUNDIT Steve Cram defended his passionate commentary as the debate over the broadcaster's coverage of the men's world 100m final continued.
Cram exuberantly declared that Usain Bolt "saved his title, saved his reputation, and may have even saved his sport" as the Jamaican beat Justin Gatlin in the first of their Beijing showdowns.
Cram's comments, as well as video footage of the BBC 5Live team openly celebrating Bolt's win, raised questions about the tone and objectivity of their coverage.
Gatlin, who has twice been convicted of doping offences but came into the world championships as favourite to beat Bolt, said he would boycott the BBC as a result.
Source: Mike Sam/YouTube
Ahead of today's 200m final, which Bolt also won, the BBC aired a compelling discussion featuring Cram, Michael Johnson, and Gatlin's manager Renaldo Nehemiah.
"When (Gatlin) lost, it was like everybody got enjoyment out of that," Nehemiah said in a pre-recorded segment.
There's footage of people in the BBC celebrating, you know? That's not objective.
"I like Steve Cram. Saving the sport, these kind of comments, we're better than that."
"We have to be responsible reporters. Behind closed doors, feel the way you want to feel, but when you have millions of people hanging on every word you say, that could affect another man's life, that could affect his mother's life, that's when I start to worry."
Responding, Cram said:  "I tried to explain to Renaldo that comment I made was not about Justin Gatlin. It was about the whole sport needed its hero to win.
And whatever he thinks that Justin Gatlin deserves now for coming back, the one thing that he can probably never be is a hero.
"He has a right to run according to the rules, of course he does. He has no right for people to like him. He has no right for people to completely forgive him either because this sport is severely damaged.
"I can tell you that the whole of this (media) tribune, this tribune here including 5Live and ourselves, is full of former athletes.
"Yes, they were on their feet because they care about their sport and they know the damage that has been done to their sport.
"It wasn't aimed at Justin Gatlin. It was what it represented, I think, and the relief perhaps that people felt."
Watch the discussion in full here:
Source: watchtonews/YouTube