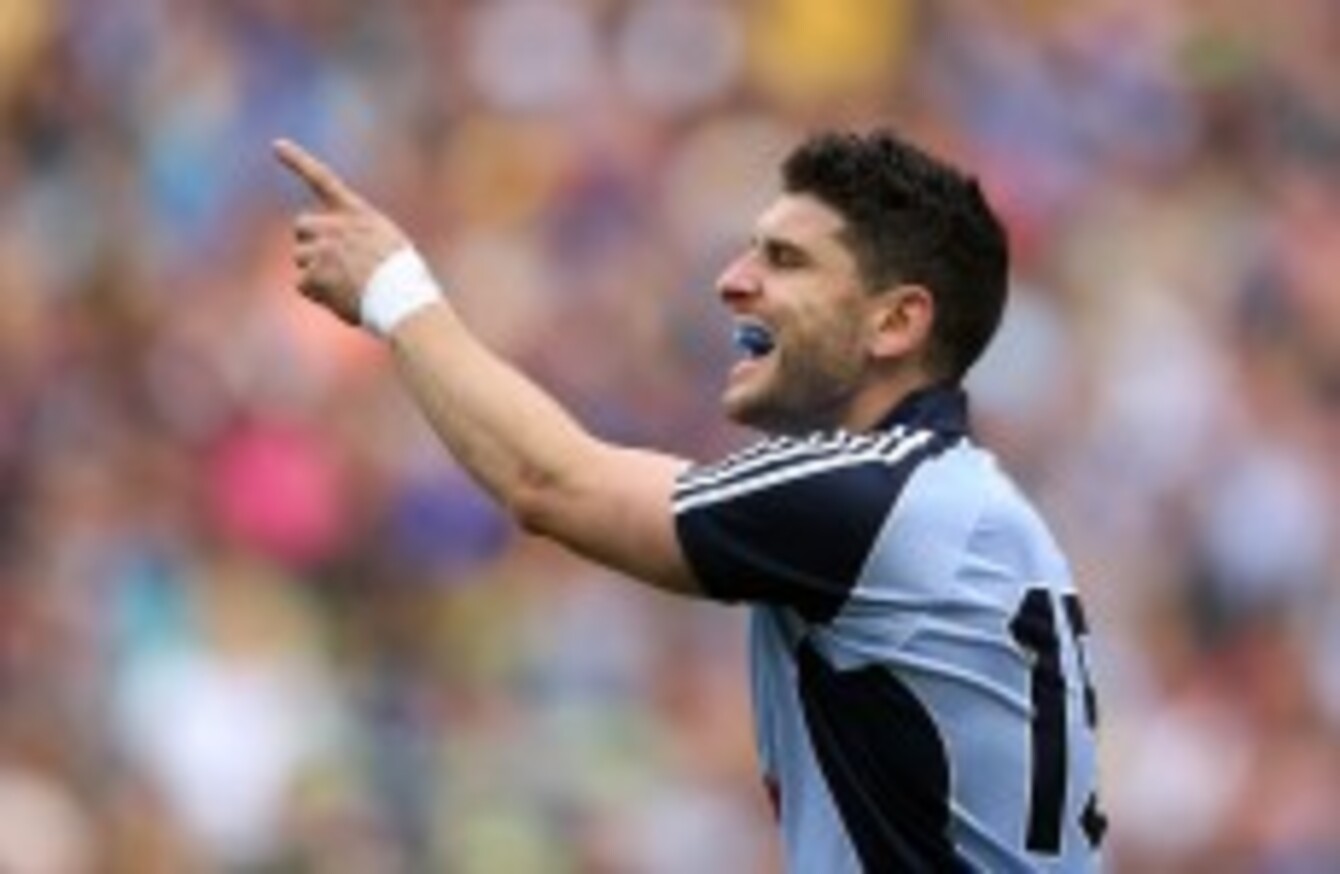 Dublin's Bernard Brogan.
Image: Cathal Noonan/INPHO
Dublin's Bernard Brogan.
Image: Cathal Noonan/INPHO
DUBLIN HAVEN'T BEEN able to call on the services of Bernard Brogan since last year's All-Ireland final but their scoring hero from that win over Mayo is on the verge of a comeback.
A groin injury has sidelined Brogan since then but he is targeting a comeback before the end of the league with Dublin facing Mayo next Saturday in Croke Park and travelling to take on Tyrone on April 6th.
"Training has been going really well", revealed Brogan. "Last Thursday was the first time I kicked a ball since the All-Ireland.  I've been back on the pitch two weeks, no major reaction to it.
"I would hope to come back and play a league game. It might be a case of playing some football with the club this weekend and playing with Dublin next weekend. I'm dying to get back out there.  I am anxious to get a bit of football in before the break (to championship). There is club football coming up as well that I want to be fresh for as well."
Brogan admitted his brother Alan's injury travails last year compelled him to take his time with his recovery.
"Looking at Alan last year I was a bit worried about it. His (injury) dragged on for eight months since the operation so I was very wary about it. I wanted to make sure it was right, he came back a little early and pushed on. It's probably a 12 week recovery so I have given it 16 or 17 weeks to make sure every box is ticked.
"I had small surgery before Christmas in London. I went to a good guy over there, similar to what Alan had. It's been going well. He gave it the all clear in January."
Last year Brogan underwent a punishing schedule of games early in the season, which he admits may have contributed to his injury downfall.
"Last year I played all the O'Byrne Cup, first two league games, two games with Leinster and then the next two league games until my groin broke down after the Mayo game. I was moving really well, I was happy, that's why I wanted to play each week.
"So I was telling the management I'm feeling good and I want to play. I was probably a bit naive. You have to pick and choose your battles.
"It's five or six months nearly since September, so it's quite a long break. And for a period I was happy enough to take it because it had been a long year last year, I wanted to have a good rest.
"But then once it hits January and the hard training stops and the lads start playing football and it goes into Croke Park, you're kind of saying 'Okay, I want to get back out there.' I am anxious to get back."